18 Types Of Aesthetics: The Ultimate Guide with Pictures [2023]
Posted by Buscik on Apr 22, 2022
---
Ready for the most fashionable aesthetics of 2023? Remember we had 12 types of aesthetics before. Now, as there are new trends in 2023, we have 18 popular styles! We have prepared a list of 18 different types of aesthetics, their guides, and outfit ideas for you. This guide includes makeup ideas, accessories, key motifs, values, and colors of each popular aesthetic of 2023. Here is what you're gonna do: First, learn what exactly aesthetic is to have deep knowledge of each style. Second, choose your personal aesthetic according to your vibe. Third, get the perfect outfits. And for the last step, be the trendiest girl around! Let's get started!
Aesthetic lovers, here we present our 18 types of aesthetics list! Now, check out this list and get more info below. We're sure that you'll find your favorite type of aesthetic in this blog. Also, you'll discover lots of fashion inspo, outfit tips, and many more. Have fun reading!
Types of Aesthetics List
Indie aesthetic
Grunge aesthetic
Soft girl aesthetic
Y2k aesthetic
Dark academia aesthetic
Baddie aesthetic
VSCO girl aesthetic
Kawaii aesthetic
E-girl aesthetic
Fairycore aesthetic
Cottagecore aesthetic
Pastel goth aesthetic
Coquette aesthetic
Soft boy aesthetic
Edgy aesthetic
Fairy grunge aesthetic
Goblincore aesthetic
Sanriocore aesthetic
---
What is my Aesthetic?
Now, listen carefully if you want to learn what your personal aesthetic is. You need to choose your fashion style according to your personality. Deciding on your aesthetic type is totally your choice, but you must consider your self-nature and know how to be aesthetic first. For example, grunge might be your personal aesthetic if you like speaking up, being a rebel, and not caring about what others think. Or you may like being cute and sweet and a feminine woman who likes wearing child-like clothes. In that situation, we can say that you're a soft girl or kawaii up to your fashion style, hair, and makeup. The point here is that all your style should reflect your personality.
So, before deciding on what your aesthetic is, think about a minute about what you like and dislike, your favorite activities, colors, and even food. Then, take a look at our types of aesthetics list and read the blog to see different types of aesthetics. We're sure you'll find your favorite personal aesthetic here!
1. Indie Aesthetic
Indie aesthetic is the style of independent people. Its main concepts are freedom, independence, philosophy, creativity, and uniqueness. Indie girls like feeling comfortable with whatever they wear. They create their own unique fashion style with specific accessories such as beads. Band T-shirts, jeans, tennis skirts , leather jackets, sunglasses, and beanies are perfect choices for indie clothing. Don't forget to take a photo and post it on Instagram after you dress up!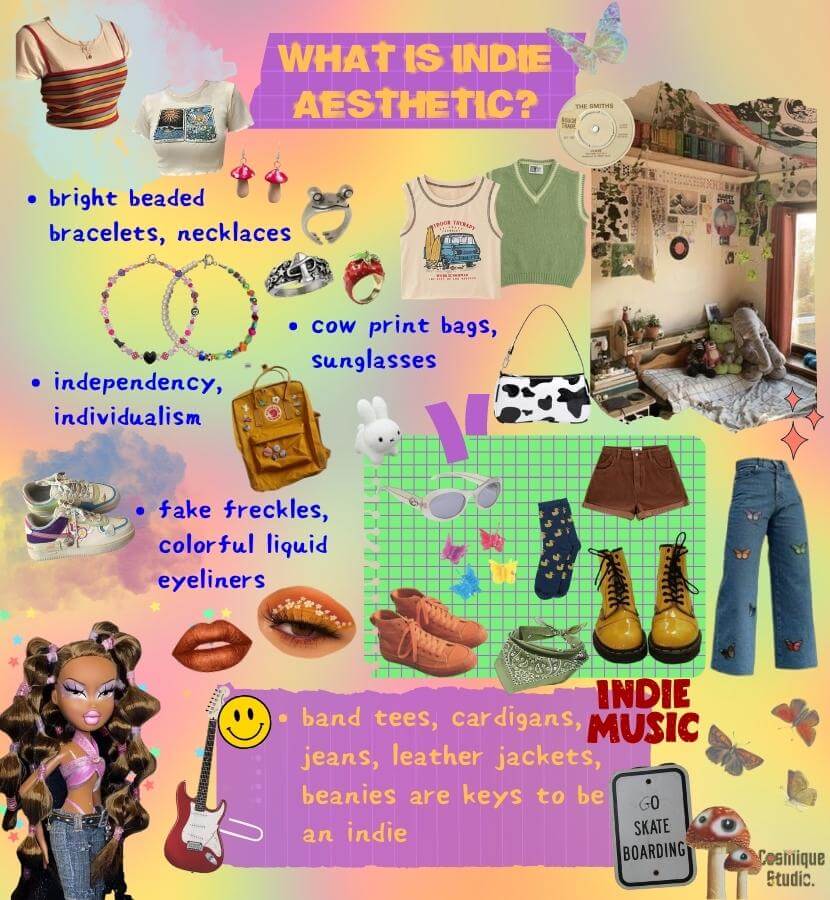 Makeup: Smokey eyes, nude lipsticks, sheer rose blushes, fake freckles, and colorful liquid eyeliners.
Accessories: Quirky, bright beaded bracelets and necklaces, cow print bags and sunglasses, and beaded chain belts.
Key motifs: CDs, Polaroids, vintage clothes, books.
Values: Independency, individualism, philosophy.
Colors: Purple, blue, red, green, brown.
2. Grunge Aesthetic
Grunge aesthetic is the fashion of people who are rebellious, independent, challenging authority, and breaking the rules. Just like their attitudes, grunge clothing is also rebellious. Instead of dressing up according to a specific fashion, they prefer creating their own distinctive style. If you are into chokers, chains, combat boots, ripped jeans, and plaid T-shirts, then it's time to embrace grunge aesthetic fashion and riot against the modern world!
Interested in grunge aesthetic? Check our blog about grunge aesthetic guide and grunge aesthetic outfit ideas to get more trendy!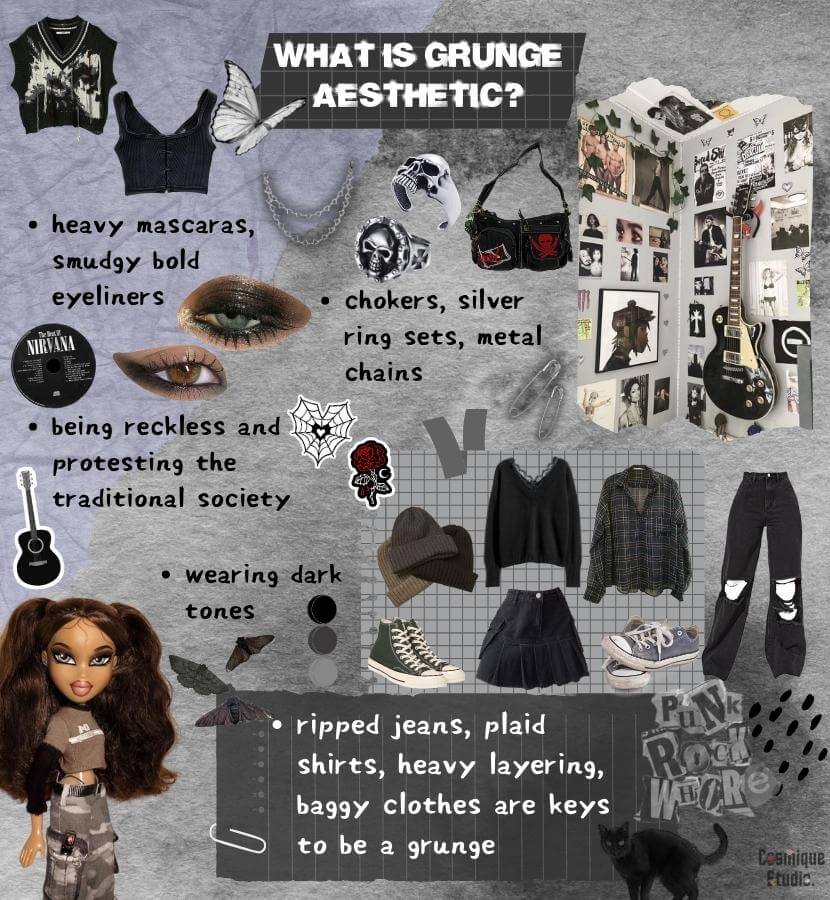 Makeup: Heavy mascaras, darker-tone matte lipsticks, dark nail polishes, and smudgy bold eyeliners.
Accessories: Chokers, stud bracelets, silver ring sets, studded belts, and metal chains.
Key Motifs: Ripped jeans, heavy layering, plaid shirts, and grimy imagery.
Values: Protesting traditional society, cynicism, and not caring about what people think.
Colors: Black, grey, silver, red,and purple.
3. Soft Girl Aesthetic
Soft girl aesthetic is the style of cute and sweet girls. These girls are adorable, emotional, and vulnerable and look innocent but feminine. They like caring for their skin and hanging out with their friends wearing pink clothes and accessories. By wearing outfits such as crop tops , white air forces, oversize hoodies, high waist skirts, and milkmaid dresses, you can express your femininity with your soft girl clothing. Put your pinky makeup on and wear your heart-eye sunglasses. The world is ready for you!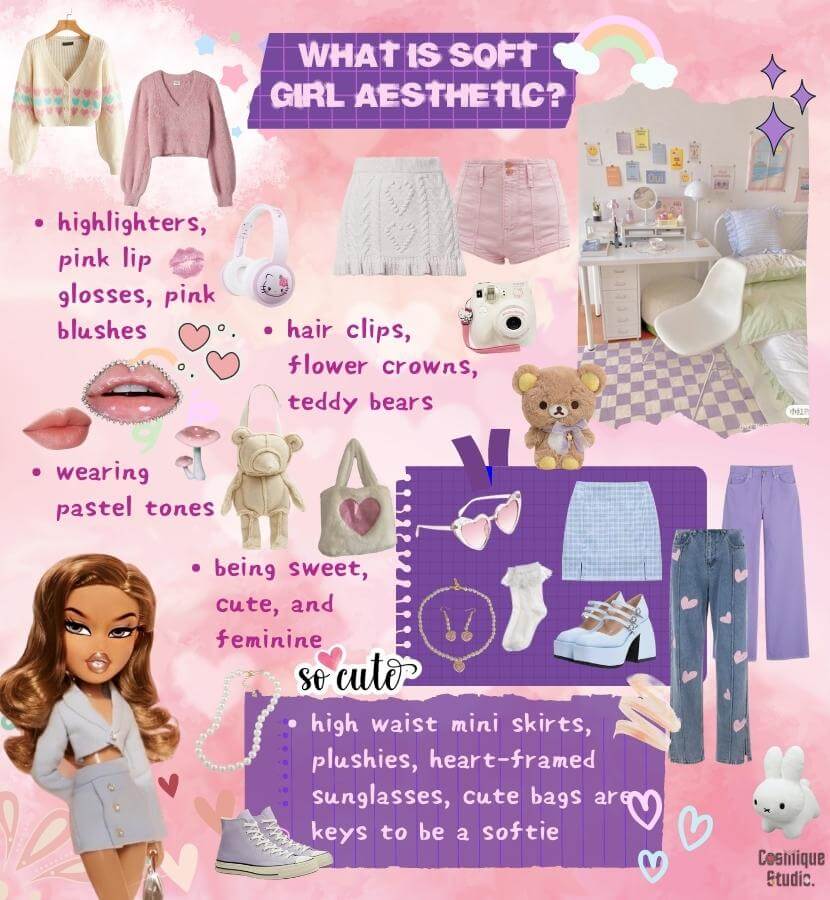 Makeup: Highlighters, pink lip glosses, pink blushes, and fake freckles.
Accessories: Hair clips, flower crowns, teddy bears, and heart-eye sunglasses.
Key Motifs: High waist skirts, plushies, hair clips, and lip glosses.
Values: Being sweet and cute, chill, fashionable, and feminine.
Colors: Pastel tones, pink, and white.
4. Y2K Aesthetic
Y2k aesthetic is the futuristic and feminine style of the mid-90s and 2000s. It was actually born as a protest against the grunge style. Show your futuristic ideas with flame hearts, shiny chain belts, and vivid bright eyeliners while hanging out with friends and enjoying the technology. Show off your y2k style with the trendiest y2k clothing such as low-waist jeans, platform trainers, tube tops, and tracksuits.
The ones who feel like coming from space to earth, our blog about y2k aesthetic guide will help you to settle. Have fun!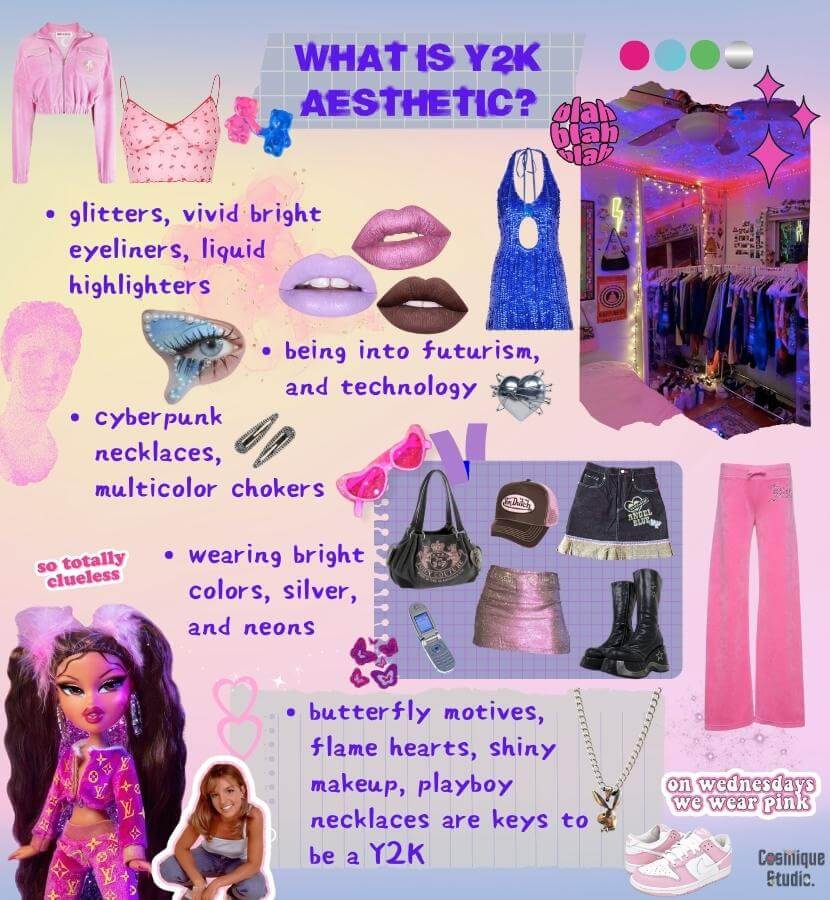 Makeup: Liquid highlighters, lip glosses, glitters, foundation shade ranges, and vivid bright eyeliner.
Accessories: Chain belts, butterfly necklaces, shield sunglasses, and bunny earrings.
Key Motifs: Futurism, flame hearts, technology, and butterfly motifs.
Values: Friendship, optimism, and faith in the new age.
Colors: Vivid colors, silver, pink, baby blues.
5. Dark Academia Aesthetic
Dark academia aesthetic is a popular subculture of academia aesthetic. People who appreciate this aesthetic have a passion for intelligence and education, as well as for literacy, poetry, academia, research, art, historical studies, classics, old buildings, and diverse cultures.You can create your own dark academia aesthetic style with Oxford shoes, cardigans, cigarette pants, uniforms, and long trench coats. These pieces will be perfect choices for the dark academia clothing.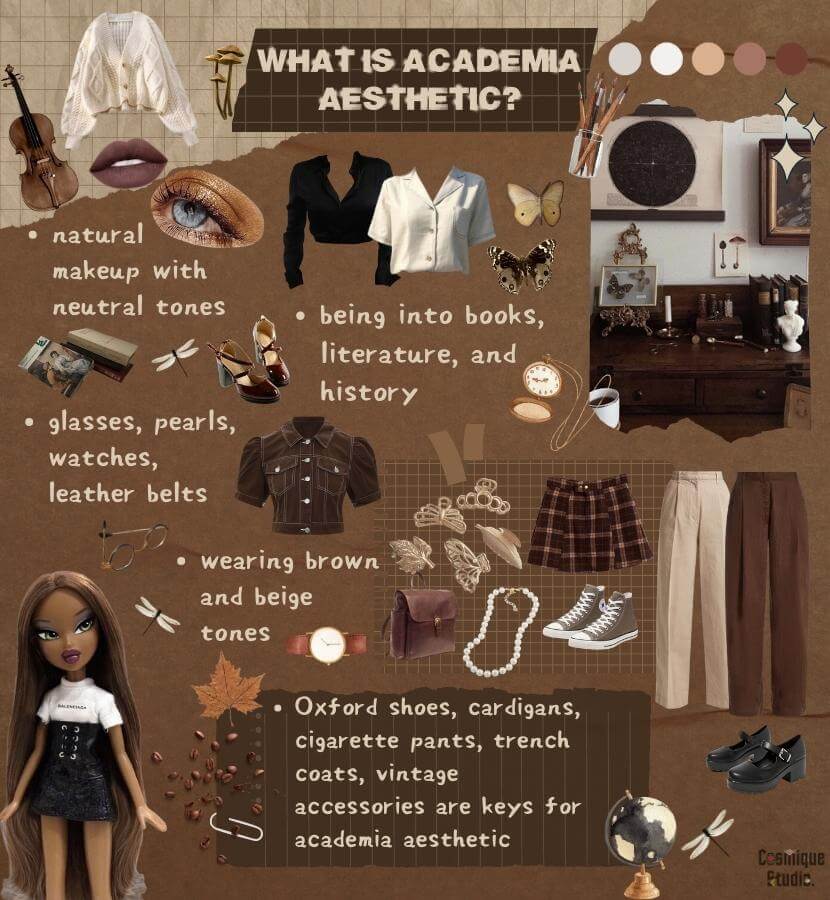 Makeup: Natural makeup with neutral tones of lipsticks and eyeshadows, and heavy winged eyeliner.
Accessories: Glasses, pearls, watches, knee-high socks, and leather belts.
Key Motifs: Books, leathers, literature, old buildings, and history.
Values: Education, curiosity, intelligence, learning, and wisdom.
Colors: Brown, forest green, dark orange, black, white, cream, beige.
6. Baddie Aesthetic
Baddie aesthetic is for the bad girls who are independent, classy, and attractive. Baddie girls have a unique style and look perfect all the time. They're always confident and never jealous of anyone. If you see a glamorous woman drawing all the attention wherever she goes, she's certainly a baddie. Combine your baddie clothing pieces such as crop tops, bodysuits , tight jeans, sneakers, high-heeled stilettos, hoodies, and hoop earrings: WOW! You're a Baddie now!
Don't forget to take a look at our blog about baddie aesthetic guide so that not to miss anything about this fashion, girls.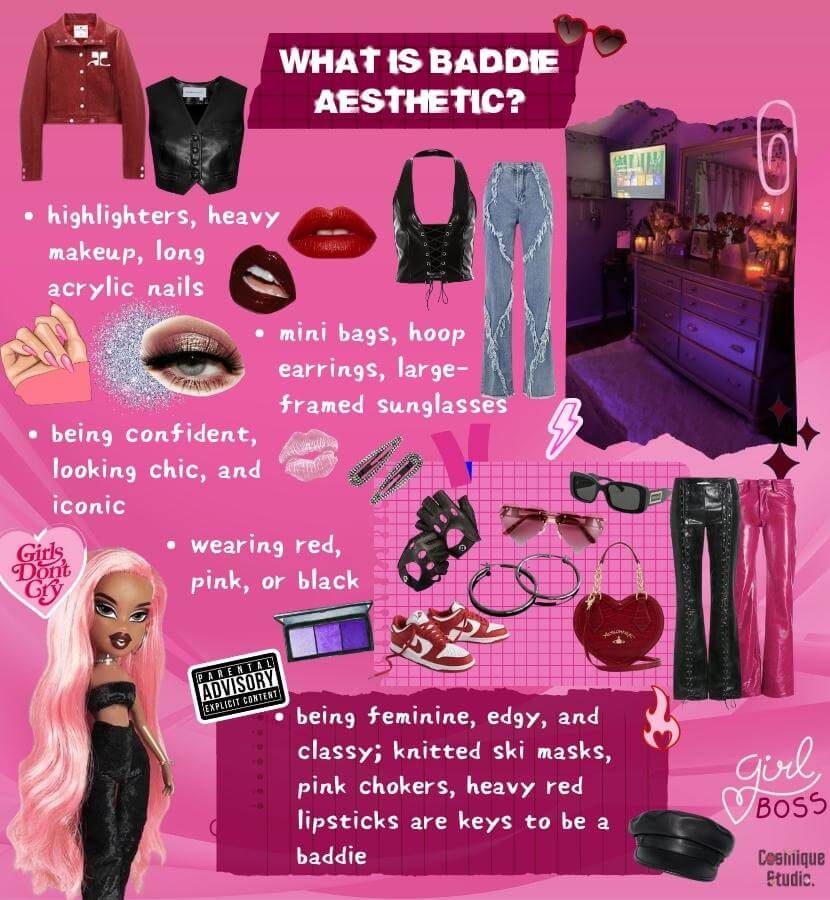 Makeup: Highlighters, lip glosses, long polished nails, thick eyebrows, and fake eyelashes.
Accessories: Mini bags, silk scarves, ring sets, diamond rings, hoop earrings, and sunglasses.
Key Motifs: Glamorous look, femininity, glitter.
Values: Being confident, always looking chic, iconic, and trendsetter.
Colors: Red, black, pink, beige, purple.
7. VSCO Girl Aesthetic
VSCO girl aesthetic is based on a photo-editing app that originated on Tumblr in 2019. This aesthetic consists of taking and editing photos, having clean skin, dressing up the latest fashion VSCO outfits, and having positive vibes. Mom jeans, friendship bracelets, slogan socks , Birkenstocks, Vans shoes, striped shirts, and collage sweatshirts are the core items of the VSCO girl clothing. You can also use phone case stickers to show your style.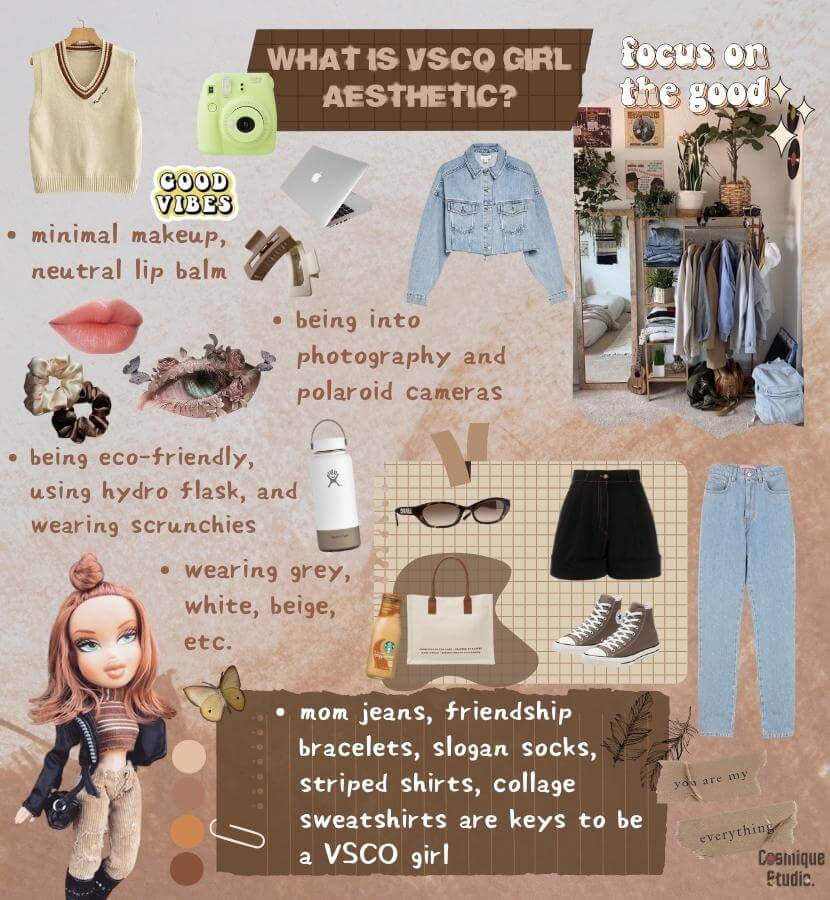 Makeup: Minimal makeup: Neutral lip balm, hydrating facial sprays, creams, warm blushes, and liquid eyeliners.
Accessories: Phone stickers, shell necklaces, AirPods, friendship bracelets, hydro flasks, and phone case stickers.
Key Motifs: Photography, polaroid cameras.
Values: Positive vibes, being eco-friendly, friendship.
Colors: Grey, white, red, green, blue.
8. Kawaii Aesthetic
Kawaii aesthetic is a style for cute, vulnerable, and attractive girls who likes wearing the latest fashion outfits. The kawaii aesthetic wardrobe consists of childish but feminine clothes and accessories. Wanna know the trendy kawaii clothing ideas? You'll need dresses with feminine details such as ribbons, frills, over-the-knee socks, balloon shorts, lace tights, and floral designs for your outfits. Put the strawberry stickers on your phone case and show the kawaii inside you to your friends!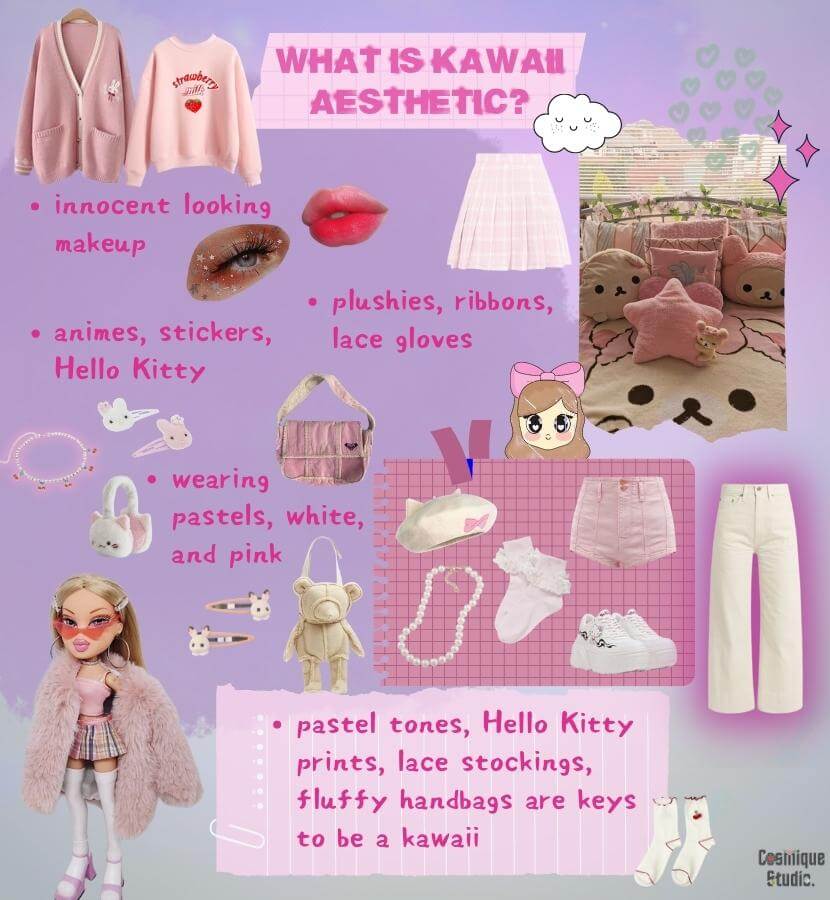 Makeup: Innocent look makeup with pink blushes, lip glosses, liquid eyeliners, and a light concealer.
Accessories: Plushies, ribbons, bento boxes, accessorized nails, and lace gloves.
Key Motifs: Sweets, strawberries, stickers, flowers, Hello Kitty, and animes.
Values: Friendship, innocence, being adorable and nice, and having role models.
Colors: astels, white, and pink.
9. E-Girl Aesthetic
E-girl aesthetic originated in the 2010s and represented active internet user girls with a distinctive style. These girls spend most of their time online. Their favorite activities include playing online games, broadcasting, and making popular posts on TikTok and Instagram. E-girl clothing pieces include plaid high-waisted skirts, striped long-sleeved shirts, crop tops, buckle cargo pants, oversized hoodies, chokers, and combat boots.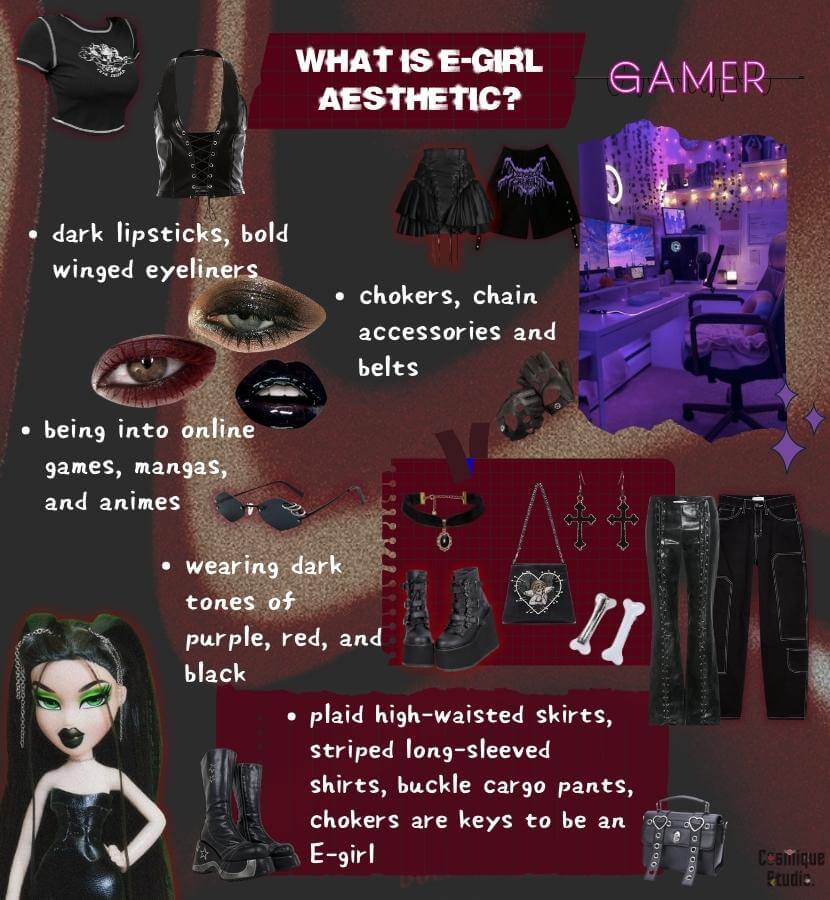 Makeup: Dark lipsticks, bold winged eyeliners, fake freckles, and cute drawings like a tiny star beneath the eyes.
Accessories: Chokers, hair clips, silver necklaces and bracelets, and leg harnesses.
Key Motifs: Playing online games, reading manga, watching anime, and lingeries.
Values: Individualism, effective social media usage, and drawing attention.
Colors: Dark tones of pink, blue, red, and black.
10. Fairycore Aesthetic
Fairycore aesthetic is an eco-friendly style, and it doesn't support consumption. It's the fashion style of people who are imaginative, creative, and content with what they have. Glitters and pastels take so much place in their outfits and long clothes, which have a magical effect on their look. Fairycore clothing includes wearing long dresses, floral maxi skirts, ribbons, open-toe shoes, glowing makeup, corsets, and of course, fairy wings.
Fairies of the world, all you need is a little much fairy dust and our blog about fairycore aesthetic guide to be completed!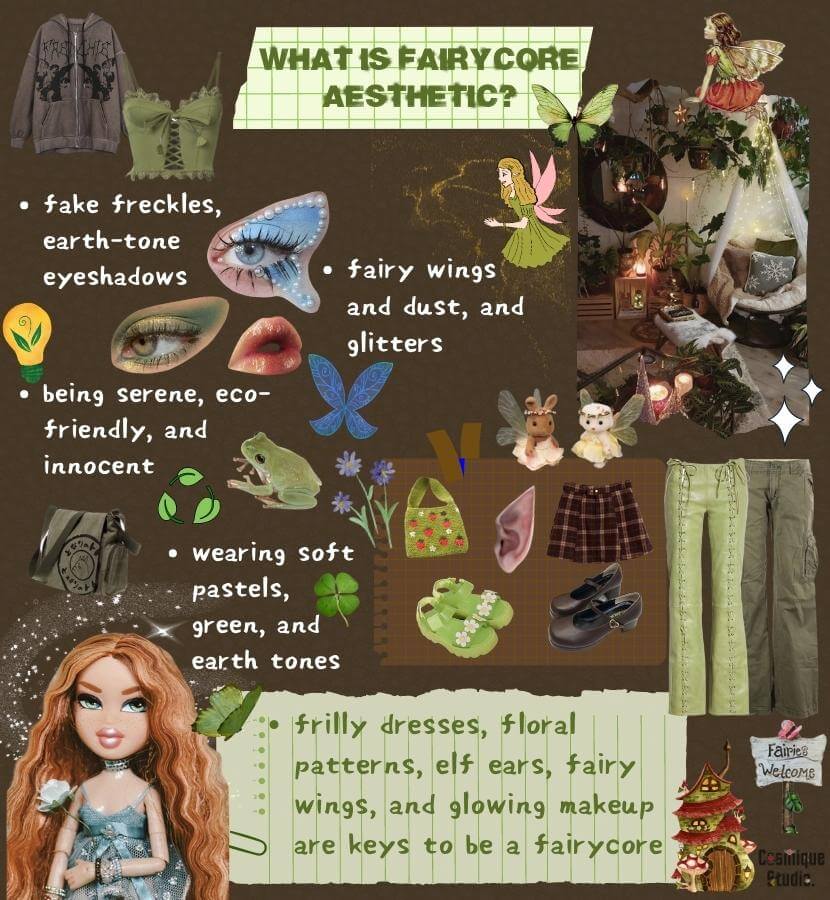 Makeup: Fake freckles, heavy pink blushes, pink lipsticks, earthy-tone eyeshadows, and liquid eyeliners.
Accessories: Gold necklaces, opal rings, elf ears, fairy wings, and fingerless gloves.
Key Motifs: Fairy wings, fairy dust, flowers, elves, soft animals, and springtime.
Values: Serenity, peace, innocence, and being eco-friendly.
Colors: Soft pastels, green, cream-white, earthy tones.
11. Cottagecore Aesthetic
Cottagecore aesthetic is a romantic, calm, and nostalgic style consisting of simple and self-sufficient living in rural areas. It has a deep relationship with nature, especially agricultural life, and plants. This aesthetic is eco-friendly. It supports sustainability and avoids the fast consumption of any products. Cottagecore clothing includes long dresses with flower motifs, laced corsets, puffy sleeves , peasant-style blouses, straw bags, and rope sandals.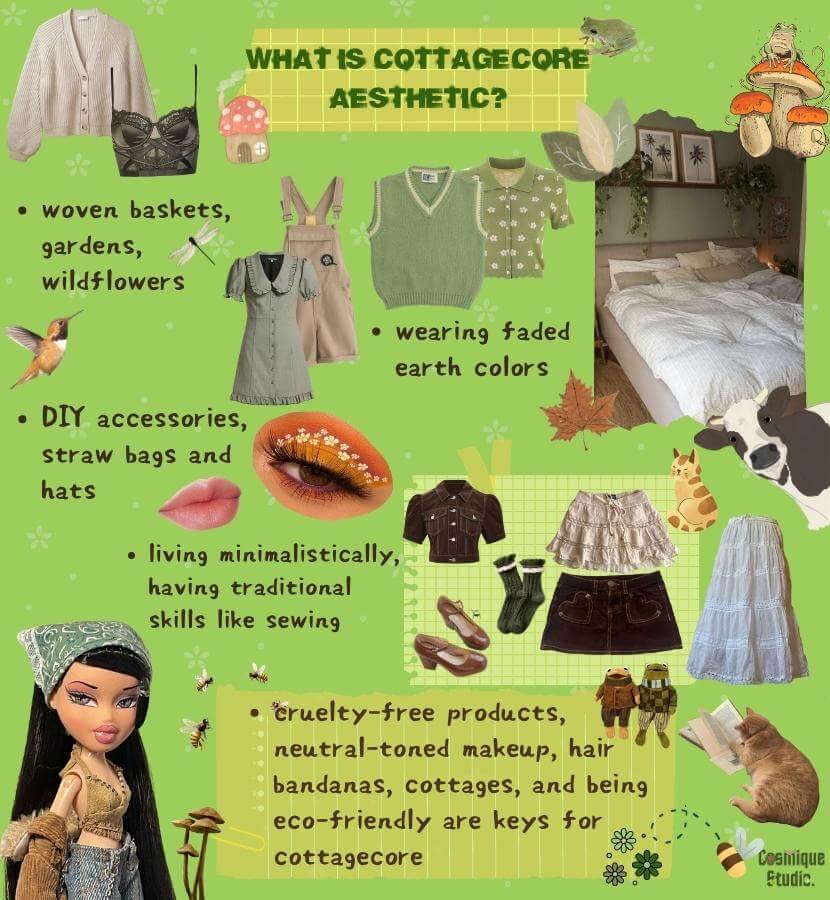 Makeup: Soft tones of lipsticks, pale rose blushes, earth-tone eyeshadows, and fake freckles.
Accessories: Handcrafted or DIY accessories such as knitted socks, flower crowns, straw bags and hats, and mushroom earrings.
Key Motifs: Cottages, gardens, wildflowers, woven baskets.
Values: Being eco-friendly, simple living, traditional skills.
Colors: Faded earth colors, baby pink, rose pink, yellow.
12. Pastel Goth Aesthetic
Pastel goth aesthetic is a blend of kawaii, grunge, and goth. It has a dark side, being cute and having a lolita look. Pastel goth girls like drawing attention by posing their photos and videos on TikTok and Instagram. Get trendy pastel goth clothing pieces such as dyed denim vests, oversize sweaters, tattoo print tights, and platform boots. With your studded headbands, chokers, and combat boots, you'll be sure you'll kick the as*es.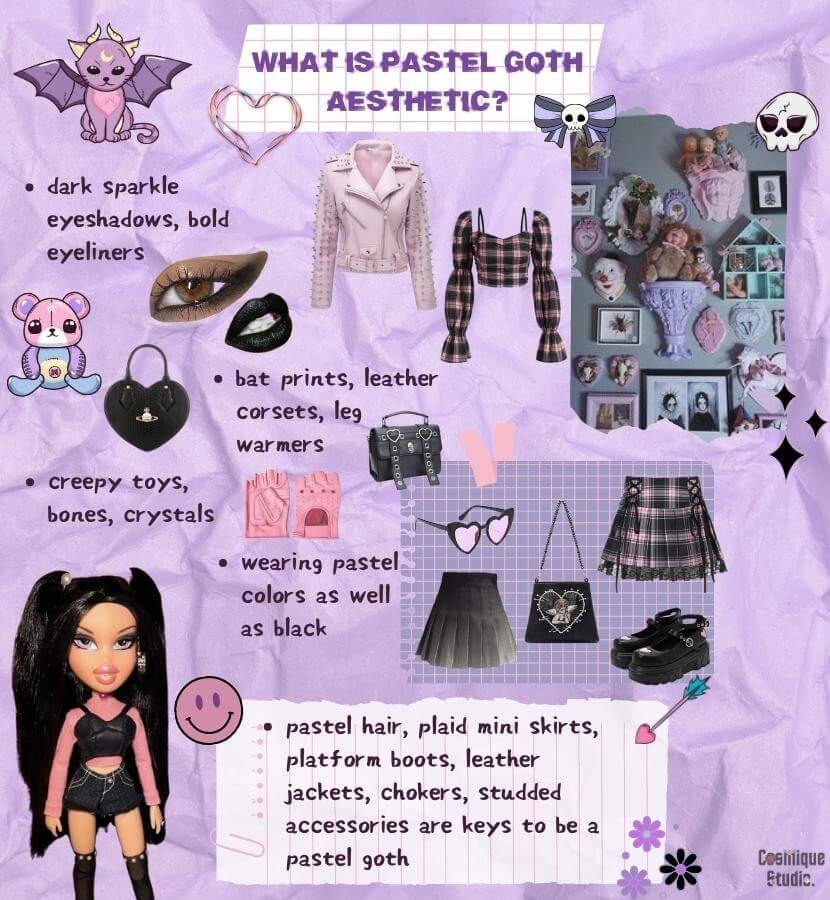 Makeup: Unusual color lipstick, bold eyeliner, dark sparkle eyeshadows, and fake freckles.
Accessories: Round sunglasses, flower crowns, studded headbands, and chokers.
Key Motifs: Bats, the ying-yang symbol, crystals, pastel skies, bones, and pentagrams.
Values: Being cute but depressed, individualism, expressing the dark side.
Colors: Pastel colors, black, baby blue, pink.
13. Coquette Aesthetic
Coquette aesthetic is all about being feminine, passionate, and delicate. If you have a fragile but feminine spirit, this style is just for you! Although coquette girls look shy, you can see their giggling if you look closely. Coquette clothing is intimate, feminine, and full of details. Get the perfect coquette outfits such as lace gloves, satin skirts, bra tops, lolita dresses, wide-leg pants, heart-shaped glasses, fishnet tights, and platform shoes. It's time to show your femininity, girls!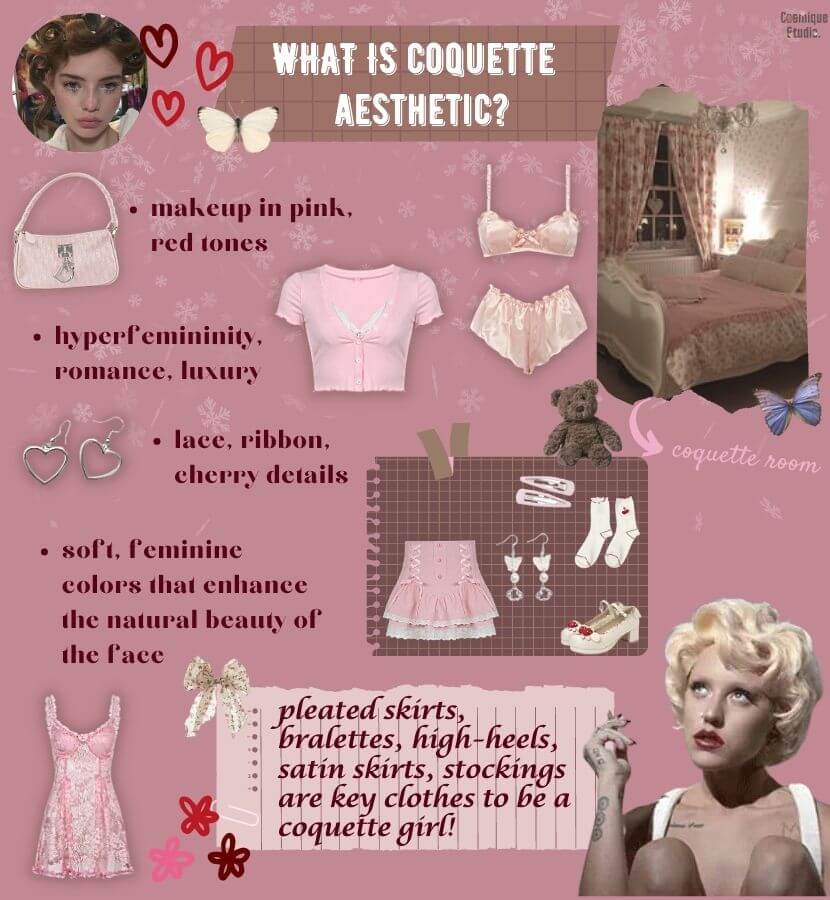 Makeup: Fake eyelashes, lip gloss, clean skin, and rosy cheeks.
Accessories: Lace collars, ruffle gloves, pearls, cherry earrings, heart-shaped sunglasses, and delicate chokers.
Key Motifs: Milkmaid tops, lace pieces, pearls, ribbons, and miniskirts.
Values: Hyper-femininity, youth, romance, beauty, and grace.
Colors: White, pink, baby blue, and soft pastels.
14. Soft Boy Aesthetic
Soft boy aesthetic is mainly about men's fashion and lifestyle. These boys don't mind sharing their sensitive and artistic characters. In a world full of masculinity, soft boys are the only guys who are gentle, kind, and open to all kinds of emotions.The main pieces for soft boy clothing are cardigans, vintage tees, Converse shoes, flannels, denim jackets, striped sweatshirts, bucket hats, and knitted pieces.

Accessories: Headphones, layered necklaces, beanies, and flat shoes.
Key motifs: Conformity, layered clothing, loose outfits, and headphones.
Values: Being emotional, thoughtful, sensitive, vulnerable, and artistic.
Colors: Muted colors, earthy tones, dark shades.
15. Edgy Aesthetic
The edgy aesthetic is the fashion of people who stands out in a crowd due to their distinctive style. Edgy girls and boys draw attention quickly because of their attitude and fashion. Their clothes and accessories are unique, as well as their personalities. Edgy clothing outfits consist of chained mini dresses, fishnet tights, halter tops, turtleneck sweaters, ripped jeans, leather jackets, bandage shirts, cargo pants, and lace-up skirts.
If you want to learn more about this unique style, check out our edgy aesthetic guide to discover more!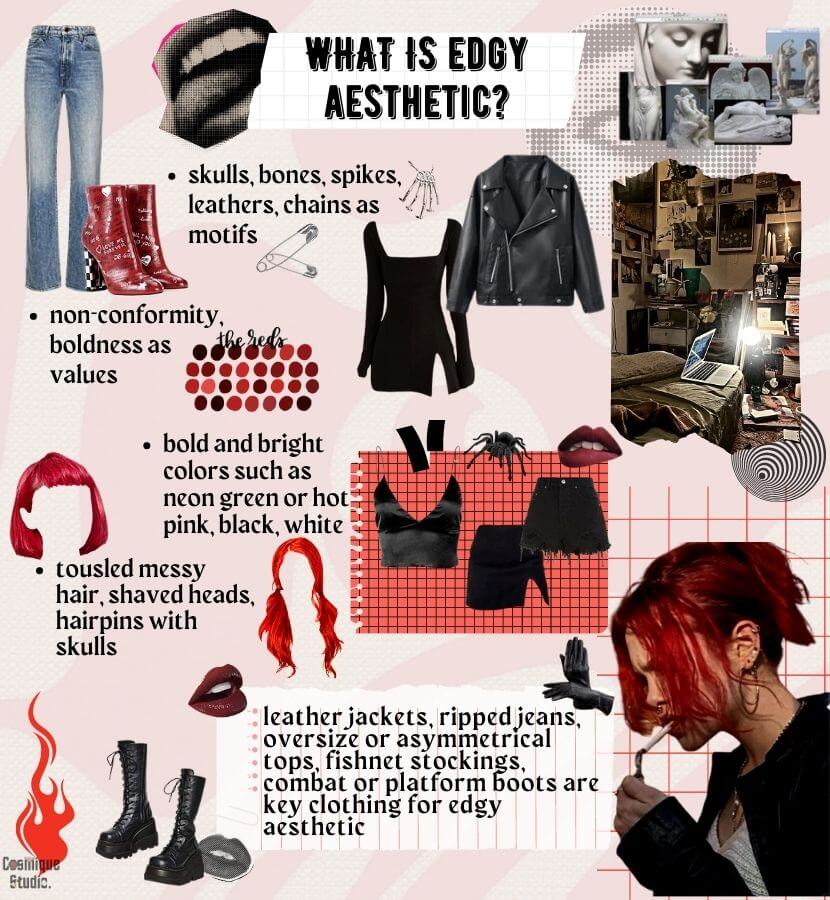 Makeup: Winged eyeliners, matte lipstick, and edgy acrylic nails.
Accessories: Army boots, chokers, studded bracelets, bat wings backpacks, and fishnet tights.
Key motifs: Wearing black, studded accessories, hoodies, and leather pieces.
Values: Rebelling, feeling depressed, being introverted, and taking risks.
Colors: Dark shades such as black, dark gray, and dark green.
16. Fairy Grunge Aesthetic
Fairy grunge aesthetic is a mixture of grunge, goblincore, and fairycore. It has become trendy in the early 2020s and getting more and more popular every day. Dark colors, torn clothes, layered outfits, and of course, fairy wings are the key elements of this one-of-a-kind aesthetic. Fairy grunge clothing consists of corsets, fairy wings, elf ears, patterned mesh tights, mittens, nightgowns, leg warmers, and oversized tees.
Check out our fairy grunge aesthetic guide if you're interested in learning more about this unique aesthetic. You'll find lots of useful info there!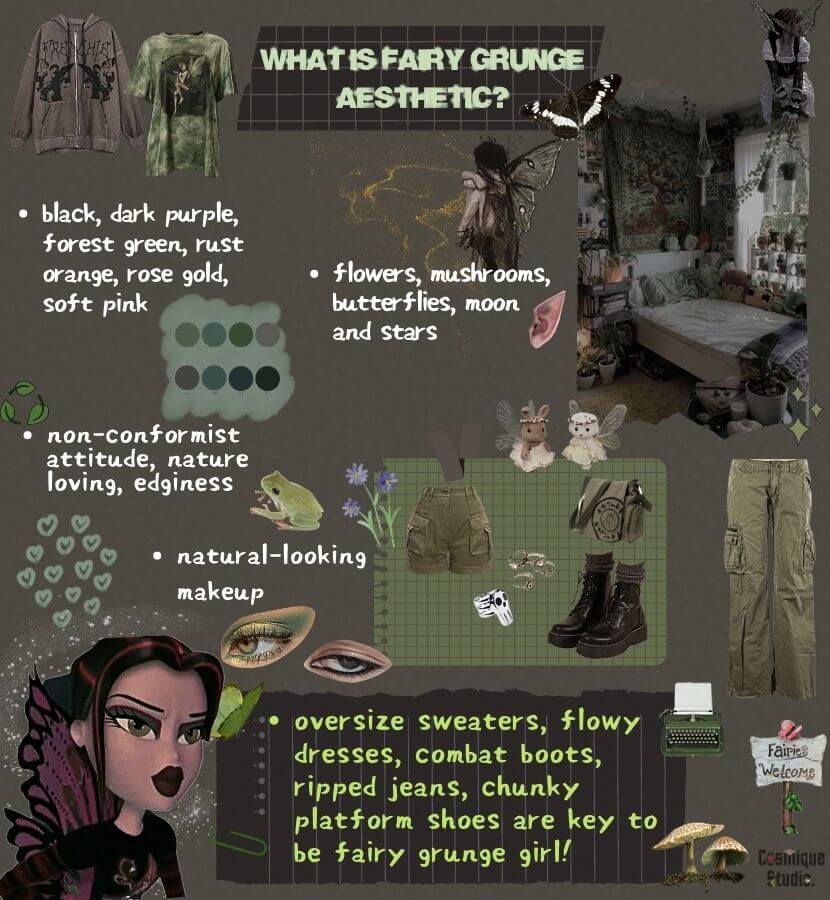 Makeup: Glitter eyeshadow, liquid eyeliner, lip gloss, fake freckles and eyelashes.
Accessories: Chokers, metal chains, ribbons, lace gloves, and fire flame sunglasses.
Key motifs: Torn clothes, layers, fairy wings, elf ears, and crystals.
Values: Being both calming and rebellious.
Colors: Earthy tones, black, green, and brown.
17. Goblincore Aesthetic
Goblincore aesthetic is one of the oldest styles known for decades, originating in the 1910s. It has become famous thanks to Tumblr in the 2010s. We owe this aesthetic to ugly and dirty goblins, which create the roots of this environmentally friendly fashion. Goblincore clothing includes overalls, velvet dresses, dirty boots, oversized shirts, cozy sweaters, knitted tops, ripped jeans, and chunky belts.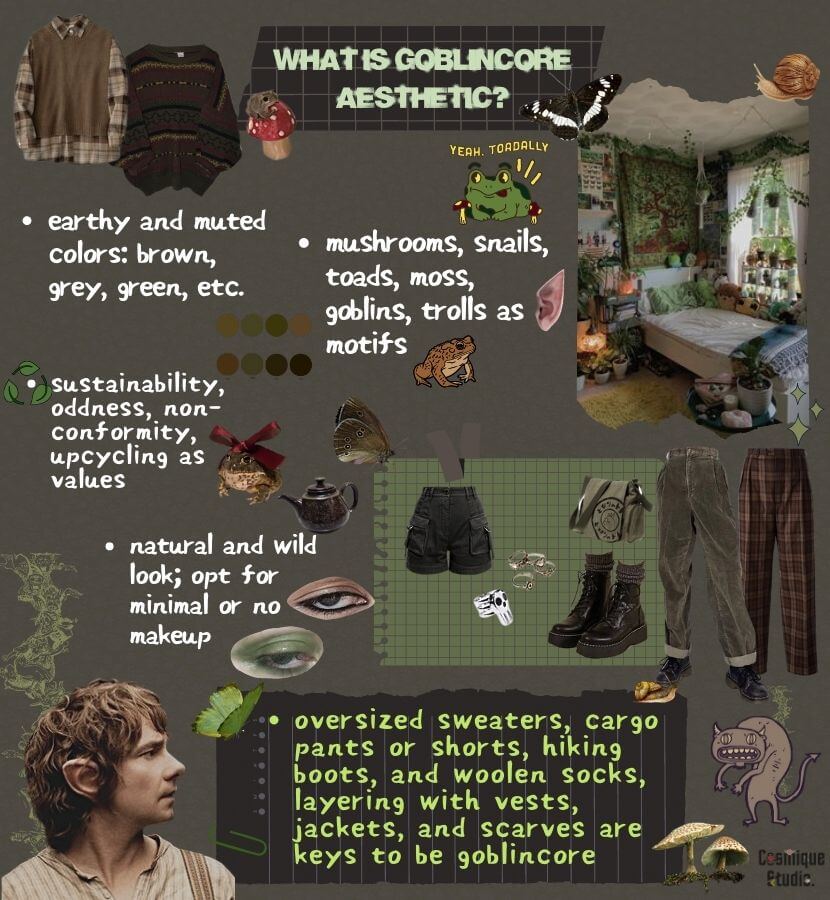 Makeup: Peachy blush, fake freckles, green eyeshadow, nude lipstick.
Accessories: Shiny jewels, elf ears, silver ring sets, rope belts, and ugly hairpins.
Key motifs: Snails, dirt, frogs, mushrooms, bones, and cozy outfits.
Values: Uniqueness, curiosity, nature, and imperfection.
Colors: Light brown, dark green, dark lime, dark brown, and navy blue.
18. Sanriocore Aesthetic
Sanriocore aesthetic is mainly about being cute, childish, and innocent. The primary colors of this style are pink, white, and soft pastel tones. Even these colors are pretty, right? This aesthetic is based on the characters created by a Japanese-based company, Sanrio Co. Ltd. We bet you know these characters very well: Hello Kitty, Kuromi, My Melody, and many more…Sanriocore clothing outfits are Sanrio-print tops, character-themed clothes, lolita dresses, sailor uniforms, garters, loose socks, fluffy slippers, and tiny bags.
If you're interested in sanriocore, we present the cutest devil-inspired character of Sanrio, Kuromi. Take a look at our blog about kuromicore and see how you can be both cute and evil!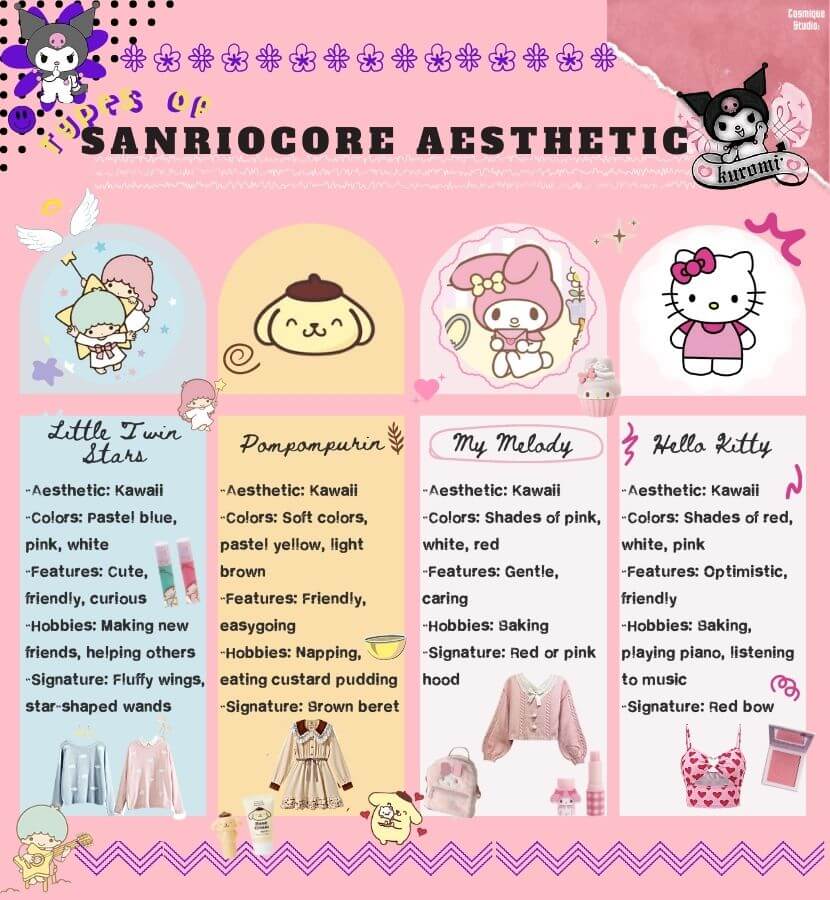 Makeup: Winged eyeliner, fake eyelashes, lip-gloss, pink nose, drawing cute shapes on the cheeks.
Accessories: Animal air headbands, bow clips, platform boots, colorful glasses, heart-shaped chokers.
Key motifs: Sanrio characters, plushies, desserts, sparkles, stickers, and candies.
Values: Innocence, cuteness, childlike styles, and girly attitude.
Colors: Light pink, baby blue, white, and soft pastel tones.
---
Have you decided on which type of aesthetic you like most? For those who're asking "What's my aesthetic?", keep following our blogs so that you can find your personal aesthetic types. If you are interested in seeing more ideas, follow Cosmique Studio on Instagram, Facebook, TikTok, Youtube, Twitter, and Pinterest! We are sure that you will find your perfect aesthetic style and dress you up for the best!
You can read more on our aesthetic blog page and mail us anytime you wish about your questions, ideas, and new blog wishes as well!
What is your personal aesthetic? Let us know about it. Comment below and share your ideas, interests, and comments about your aesthetic with us!