Fairy Grunge Aesthetic: Complete Guide + 5 Outfit Ideas
Posted by Sorina on Jul 04, 2022
---
Enchanted forests, deep dark woods, and a magical atmosphere at dusk. Fairy Grunge Aesthetic is quite a new fashion trend that appeared in 2020. Thanks to the creators of TikTok and other social media platforms, it is becoming even more popular today. Gen Z is digging the fairy grunge fashion. So you want to dress in fairy grunge but are a bit confused about how to pull it off? Well, we're here to help you learn how to become the trendiest grunge fairy out there. Let's dive into the dark magical world of fairy grunge aesthetic together.
What is Fairy Grunge?
Being a mash-up of grunge, fairycore, and Y2K aesthetic, fairy grunge is a fashion trend that many of us desire to dress ourselves. Fairy grunge is all about dark tones, neutral and earthy colors, and layered, thrown-together outfits. Looking like a dark, hidden elf is the key to fairy grunge fashion.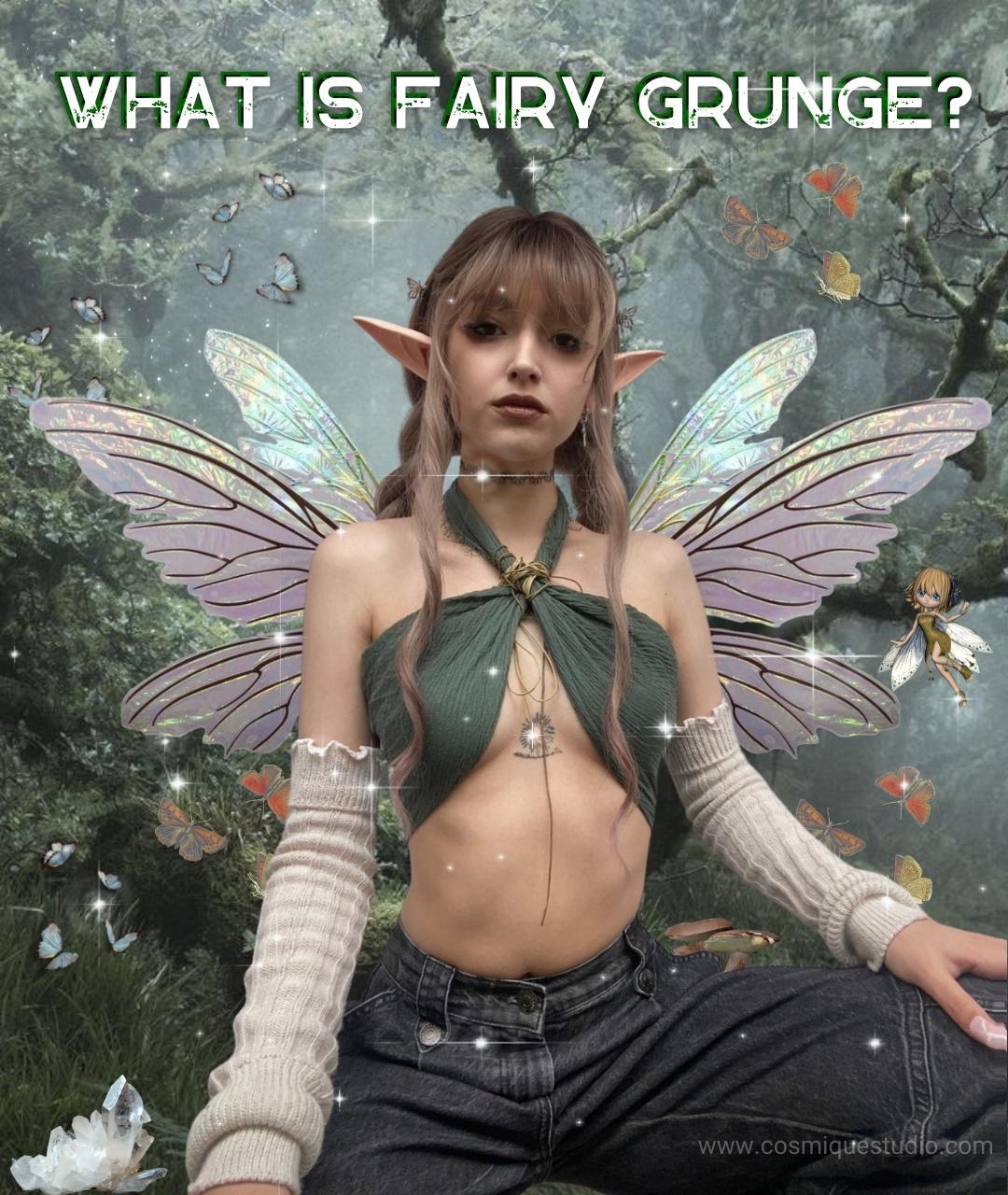 It is a fashion trend on TikTok that appeared in the early 2020s, but it has deep roots in the early 2000s young adult fairy fandom! It's not only how you dress yourself but also an aesthetic that you can live with as a lifestyle. But make sure not to confuse fairy grunge with grunge, fairycore, or even goblincore aesthetic! Fairy grunge has a more earthy look than grunge and is much darker and thrown together randomly than fairycore. Also, it is more magical than the goblincore aesthetic because we are talking about the fantastical world of fairies here. We are talking about a bit of a messy yet still enchanting look. A fashion trend that makes you create an edgy vibe and, at the same time, makes you connect with your feminine side. So, are you ready to turn into the grunge fairy of your dreams? Let's discover the dark and dreamy world of grunge fairies together.
What to learn from this blog
What Fairy Grunge aesthetic is.
How to become Fairy Grunge.
How to dress in Fairy Grunge style.
Fairy Grunge makeup and accessory ideas.
Differences between Fairycore and Fairy Grunge fashion.
Fairy Grunge movies, artists, visuals, music, and books.
Fairy Grunge outfit ideas.
Where to buy Fairy Grunge clothes.

Fairy Grunge vs. Fairycore: The Difference
Fairycore is a subgenre of cottagecore. While fairycore is about elegance, bright colors, and a little bit of pixie dust, which is obviously GLITTER, fairy grunge is all about earthy, neutral, and dark shades and creating more casual outfits.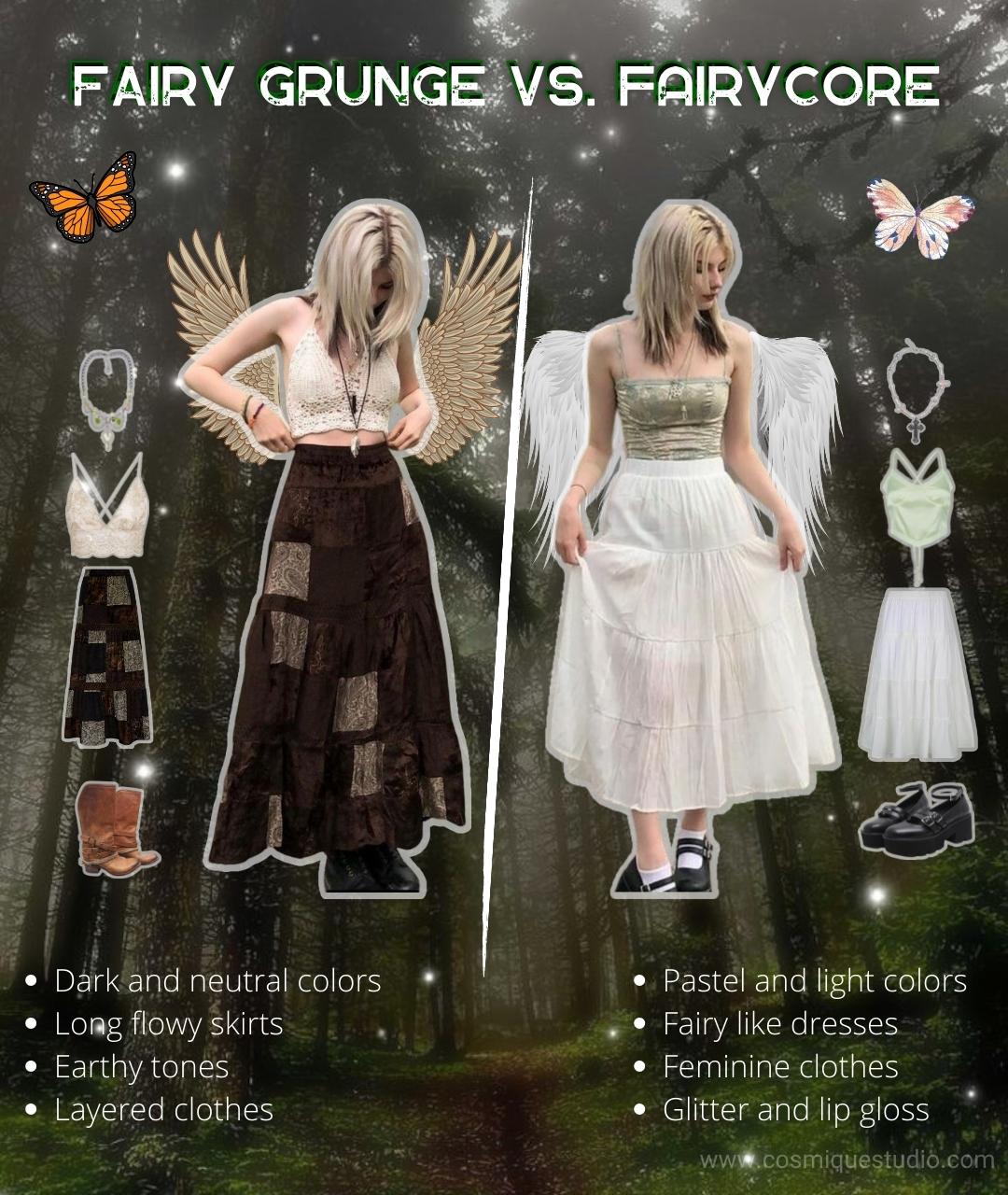 Fairycore fashion looks as if it came out of a Disney Princess movie. Still, fairy grunge fashion has more of a villainous vibe than a princess' life. Fairycore aesthetic loves pastel and bright colors, ribbons, laces, butterflies, flowers, and magical creatures. It's angelic, dreamy, and ethereal. The fairy grunge aesthetic loves darker shades of color to create an earthy vibe. You must look like a badass fairy to achieve the fairy grunge aesthetic. Fairycore looks more approachable, and fairy grunge is a little bit intimidating. You can call fairy grunge dark fairycore, but it would be an understatement. Making fairycore outfits in darker colors instead of pastel ones won't make you fairy grunge. You need layers of clothing and a more torn-out look to achieve the messy grunge fairy look.
Fairy Grunge Music
While dressing yourself in fairy grunge, you can also listen to some music in the background that gives fairy grunge vibes. Check out some of the songs we have found that fit the fairy grunge aesthetic.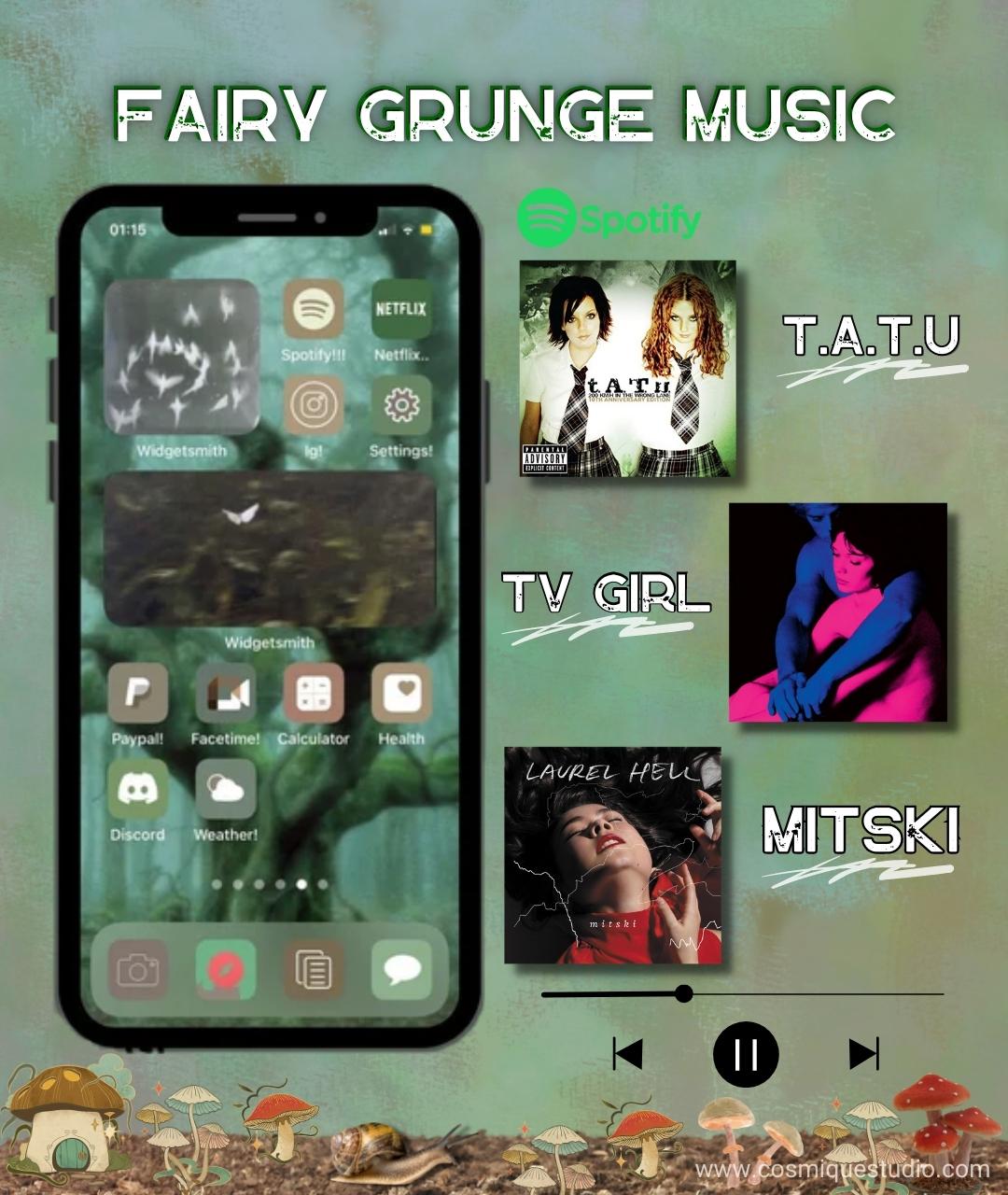 Brick by Boring Brick by Paramore
Duvet by Boa
Twilight by Boa
Working for the Knife by Mitski, aka our queen
All The Things She Said by t.A.T.u
Deceptacon by Le Tigre
Alien Blues by Vundabar
Lovers Rock by Tv Girl
The Perfect Girl by mareux
Fairy Grunge Cartoons to Binge on
So you can't get enough of the fairy grunge aesthetic? Why not grab some popcorn and watch cartoons that give off the fairy grunge aesthetic vibes with your besties! It can be a fun way to get inspired by watching these series. And maybe you guys can become the coolest grunge fairy gang together. Check out these movies and cartoon series for more inspiration.
Bratz
Bratz Fashion Pixies
If you prefer watching BRATZ instead of Barbie movies, there is a high chance that you love fairy grunge aesthetic. Who doesn't love the edgy, fashionable, and iconic BRATZ girls? I promise you will have so much fun while watching them.
W.I.T.C.H
Another iconic and fun cartoon series. I used to obsess over W.I.T.C.H maybe too much when I was a kid, but you don't have to be a kid to watch it again. It is still fun to watch and a great show to get more fairy grunge inspiration.
Fairy Grunge Books to Read
Some of you might be "book fairies" and prefer reading more. You can grab these books and dive into the mystical world of grunge fairies at any place. There are some young adult literature pieces from the early 2000s to binge read.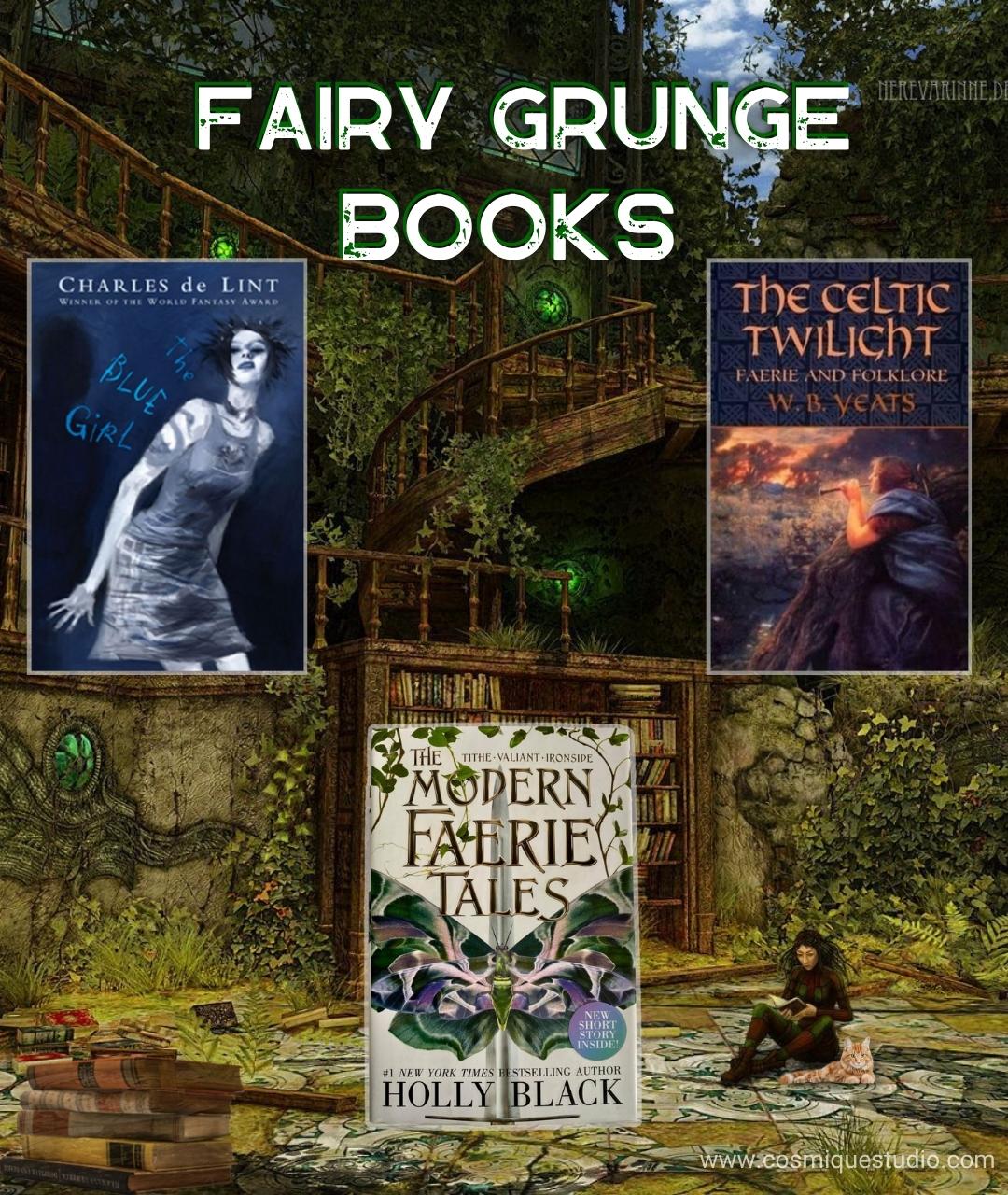 The Iron Fey Series by Julie Kagawa
The Blue Girl by Charles de Lint
Lament The Faerie Queen's Deception by Maggie Stiefvater
Modern Faerie Tales Trilogy by Holly Black
Suppose you don't like reading young adult books. In that case, you can always read Celtic Mythology books as another fairy grunge aesthetic guide. You will love Celtic myths if you love fairy grunge fashion.
Places to Take Fairy Grunge Photos
While dressed in Fairy Grunge style, you can take photos to post on social media and show the world your sense of style. Plus, it is a fantastic way to create more memories with your friends. Here are some setting ideas for your fairy grunge photos.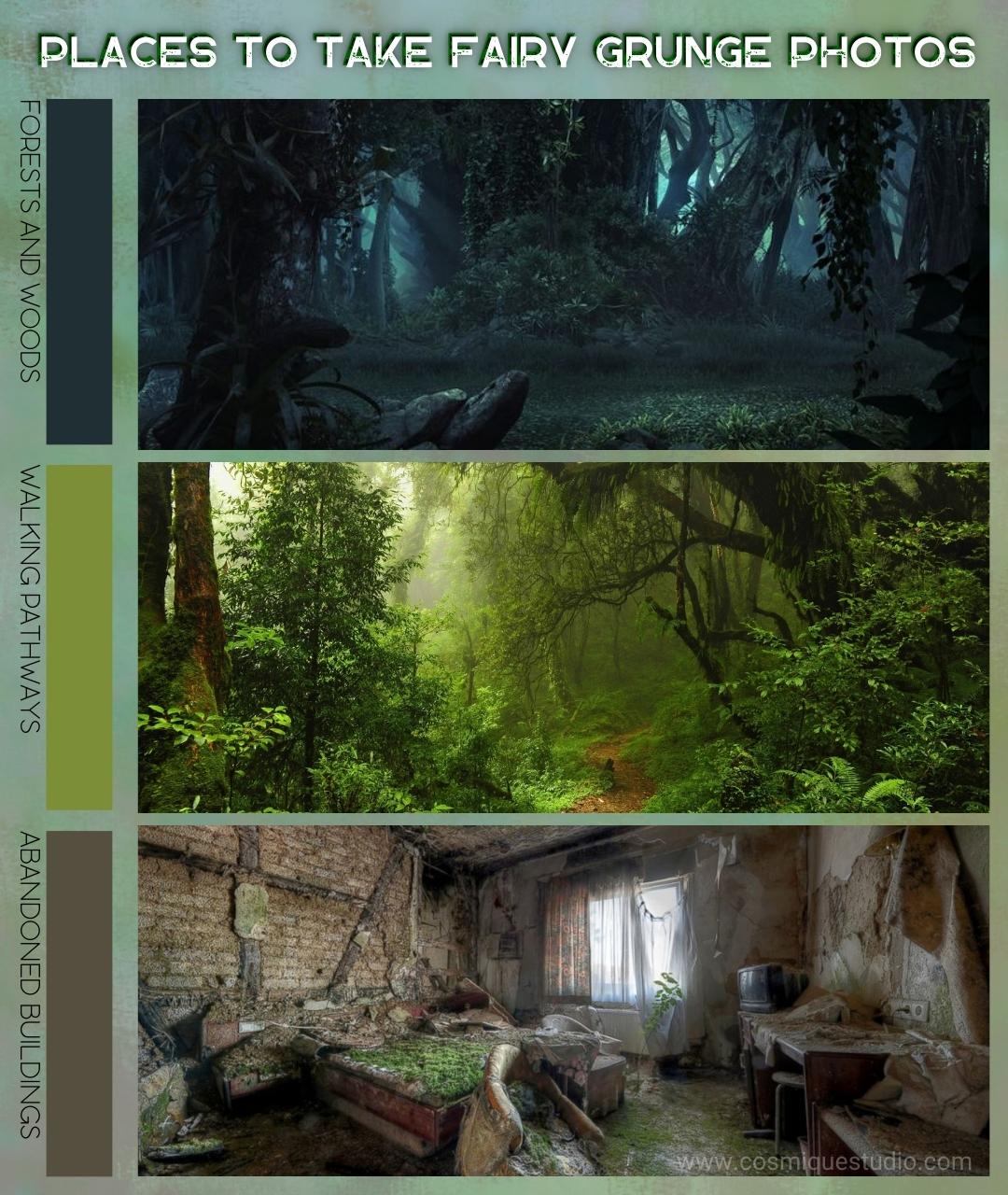 Forests and woods
Taking photos in the forest will compliment your fairy grunge fashion sense. Surrounding yourself with earthy tones of nature will definitely make you look like a dark fairy.
Walking pathways
Taking photos in this place will make you the focus of the image. Without many details in the background will make you shine even more.
Abandoned buildings
It sounds a bit spooky, isn't it? Well, it might sound creepy for some of you guys, but don't worry. Abandoned buildings look breathtaking in the background and completely fit the fairy grunge aesthetic.
How to Dress Fairy Grunge?
Oversize t-shirts and hoodies, neutral-toned crop tops, mini skirts, leg warmers, and many more. Dressing in fairy grunge is about adding layers to your clothing and experimenting. Dark or neutral green tones, all shades of brown, grey, white, and black should be your colors of choice to be fairy grunge.
Relaxed, calm, effortlessly casual yet still captivating, fairy grunge outfits keep dazzling us. Fairy grunge clothes catch the attention of everyone without any effort. It is time to grab your fishnets, leg warmers, and old, worn-out outfits to change into the edgy fairy you've always been. It's time to learn how to dress in fairy grunge style to take everyone's breath away.
Tops: Crop Tops, T-shirts, Hoodies, and Shirts
Lace-trimmed tank tops, short-sleeve button-downs, sheer long sleeves, and shirts. Make sure every piece of clothing is darker or neutral in shade. Pay attention to appear as if you are part of the dark woods. Try to layer your tops as much as possible. Lace-up tie backless tops with oversleeves look really trendy with fairy grunge fashion.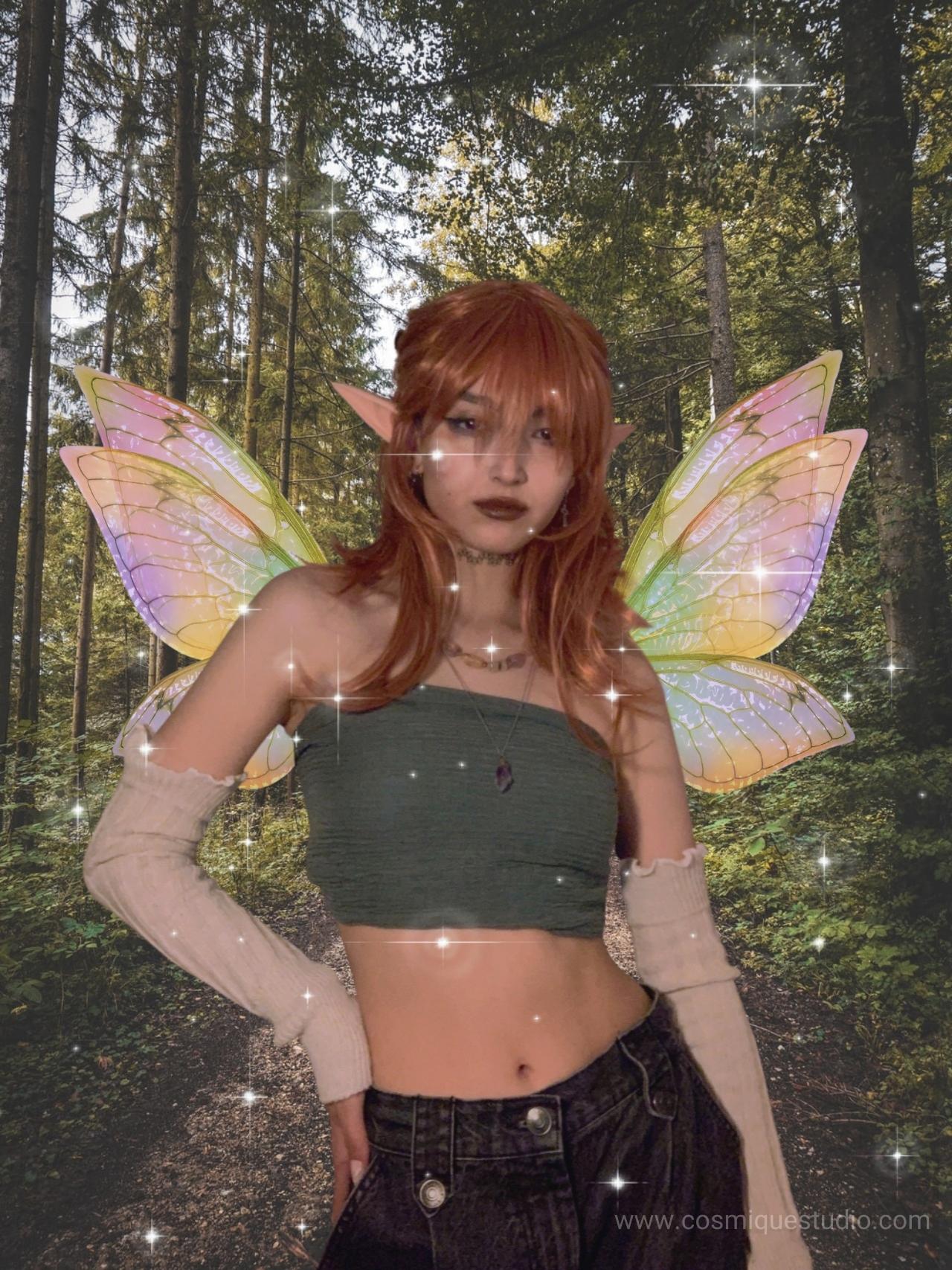 If you are not a fan of layering your clothes, you can go for a minimalistic look too! Just find a crop top that fits the color palette of fairy grunge style and create the layers with your necklaces and fingerless gloves. Crop tops are a must for fairy grunge aesthetic.
Don't forget to add on your old oversize shirts and hoodies too. Fairy grunge has ties to grunge fashion, so you can use your edgy grunge t-shirts and hoodies to create the look. Adding your fishnets under the oversized clothes looks suitable for fairy grunge outfits.
Wearing corsets and tanks with your tops will help you create the grunge fairy style you desire. Make sure to find one to add some spice to your outfits. Also, you can wear a grungy belt. But make sure not to dress yourself in all black because it might look more gothic than fairy grunge because of the corset. Make sure to stick with the earthy tones.
You can wear your fingerless gloves too, and it's better if they are knitted. Adding them to your fit creates a more layered look which is really important for the fairy grunge aesthetic. It will help you create a mossy, mystical look. For more outfit ideas, you can check out the fairy grunge board we created on pinterest.
Dresses
Flowy dresses and nightgowns can be worn together with corsets. Just make sure your skirts and dresses have earthy and neutral tones. Floral prints, bows, and ribbons are accepted too. You can always turn your oversized shirts into a dress by adding a corset, but you should definitely check out fairy grunge dresses. Or you can make your own dress by finding some old clothes and combining them into a dress. I promise, it looks unique, and if you stick to the color palette, it definitely looks fairy grunge.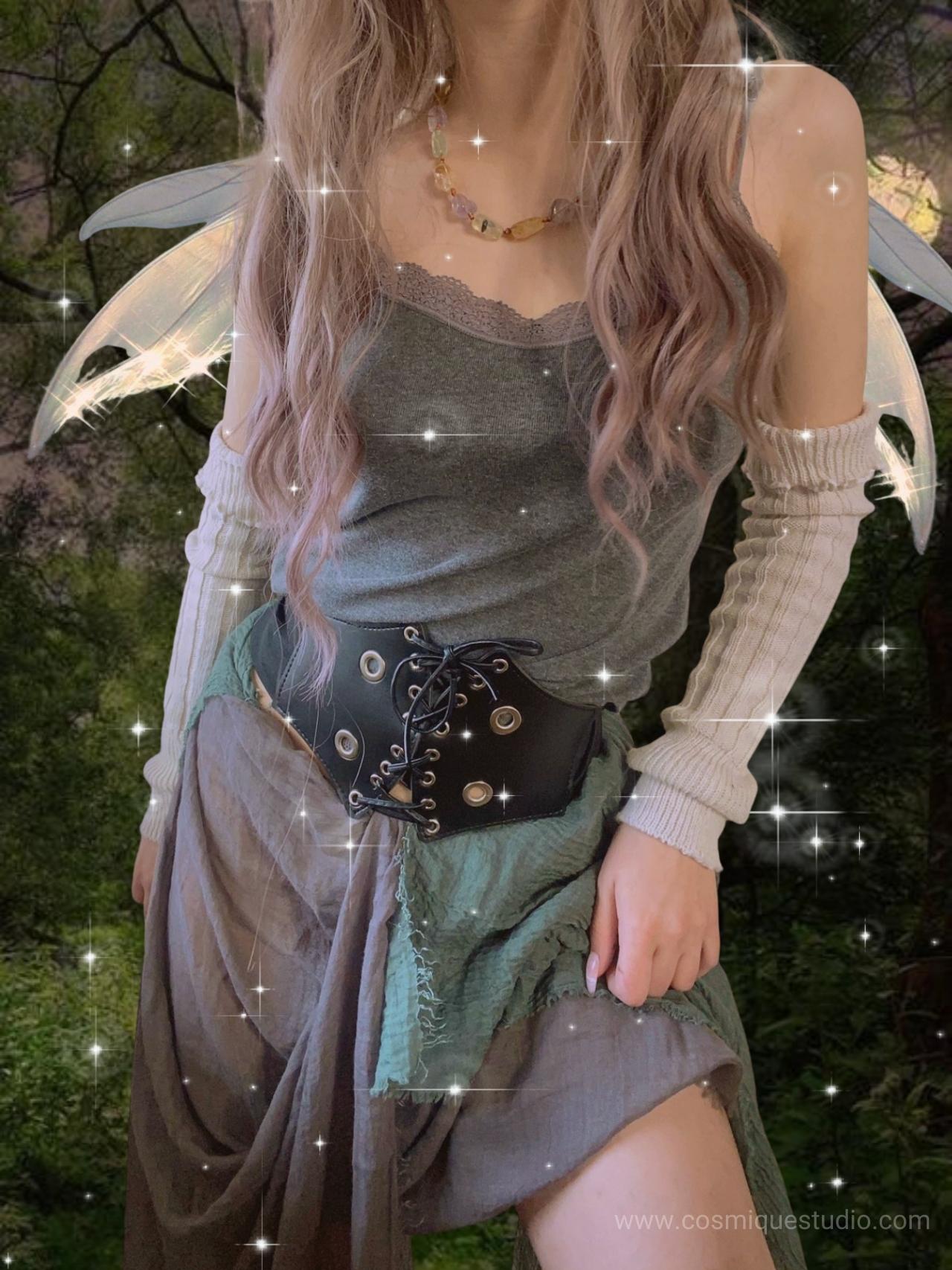 Bottoms: Skirts, Pants, Socks, Tights, Leg Warmers
We love seeing mesh patterned tights and fishnet socks while getting dressed in fairy grunge outfits. You can always wear your knee-high socks or leg warmers on top of them too. So what are you waiting for! It's time to rock the old leg warmers you've always wanted to wear.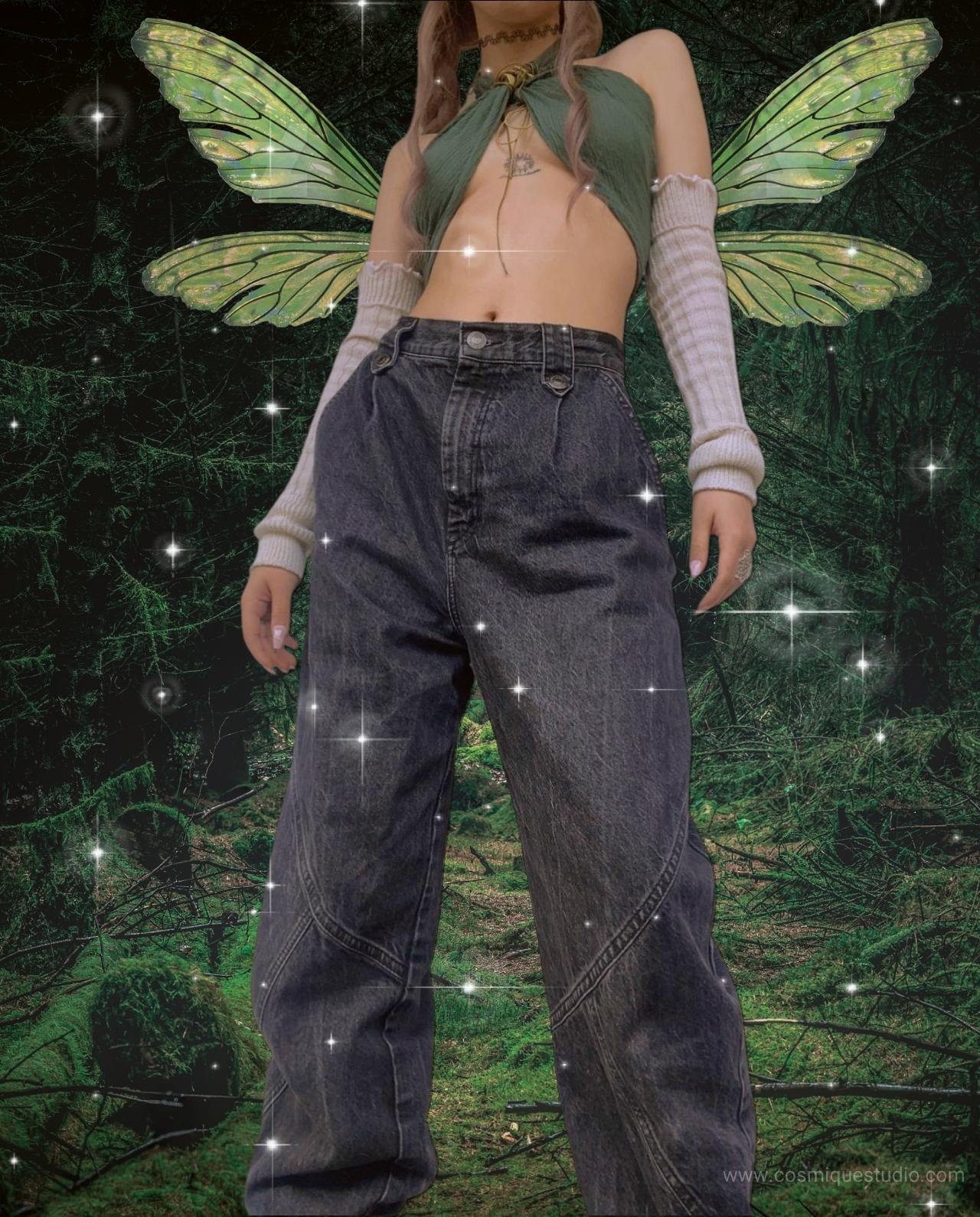 While dressing in fairy grunge style, it's time to rock your midi or mini skirts. Grunge, edgy t-shirts look amazing with flowy skirts, boho midi, and mini skirts. You should add some black or neutral-colored oversize jeans to your closet too. You can rock those jeans with your crop tops and oversized shirts. Your pants can be ripped too. If you are going for ripped jeans, don't forget to wear your fishnets under them too.
Shoes
Don't forget to find your old Converse shoes because they look astonishing under the fairy grunge outfits and totally fit the aesthetic. If you want to look edgier, you can wear platform boots, which complement the grunge and fairy grunge outfits. If you don't own a pair of platform boots, you can always use the old boots your mom always wanted to throw away.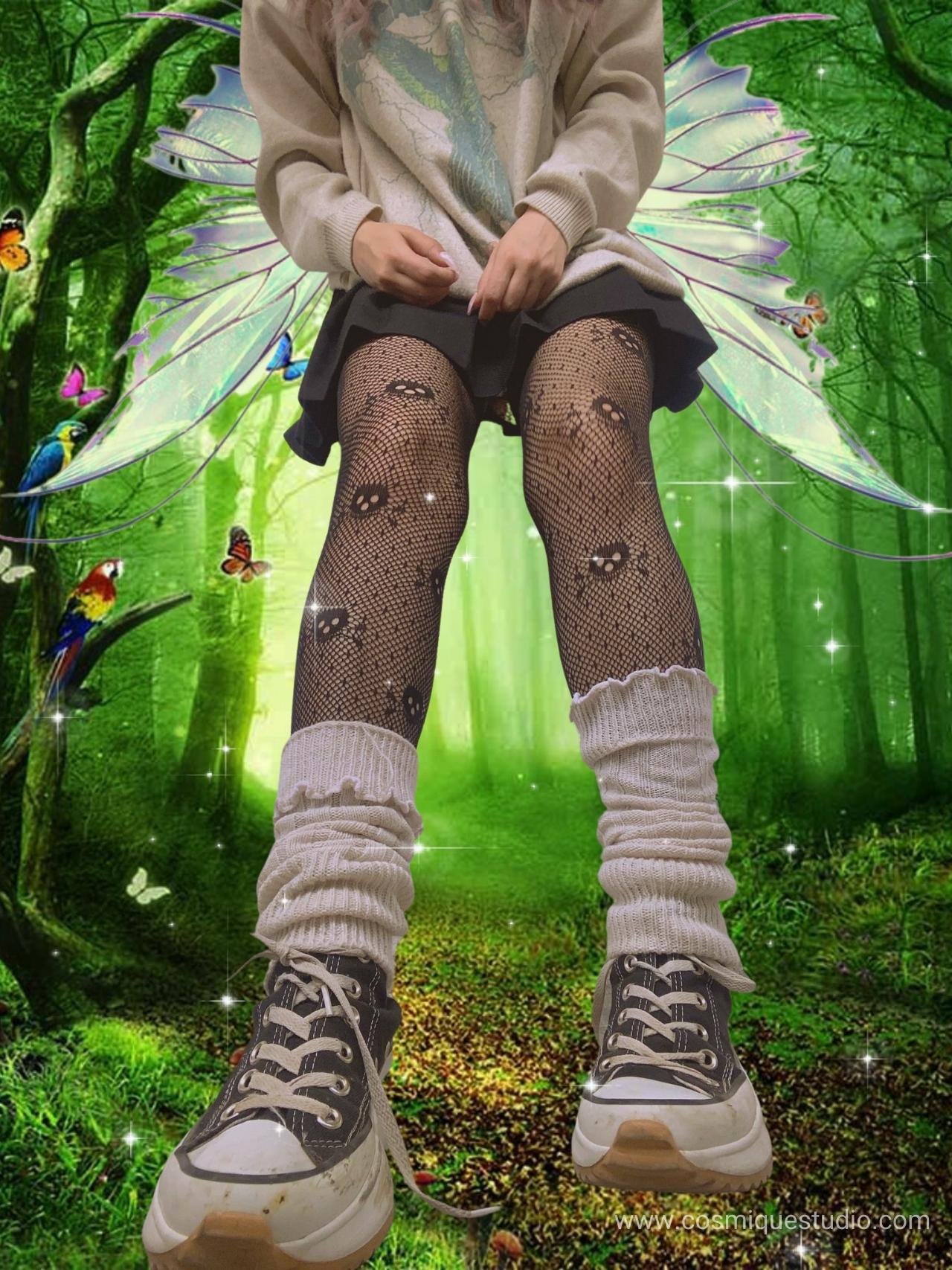 Fairy Grunge Accessories
It is time to find some accessories to combine with your beautiful fairy grunge outfits. These ideas will help you decorate your clothes to look even more grunge-fairy-like.
Elf Ears and Wings
Elf ears and fairy wings turn you into a grunge fairy, and they take our breath away when used. It is time to look even more ethereal wearing them. Make sure your fairy wings are more bug-like or a bit torn to look edgier. If you don't feel comfortable wearing actual wings, you can edit them into your photos.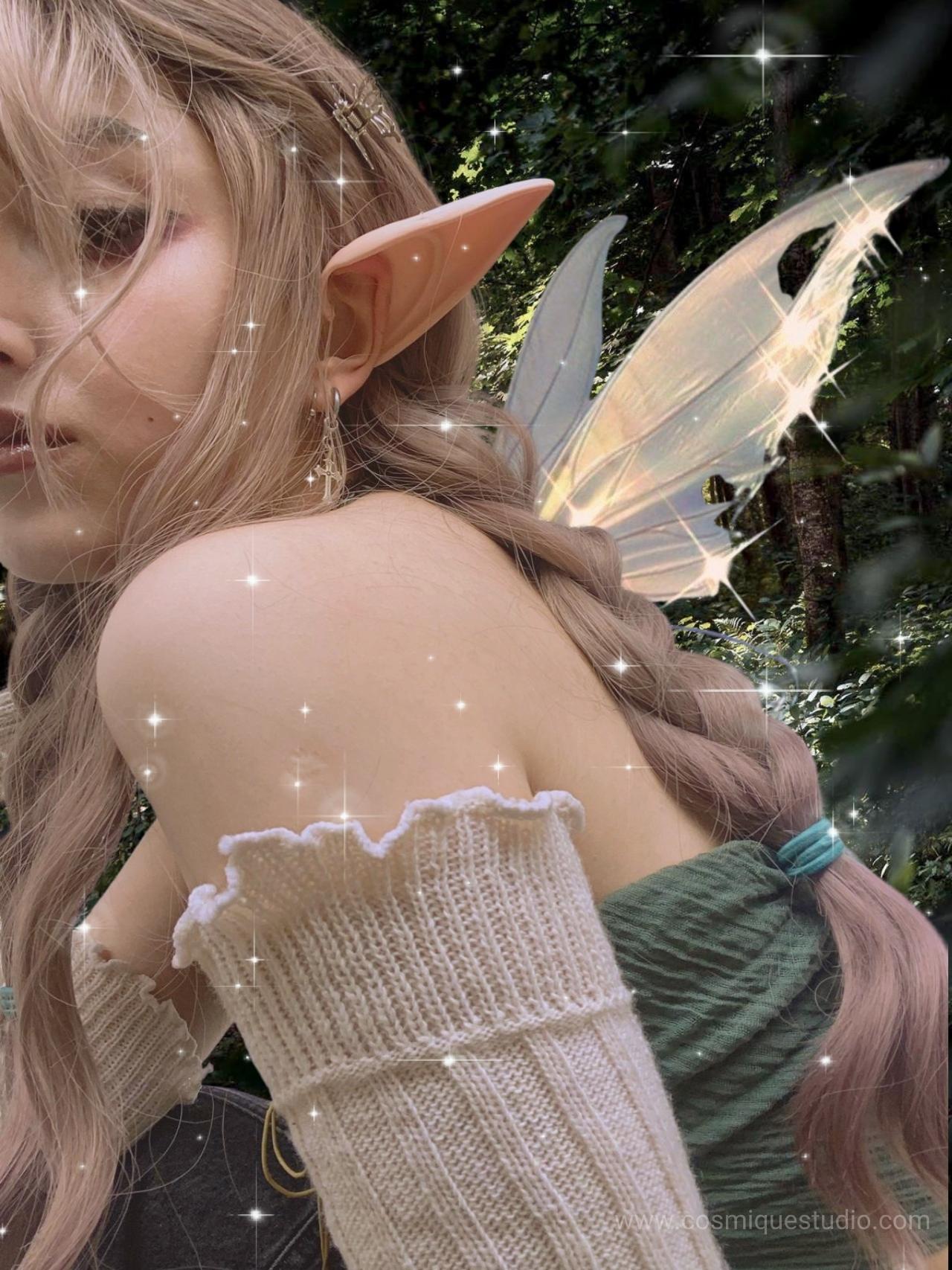 Necklaces
As an accessory, necklaces and chokers can be used. You can even wear multiple necklaces and chokers. Just try to find some butterfly, fairy, or crystal necklaces and chokers; it will be worth it. Or, if you love pearl necklaces, find black or earthy-toned ones to look breathtaking. They can have crosses on them, too. You can also wear grungy necklaces because fairy grunge outfits have a grunge side. Almost every necklace looks good with fairy grunge fashion.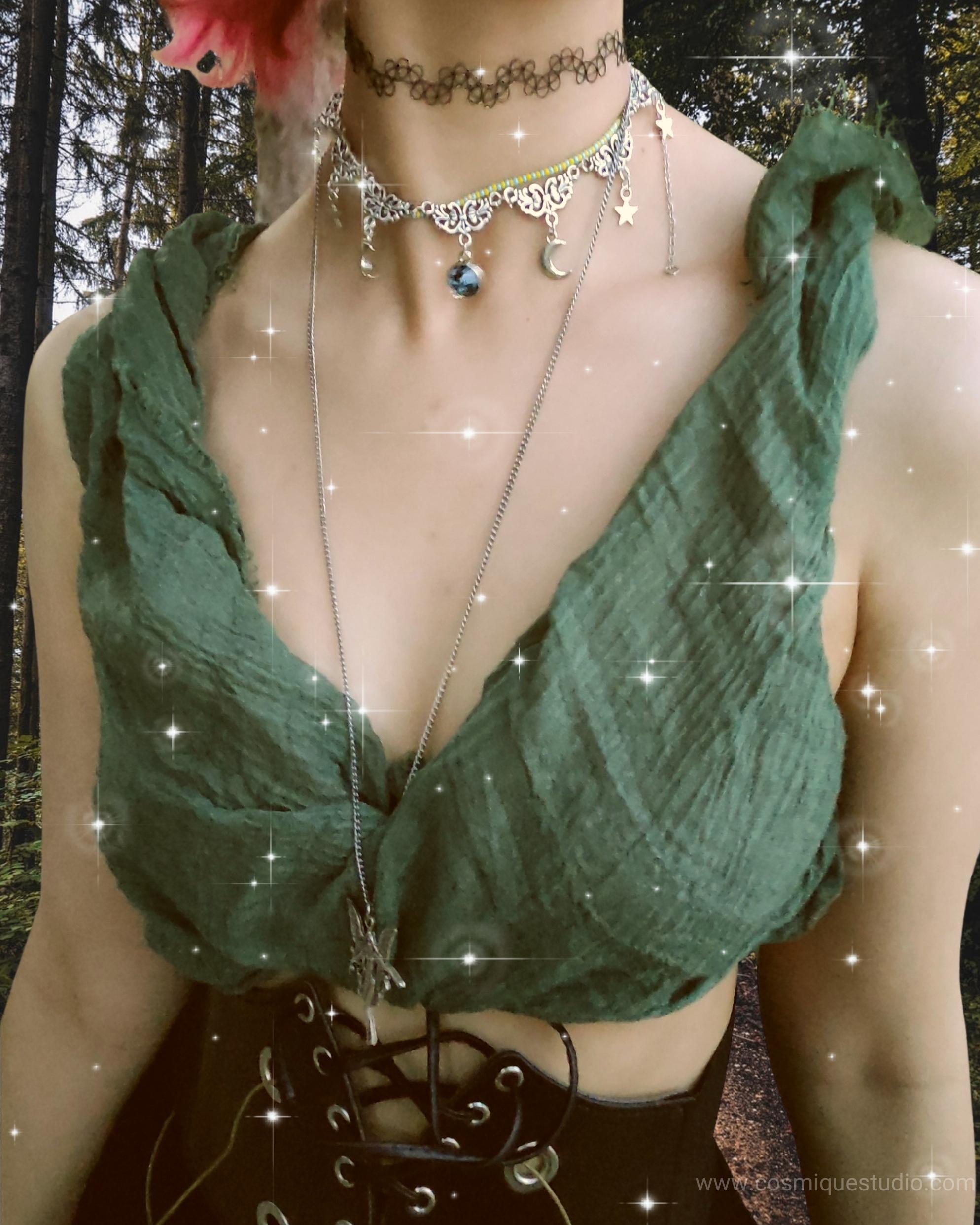 Rings
If you are crazy about rings, wear as many as you can, and you can ask your mom or grandma for some old pieces too. They look gorgeous with fairy grunge outfits. Or you can simply buy some butterfly or frog rings as well as grunge rings. Big rings or small rings, they all fit the fairy grunge aesthetic. Don't be shy to combine them all. They look amazing together.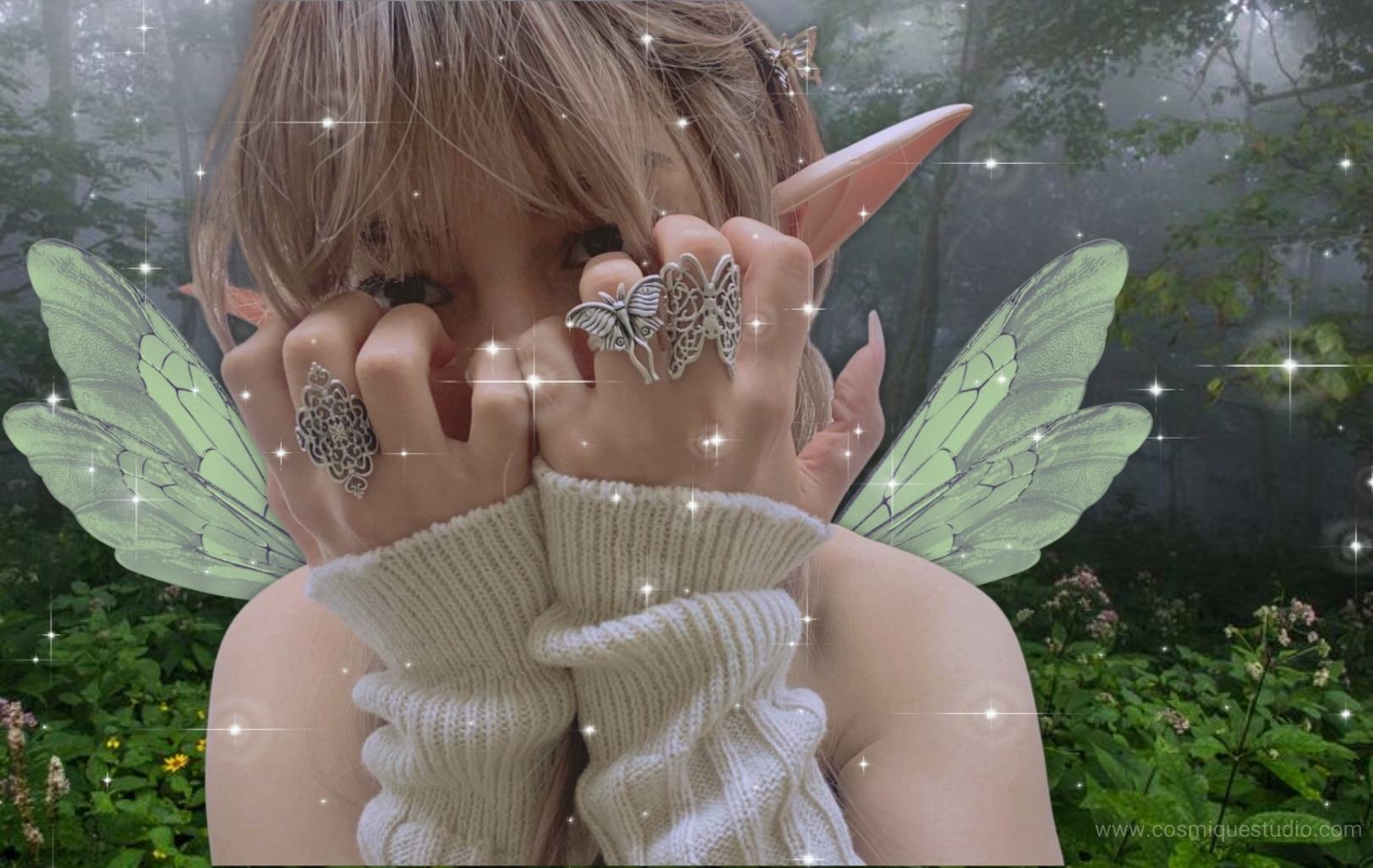 Earings
Earrings with feathers, butterflies, bugs, and crosses are an excellent choice for your fairy grunge clothes. Earings with chains or big crosses on them will look beautiful with this aesthetic. Just like the rings, you can wear as many earrings as you want; there is no limit. If you love piercings, keep them because grunge fairies love them too.
Fairy Grunge Makeup
Keep the makeup simple and dark. You can go for a natural look to show off your unique beauty, as we support all types of beauty. Still, if you enjoy doing makeup, you can show off your makeup skills by using dark and earthy eye shadows and even dark green tones too. You can add some glitter, too, for some pixie dust. You can do your eyeliner, too, and you will look bolder if you draw butterflies, vines, or plant patterns with your eyeliner to match the fairy grunge aesthetic. You can always use blushes and highlighters to look more other-worldly. We love nude and dark neutral-toned lipsticks, too, but you can always experiment and create your own unique makeup look. And a simple extra can be adding some freckles on your cheeks!
Fairy Grunge Hair
You don't have to stick to one hairstyle for the fairy grunge hair. You can make loose ponytails or braid them. You can still look fairy grunge with straight or curly hair. Long, short, mullet, and wolf-cut are all accepted in fairy grunge aesthetic. Natural hair colors will look amazing with your fairy grunge outfits. If you want to look edgier and bolder, you can go for black, bleached, or try fun colors like blue, red, pink, and many more.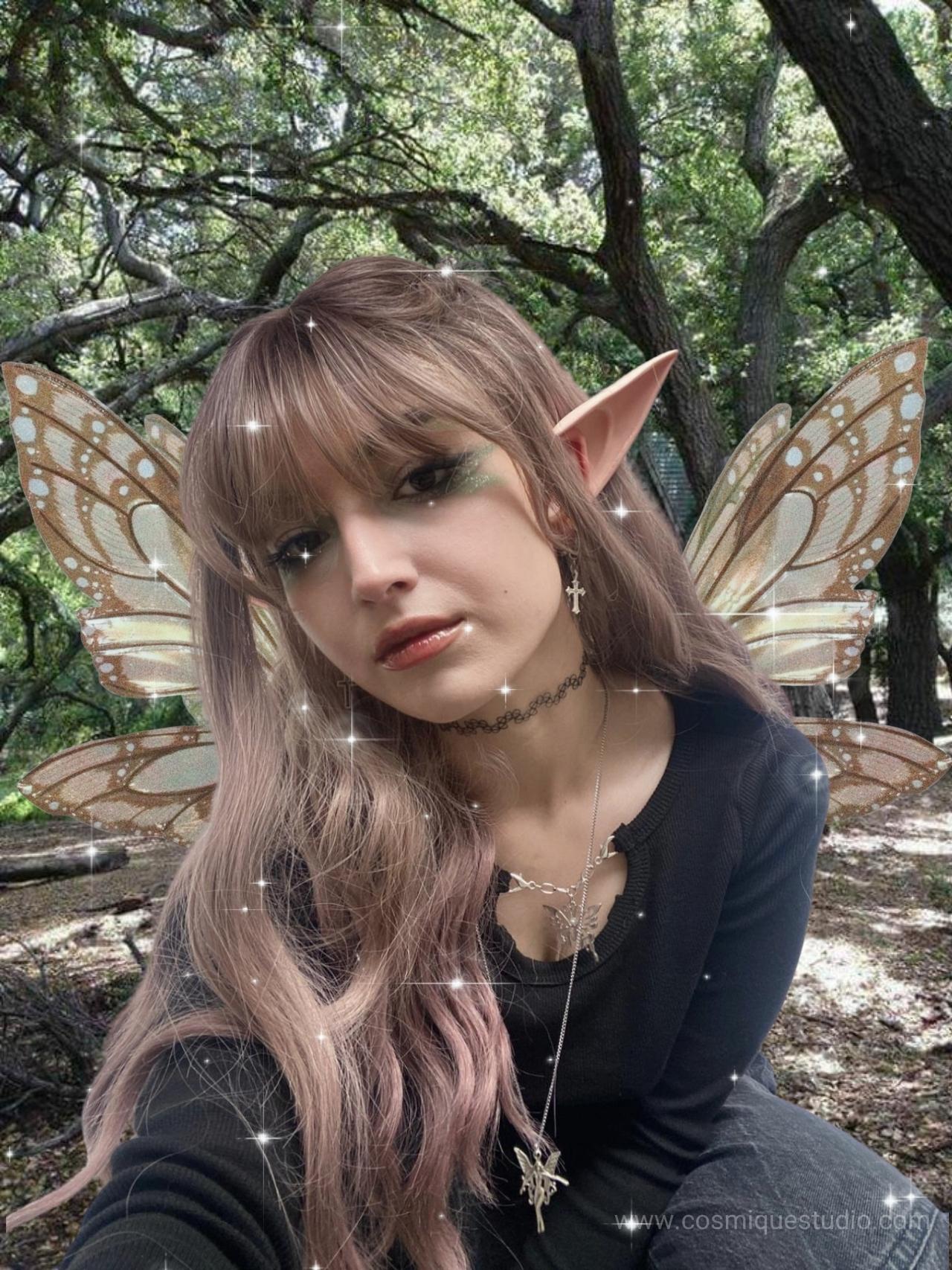 5 Fairy Grunge Outfit Ideas
Now it is time to check these 5 fairy grunge clothes to become fairy grunge. With their dark and earthy tones, these outfits will be your first steps to becoming your dreams' grunge fairy. Let's check together these 5 fairy grunge outfits to get inspired more.
1. FAIRY GRUNGE BACKLESS CROP TOP
You can wear this Fairy Grunge Backless Crop Top to create a dark, layered outfit combined with your midi skirts or mini skirts. It will turn you into a grunge fairy. This backless crop top is another fantastic choice for fairy grunge clothing. You can combine it with midi skirts and leg warmers too. Or you can throw some baggy pants under this backless crop top to create a more relaxed look. Fingerless gloves and mittens will look absolutely gorgeous with this crop top.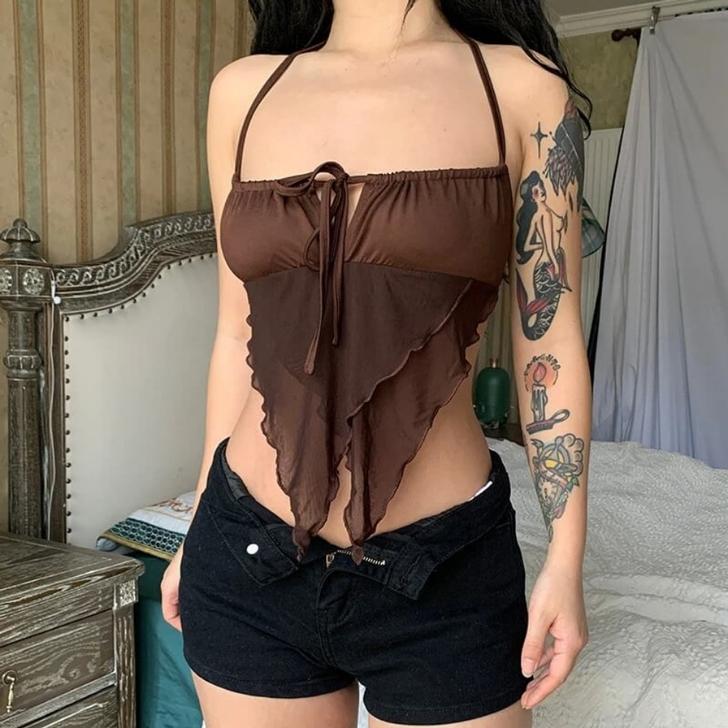 2. FAIRY GRUNGE PATCHWORK SKIRT
This Fairy Grunge Patchwork Skirt is one of our favorites. It totally fits the fairy grunge aesthetic. You can combine this skirt with other fairy grunge crop tops, corsets, and your Converse. You can wear an oversized t-shirt too. You can stick to more minimalistic tops with this skirt because it already looks layered on its own. But don't forget to wear your necklaces, chockers and butterfly earrings with this skirt.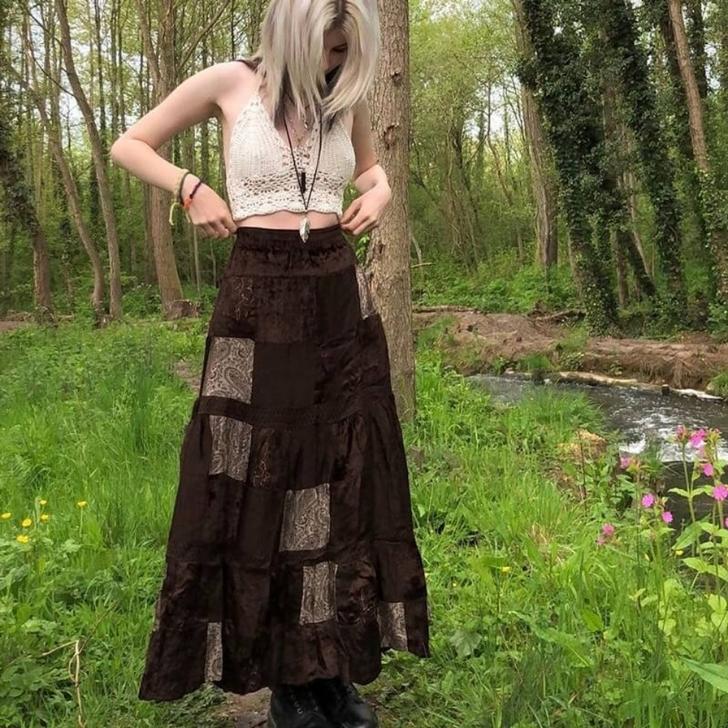 3. FAIRY GRUNGE CASUAL TEE
You can buy this Fairy Grunge Casual Tee to combine it with all of your outfits. Its simple look makes it easy to combine with any clothes you have. Wear this with your skirts, shorts, baggy jeans, and even skinny jeans, which look good with all of them. Plus, the patterns on it fit the fairy grunge aesthetic.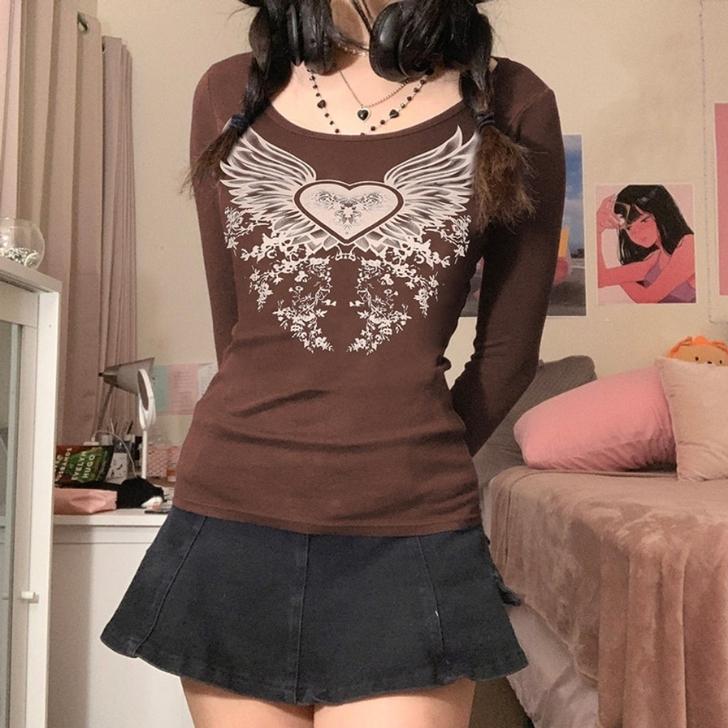 4. FAIRY GRUNGE HALTER TOP
Fairy Grunge Halter Top will help create a layered look with your outfits. Its earthy color and the lace pattern are what we dream of when we talk about the fairy grunge aesthetic. Plus, this halter top has ribbons on it which look absolutely gorgeous. You can combine it with your baggy jeans or mini skirts. Adding a corset will look amazing with this halter top too.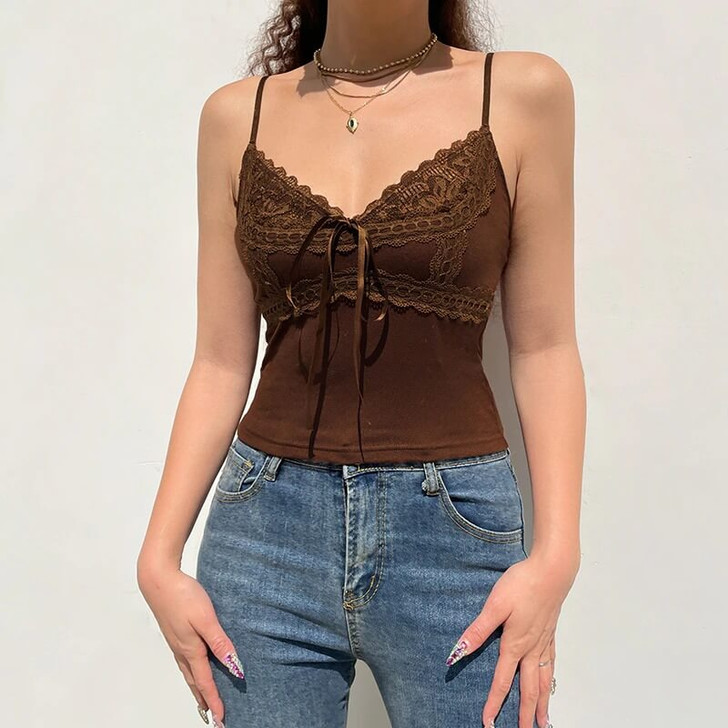 5. FAIRY GRUNGE MINI DRESS
Wear this Fairy Grunge Mini Dress with your knee-high socks or your fishnets. Combine them with your chokers, necklaces, and platform boots, and everyone around you won't be able to take their eyes away from you. Since it is a one-piece outfit, you don't have to trouble yourself with what should I wear questions. Just adding your accessories will make you look fairy grunge.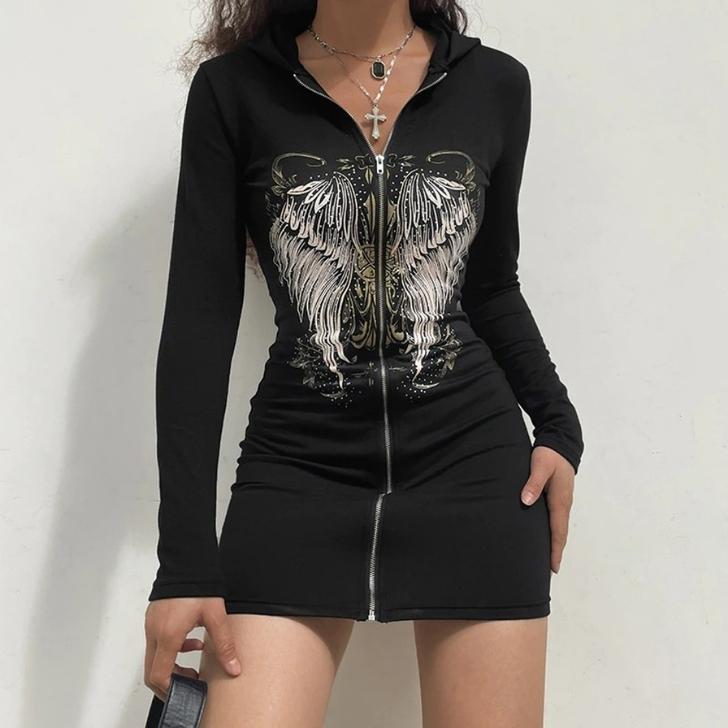 We gave you all the tips you need to become a grunge fairy. So what are you waiting for! Dress in fairy grunge outfits and join the world of mysterious fairies. If you need more inspo, check out our fairy grunge aesthetic collection. We update it regularly! Also, make sure to check our grunge guide to learn more about fashion trends.
If you enjoyed this blog, you can check out our other aesthetic blogs for more fashion ideas. Also, follow us on Instagram, TikTok, YouTube, and Twitter for the latest trends and more aesthetic outfit inspo. Don't forget to check our Pinterest for more fashion ideas.
And before leaving for checking out other fulfilling and inspirational blogs about different aesthetic styles, leave us a comment below on what you think about fairy grunge aesthetic style. Does this style appeal to you? Which one of the outfit ideas grasped your attention the most? Do you find the information in the blog inspirational as fairy grunge aesthetic complete guide? We humbly ask for your suggestions to improve our future content. Stay tuned,
Xo