The Ultimate Guide to Grunge Aesthetic + Coolest Outfit Ideas
Posted by Magnificent Medusa on Jun 01, 2022
---
Hey fellas! Many questions have been asked about what the grunge aesthetic is. We wanted to answer these questions for you and prepared this guide blog. If you are looking for an extraordinary, smashing grunge aesthetic guide, and do not know where to begin, you are at the right place, as we will have a journey into the grunge world together. This guide will satisfy you with the realm of grunge aesthetic and its antique origins, including grunge music and grunge aesthetic style movement.
What is Grunge?
Originally, Grunge is being seen as "untidy" and effortless, but besides, it's American slang for "dirt" or "someone or something revolting". This movement is concerned with minimizing, looking down upon "conformity", and de-emphasizing the silhouette of one's body. So, as a "matter", your body needs to be in the background. In the fields of music, fashion, -sometimes- behavior; grunge does not care how others think; that is the main point of grunge to emerge. Let's start with this first: Do not care about what others think; get as dirty as you want. It will take time, I know by experience, but trust me, you will feel free day by day.
Needless to say, if you are searching for what is grunge aesthetic, you might have encountered the grunge band Nirvana, and its vocalist Kurt Cobain, who largely defined the grunge movement with his Gen-X anthem: Smells Like Teen Spirit. Yup, it was the peak era of the Grunge Movement, even though it newly emerged back then. It was so liberating that the grunge movement grasped too much attention in the 80s grunge by people of all ages.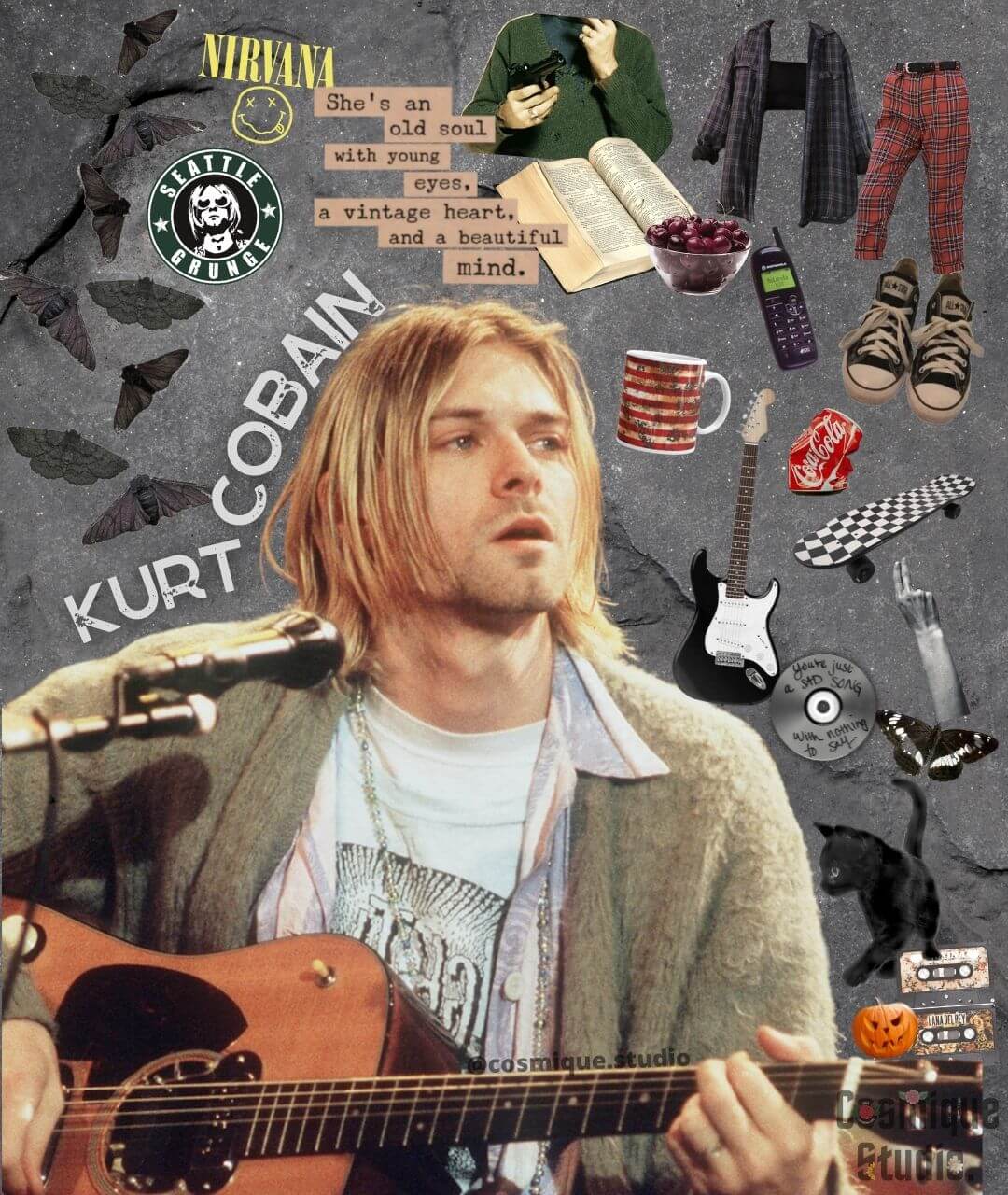 Historically speaking, grunge has its roots in the late 80s hard rock scene of Seattle, Washington, which is the reason why it gained popularity among American youth in the very beginning. Grunge created a link between punk rock and heavy metal in the company of murky guitar sounds as well as paving the way for 70s Indie rock bands. The purpose of grunge pioneers was to be against consumerism, which aimed to increase the consumption of goods and make people believe that they needed material possessions to be happy. As opposed to consumerism, bands like Nirvana, Pearl Jam, Soundgarden, and Alice in Chains, which is my fave, increased the ideal of being untidy, seeming effortless, and not giving a f***!
Punk Fashion Versus Grunge Fashion
Let's continue without moving away from grunge fashion. Many other aesthetic movements parallel with grunge, especially in the field of fashion. And people confuse grunge aesthetic mostly with punk aesthetic. So, let me clear out the confusion for you, fellas, by beginning with the history of grunge style: grunge fashion never dies!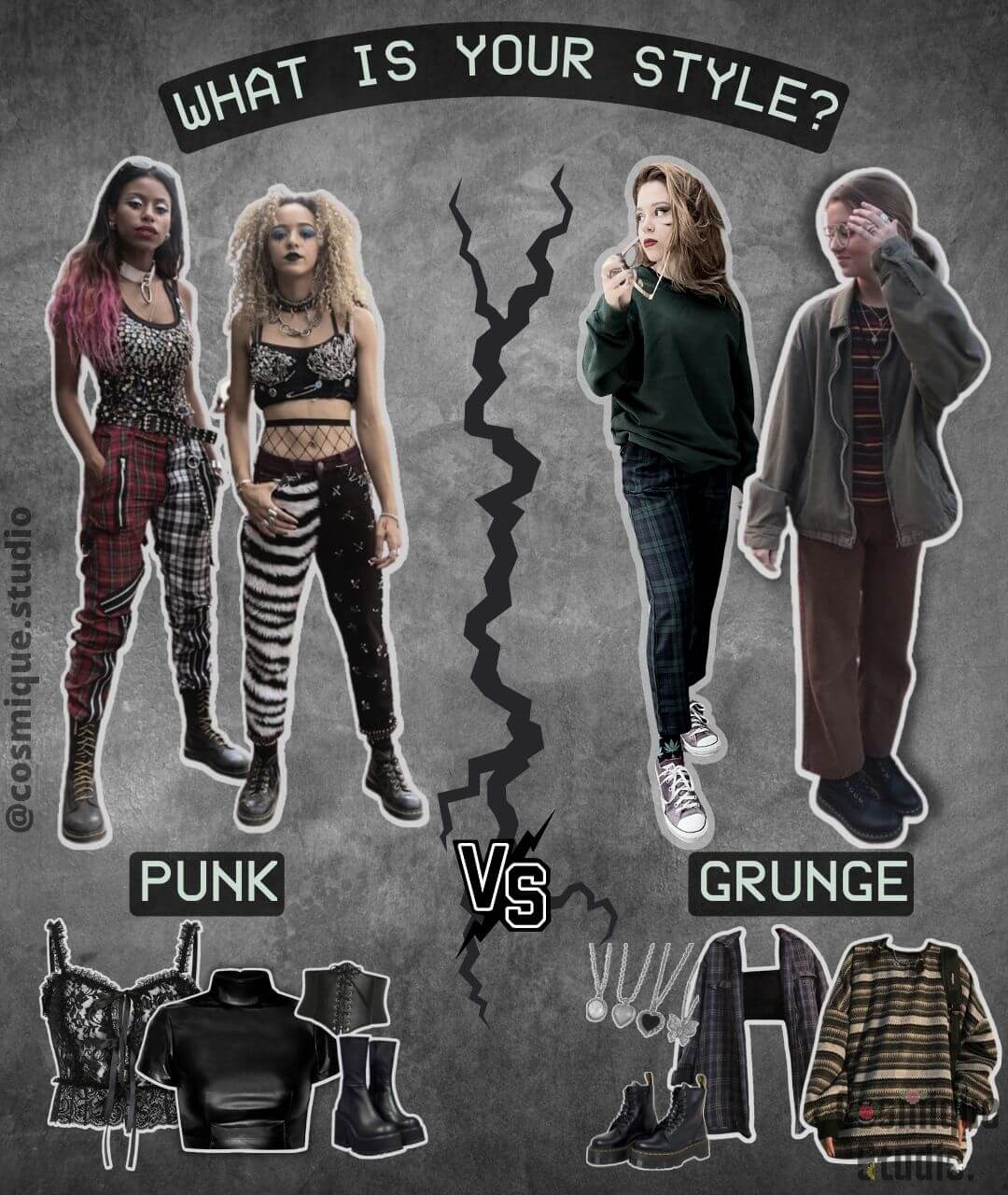 During the ' 90s grunge, "less was more", and the effort to dress of high quality decreased. Wearing baggy jeans, and oversize denim jackets, Doc Martens gained popularity, especially among the younger generation. Women typically wore slip dresses with flannel and plaid pattern as well as ripped jeans. They combined their clothes with simple jewelry such as chokers; hoop earrings; and dark, rich-colored lipstick. However, this mentality evolved into rich uses of chains, intense smoky makeup, and piercings. Besides, Grunge is divided into some sub-genres such as fairy grunge, and pink grunge aesthetic. It evolved as soft grunge in terms.
On the other hand, the punk style has always used tight clothes with many layers and spectacular, protesting colors as well as distinguished combinations for different occasions, while the grunge style aimed to wear mundane daily clothing, which is baggy and slipshod, everywhere and in every occasion because of its anti-fashion protest ideals.
For instance, Kurt Cobain would simply wear an oversized striped sweater with ripped jeans and a pair of canva sneakers: totally reckless!
How to Dress Grunge Aesthetic
If you want to get Grunge; use dark, washed colors, many layers, chains, protesting makeup, leathers, and baggy and messed up clothes. Main pieces must include ripped denim jeans, lumberjack shirts, or plaid skirts. Support them with black eye makeup, and fishnet stockings, then complete your look with Doc Martens, platform boots, or Converse.
Welcome to the golden shot, fella! I hope you did not forget the grunge aesthetic meaning: Be as dirty and reckless as you want and do not ever give e f***! If you have prepared your mindset, let's continue with how to get you dressed!
Makeup: Black eyeshadow, bold eyeliner, dark red lipstick, heavy mascara.
Accessories: Leather corset, metal chains, leather chokers, huge hoop earrings, fishnet stockings, black nail polish.
Key Motifs: Baggy jeans, plaid skirts, lumberjack shirts, platform boots, converse.
Values: Being reckless and against social norms, protesting capitalism.
Colors: Black, red, burgundy, navy blue, grey.
With the help of these Grunge keywords, you can also search for Pinterest Grunge outfits. I left a photo as an example below!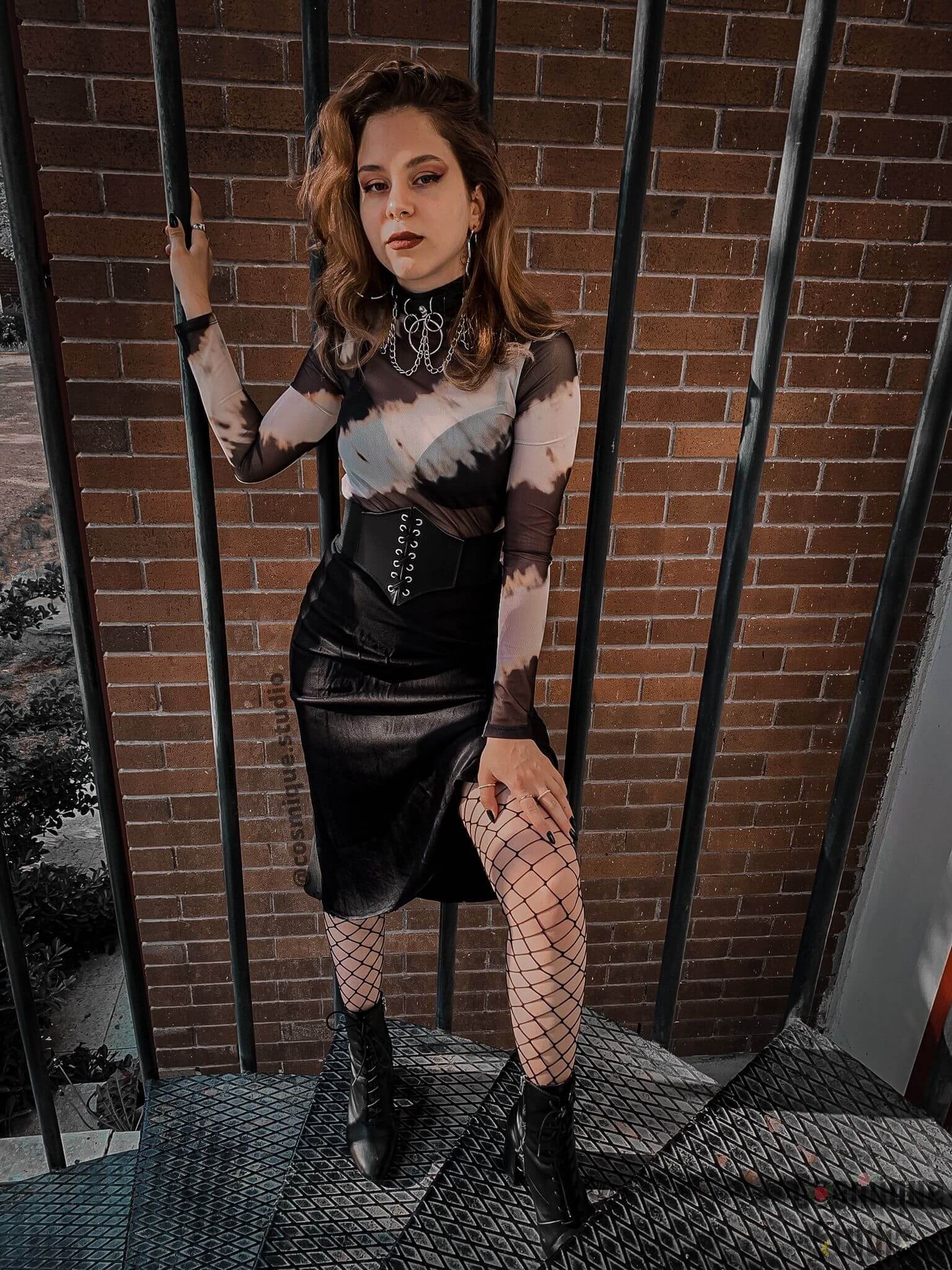 What are the Grunge Aesthetic Tops?
The best ideas for grunge tops are lumberjack shirts, baggy and vintage sweaters, denim jackets, striped long-sleeve tees, or band, and protest tees. Mate, go find your dad's old shirts and jackets! I have an old lumberjack shirt that can be combined with various clothes. I preferred the basic shirt+pants combination below; basic but comfortable!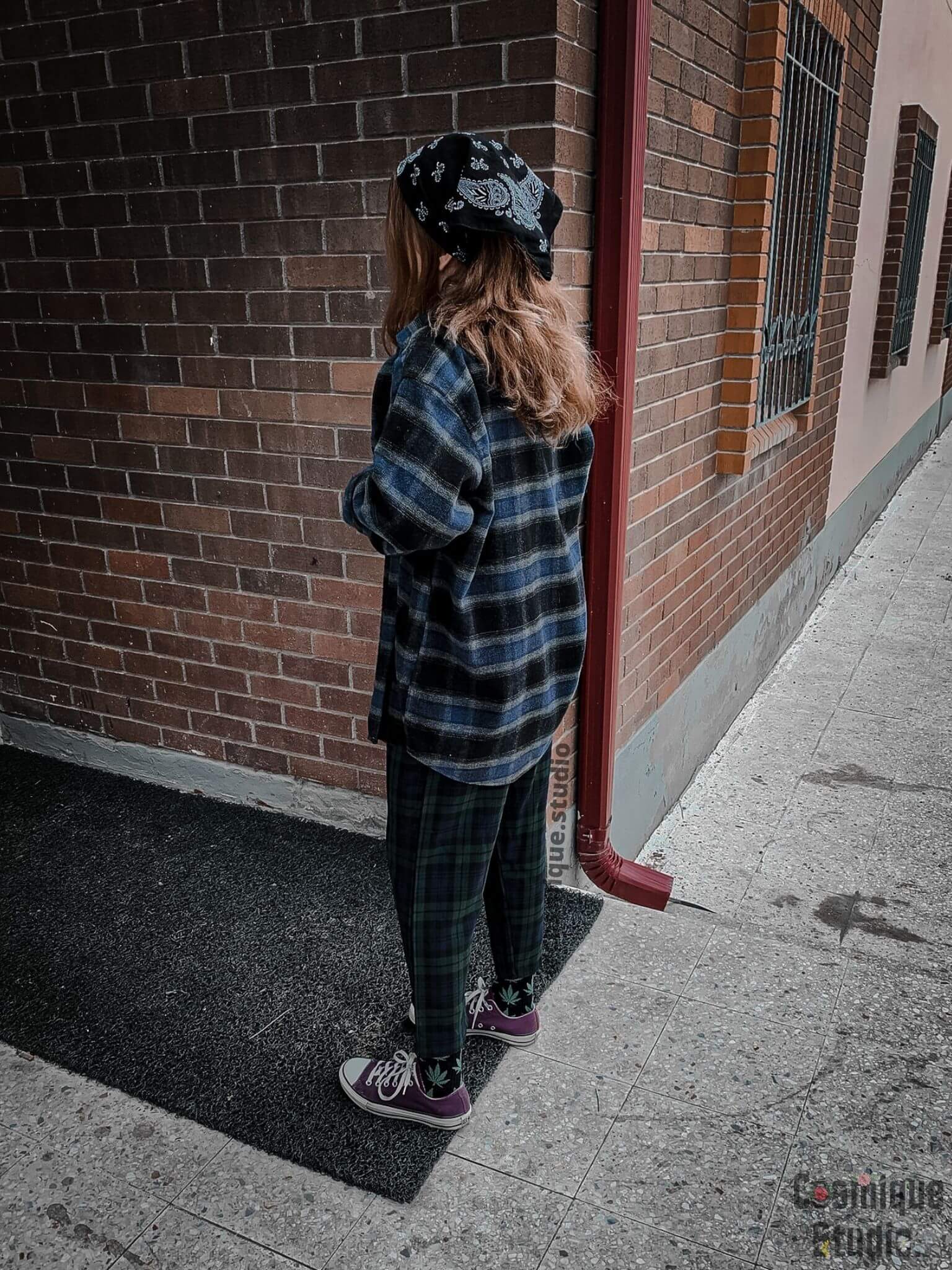 As I mentioned above, jackets are among the key clothes of grunge fashion. You can choose denim jackets, leather jackets, long-sleeved or sleeveless jackets to enrich your grunge aesthetic look. A layered look is very important for grunge, so clothes like jackets will be the savior in this regard. Here is one of my fave sleeveless biker jackets. I preferred combining it basically with a red plaid dress. However, you can also combine it with a loose sweater inside the jacket and baggy jeans underneath.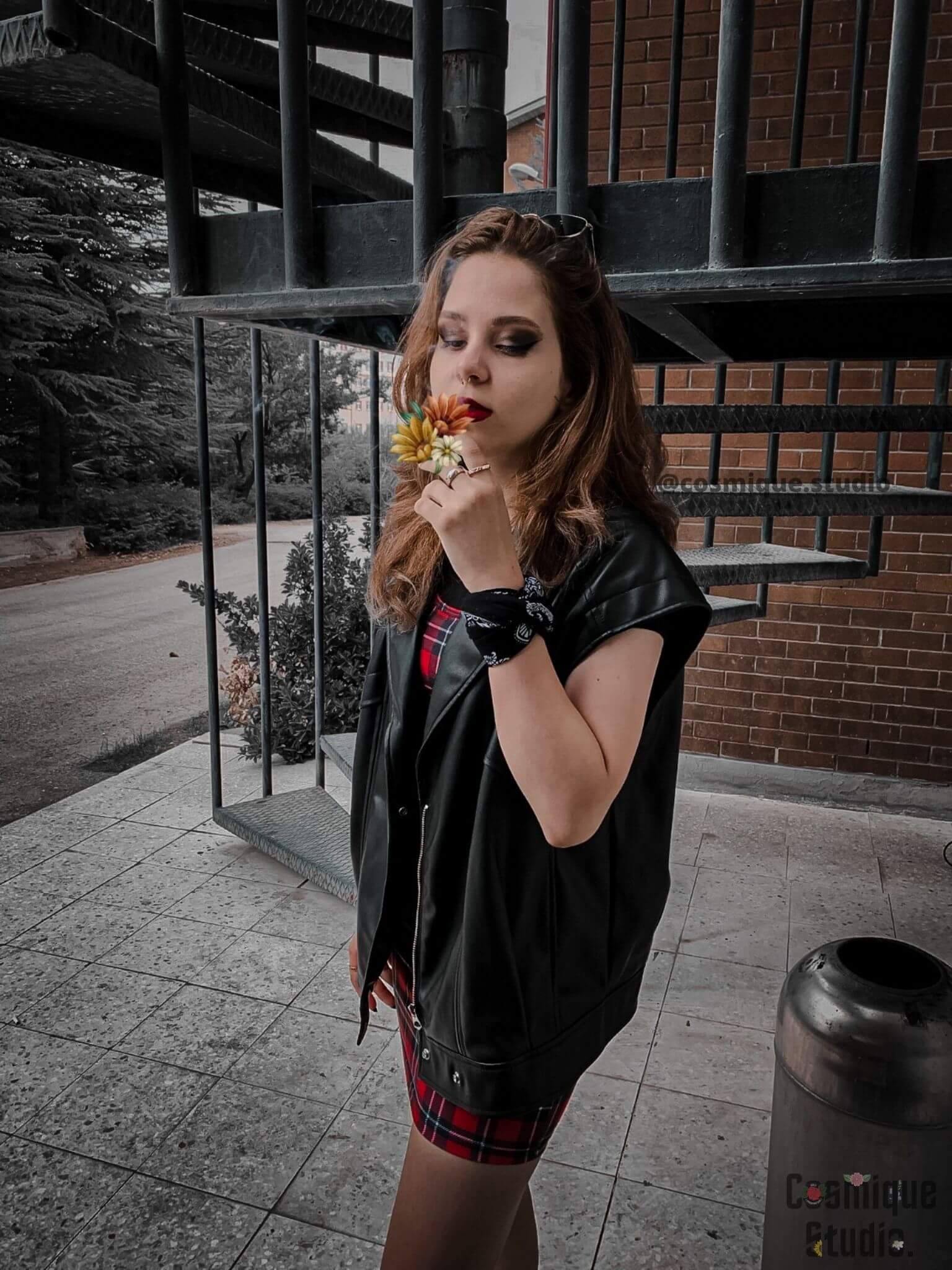 It has been said that old and vintage t-shirts are the best grunge top options; you can wear long-sleeved striped t-shirts or choose tulle blouses under these t-shirts. Alternatively, they will give you a great layered look. There are many other options if you want to glorify your grunge ancestors, as well: band shirts! Every one of us has "that" one Nirvana tee, right? What are you waiting for? Wear that! Even though many people find wearing band tees cliché, grunge does not die, and so do band tees. It is not compulsory to wear grunge band tees: By the way, I have t-shirts from Iron Maiden, Architects, Pink Floyd, Joy Division, etc. All types of protests are welcome to grunge fashion, even if it is metal or punk; all of these genres complete each other.
And remember, grunge doesn't work with vibrant colors, dark and pale colors reflect grunge. The key colors of grunge -of course- can be called black, gray, dark and pale purple, burgundy, and khaki green.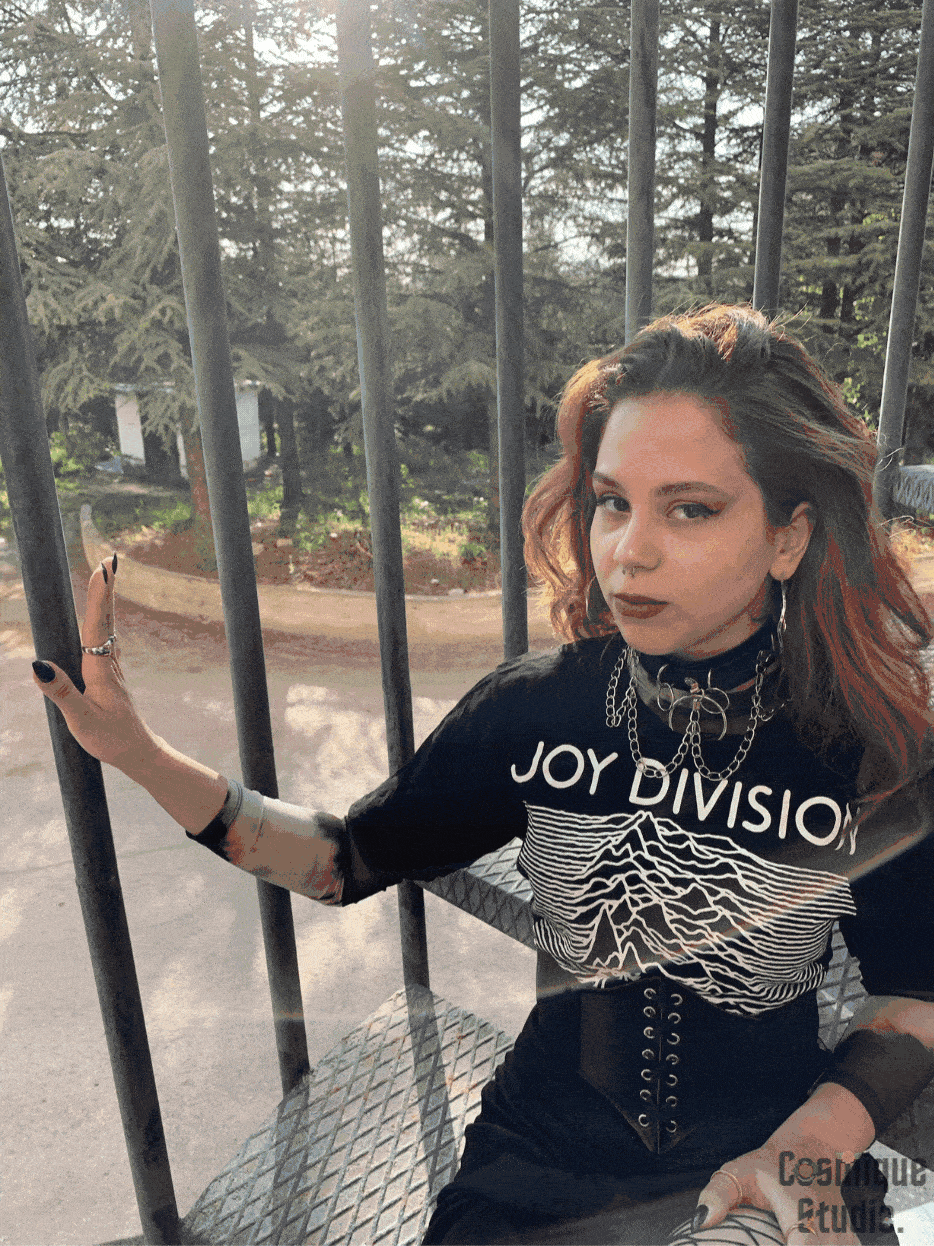 Grunge Aesthetic Bottoms
Grunge occurred with un-ironed baggy pants. However, over time, it blended with edgy styles. Hence, you can wear skinny pants if you want -I prefer the original style, tho-. Bottoms can include low-waist ripped jeans or denim cargo pants, as they appear careless enough! I have a suggestion for you, complete your Grunge look with these Edgy Black Hole Denim Pants!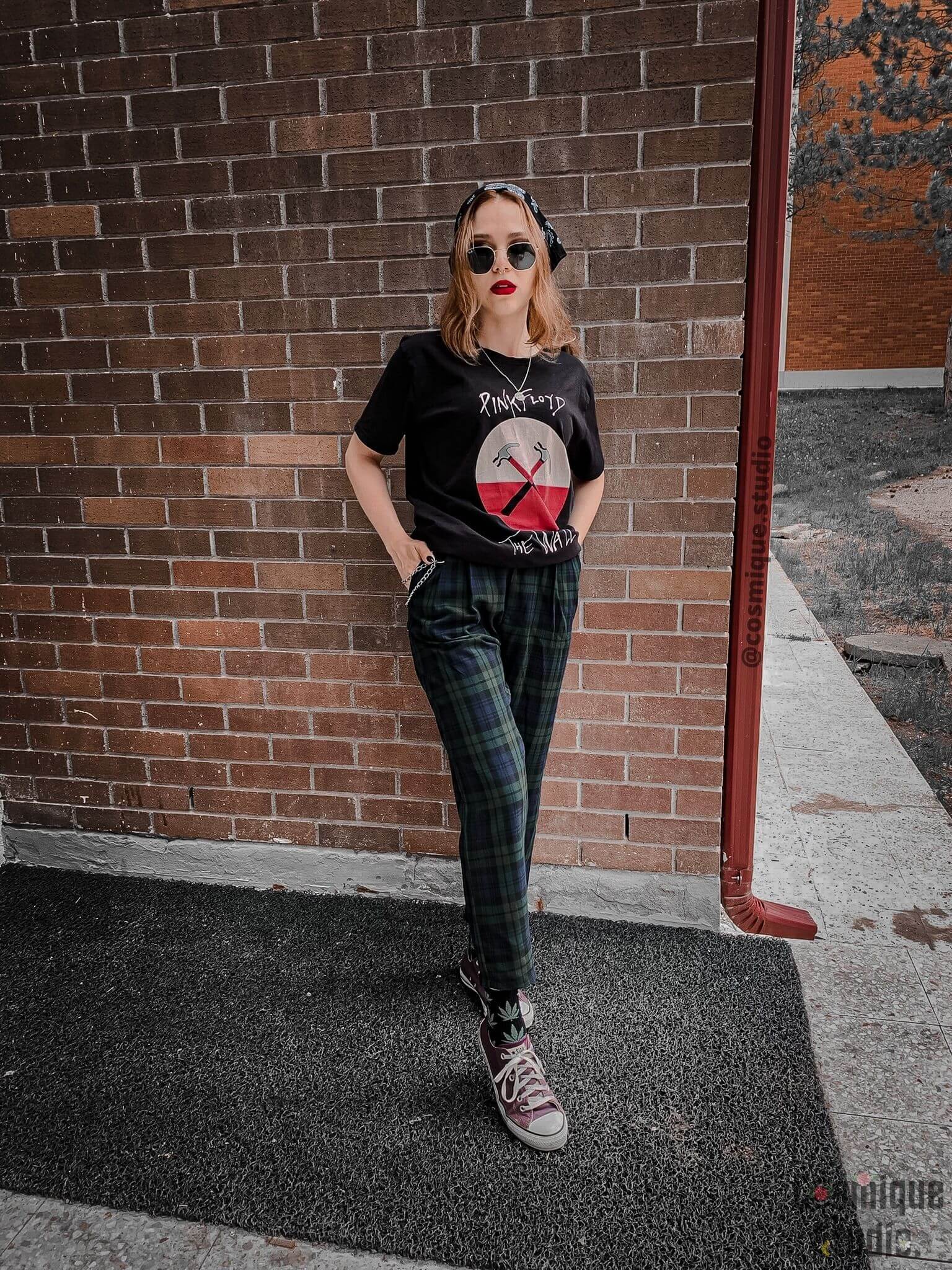 I prefer plaid mini skirts and combine them with ripped stockings. Or sometimes I wear long slip skirts with boots. However, monochromatic pleated skirts are also perfect for getting grunge! Wear your fave chain belt with it, and it is complete! You can find as many types of skirts as you want on Cosmique Studio, such as an irregular midi skirt or e-girl pleated mini skirt; make your choice.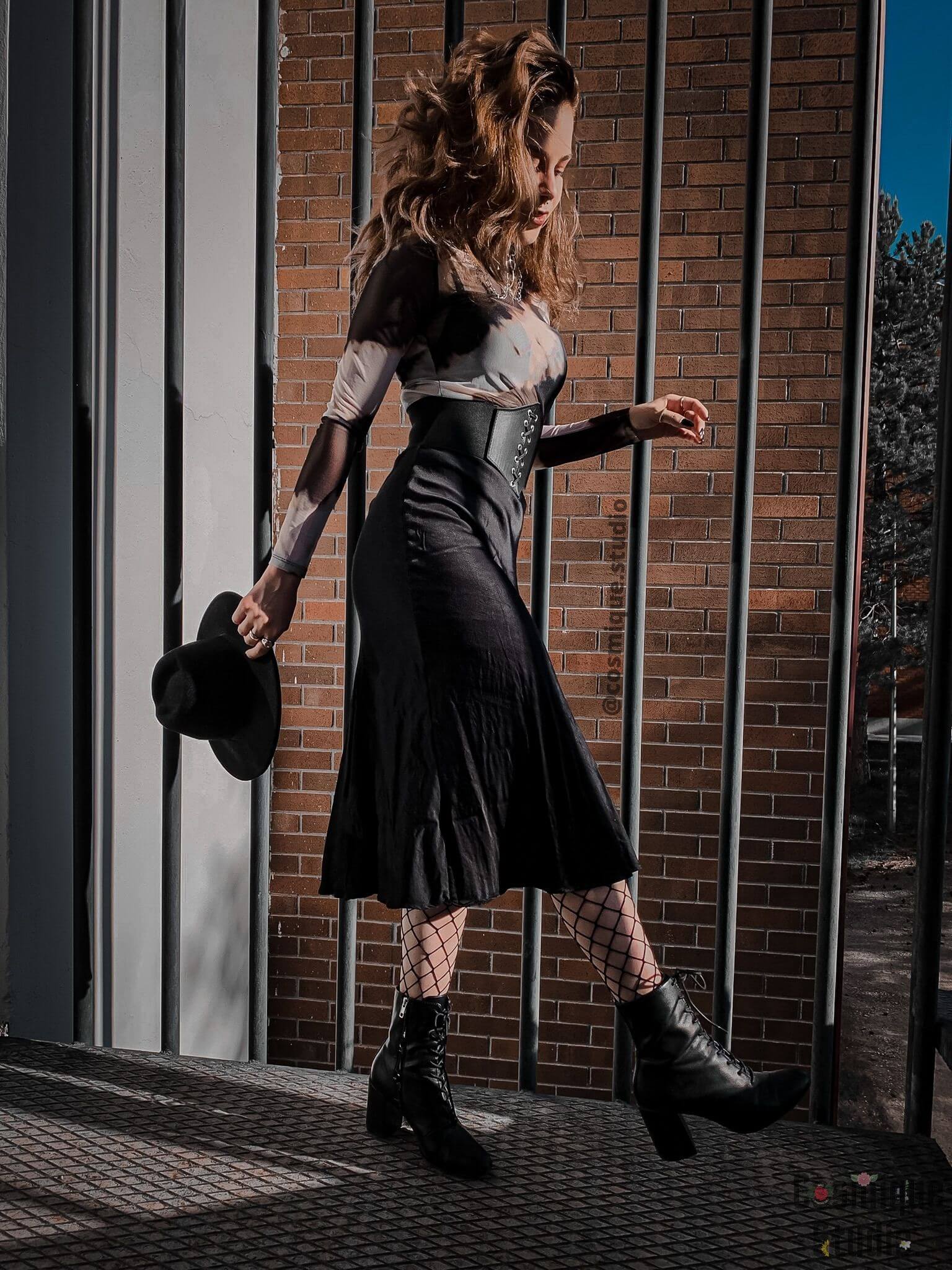 Yeah, I know, the Sun burns our skins, and the heat makes us wear less and less. So, you can try shorts, too. They can be baggy, skinny, washed, dark-colored… However, you want it. Use long socks with your combine as you wish.
Grunge Aesthetic Dresses
I want to separate my fave piece from others. Since the 90s, grunge aesthetic girls have preferred slip dresses, which fit well! I mean… How wouldn't?!
There are lace ones, tulle ones, plaid ones, and mesh ones to use as key pieces in your wardrobe. For instance, a sleeveless dress would be harmonious with a long-sleeved tulle tee. And even better with a tied-up tee on that! Like, three layers...
Don't think it's easy to combine dresses. Our aim here is to make a dress fit the grunge style as much as possible. Since a layered outfit is also indispensable for the grunge aesthetic, we must be able to add a piece over or under the dress.
If you prefer a strapless dress, your job is quite easy, pals. Because any t-shirt with long sleeves, short sleeves, tulle, or cotton can be preferred to wear under a sleeveless dress. Even more oversized t-shirts can easily be worn over a sleeveless dress, so even a plain dress can be turned into a grunge one.
Let's say you prefer a long sleeve dress, then a short sleeve grunge band tee to wear over it would be a great choice for this look. If the t-shirt is too loose, you can save the outfit with different tying techniques. Here Sarah Therese explains in 6 minutes: 10 Ways to Tie a Basic T-Shirt.
No need to be limited to just t-shirts. A sleeveless black leather jacket can also add a tougher touch to your grunge look. I left a sample outfit photo for you below. I hope you like this grunge dress outfit inspiration.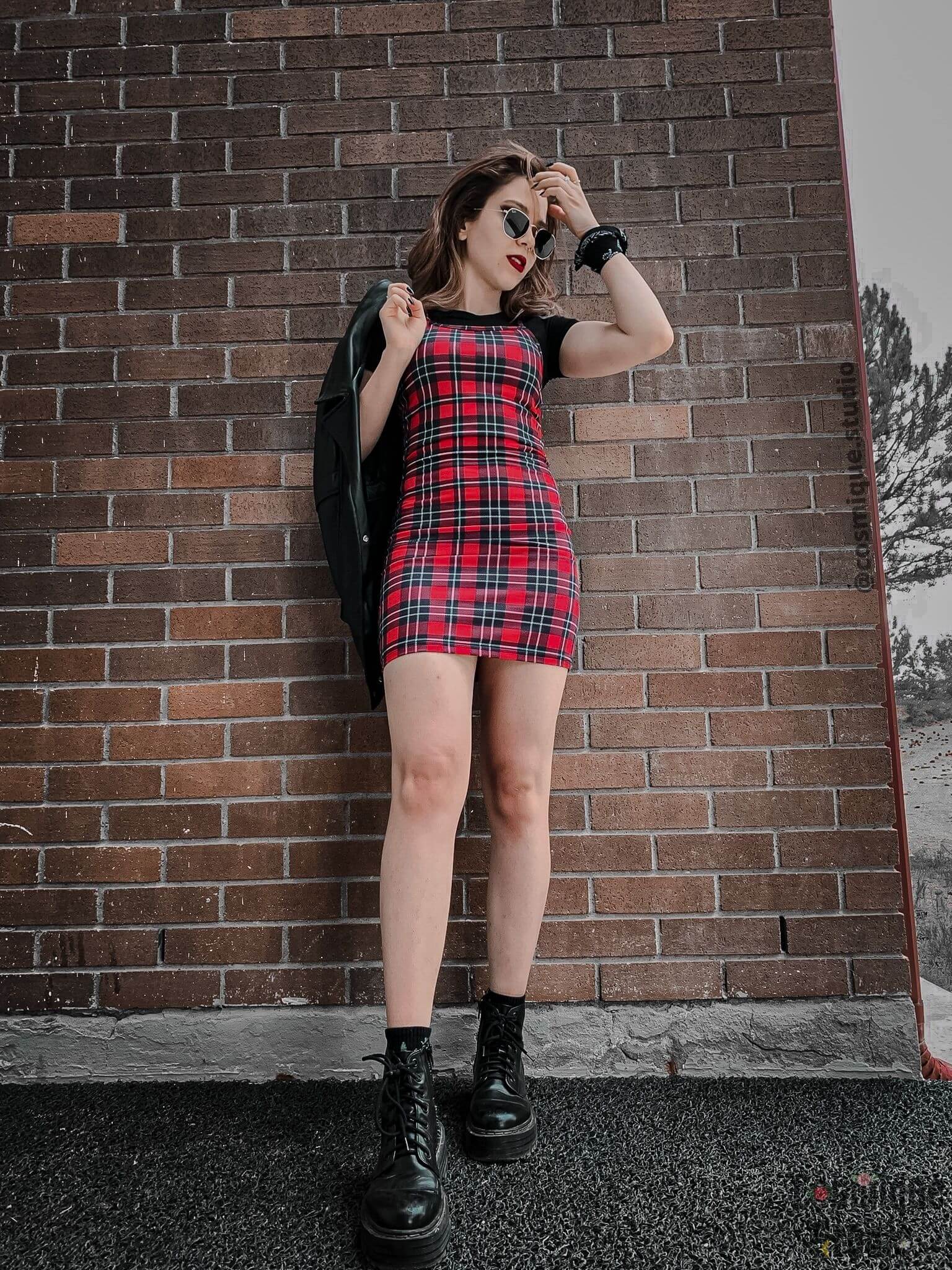 Grunge Aesthetic Accessory Ideas
Even though the primary motivation for Grunge was to be basic and effortless, Gen Z grunge preferred many accessories. More fancy but reckless, right? As Cosmique Studio, we are one of the leading grunge aesthetic clothing stores in accessories. And now I'm going to give you great tips with all our fashion knowledge.
First, you can start with the basics: Chains. Wrap them around your neck or your belly. Or you can just tie the chain to your denim jeans or just put it on your pants. However you wish.
A chain can be used as a bracelet, a necklace, or also as a belt that would dazzle others. They can be colored with spray paint into neon colors as the new Grunge generation can be seen with those little neon detailed accessories, whether you wanna try them. There are many options to make your outfit look smash with a one-meter chain or less; you can find one easily on the internet or in a hardware store!
If you don't want to wear chains, just find a leather choker! There are at least five different types of chokers: Black, gold, silver, pearl, diamond, leather, velvet, tattoo, etc. Leather or old-school cloth chokers add layers to your fit and can be used to give a Grunge, mixed look.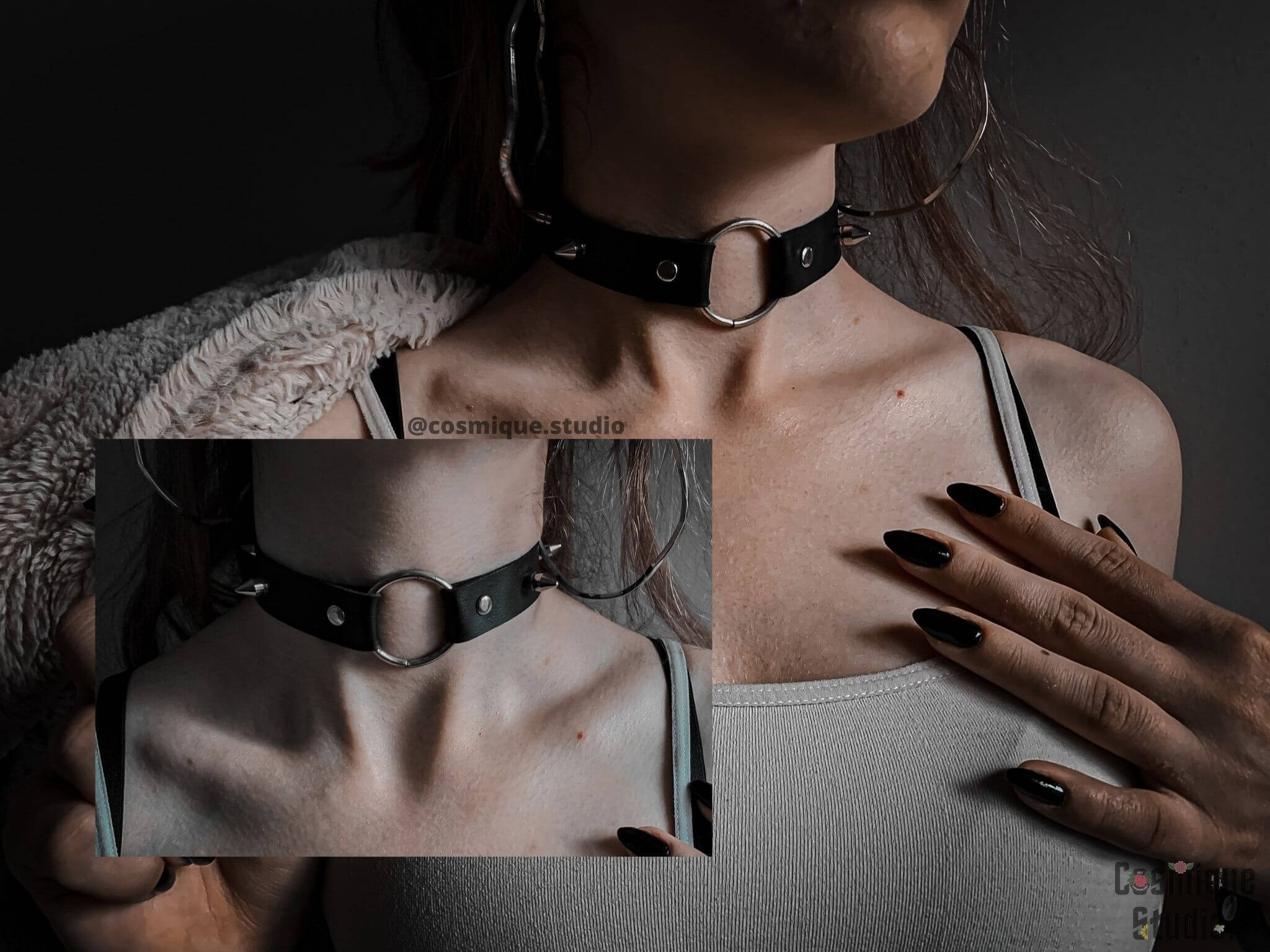 Afterward, wear as many rings as you want! Combine their color with your chains, gold or silver. If you are done with your rings, go get your nails polished with dark colors, it would make them perfect. By dark colors, I mean black, pale purple, red, and burgundy! You should try them on your nails; those colors complete our grunge clothing very well. And in my opinion, short nails would perfectly fit a grunge outfit, so don't get sad if you bite your nails, I got you.
I guess your nail polish is dry already, so let's combine our skirts/dresses with stockings -especially fishnet ones- as a complementary piece.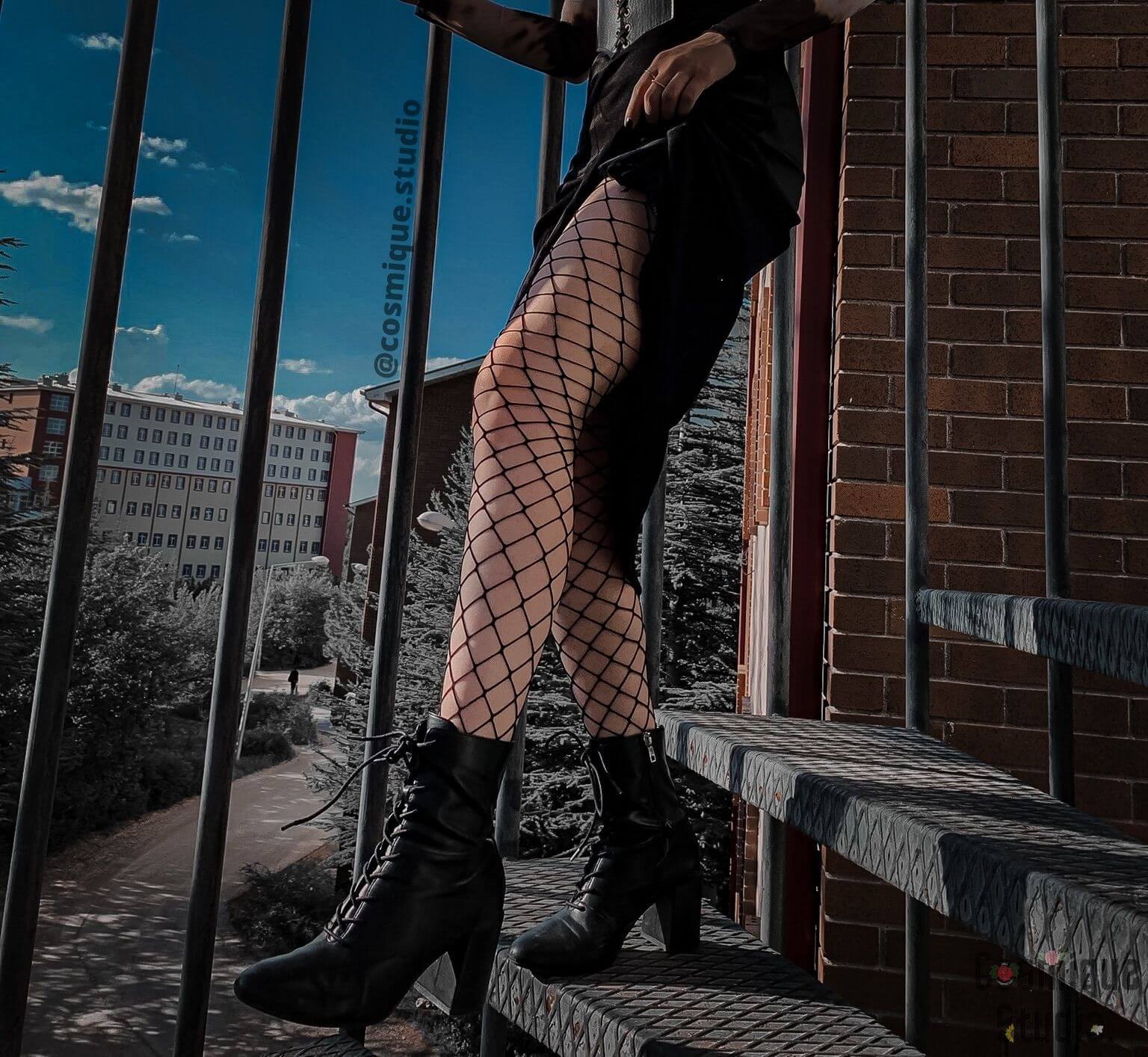 However, if you prefer pants, those protesting I don't give a f***, f*** off socks will be complementary pieces. If you wanna go softer these soft thick moon socks are preferable for you.
Whether it is enough or not, you can always dye your hair pink, red, or platinum blonde, or you can just stick to black to get a marginal look, as well as get piercings and tattoos. It's all up to you.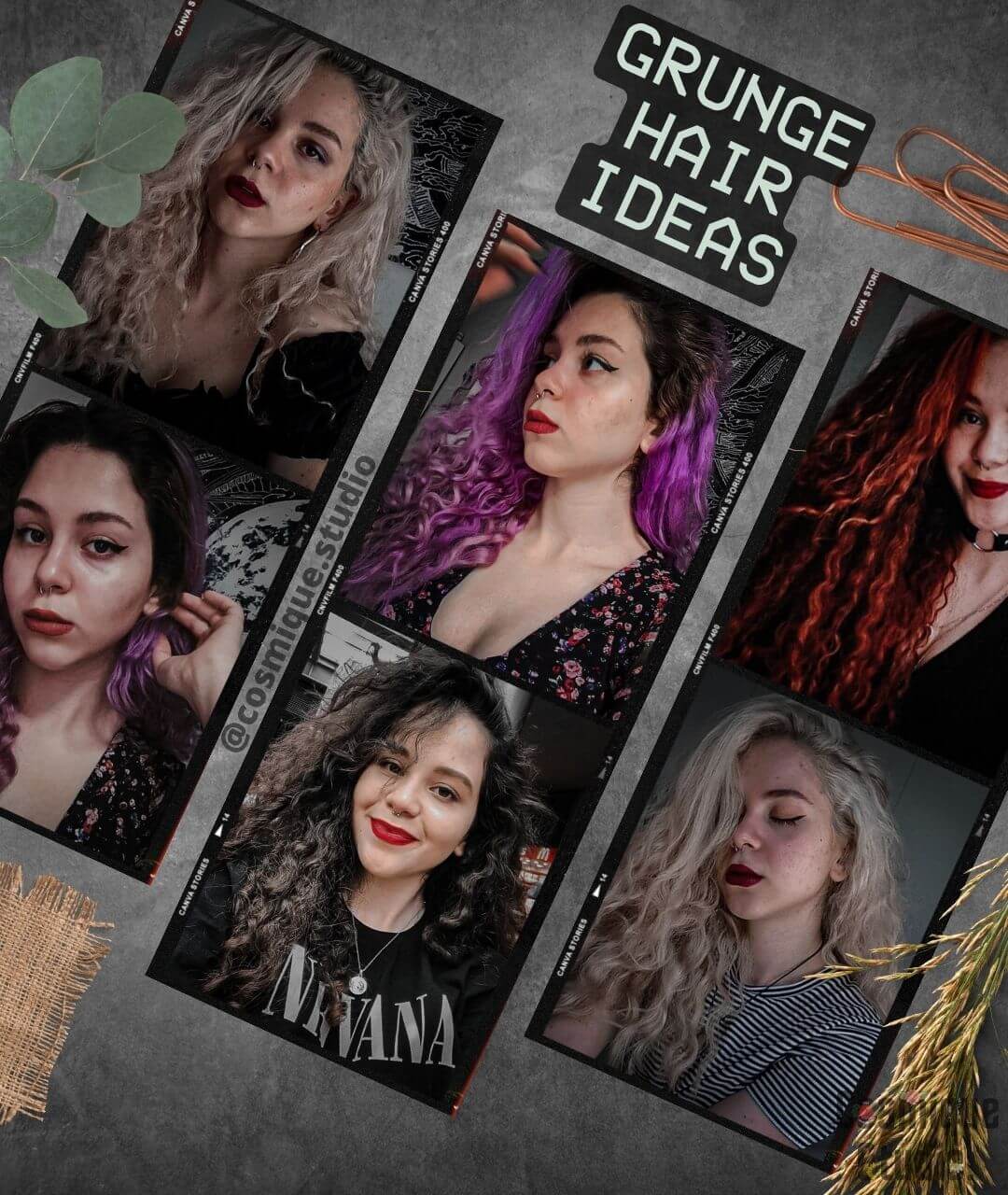 Grunge Aesthetic Shoes
Providing that you are ready to get a photo dump, do not forget to put on your leather black platform boots, Mary Janes, or Vans. Those all fit your outfit fully, whether they are old or not.
Those leather black platform boots will be suitable with fishnet stockings as well as high-knee socks. You can always enrich your outfit with layers. It's all up to your imagination!
If you prefer a more casual appearance, try combining your outfit with sneakers and cozy long socks! Here's an idea to get inspiration.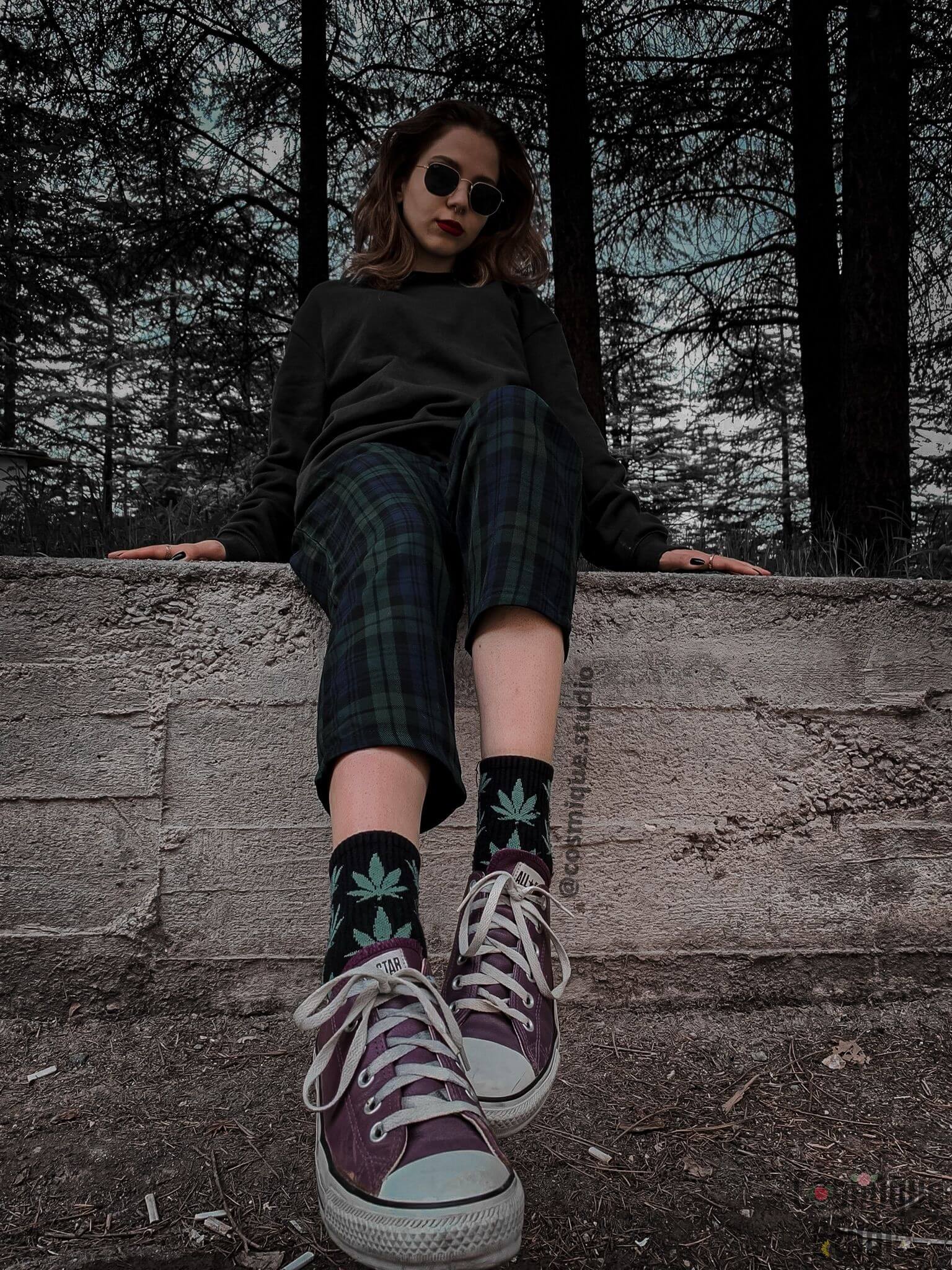 Now, fella, go take some photos with your new appearance! If you are interested in seeing more ideas, follow Cosmique Studio on Instagram, Facebook, TikTok, Youtube, and Pinterest! There are many affordable grunge clothes on our website that you should try.
You can read more on our aesthetic blog page and mail us anytime you wish about your questions, ideas, and new blogs as well! Ready to purchase grunge aesthetic clothes? Here you go.
I hope I could give you every information sufficiently about grunge fashion, grunge aesthetic, or grunge music. I have watched many movies for you guys about grunge or including grunge elements to recommend; here are the links below. Take care, In Grunge We Trust!