Kuromi Aesthetic 101: Fashion, Makeup, and Hairstyles
Posted by Buscik on Mar 04, 2023
---
What is Kuromi?
Kuromi is a fictional character created in 2005 by the Sanrio company and has become increasingly popular since then. In Japanese, Kuromi means "black beauty." It is actually a white dwarf rabbit wearing a black joker hat. A pink skull on the hat represents the girly attitude of Kuromi's tomboy personality. The expression on the skull's face changes according to Kuromi's mood at that moment. She does not have a typical white rabbit's tail; instead, she has a long black one that looks like a devil's tail. Her weak point makes her unconscious if someone steps on it.
Kuromi is a female rabbit who is lazy, furious, mischievous, and a little bit greedy. Though she has tomboy traits, she actually enjoys writing romantic entries in her diary. She also likes reading romance novels. Even though she gives off the impression of being tough, she is actually quite girly. She likes weddings and has a girly fashion taste. And, in fact, she's very fond of attractive boys. She enjoys food and cooking despite her role as a villain. Kuromi is My Melodi 's rival, while My Melody thinks they are close friends.
Kuromi's characteristics:
Kuromi is a tomboy who has a girly side.
Black is her favorite color.
She likes food and cooking.
Kuromi has a mischief-maker tricycle gang.
She's fond of attractive boys.
Romantic novels are her favorite.
She enjoys writing in her diary.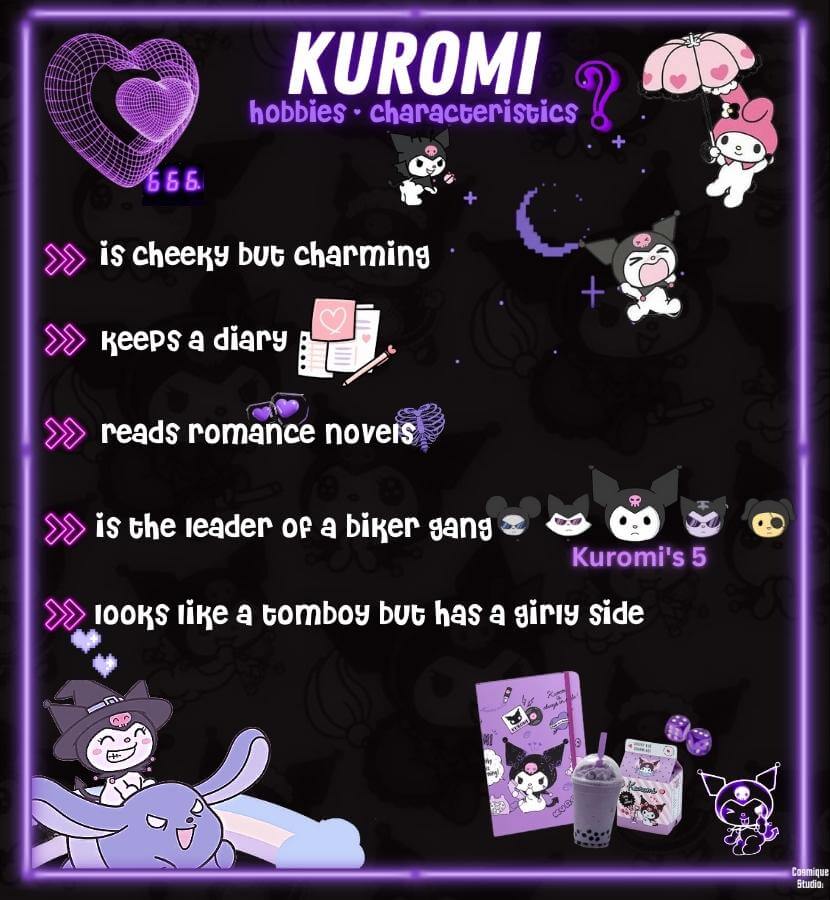 What is Kuromicore Aesthetic?
The kuromicore aesthetic, also called kuromiota in Japan, consists of a blend of cuteness and gothic style. Because of Kuromi's angry look, people tend to consider her aesthetic a mixture of punk and goth. However, her personality makes her look softer. Kuromicore is highly related to animecore, pastel goth, kawaii, sanriocore, and kidcore aesthetic. What makes it a different aesthetic is the character Kuromi herself. The primary colors of this fashion are black, purple, white, and hot pink. Key motifs of this style are skulls, devil tails, chains, joker hats, the figure of Kuromi, and checkered patterns. If you want to use kuromicore for your aesthetic photos, you can use dark pink or purple filters. It will give your photos a cute but dark look.
How to Be Kuromicore Aesthetic
How to be kuromicore aesthetic has been a frequently asked question recently. Our expert team suggests that you have a specific fashion style, makeup routine, hairstyle, and attitude. The fashion style you need to have should be a mixture of gothic and girly. That is the reason why you should choose your kuromicore outfits carefully. Your clothes and accessories should include purple, black, hot pink, and white. Also, your makeup should consist of the same shades. Be careful about your makeup and hair. They should be neither too girly nor gothic. You should find the balance between them. For example, you can wear cute aesthetic skirts and still look like a tomboy with the accessories you choose. The attitudes you should have can be girly but never miss the chance that you can make a little bit of mischief!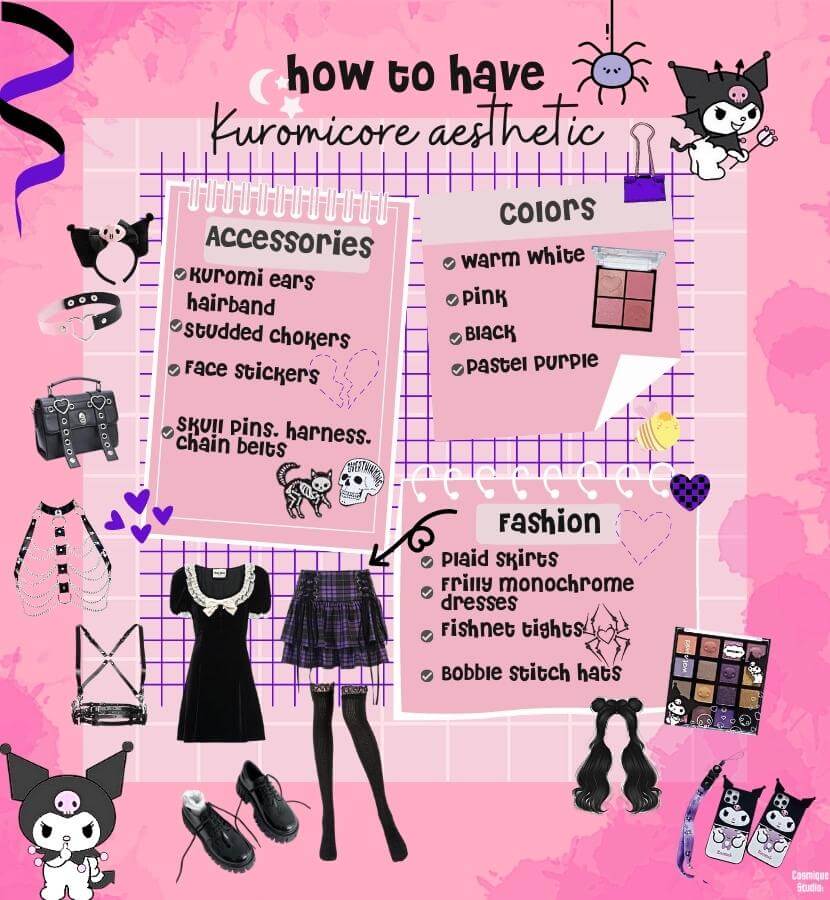 What is Kuromicore Fashion?
Kuromicore aesthetic fashion is based on looking tomboy and girly at the same time. If you want to have the kuromicore style, you should both have a feminine and a tough look. For example, frilly monochrome dresses, fishnet tights, and platform shoes can be ideal for a kuromicore aesthetic style. As accessories, you can have aesthetic necklaces, Kuromi ears, devil's tail earrings, Kuromi plush bags, and many more for a cute tomboy style. If you prefer wearing skirts, we suggest you wear plaid mini ones. Plaid skirts are adaptable. So you can dress them up or down to suit any occasion or aesthetic. You can wear cute aesthetic dresses and still have a tomboy look with the accessories and the other clothes you wear.
Other pieces that a kuromicore wardrobe should have are childish kawaii clothes such as kidcore outfits. For example, bobble stitch hats and fluffy scarves can be perfect for a cute look. You can combine them with a school uniform and use face stickers and piercings for a more masculine style. Kuromicore aesthetic style will make you look fashionable, cute, and tomboy at the same time. What a fantastic aesthetic it is, right?
How can you Do Kuromicore Makeup?
Kuromicore makeup looks like anime characters. It is effortless but stylish. There are key points about makeup for this aesthetic. The first one is to have an innocent look matching with your aesthetic clothes. You need natural makeup, but your eyes must look big, like an anime character.
For kuromicore makeup, start with a primer. It'll make your makeup more durable. Then, choose the main color for your eyeshadow. We suggest you use how pink, purple, and black tones together for a cute and naughty look. Then, apply the eyeliner. Winged eyeliner will be perfect for a childish but feminine style. The mascara you use should be a volumizing one to make your eyes look bigger. Fake eyelashes are another choice if you want to draw more attention as a kuromicore girl. You can also use black circle contact lenses to have a more dramatic look. But don't forget to take advice from an optician before using them.
Remember to apply pink blush on your cheeks and the point of your nose. It is a must for a cute and innocent look. If you want to look more masculine, use stickers or draw devil's tails on your face. Your kuromicore makeup will look amazing! Don't forget to take photos after applying your makeup and share them on Instagram, TikTok, Pinterest, and other social platforms. We're sure you'll get many likes with your style. You can even make a video on YouTube for the other kuromicore fans about your makeup. Remember that #kuromicore has more than 60m views on TikTok. Getting new followers is a piece of cake for kuromicore boys and girls!
What are Kuromicore Hairstyles?
Kuromicore aesthetic hairstyles are anime-inspired, effortless, but still stylish. Before shaping your hair, choose the best color for your style. There are many options when it comes to kuromicore hair colors. Purple, black, and hot pink are the most popular ones. Or you can just change your hair color according to your outfits; why not? After deciding on the color, another point you must be careful of is its shape. There are many options, but mainly, the hairstyle you prefer should look like anime characters.
Hime cut, ojou ringlets, hair intakes, spiky hair, and slipknot ponytail are the most popular styles for kuromicore aesthetic hair. After shaping it, you should use some hair accessories to give the Kuromi vibe. Kuromi ears hairbands, tiny sparkly hairclips, pink skull hair bows, aesthetic hats, and Kuromi mascot hair clips are perfect for this aesthetic. Don't forget to take photos of your kuromicore hair after you shape it. Your followers are gonna love it!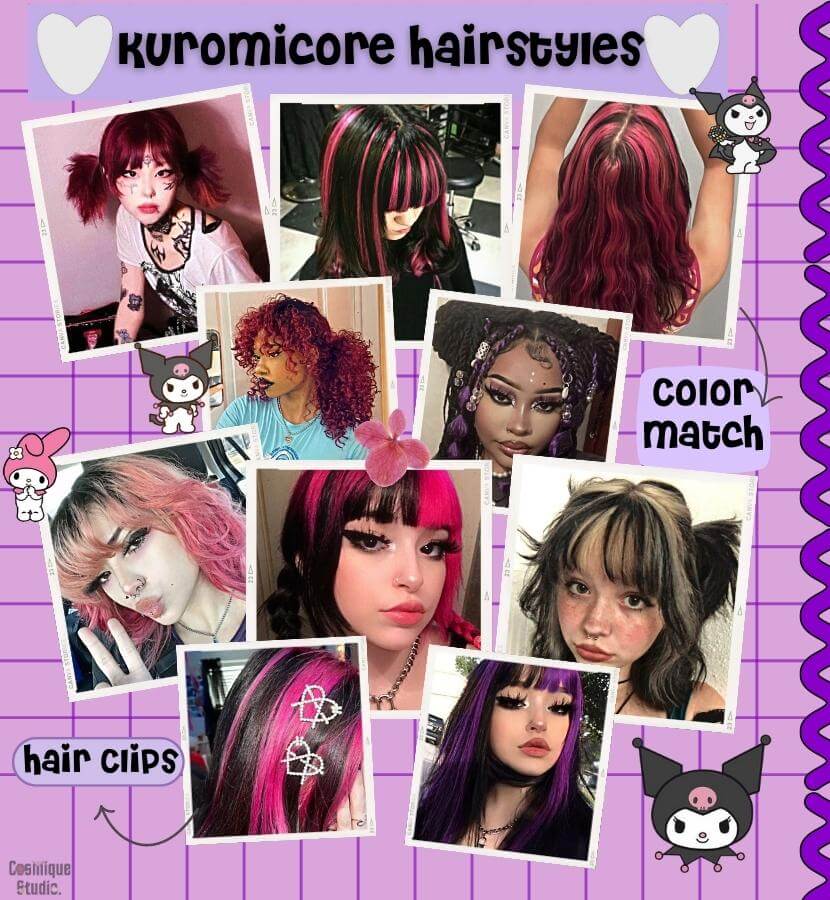 What are Kuromicore Accessories and Items?
Kuromi accessories and items consist of cute but evil pieces. If you want to be a kuromicore, you should choose your accessories carefully. The pieces you wear must look innocent at first sight but should have some mischief inside. For example, Kuromi ear bandanas are kind of cute but actually have a devilish look. You can combine cute outfits with evil accessories to look innocent but a tomboy. Skull pins and necklaces, devil's tail earrings, studded chokers and aesthetic belts, striped knee-high socks, Kuromi character bags, and chokers are some of the accessories you may try. Also, Kuromi berets, hair clips, badges, and Kuromi plush keychains are perfect for this aesthetic. If you want to show everyone that you're a kuromicore, you should also get aesthetic phone cases to have a complete kuromicore vibe. Whatever you wear, you should balance cuteness and evilness.
What are the Aesthetic Styles of Kuromi's Friends?
The aesthetic style of Kuromi's friends is sanriocore: a mixture of kidcore, pastel goth, animecore, and softie. Stickers, sparkles, candy, and plushies are the main motifs for this aesthetic. The primary colors are light pink, baby blue, and warm white. Innocence is the common value that all of Kuromi's friends have. Their aesthetic, sanriocore, is the perfect style for these motifs and a childish, innocent look!
Kuromicore is taking the fashion world by storm, and thanks to that, her friends have also been gaining popularity. Kuromi is created by Japanese Sanrio Co., and so are her friends. Hello Kitty, Pompompurin, My Melody, Little Twin Stars, Cinnamoroll, Wish Me Mell, Pochacco, Tuxedosam, My Sweet Piano, Gudetama, Keroppi are Sanrio characters, and of course, Kuromi's friends. The most popular character of this company is Hello Kitty. Her simple but cute style can actually be used for a definition to the other friends of Kuromi as well.
You can use sanriocore for your outfits, too! Sanriocore outfits may include animal ear hairbands, loose socks, aesthetic crop tops, sailor uniforms, plush slippers, small backpacks, aesthetic pants, and bow clips. Remember that you should have an innocent look. So, do your makeup with mainly pink shades. Fake freckles, heavy pink blush, pink lipstick, lip gloss, and glittery pink eyeshadow will match your outfits. You can also use stickers on your face and have character goods while taking photos. The aesthetic of Kuromi's friends, sanriocore, will be your favorite!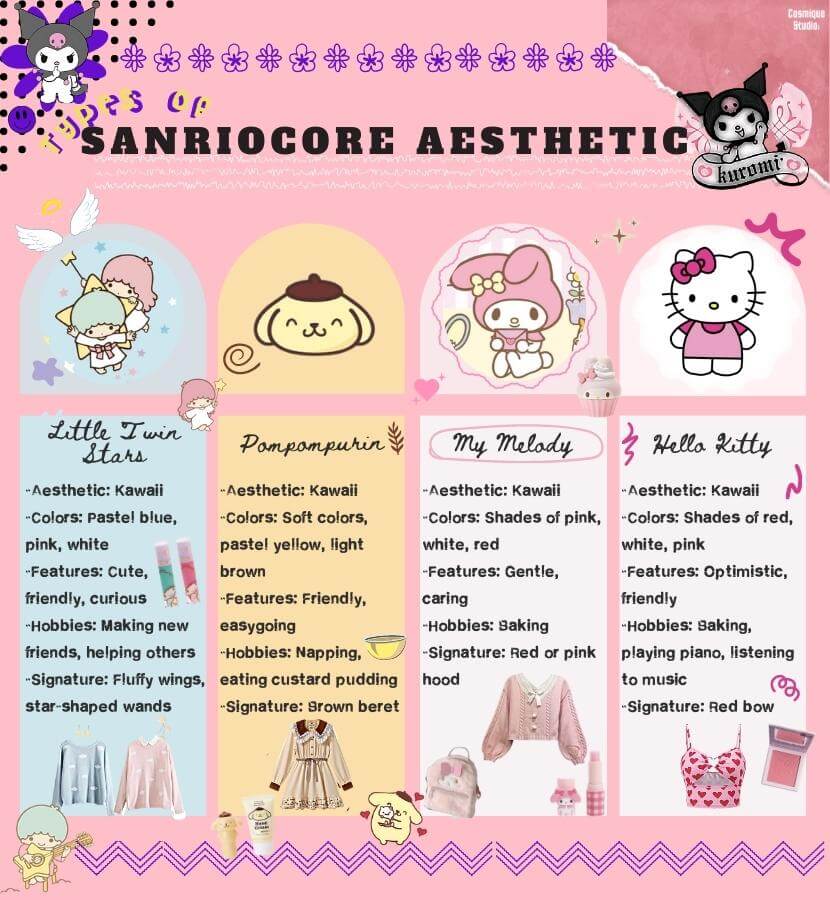 Kuromicore Aesthetic Outfit Inspo Ideas
Kuromicore aesthetic outfit inspo ideas are easy to find on TikTok, Instagram, YouTube, and other social media as this aesthetic is so popular. We have prepared 5 unique kuromicore-inspired aesthetic outfits from Instagram. Choose the styles that suit you best and make your wardrobe ready for this fashion!
Outfit Idea #1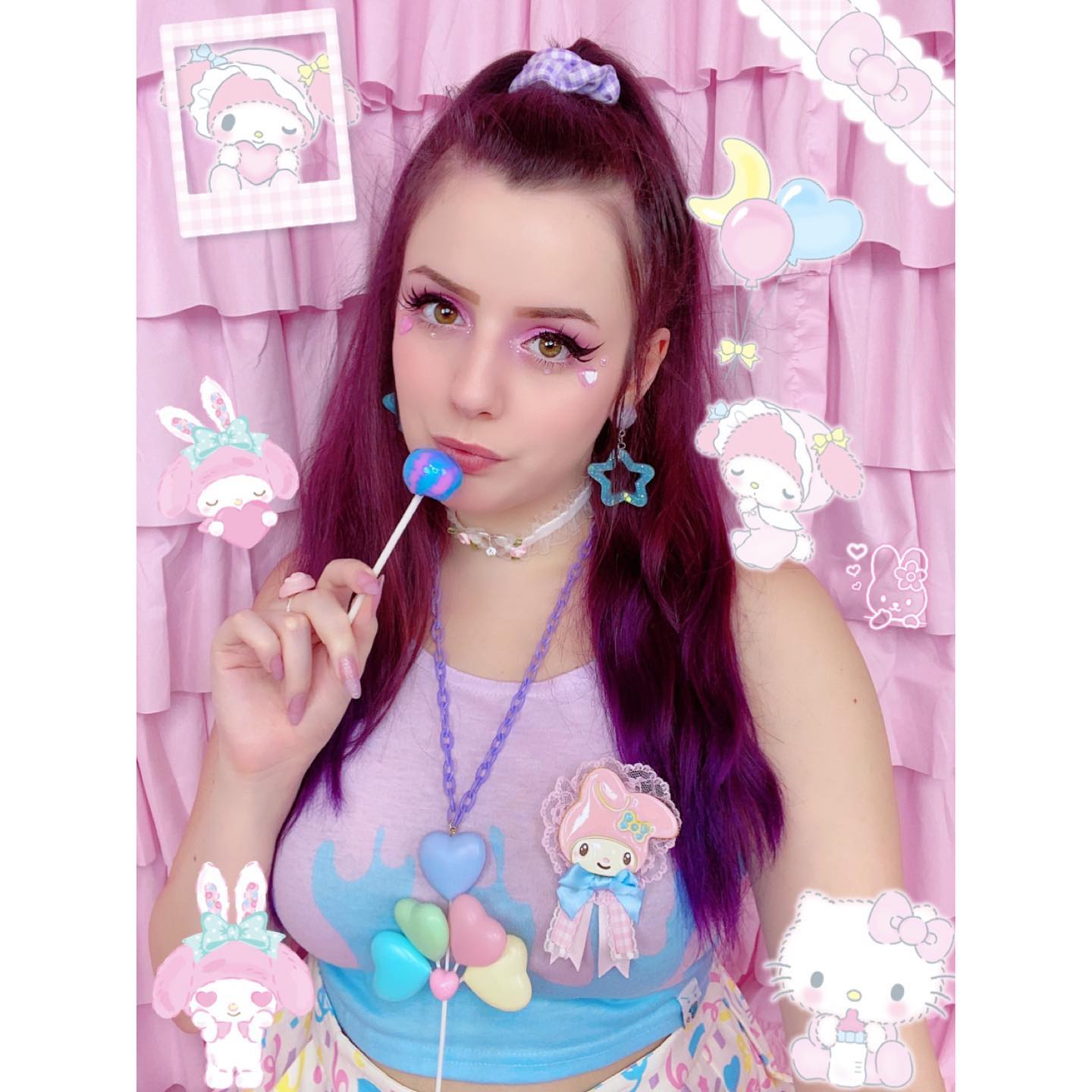 From top to toe, @mystical.baby is definitely a kuromicore aesthetic! Her hot pink hair and skull bowtie reflect this style very well. Apart from that, her makeup looks innocent, like a kid, with pink shades. She matches her hair and makeup with her outfits as well. Fishnet tights, pink leg warmers, platform boots, pink beaded bracelets, a frilly miniskirt, and a skeleton top are totally kuromicore. She looks cute with the soft pink color but also mischievous with the skull details. The pieces she wears can be an excellent inspo for your kuromicore wardrobe!
Outfit Idea #2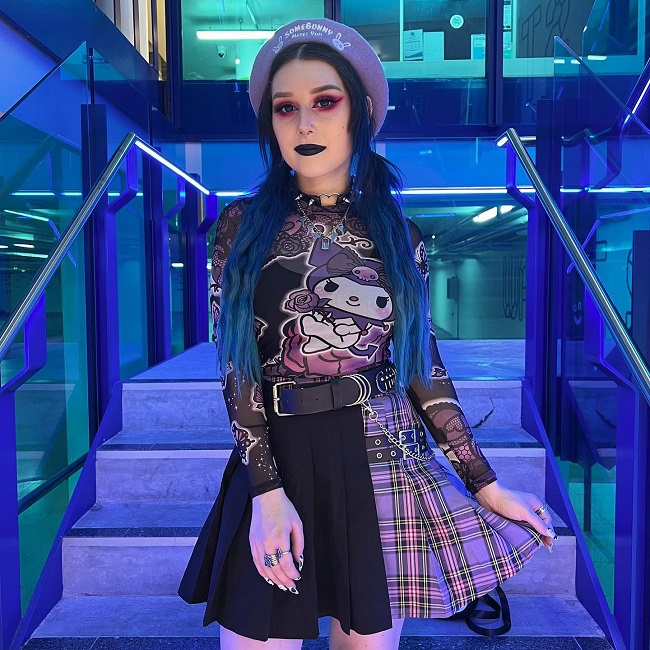 With the purple and black tones she uses in her outfit, hair, and makeup, @eliseelicious creates a perfect kuromicore outfit inspo for everyone! Looking like a little bit of pastel goth clothes, the outfits she chooses are actually kuromicore. We can understand it from the transparent Kuromi detailed shirt she has. She combines it with a frilly plaid skirt which gives both goth and softie look. Also, wearing many different accessories, she shows us that they are the main pieces that can make you look kuromicore. She wears a choker, leather belt, silver lock necklace, cloth bag, painter hat, and ring sets, which all make her look kuromicore aesthetic.
Outfit Idea #3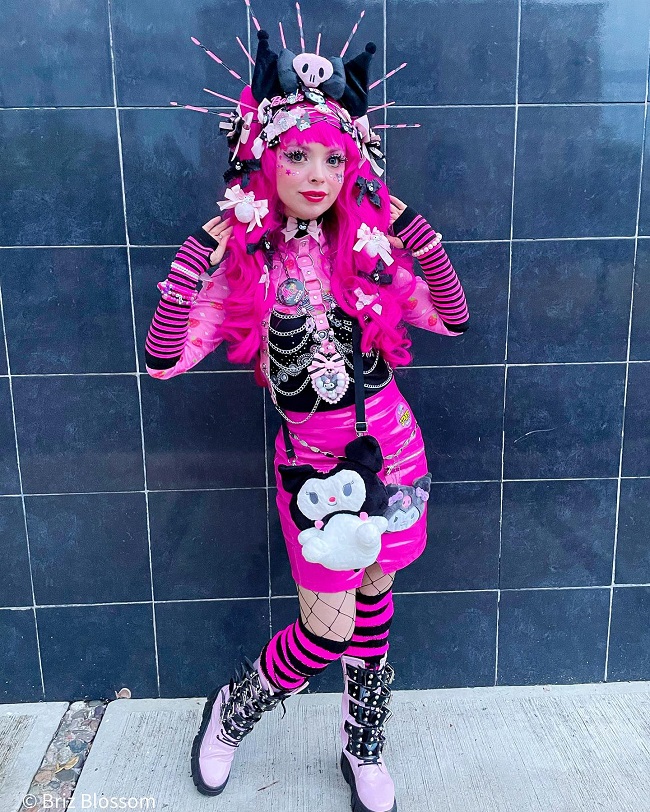 If you want to take all the attention of everyone in a second with your kuromicore aesthetic fashion, we suggest you take a look at the style of @brizblossom. She prefers having pink hair with many Kuromi-inspired hair accessories, such as Kuromi hair bows, hair clips, and a big skull hair bow in pink and black. Her makeup is also perfect for her style: Fake eyelashes and contact lenses to make her eyes look like an anime character, pink blush, lipstick, and of course, face stickers. It's clear that she chooses her outfits carefully as well. Pink boots, striped arm and leg warmers, a ripped pink skirt, and a chained shirt which is also pink and black. She inspires us with the choker she prefers: A black choker with a pink bow. We shouldn't forget about mentioning her Kuromi-inspired plush cross bag as well. From top to toe, she is an inspiration for our Kuromicore wardrobes!
Outfit Idea #4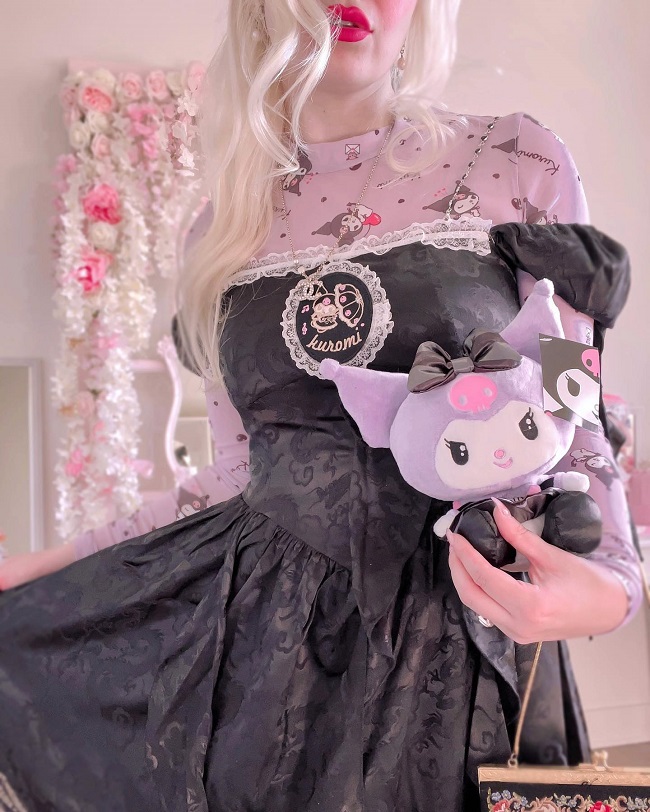 This outfit is a bit more goth than the others. @amanda.jamiee shows us that Kuromi also has a dark and mischievous side as well as the girly one. Apart from her pink transparent Kuromi-printed top, the black frilly dress, black hair bow, and knee-high socks she wears create a gothic look. She makes a perfect Kuromicore aesthetic inspo look with the outfits, hair, and makeup she prefers. Her unique style looks fascinating and inspiring to all of us!
Are you a fan of Kuromi? Or do you like this style just for its fashionable outfits? Don't forget that we have many collections of the trendiest aesthetics. If you are interested in learning more about aesthetic fashion, follow Cosmique Studio on Instagram, Facebook, TikTok, Youtube, Twitter, and Pinterest!
You can read more on our aesthetic blog page and find your personal aesthetic with the help of our blogs!