12 Types Of Aesthetics: Guides + Outfit Ideas [2022]
Posted by Buscik on Apr 22, 2022
---
Ready for the most fashionable aesthetics of 2022? We have prepared a list of 12 different types of aesthetics, their guides, and outfit ideas for you. This guide includes makeup ideas, accessories, key motifs, values, and colors of each popular aesthetic of 2022. Here is what you're gonna do: First, learn what exactly is aesthetic to have deep knowledge of each style. Second, choose your personal aesthetic according to your vibe. Third, get the perfect outfits. And for the last step, be the trendiest girl around! Let's get started!
What does aesthetic style mean?
Expressing ourselves with the outfits that we wear wasn't even imaginable before. But now, thanks to the Internet, it's so easy to access the clothes that we can wear to show who we are even without saying a word. I'm hearing you ask how we do it. The answer is: With the aesthetic styles! With the populaity of TikTok, Instagram and Pinterest, aesthetic styles have gained attention mostly from Gen Z.
Aesthetic fashion is a reflection of the nature of beauty. It can be called the fashion that is seen as charming by individuals that have different tastes. The aesthetic style movement emerged from Tumblr and it's been in our life since then. You can create your own aesthetic style even without knowing it. The outfits that you wear can reflect your personality. The only thing that you should think about should be who you are or who you really want to be.
Need some help? You can find your personal aesthetic style here in our sub-style list. Dress up and get ready for 2022 trendy outfits!
Types of Aesthetics
Indie Aesthetic
Grunge Aesthetic
Soft Girl Aesthetic
Y2k Aesthetic
Dark & Light Academia Aesthetic
Baddie Aesthetic
VSCO Girl Aesthetic
Kawaii Aesthetic
E-Girl Aesthetic
Fairycore Aesthetic
Cottagecore Aesthetic
Pastel Goth Aesthetic
1. Indie Aesthetic
''The question isn't who's going to let me; it's who's going to stop me.'' -Ayn Rand
Independent girls, the Indie Aesthetic is your style! Inspired by the early 2000s, Indie Aesthetic is known for its pale colors and a moody tone. If you see low-quality or vintage photos of individuals, and you like to listen to independent music genres, it means you have found the Indie soul inside of you. We know you like to be independent, but we also know that you like to show everyone that you are into the Indie Aesthetic. Friendship is vital for you. You can bead bracelets and necklaces for your friends and bead your nails, too!
Use your creativity by combining your clothes with your accessories. You can even decorate your room with CDs and polaroids to feel the Indie aesthetic in your daily life. All together with your makeup and accessories, catch the eyes of the strangers! So we have some suggestions for you to wear: Band T-shirts, jeans, tennis shoes, leather jackets, sunglasses, and beanies are perfect for the Indie style . Don't forget to take a photo and post it on Instagram after you dress up!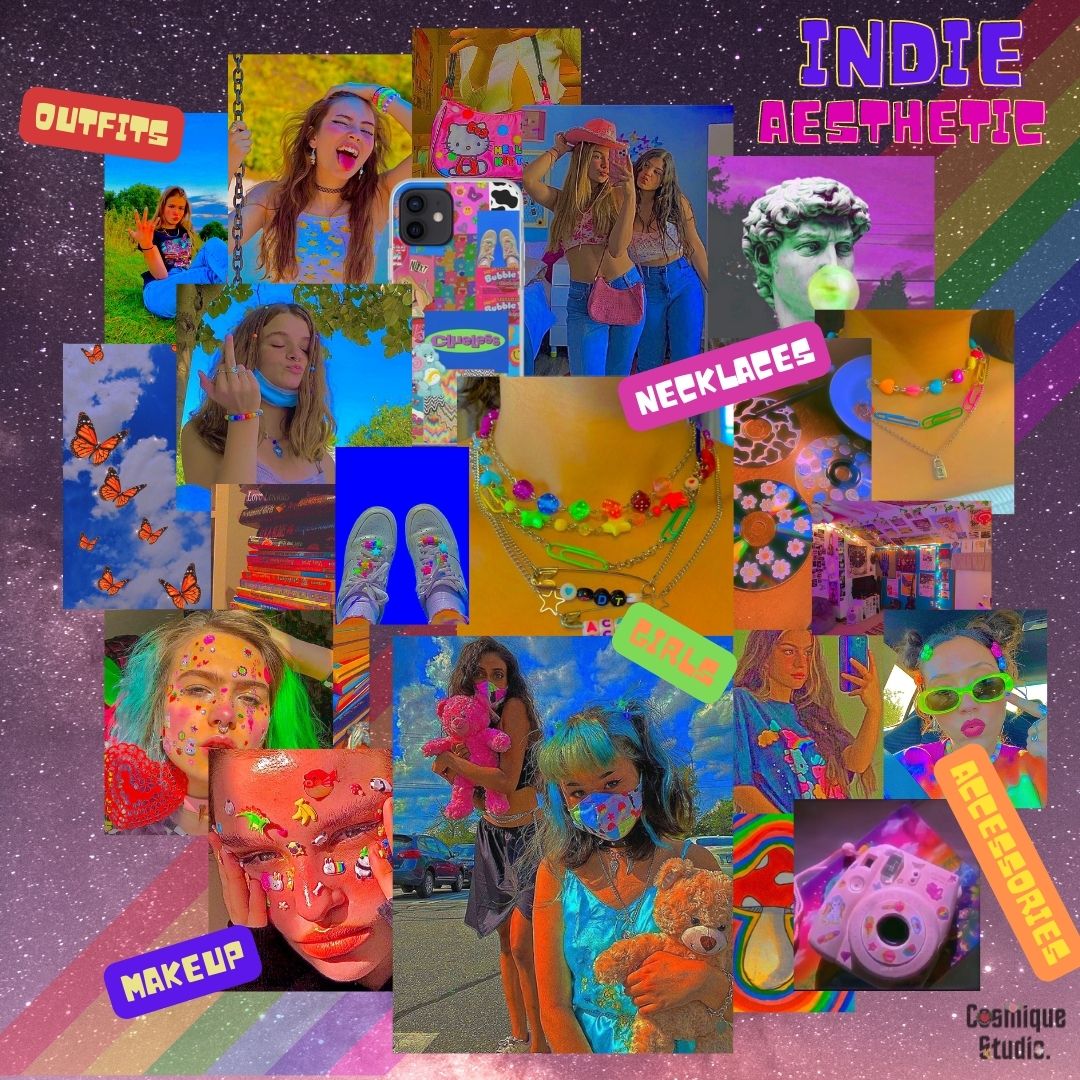 Makeup: Smokey eyes, nude lipsticks, sheer rose blushes, fake freckles, and colorful liquid eyeliners.
Accessories: Quirky, bright beaded bracelets and necklaces, cow print bags and sunglasses, and beaded chain belts.
Key motifs : CDs, Polaroids, vintage clothes, books.
Values: Independency, individualism, philosophy.
Color: Purple, blue, red, green, brown.
Check out the Indie Aesthetic outfits and accessories by clicking on the photos below!
2. Grunge Aesthetic
''If my eyes could show my soul, everyone would cry when they saw me smile.'' -Kurt Cobain
Is there anyone who hasn't listened to Nirvana yet? We don't think so. Inspired by the 80s and 90s rock music style, Grunge Aesthetic is all about protesting traditional society and embracing the dark, timeless style of fashion while rebelling against the system. Grunge Aesthetic visuals include dirty looks that show hopelessness inside of the soul. Of course, you can perfectly get the hope: The Grunge music! Limp Bizkit, KoRn, and Papa Roach are the most popular bands that you can take as examples of outfits.
By wearing heavy mascaras and dark nail polishes you can express your dark soul to the people outside. Yes, we know you don't care about what people think about you. How? With the grimy imagery, you have, of course. But we also know that you like spending time with your friends listening to Grunge music. Dress your Grunge aesthetic outfits and hang out with your friends! If you are into chokers, chains, combat boots, ripped jeans, and plaid T-shirts, then it's time for you to embrace Grunge Aesthetic fashion and riot against the modern world!
If you are into the Grunge Aesthetic, you can check our blog about The Ultimate Guide To Grunge Aesthetic + Coolest Outfit Ideas and 10 Grunge Aesthetic Outfit Ideas You Need To Try In 2022 to get more trendy!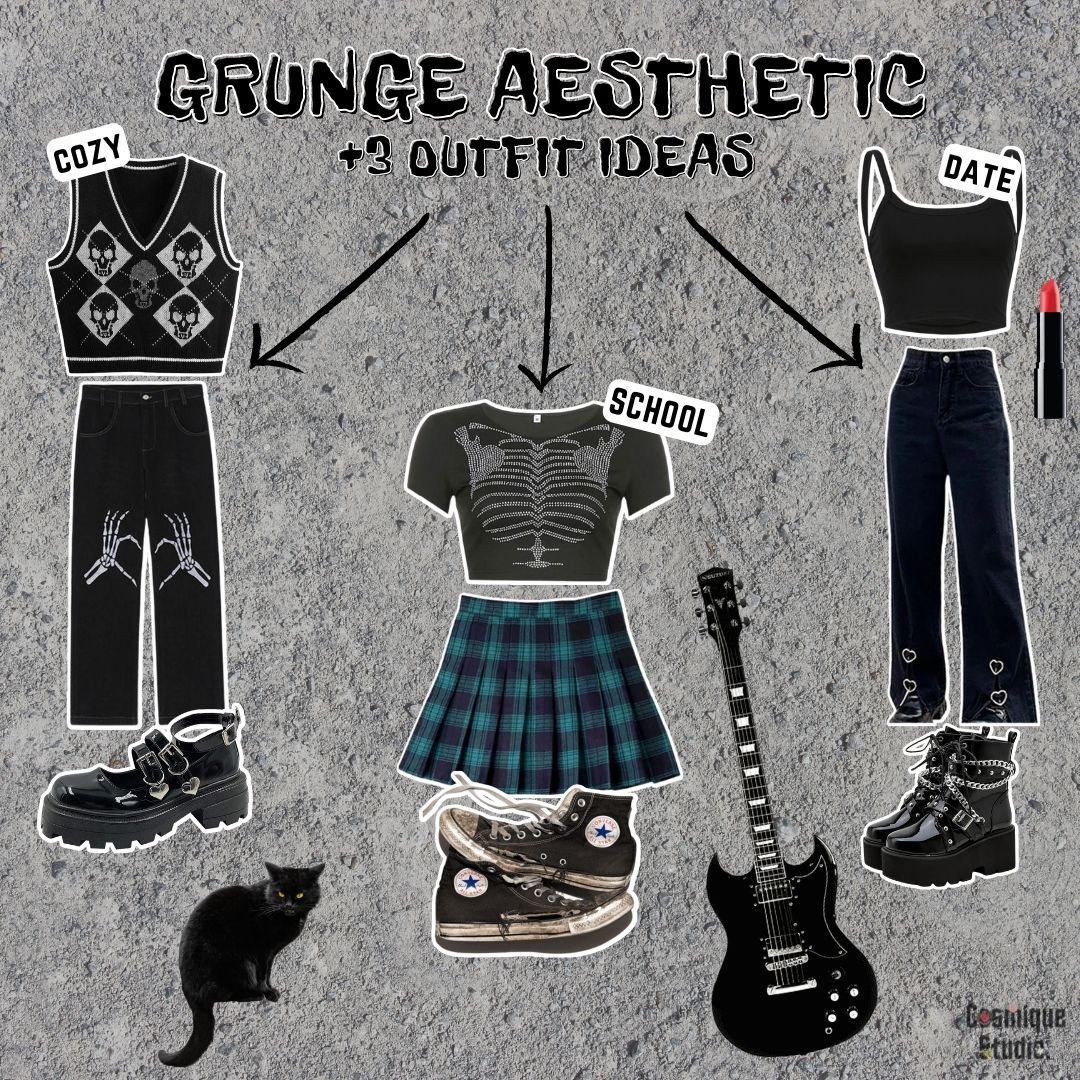 Makeup: Heavy mascaras, darker-tone matte lipsticks, dark nail polishes, and smudgy bold eyeliners.
Accessories: Chokers, stud bracelets, silver ring sets , studded belts, and metal chains.
Key Motifs: Ripped jeans, heavy layering, plaid shirts , and grimy imagery.
Values: Protesting traditional society, cynicism, and not caring about what people think.
Color: Black, grey, silver, red, purple.
Check out the Grunge Aesthetic outfits and accessories by clicking on the photos below!
3. Soft Girl Aesthetic
''A soft spirit in a hard world.'' -Butterflies Rising
Pastel colors, bright accessories, and cute touch to the hair, and here we have the Soft Girl Aesthetic! You can see the Soft Girl Aesthetic on Instagram, Pinterest, and TikTok every second you check as it's so popular these days. If you have a feminine side that is sweet, vulnerable, and emotional, you can start searching for the Soft Girl Aesthetic because it's just for you!
By wearing outfits such as crop tops, white air forces, oversize hoodies, high waist skirts, and milkmaid dresses, you can express your femininity with your style. With this style, you can be both sweet and feminine at the same time. Even drawing hearts to your face can show the cuteness in you. We know the teddy bear you sleep with knows everything about you. Don't mind sharing it with us as well! Before speaking, put your pinky makeup on and wear your heart-eye sunglasses, the world is ready for you!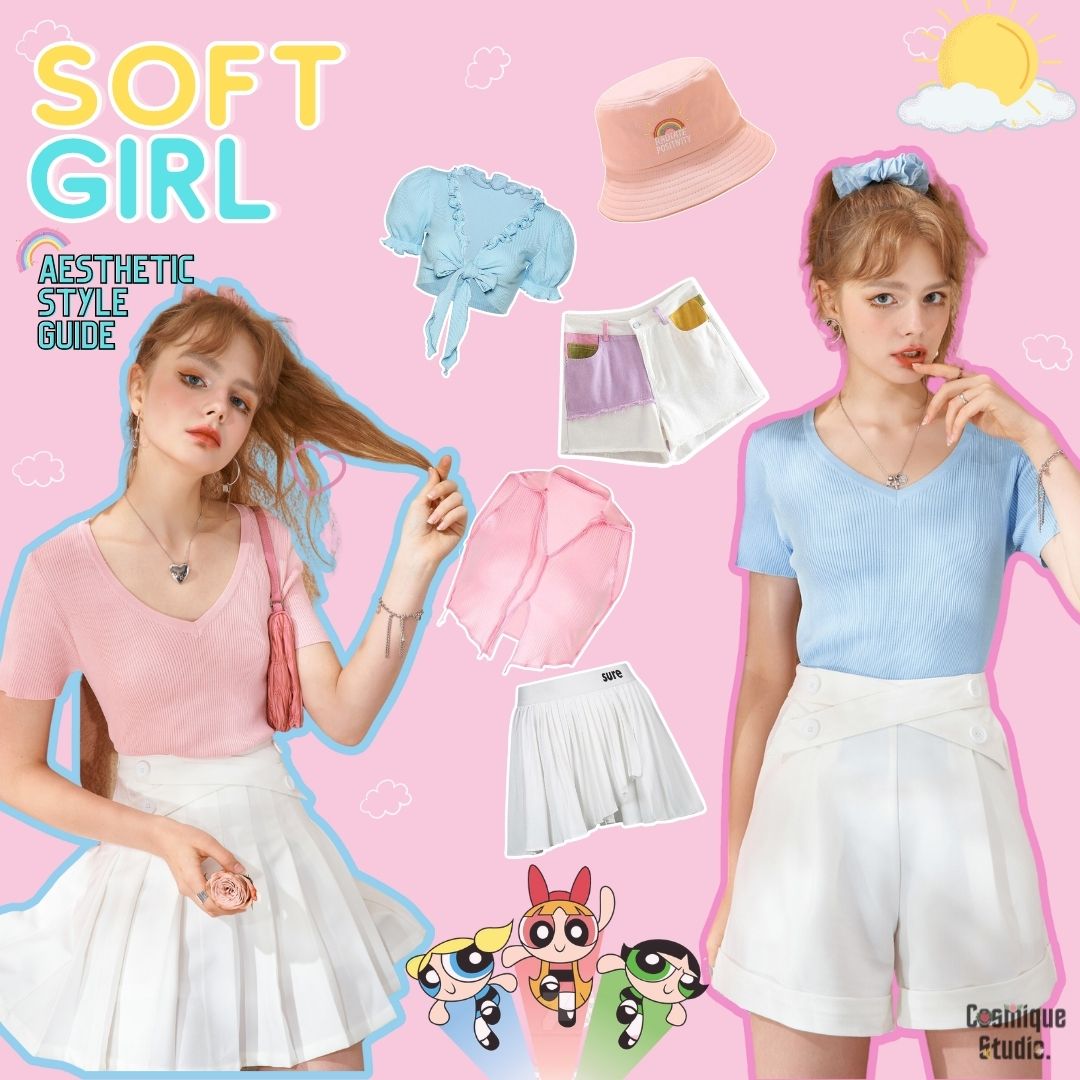 Makeup: Highlighters, pink lip glosses, pink blushes, and fake freckles.
Accessories: Hair clips, flower crowns, teddy bears, and heart-eye sunglasses.
Key Motifs: High waist skirts, plushies, hair clips, and lip glosses.
Values: Being sweet and cute, chill, fashionable, feminine.
Color: Pastel tones, pink, white.
Check out the Soft Girl Aesthetic outfits and accessories by clicking on the photos below!
4. Y2K Aesthetic
''I'd rather be hated than pitied.'' -Spice Girls
Born as a rejection of the Grunge Aesthetic, Y2K Aesthetic is the feminine style of the early 2000s. If you have seen The Spice Girls' ''Wannabe'' you know what we mean. The technologic optimism of that age reflected the outfits as well. Futuristic looks and millennial accessories are the key elements of the Y2K Aesthetic style. Of course, female influence on the details takes an important place in fashion.
The makeup style of this aesthetic was also influenced by the new era. We have never seen a Y2K Aesthetic girl without lip-glosses! By adding some glitters, you can show your futuristic ideas with flame hearts, shiny chain belts, and vivid bright eyeliners while you're hanging out with friends and enjoying the technology . Show the female empowerment with low waist jeans, platform trainers, tube tops, and tracksuits with just a glaze. We have faith in the new age, girls. Trust us.
The ones who feel like coming from space to earth, these blogs will help you to settle: Y2K 101: EVERYTHING YOU NEED TO KNOW ABOUT Y2K AESTHETIC [2022] and 3 ESSENTIALS TO HAVE IN Y2K AESTHETIC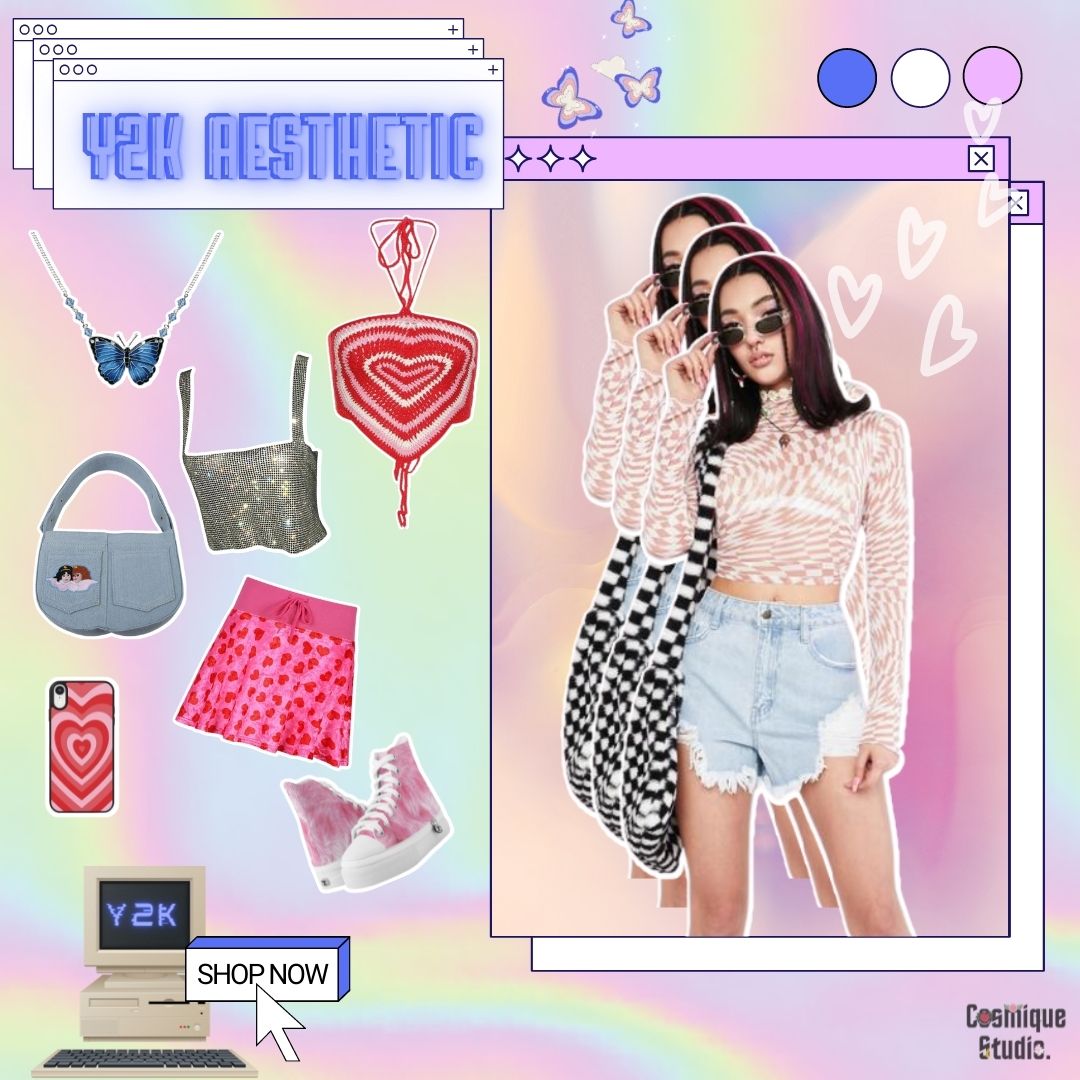 Makeup: Liquid highlighters, lip glosses, glitters, foundation shade ranges, and vivid bright eyeliner.
Accessories: Chain belts, butterfly necklaces, sunglasses, and bunny earrings.
Key Motifs: Futurism, flame hearts, technology, and butterfly motifs.
Values: Friendship, optimism, and faith in the new age.
Color: Vivid colors, silver, pink, baby blues.
Check out the Y2K Aesthetic outfits and accessories by clicking on the photos below!
5. Dark & Light Academia Aesthetic
''A well-read woman is a dangerous creature.'' -Lisa Kleypas
Girls looking for their prince charming in the books: These aesthetics are just for you! Getting their style from the 19 th century upper-class nobles, the Dark & Light Academia Aesthetic was also inspired by Greek art and literature. This style highlights the importance of education; especially reading and writing. You can even see the academic details in the outfits. Instead of vivid, pastel colors, Dark Academia includes more fall tones like brown, forest green, dark orange, and black palettes while Light Academia prefers white, creams, and beiges.
Instead of having your head in the clouds, we know that you read 'forbidden books' at night and put your flowers in your heavy books. So, show your style with your outfits and accessories. Put your natural makeup, pearl necklace, and glasses on, wear your hair in a bun and take your books to the library. Stay focused on your academic purposes. You can create your own Dark & Light Academia Aesthetic style with Oxford shoes, cardigans, cigarette pants, uniforms, and long trench coats. You know, only the educated are free so focus on your goals with the outfits and accessories reflecting your reader identity!
To acquire more knowledge, bookworms, check out our blog: LIGHT ACADEMIA AESTHETIC 101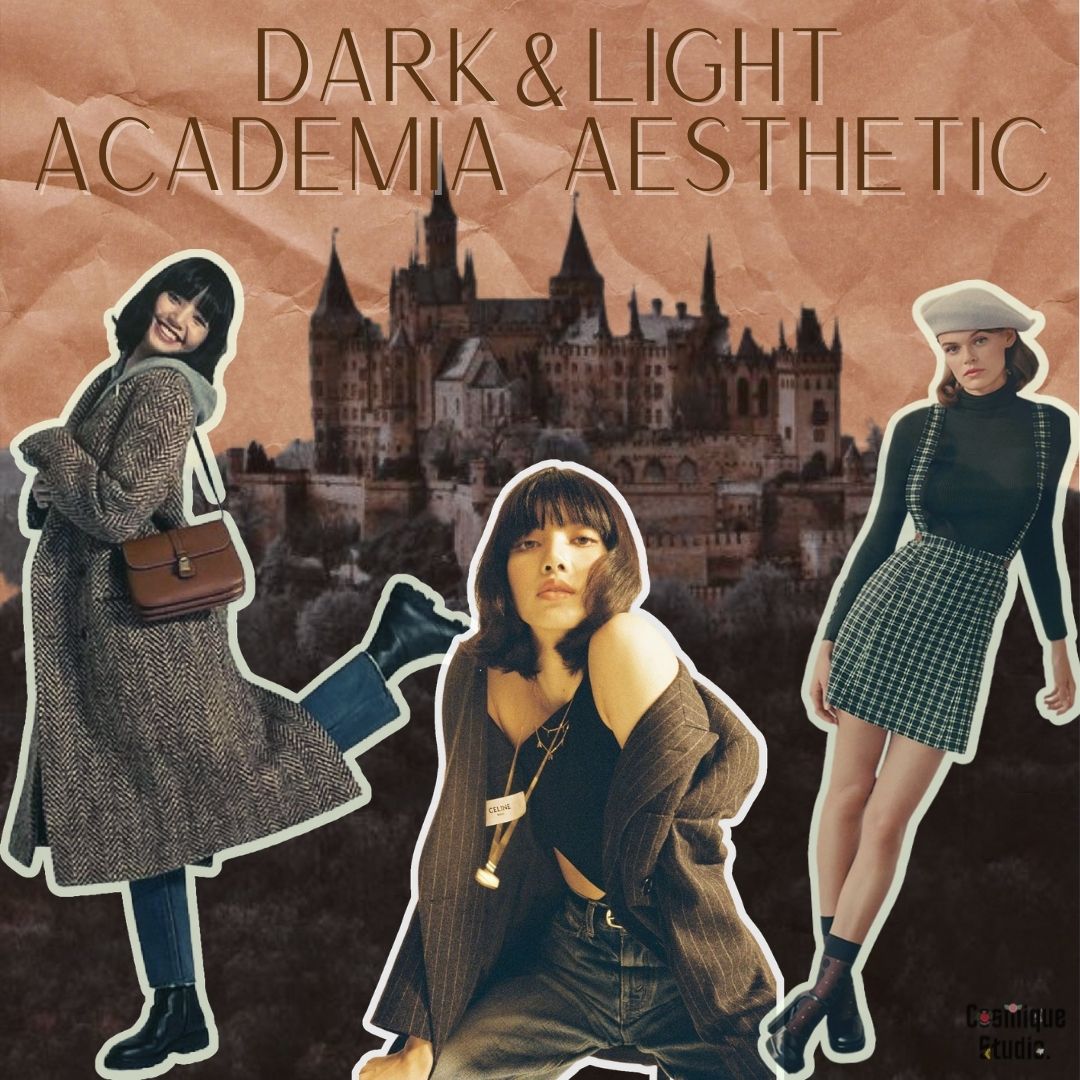 Makeup: Natural makeup with neutral tones of lipsticks and eyeshadows, and heavy winged eyeliner.
Accessories: Glasses, pearls, watches, knee-high socks, and leather belts.
Key Motifs: Books, leathers, literature, old buildings, and history.
Values: Education, curiosity, intelligence, learning, and wisdom.
Color: Brown, forest green, dark orange, black, white, cream, beige.
Check out the Dark & Light Academia Aesthetic outfits and accessories by clicking on the photos below!
6. Baddie Aesthetic
''You never catch me slipping.'' -Zendaya
Are you a badass who likes glamour? Are you confident enough to show the whole world that you are the boss? Does everybody want to follow you on Instagram? Then here we present your glamourous style: Baddie Aesthetic. Baddie Girls have no hesitation to wear outfits that are chic, unique, and iconic. Kardashians and Rihanna are the most famous followers of the Baddie Aesthetic which originates in the early 2010s. You can see the flirty look on their outfits. Remember what Kendal J says: I don't cry for boys; my mascara is too expensive. Baddie girls know that they are treasures and no one can get them bitter, they can only get better.
Buy the pieces from the shops or tailor your own luxurious fabrics outfits to your favorite designer and remember, your nails say everything about you! Match your long polished nails with your outfit and tie your scarf like a Parisian. Combine your crop tops, bodysuits, tight jeans, sneakers, high-heeled stilettos, hoodies, and hoop earrings: WOW! You're a Baddie now! Don't forget to take your Instagram shot and slay the game, and fall in love with yourself first.
Don't forget to take a look at what you're missing girls, ULTIMATE GUIDE TO BADDIE AESTHETIC: EVERYTHING YOU NEED TO KNOW [2022]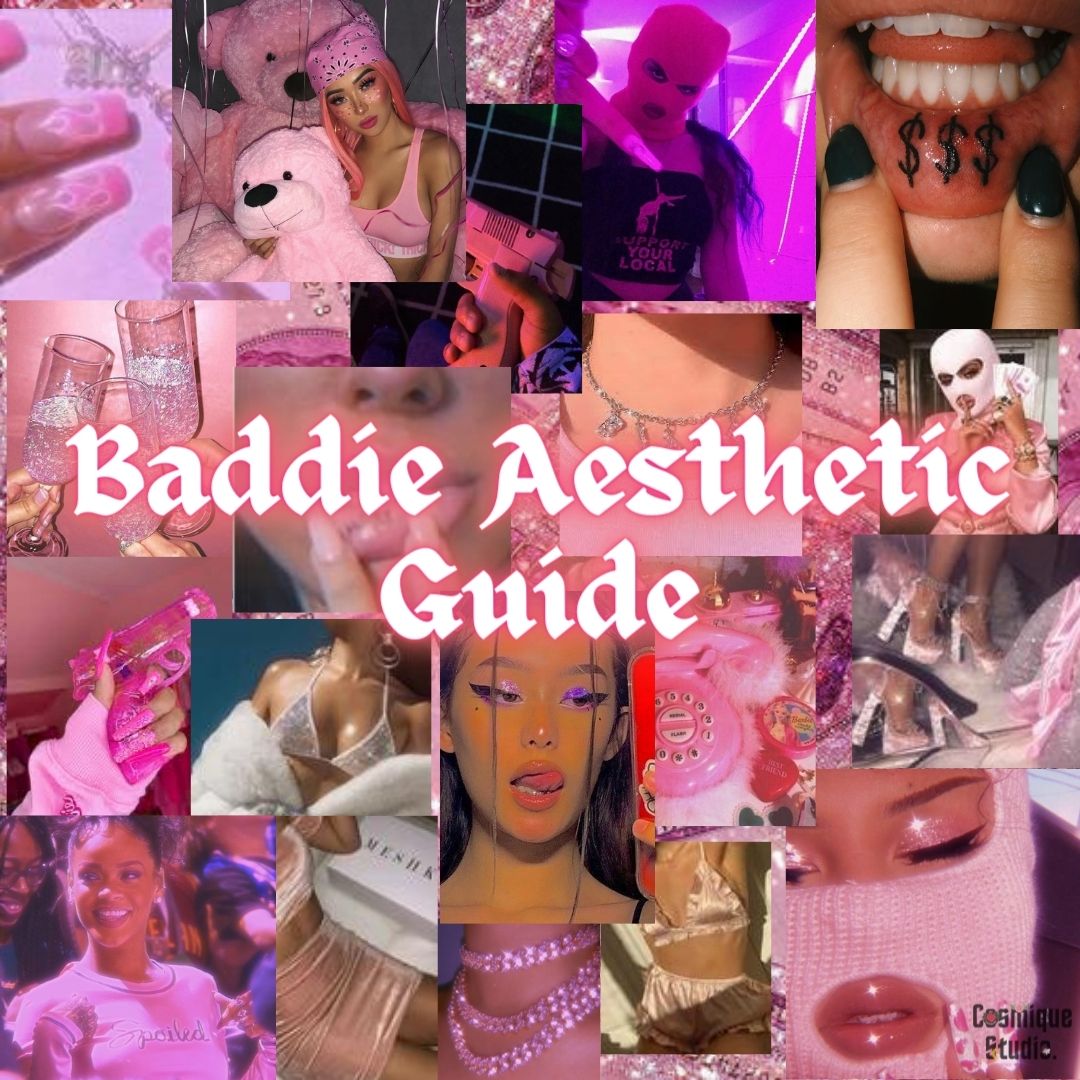 Makeup: Highlighters, lip glosses, long polished nails, thick eyebrows, and fake eyelashes.
Accessories: Mini bags, silk scarfs, ring sets, diamond rings, hoop earrings, and sunglasses.
Key Motifs: Glamorous look, femininity, glitter.
Values: Being confident, always looking chic, being iconic, and being a trendsetter.
Color: Red, black, pink, beige, purple.
Check out the Baddie Aesthetic outfits and accessories by clicking on the photos below!
7. VSCO Girl Aesthetic
"Becoming a happy person starts with not needing everyone to like you." -Marcus Trey
We know we have photographers here, but, have you tried VSCO yet? The photo-editing app VSCO (pronounced ''Visco'') is so good that even an aesthetic was born from it. Basic looks are perfect for the VSCO Girl Aesthetic but don't forget: You can create your own VSCO style and show it to everyone on Instagram and Pinterest! Mom jeans, friendship bracelets, Nike socks, Birkenstocks, vans, striped shirts, and collage sweatshirts are the core items of the VSCO Girl Aesthetic. You can also use phone case stickers to show your style.
We know that you're capable of amazing things. Wear your minimal makeup, put the stickers on your phone, and wear your Airpods upside down to get ready to photograph every moment you breathe with your polaroid camera. Keep in mind that your friends are waiting for you to have fun. Don't forget: You only live once!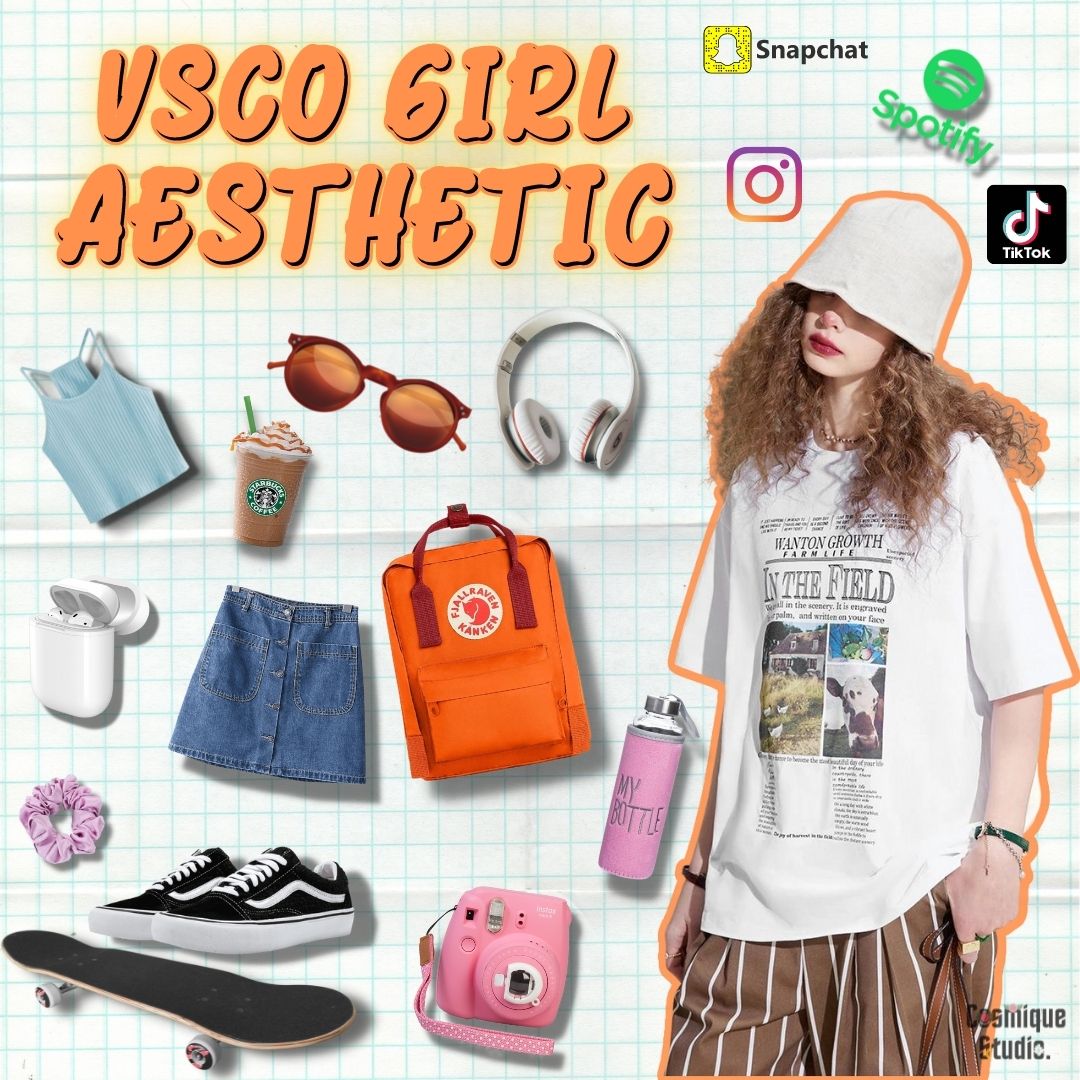 Makeup: Minimal makeup: Neutral lip balm, hydrating facial sprays, creams, warm blushes, and liquid eyeliners.
Accessories: Phone stickers, shell necklaces, AirPods, friendship bracelets, hydro flasks, and phone case stickers.
Key Motifs: Photography, polaroid cameras.
Values: Positive vibes, being eco-friendly, friendship.
Color: Grey, white, red, green, blue.
Check out the VSCO Girl Aesthetic outfits and accessories by clicking on the photos below!
8. Kawaii Aesthetic
''Every day may not be sweet. But there's something sweet in every day.'' -Quennie Law
BREAKING NEWS: You're super cute! Don't mind people telling you that there's something wrong with liking cute things. There are so many like you in this world, and just maybe, they're reading these words just at the same time as you. Do you want to know how to find these girls? They're all into Kawaii Aesthetic! We, as Cosmique Studio, will help you to create your wardrobe with Kawaii outfits and accessories so the others will be able to identify you! If you like watching anime and prefer childish and pretty stuff, Kawaii Aesthetic might be your ideal style. Originates from the 1970s, the Kawaii style is the favorite of not just only the Japanese but people from all over the world. There's even a culture called ''Kawaii'' including a lifestyle of cuteness. Anything related to youth like vulnerable, helpless, charming, childlike, cute stuff, animal, or person can be called Kawaii.
Wanna wear Kawaii Aesthetic outfits? You'll need dresses with feminine details such as ribbons, frills, over-the-knee socks, balloon shorts, and floral designs for your outfits. Put the strawberry stickers on your phone case and show the Kawaii inside you to your friends!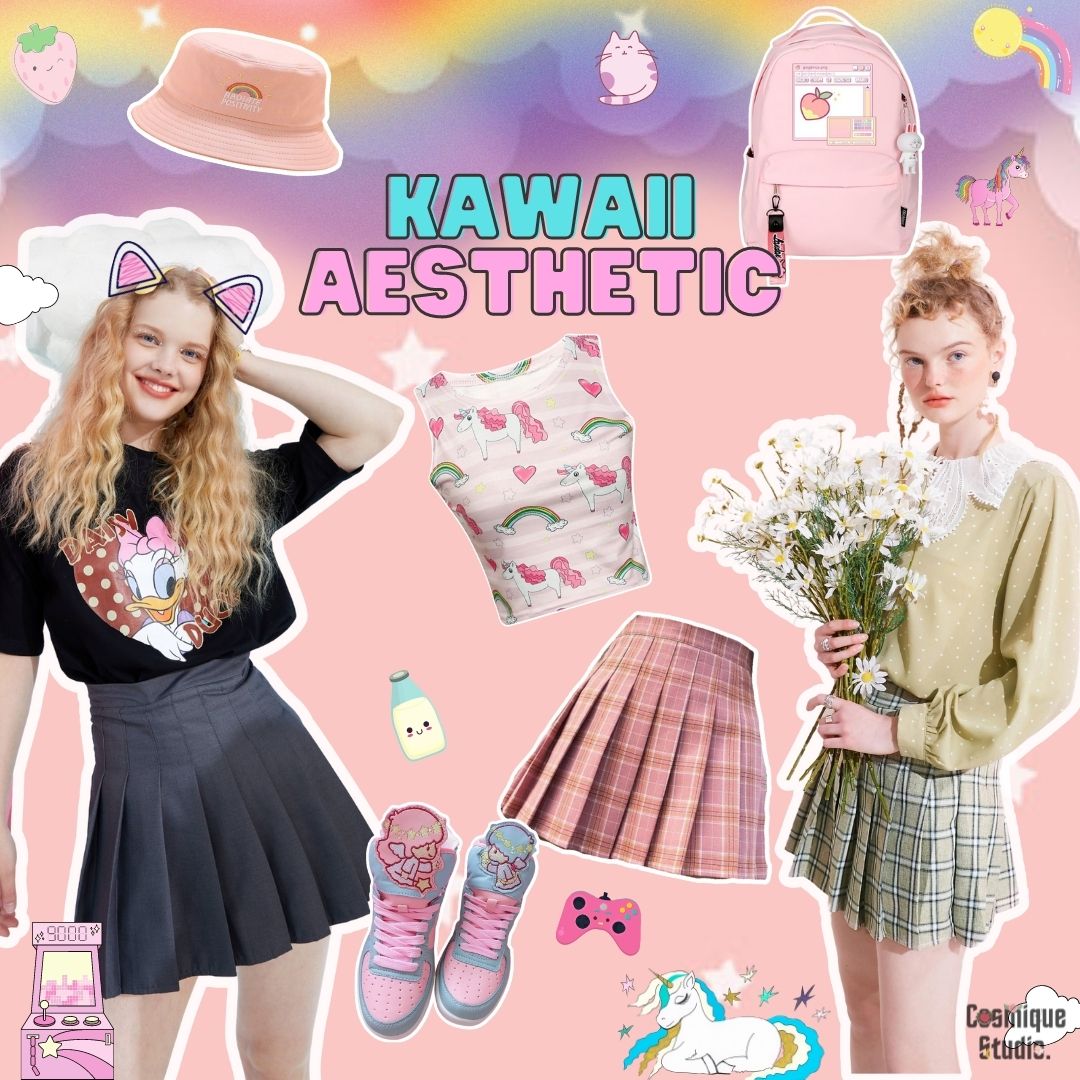 Makeup: Innocent look makeup with pink blushes, lip glosses, liquid eyeliners, and a light concealer.
Accessories: Plushies, ribbons, bento boxes, accessorized nails, and lace gloves.
Key Motifs: Sweets, strawberries, stickers, flowers, Hello Kitty, and animes.
Values: Friendship, innocence, being adorable and nice, having role models.
Color: Pastels, white, pink.
Check out the Kawaii Aesthetic outfits and accessories by clicking on the photos below!
9. E-Girl Aesthetic
"A tamed woman will never leave her mark in the world." -Robert M. Drake
Who run the world? Girls! With the popularization of Instagram and TikTok, having an aesthetic style named E-girl is inevitable, right? People with an old stick in the mud think that gamers are boys in general, but we all know here that girls are everywhere. Do you want to know who is your enemy in the game? Maybe it's a highly educated, smart, and hot girl that kicking your ass. Yes, we are girls, and yes, we play video games. E-girls, also called electronic girls, are a kind of anime aesthetics. You can separate them from the others with their dyed hair, having so many accessories, exaggerated makeup with extra highlighted eyes and cheeks. You can be sure that the E-girls are active internet users. They love to use social media and spend time on online games.
If you are an active internet user, you can easily become an E-girl with some basic outfits like plaid high-waisted skirts, striped long-sleeved shirts, crop tops, oversized hoodies, chokers, and combat boots.
STOP CAMPING!!!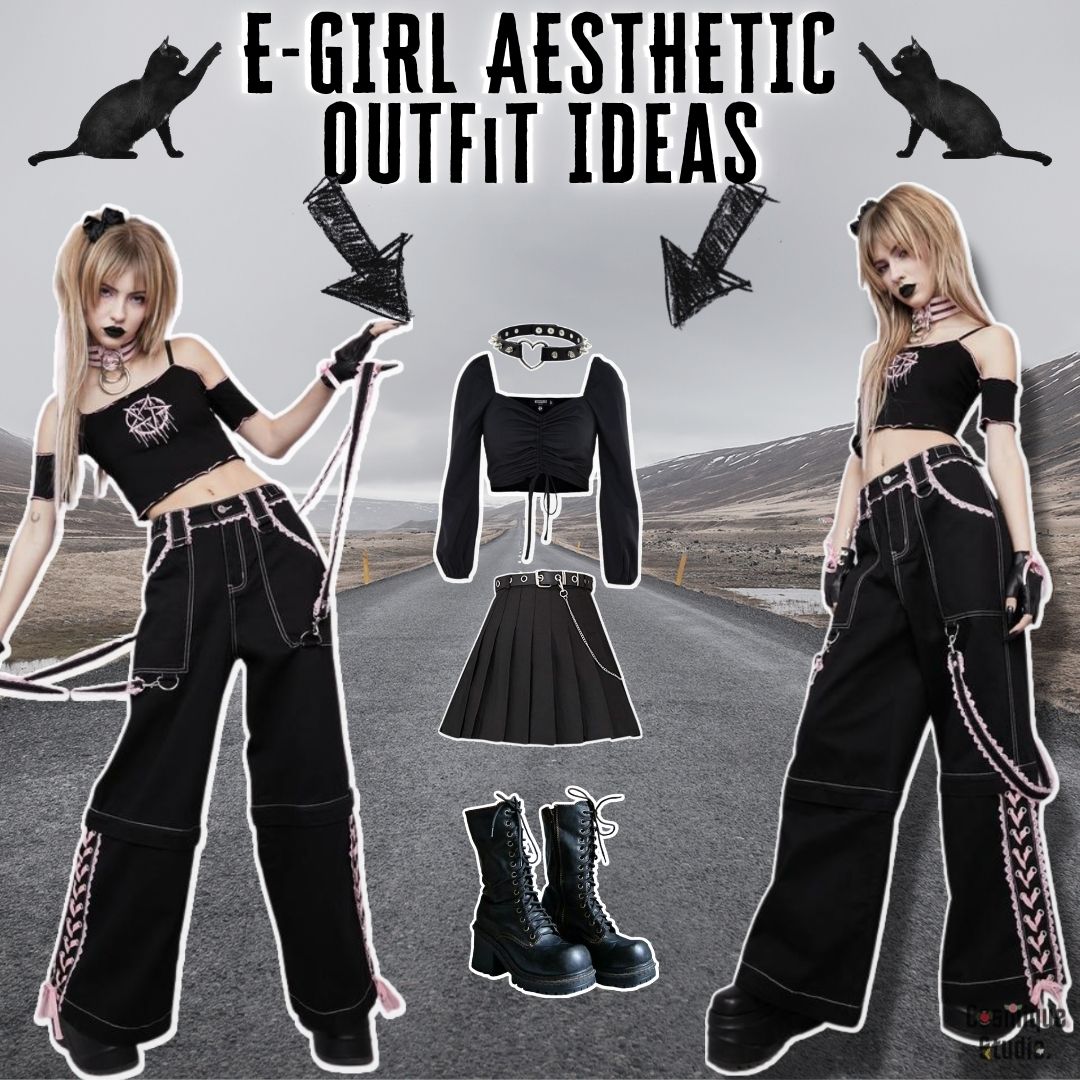 Makeup: Dark lipsticks, bold winged eyeliners, fake freckles, and cute drawings like a tiny star beneath the eyes.
Accessories: Chokers, hair clips, silver necklaces and bracelets, and leg harnesses.
Key Motifs: Playing online games, reading mangas, watching animes, and lingeries.
Values: Individualism, effective social media usage, and drawing attention.
Color: Dark tones of pink, blue, red, and black.
Check out the E-Girl Aesthetic outfits and accessories by clicking on the photos below!
10. Fairycore Aesthetic
''I'd pulverize my bones for you so that I might be the dust you found.'' -Ellis Nightingale
Are you the type of person who likes to go for walks, garden or do embroidery? Do you feel like nature calls you when you are working in your office? Can there be a fairy inside you? Yes, you didn't read wrong. Fairycore Aesthetic is all about nature, vines, knitting, and all the stuff that has a soothing effect. You can find peace even with the combination of the Fairycore Aesthetic outfits.
Be sure that wearing long dresses, ribbons, open-toe shoes, glowing makeup, corsets, and of course, adding fairy wings will bring serenity into your life . With your earth-tone makeup and flowers in your head, you'll be sure that the serenity is around you. With the DIY accessories that you made in your free time, everyone will see how eco-friendly you are. Fairycore is not about consuming, it's about being content and creative with what you have. Maybe you can knit your gloves that are fingerless to touch nature calmly. Only the fairies can understand that.
Fairies of the world, all you need is a little much fairy dust and FAIRYCORE 101: THE ONLY GUIDE YOU NEED to be completed!
Makeup: Fake freckles, heavy pink blushes, pink lipsticks, earthy-tone eyeshadows, and liquid eyeliners.
Accessories: Gold necklaces, opal rings, elf ears, fairy wings, and fingerless gloves.
Key Motifs: Fairy wings, fairy dust, flowers, elves, soft animals, and springtime.
Values: Serenity, peace, innocence, and being eco-friendly.
Color: Soft pastels, green, cream white, earthy tones.
Check out the Fairycore Aesthetic outfits and accessories by clicking on the photos below!
11. Cottagecore Aesthetic
"You were once wild here. Don't let them tame you." -Isadora Duncan
Think you're living in a small cottage, surrounded by green fresh grass with daisies and a small lake near your place… Like a dream, right? We believe you'd like to be there instead of your small, grey apartment building. Can you think of a way of bringing the cottage life into your home? We have found one. With the Cottagecore Aesthetic! Inspired by the historical agricultural life, the Cottagecore Aesthetic is about romanticized countryside life which includes gardening, cooking, reading, knitting, painting, and the whole stuff that would make you feel you're self-efficient.
Wanna live your own cottagecore life with your clothes? You can start with the outfits: Long dresses with flower motifs on, laced corsets, puffed sleeves, peasant-style blouses, straw bags, and rope sandals. You can buy them from a thrift shop to be eco-friendly as well. If you realize you like to be outside and at home at the same time, the Cottagecore aesthetic might just be inside your soul. You might have activities like taking long walks, picking flowers, or having a picnic outside. Also, you may like to be inside sewing, handcrafting, baking, and decorating your place. Match your outfits with your soft tones of makeup and face freckles beside with a flower crown, and show everyone that you're a Cottagecore!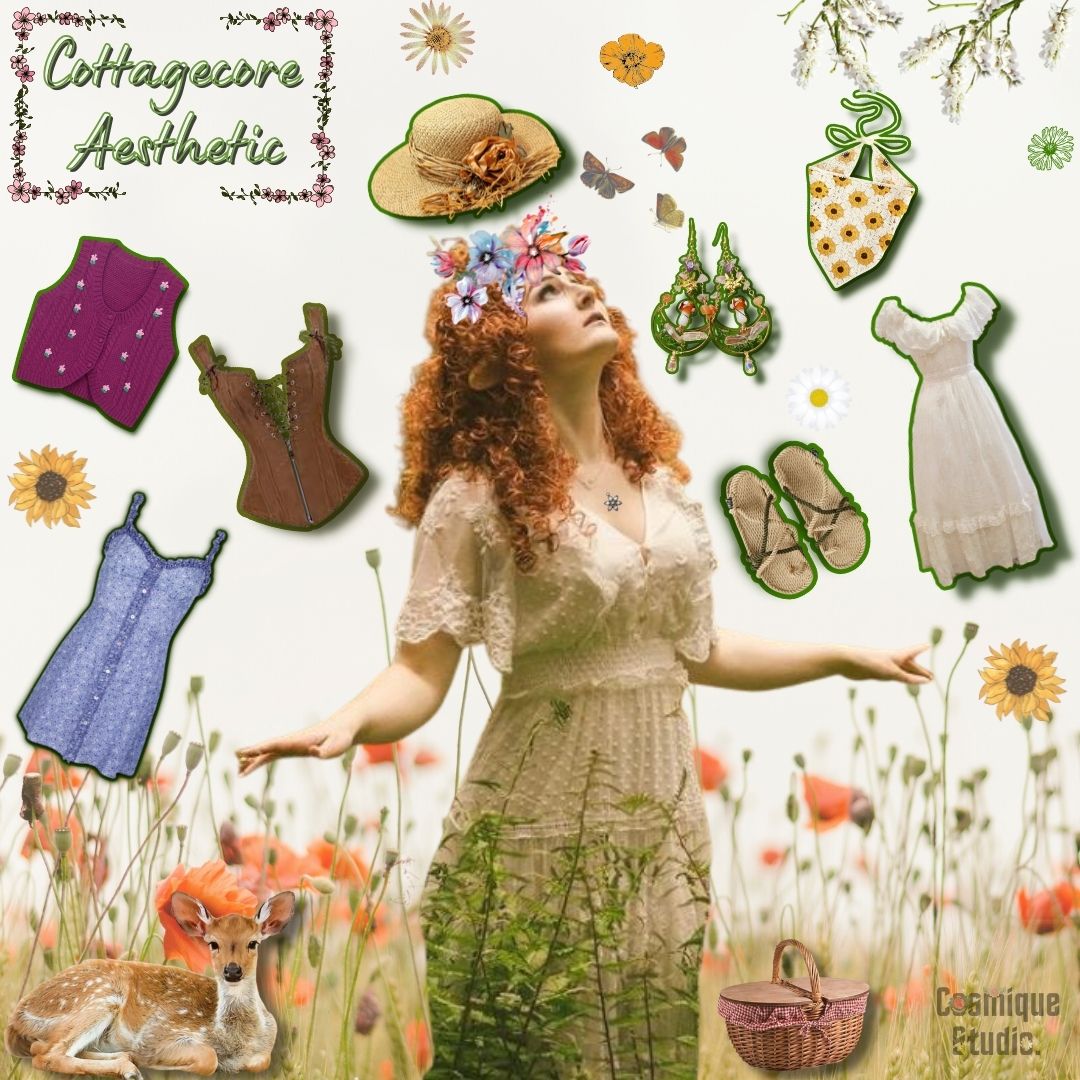 Makeup: Soft tones of lipsticks, pale rose blushes, earth-tone eyeshadows, and fake freckles.
Accessories: Handcrafted or DIY accessories such as knitted socks, flower crowns, straw bags and hats, and mushroom earrings.
Key Motifs: Cottages, gardens, wildflowers, woven baskets.
Values: Being eco-friendly, simple living, traditional skills.
Color: Faded earth colors, baby pink, rose pink, yellow.
Check out the Cottagecore Aesthetic outfits and accessories by clicking on the photos below!
12. Pastel Goth Aesthetic
"I discovered that what most people call creepy, scary, and spooky, I call comfy, cozy, and home." -Zack Bagans
Sometimes, we believe, you feel like you want to combine black and pastel tones at the same time. Yes, you like pink and black at the same time and no, it's not a personality crisis. It's like having a dark soul while feeling childish. Congratulations! You have rediscovered the Pastel Goth Aesthetic! Originated in the 2010s, Pastel Goth Aesthetic is a fashion that emerged from Tumblr. It's also very popular in Japan like Kawaii Aesthetic.
Although it feels like it's a new term, we are sure that you can identify it with the outfits such as pastel hair, dyed denim vests, oversize sweaters, tattoo print tights, and platform boots. . With your studded headbands, chokers, and combat boots, you'll be sure you'll kick the asses. You'll express your dark side with pastel skies on your Instagram shots, we're pretty sure that. For those who don't like you, say it: I wish you well in hell!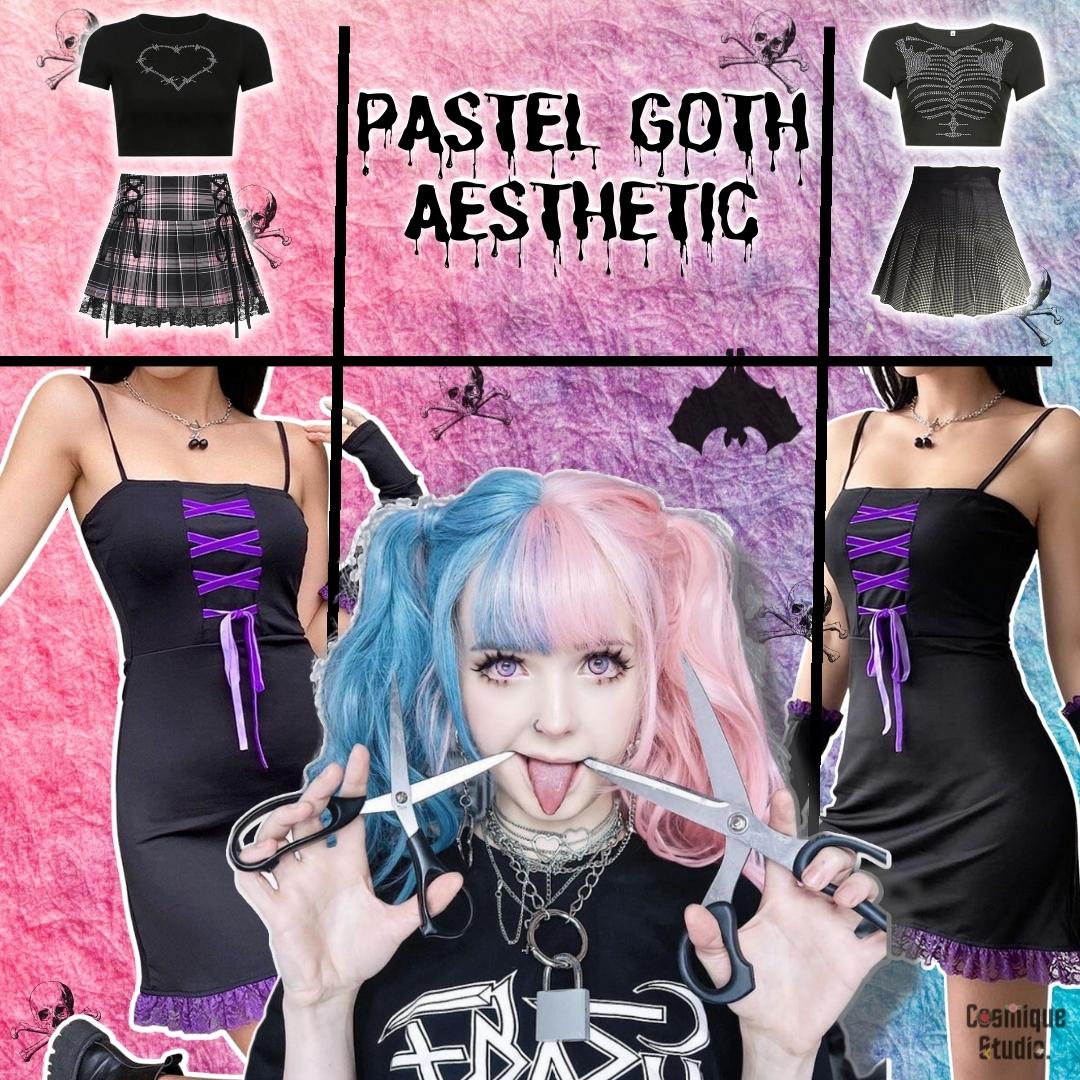 Makeup: Unusual color lipstick, bold eyeliner, dark sparkle eyeshadows, and fake freckles.
Accessories: Round sunglasses, flower crowns, studded headbands, and chokers.
Key Motifs: Bats, the ying-yang symbol, crystals, pastel skies, bones, and pentagrams.
Values: Being cute but depressed, individualism, expressing the dark side.
Color: Pastel colors, black, baby blue, pink.
Check out the Pastel Goth Aesthetic outfits and accessories by clicking on the photos below!
Now that you know the aesthetic world has thousands of different aspects, we'd like to give you some tips to wear your outfits correctly. Here's a video of sleepyhugs from YouTube sharing details of 15 types of aesthetics. This video will help you find your aesthetic. All of them are one-of-a-kind and pretty, so we hope you'll find yours easily. Have fun!
Have you decided on which type of aesthetic you like most? If you are interested in seeing more ideas, follow CosmiqueStudio on Instagram, Facebook, TikTok, Youtube, and Pinterest! We are sure that you will find your perfect aesthetic style and dress you up for the best!
You can read more on our blog page and mail us anytime you wish about your questions, ideas and new blog wishes as well!