18 Types Of Aesthetics: Guides + Outfit Ideas [Updated 2023]
Posted by Buscik on Apr 22, 2022
---
Ready for the most fashionable aesthetics of 2023? We have prepared a list of 18 different types of aesthetics, their guides, and outfit ideas for you. This guide includes makeup ideas, accessories, key motifs, values, and colors of each popular aesthetic of 2023. Here is what you're gonna do: First, learn what exactly aesthetic is to have deep knowledge of each style. Second, choose your personal aesthetic according to your vibe. Third, get the perfect outfits. And for the last step, be the trendiest girl around! Let's get started!
---
What Does Aesthetic Mean?
The term "aesthetic" means the appreciation of beauty and taste in general. The aesthetic style movement emerged from Tumblr, and it's been in our life since then Artworks, outfits, decorations, photos, landscapes, songs, color patterns, architecture, and jewelry are some examples of aesthetic things. Thanks to TikTok, Instagram, and Pinterest, the aesthetic has become slang that Gen Z uses to describe what they like to see.

Expressing ourselves with the outfits that we wear wasn't even imaginable before. But now, thanks to the Internet, it's so easy to access the clothes we can wear to show who we are even without saying a word. We're hearing you ask how we do it. The answer is: With the aesthetic styles! With the popularity of TikTok, Instagram, and Pinterest, aesthetic styles have gained attention.

Aesthetic fashion is a reflection of the nature of beauty. It can be called fashion is seen as charming by individuals with different tastes. You can create your own aesthetic style even without knowing it. The outfits that you wear can reflect your personality. The only thing you should consider should be who you are or who you really want to be.

Are you one of the people who's searching for inspo to find your personal aesthetic? Just think about what you prefer to see around you. We're sure that you'll find what you're looking for! Need some help? You can find your personal style here in our sub-style list of aesthetics. Dress up and get ready for 2023 trendy outfits!
What is my Aesthetic?
Now, listen carefully if you want to learn what your personal aesthetic is. You need to choose your fashion style according to your personality. Deciding on your aesthetic type is totally your choice, but you must consider your self-nature. For example, grunge might be your personal aesthetic if you like speaking up, being a rebel, and not caring about what others think. Or you may like being cute and sweet and a feminine woman who likes wearing child-like clothes. In that situation, we can say that you're a soft girl or kawaii up to your fashion style, hair, and makeup. The point here is that all your style should reflect your personality.

So, before deciding on what your aesthetic is, think about a minute about what you like and dislike, your favorite activities, colors, and even food. Then, take a look at our types of aesthetics list and read the blog to see different types of aesthetics. We're sure you'll find your favorite personal aesthetic here!
Types of Aesthetics
Indie aesthetic
Grunge aesthetic
Soft girl aesthetic
Y2k aesthetic
Dark academia aesthetic
Baddie aesthetic
VSCO girl aesthetic
Kawaii aesthetic
E-girl aesthetic
Fairycore aesthetic
Cottagecore aesthetic
Pastel goth aesthetic
Coquette aesthetic
Soft boy aesthetic
Edgy aesthetic
Fairy grunge aesthetic
Goblincore aesthetic
Sanriocore aesthetic
1. Indie Aesthetic
Indie aesthetic is the style of independent people. Its main concepts are freedom, independence, philosophy, creativity, and uniqueness. Indie girls like feeling comfortable with whatever they wear. They create their own unique fashion style with specific accessories such as beads.

Independent girls, the Indie Aesthetic is your style! Inspired by the early 2000s, the indie aesthetic is known for its pale colors and moody tone. If you see low-quality or vintage photos of individuals and you like to listen to independent music genres, it means you have found the indie soul inside of you. We know you like to be independent, but we also know that you like to show everyone that you are into the indie aesthetic. Friendship is vital for you. You can bead bracelets and necklaces for your friends and bead your nails, too!

Use your creativity by combining your indie clothing with your accessories. You can even decorate your room with CDs and polaroids to feel the indie aesthetic in your daily life. All together with your makeup and accessories, catch the eyes of strangers! So we have some suggestions for you to wear: Band T-shirts, jeans, tennis skirts , leather jackets, sunglasses, and beanies are perfect for the Indie style. Don't forget to take a photo and post it on Instagram after you dress up!
If you're interested in this fashion, you should also check out these ideas for indie aesthetic:
Beading bracelets for you and your friends.
Being independent.
Getting involved in a band or creating your own.
Being creative and original.
Creating your own, unique style.
Having many CDs.
Hanging low-quality polaroids on your walls.
Listening to indie music.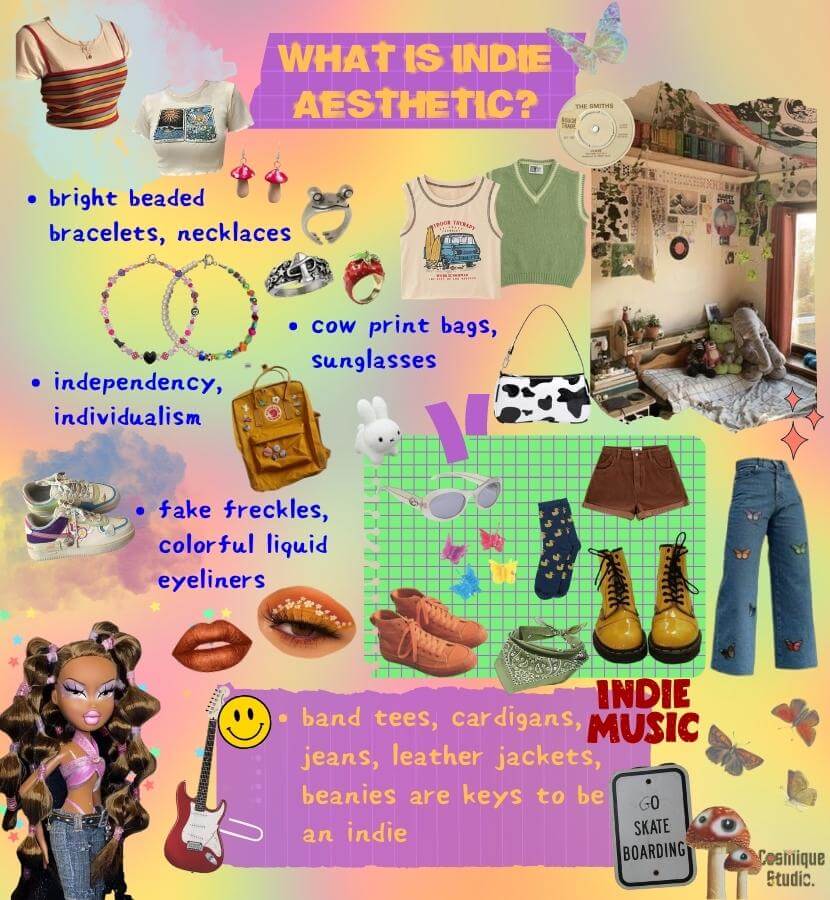 How to Be Indie Aesthetic
If you are wondering how to be an indie, you can look at the items below to see the key points of indie style. You need to have bright makeup on with glitter eyeliner, and fake eyelashes to get all the attention to your eyes. Moreover, you can use lots of accessories, such as gummy bear earrings, butterfly hairpins, mini corduroy bags, and bucket hats. Your friends will love the idea of independence and individualism when you inform them about the key motifs of the indie aesthetic. If you want to give presents to your indie friends, you can get them CDs, low-quality polaroid photos, and even books!

Makeup: Smokey eyes, nude lipsticks, sheer rose blushes, fake freckles, and colorful liquid eyeliners.
Accessories: Quirky, bright beaded bracelets and necklaces, cow print bags and sunglasses, and beaded chain belts.
Key motifs: CDs, Polaroids, vintage clothes, books.
Values: Independency, individualism, philosophy.
Colors: Purple, blue, red, green, brown.
2. Grunge Aesthetic
Grunge aesthetic is the fashion of people who are rebellious, independent, challenging authority, and breaking the rules. Just like their attitudes, grunge clothing is also rebellious. Instead of dressing up according to a specific fashion, they prefer creating their own distinctive style.

Is there anyone who hasn't listened to Nirvana yet? We don't think so. Inspired by the 80s and 90s rock music style, the grunge aesthetic is all about protesting traditional society and embracing the dark, timeless style of fashion while rebelling against the system. Grunge aesthetic visuals include dirty looks that show hopelessness inside of the soul. Of course, you can perfectly get the hope: grunge music ! Limp Bizkit, KoRn, and Papa Roach are the most popular bands you can take as examples of outfits.

By wearing heavy mascaras and dark nail polishes, you can express your dark soul to the people outside. Yes, we know you don't care what people think about you. How? With the grimy imagery, you have, of course. But we also know that you like spending time with your friends listening to grunge. Dress in your grunge aesthetic outfits and hang out with your friends! If you are into chokers, chains, combat boots, ripped jeans, and plaid T-shirts, then it's time to embrace grunge aesthetic fashion and riot against the modern world!

Here are the ideas and activities for grunge aesthetic:
Not giving a s*it about what people think about you.
Learning how to play the guitar.
Listening to grunge bands.
Creating your own grunge band.
Rebelling against society.
Being yourself.
Painting your nails with dark colors.
Having a dark, distinctive style with messy hair.
Going to rock concerts even if you're alone.
If you are into the grunge aesthetic, you can check our blog about grunge aesthetic guide and grunge aesthetic outfit ideas to get more trendy!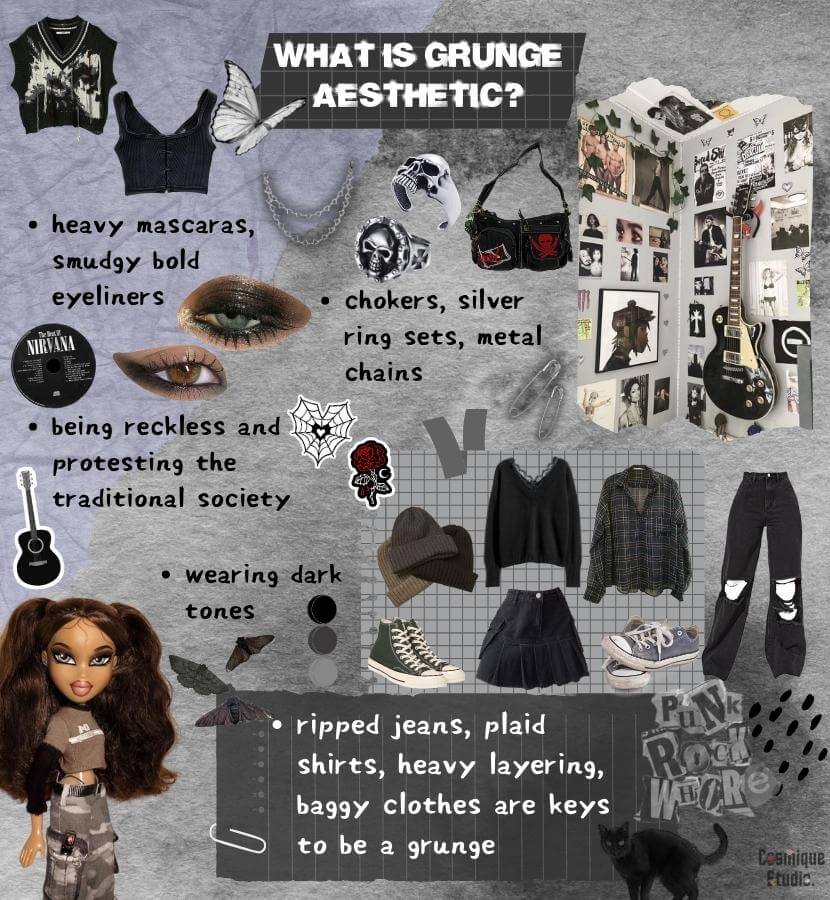 How to Be Grunge Aesthetic
There are 3 steps if you want to be a grunge girl or boy: You need to stay focused on the grunge attitude, fashion, and values. You should always be yourself, stand up for what you believe, and be your own master when it comes to making decisions. Those are the key attitudes of the grunge aesthetic. Also, you should choose the right kind of accessories to complete your style. Especially studded pieces and metal chains can create a unique grunge style. You can also have long fingerless gloves, crescent moon necklaces, and even tattoos! One last thing: Do a characterized makeup. Use calm, moody, and gloomy tones to have a dark look.

Makeup: Heavy mascaras, darker-tone matte lipsticks, dark nail polishes, and smudgy bold eyeliners.
Accessories: Chokers, stud bracelets, silver ring sets, studded belts, and metal chains.
Key Motifs: Ripped jeans, heavy layering, plaid shirts, and grimy imagery.
Values: Protesting traditional society, cynicism, and not caring about what people think.
Colors: Black, grey, silver, red,and purple.
3. Soft Girl Aesthetic
Soft girl aesthetic is the style of cute and sweet girls. These girls are adorable, emotional, and vulnerable and look innocent but feminine. They like caring for their skin and hanging out with their friends wearing pink clothes and accessories.

Pastel colors, bright accessories, and cute touch to the hair, and here we have the soft girl aesthetic! You can see the soft girl aesthetic on Instagram, Pinterest, and TikTok every second you check, as it's so popular these days. If you have a feminine side that is sweet, vulnerable, and emotional, you can start searching for the soft girl aesthetic because it's just for you!

By wearing outfits such as crop tops , white air forces, oversize hoodies, high waist skirts, and milkmaid dresses, you can express your femininity with your soft girl clothing. With this style, you can be both sweet and feminine at the same time. Even drawing hearts to your face can show the cuteness in you. We know the teddy bear you sleep with knows everything about you. Don't mind sharing it with us as well! Before speaking, put your pinky makeup on and wear your heart-eye sunglasses. The world is ready for you!

Also, we suggest you take a look at soft girl aesthetic ideas and activities if you're into this fashion:
Being nice to everyone around you.
Always have a smile on your face.
Wearing outfits that make you look feminine and innocent.
Having many plushies.
Always being active on social media.
Putting on natural makeup and having natural hair.
Being active on social media, especially on TikTok and Instagram.
Listening to soft music.
Spending time with your friends.
Baking sweets.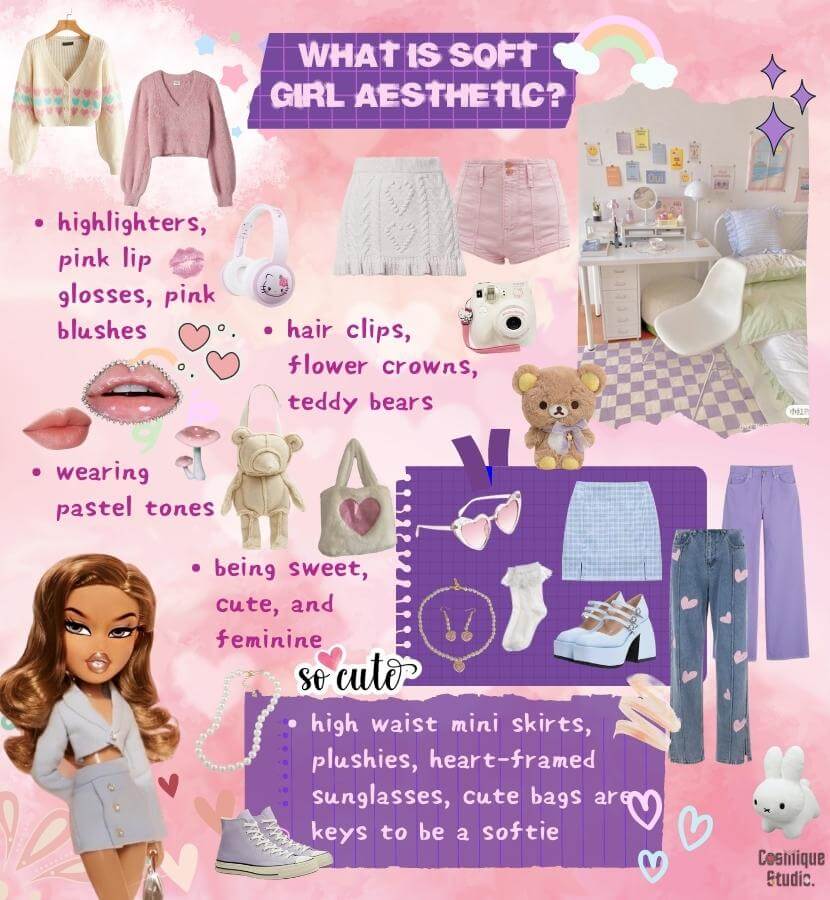 How to Be Soft Girl Aesthetic
Being a soft girl isn't just about fashion; it's mainly about attitude. To be one, you should be nice to anyone around you, even to toxic people. If you have an issue with anyone, think about the boys who are always nice. It is also a style called soft boy aesthetic. Being nice doesn't harm anyone at all. If you don't like someone, for example, you can just stay away from them. That will be enough. Also, you can choose your cuteness with your makeup and accessories. Instead of a dark look, you can use pink tones for your makeup. Use pink lipstick and pinky blushes, with pink eyeshadows. And have winged eyeliner to draw attention to your beautiful eyes. You'll look cute, sweet, and elegant with that look. Trust us! Don't forget to choose accessories that will make you innocent as well. You can have cat paw hairclips, colorful plushie bandanas, lace gloves, velvet hair bows, and pearl bracelet phone cases.

Makeup: Highlighters, pink lip glosses, pink blushes, and fake freckles.
Accessories: Hair clips, flower crowns, teddy bears, and heart-eye sunglasses.
Key Motifs: High waist skirts, plushies, hair clips, and lip glosses.
Values: Being sweet and cute, chill, fashionable, and feminine.
Colors: Pastel tones, pink, and white.
4. Y2K Aesthetic
Y2k aesthetic is the futuristic and feminine style of the mid-90s and 2000s. It was actually born as a protest against the grunge style. The technological optimism of that era was also reflected in the clothing of the time. This fashion is distinguished by its futuristic appearance and millennial accessories.

Born as a rejection of the grunge aesthetic, the y2k aesthetic is the feminine style of the early 2000s. If you have seen The Spice Girls ' ''Wannabe'', you know what we mean. The technological optimism of that age was reflected in the outfits as well. Futuristic looks and millennial accessories are the key elements of the y2k aesthetic style. Of course, female influence on the details takes an important place in fashion.

The makeup style of this aesthetic was also influenced by the new era. We have never seen a y2k aesthetic girl without lip-glosses! By adding some glitters, you can show your futuristic ideas with flame hearts, shiny chain belts, and vivid bright eyeliners while hanging out with friends and enjoying the technology. Show the female empowerment with y2k clothing such as low-waist jeans, platform trainers, tube tops, and tracksuits . We have faith in the new age, girls. Trust us.

To discover more about this style, read the y2k aesthetic ideas and activities list below:
Having an interest in technological advancements.
Developing your technological skills.
Thinking like a futurist.
Being optimistic about the future.
Wearing bright and vivid colors.
Putting on futuristic makeup and shaping futuristic hair.
Getting 2000's outfits from thrift shops or second hands.
Binge-watching "Devil Wears Prada".
Playing video games.
Having a flip phone.
The ones who feel like coming from space to earth, our blog about y2k aesthetic guide will help you to settle. Have fun!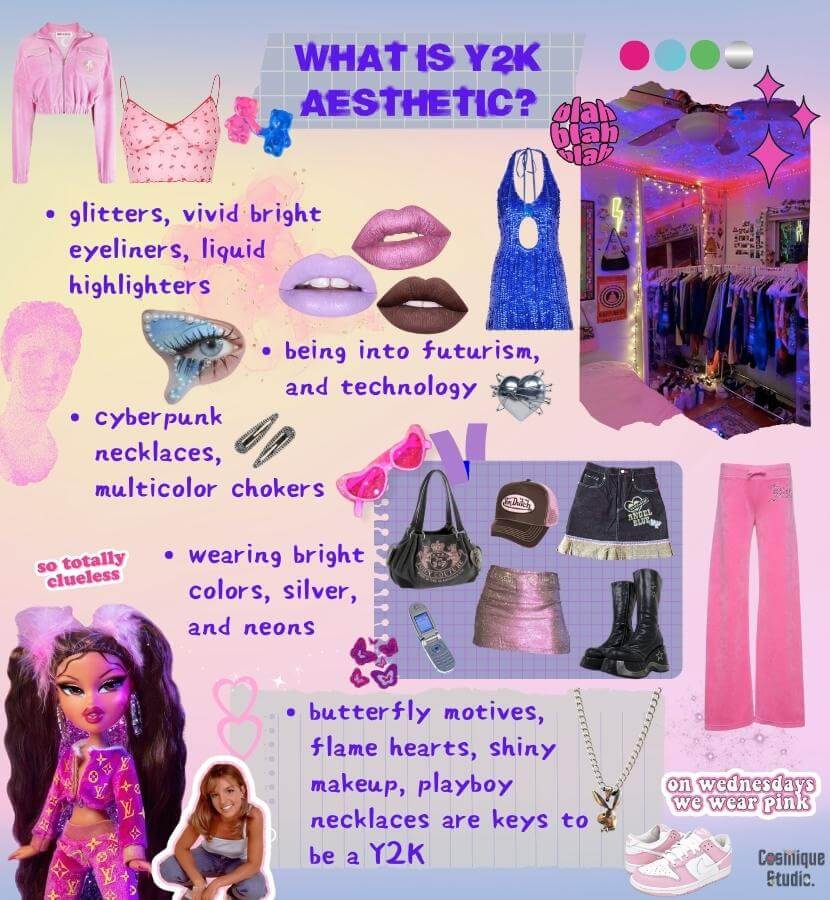 How to Be Y2k Aesthetic
It's not easy to be a y2k boy or girl if you're not interested in the 2000s fashion, technology, and futuristic ideas. The style also was different in those times. It was elegant, colorful, and a little bit exaggerated for both women and the y2k men fashion. Especially the makeup and hairstyles were so futuristic that if you see a woman from those times in the street, you might think she's out of a movie. Colorful liquid eyeliners, shiny eyeshadows, and colorful lipsticks were the basics of the y2k makeup. Besides, many accessories are still used as y2k is a timeless fashion. Bracelet phone cases and colorful finger holders are perfect for y2k phone accessories. Also, you can have cyberpunk necklaces, y2k hoodies, harness chains, multicolor chokers, and rectangular sunglasses for the y2k look.

Makeup: Liquid highlighters, lip glosses, glitters, foundation shade ranges, and vivid bright eyeliner.
Accessories: Chain belts, butterfly necklaces, shield sunglasses, and bunny earrings.
Key Motifs: Futurism, flame hearts, technology, and butterfly motifs.
Values: Friendship, optimism, and faith in the new age.
Colors: Vivid colors, silver, pink, baby blues.
5. Dark Academia Aesthetic
Dark academia aesthetic is a popular subculture of grunge. People who appreciate this aesthetic have a passion for intelligence and education, as well as for literacy, poetry, academia, research, art, historical studies, classics, old buildings, and diverse cultures.

Girls looking for their prince charming in the books: This aesthetic is just for you! Getting its iconic style from the 19 th century upper-class nobles, the dark academia aesthetic was also inspired by Greek art and literature. This style highlights the importance of education; especially reading and writing. You can even see the academic details in the outfits. Instead of vivid, pastel colors, dark academia clothing includes more fall tones like brown, forest green, dark orange, and black palettes.

Instead of having your head in the clouds, we know that you read 'forbidden books' at night and put your flowers in your heavy books. So, show your style with your outfits and accessories. Put your natural makeup, pearl necklace, and glasses on, wear your hair in a bun and take your books to the library. Stay focused on your academic purposes. You can create your own dark academia aesthetic style with Oxford shoes, cardigans, cigarette pants, uniforms, and long trench coats. You know, only the educated are free, so focus on your goals with the outfits and accessories reflecting your reader identity!

For more info, take a look at our dark academia aesthetic ideas:
Reading lots of books.
Spending time in old buildings, museums, and libraries.
Being selective with friends.
Having an effortless but stylish look.
Wearing uniforms.
Always putting on glasses.
Being interested in drama, poetry, literacy, academia, research, art, and historical studies.
Having a passion for intelligence and learning.
Playing chess.
Handwriting letters to your beloved ones.
Writing your own poems.
Binge-watching the Harry Potter series.
Drinking coffee when you wake up.
Learning how to play violin and piano.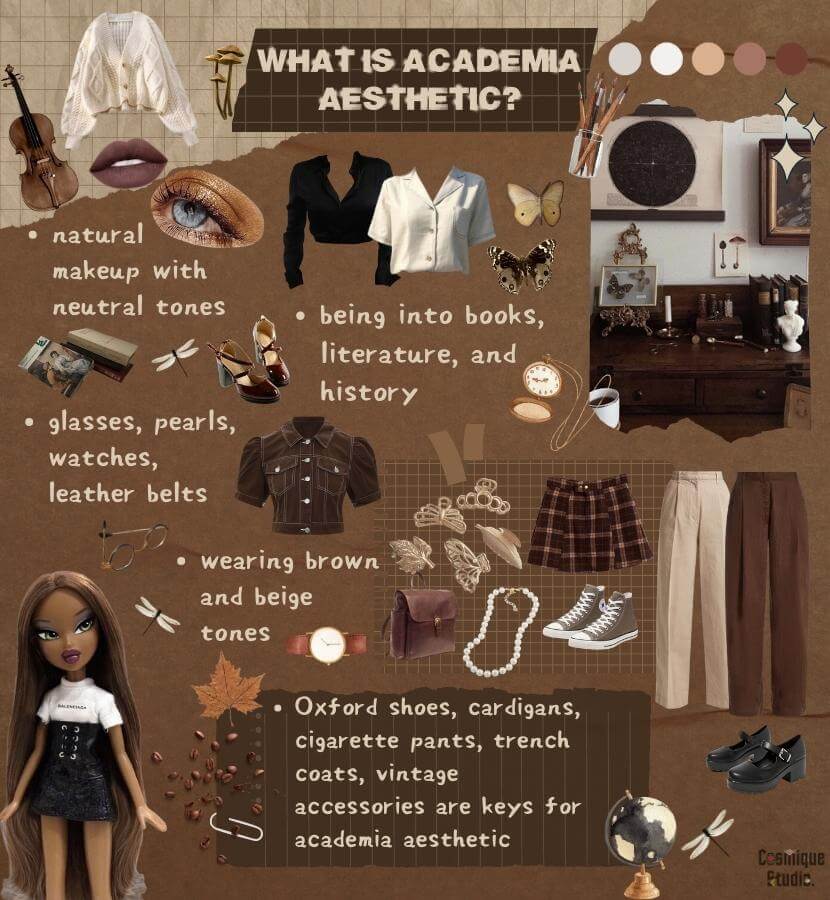 How to Be Dark Academia Aesthetic
As there are many common traits of dark academia, the basics are similar. It would be best if you started with the books. Your favorite hobby should be reading books, being in libraries, spending time in museums, and learning. You can also take photos and post them on social media while doing these activities. But make sure that your makeup and hair are done before doing that. You can put natural makeup on with fake freckles. Brown eyeshadow, nude lipstick, and a little foundation will be enough. And of course, you can have black eyeliner, it will be perfect for the photos. Don't forget to use your round glasses, leather belts, and pearl hairclips wherever you go. You'll look like a walking library with those accessories.

Makeup: Natural makeup with neutral tones of lipsticks and eyeshadows, and heavy winged eyeliner.
Accessories: Glasses, pearls, watches, knee-high socks, and leather belts.
Key Motifs: Books, leathers, literature, old buildings, and history.
Values: Education, curiosity, intelligence, learning, and wisdom.
Colors: Brown, forest green, dark orange, black, white, cream, beige.
6. Baddie Aesthetic
Baddie aesthetic is for the bad girls who are independent, classy, and attractive. Baddie girls have a unique style and look perfect all the time. They're always confident and never jealous of anyone. If you see a glamorous woman drawing all the attention wherever she goes, she's certainly a baddie.

Are you a badass who likes glamour? Are you confident enough to show the whole world that you are the boss? Does everybody want to follow you on Instagram? Then here we present your glamourous style: Baddie aesthetic. Baddie Girls have no hesitation in wearing outfits that are chic, unique, and iconic. Kardashians and Rihanna are the most famous followers of the baddie aesthetic clothing, which originates in the early 2010s. You can see the flirty look in their outfits. Remember what Kendal J says: I don't cry for boys; my mascara is too expensive. Baddie girls know they are treasures and no one can get them bitter; they can only get better.

Buy the pieces from the shops or tailor your own luxurious fabrics outfits to your favorite designer and remember, your nails say everything about you! Match your long polished nails with your outfit and tie your scarf like a Parisian. Combine your crop tops, bodysuits , tight jeans, sneakers, high-heeled stilettos, hoodies, and hoop earrings: WOW! You're a Baddie now! Don't forget to take your Instagram shot and slay the game, and fall in love with yourself first.

Here are our suggestions for baddie aesthetic ideas and activities:
Always being confident.
Loving yourself.
Being feminine.
Never going out without applying your makeup.
Showing off with your clothing and accessories.
Being effortlessly beautiful.
Taking good quality pictures and using photoshop.
Having many followers on Instagram and TikTok.
Standing up for what you believe.
Having a classy look.
Exercising and eating right to keep your shape.
Don't forget to take a look at our blog about baddie aesthetic guide so that not to miss anything about this fashion, girls.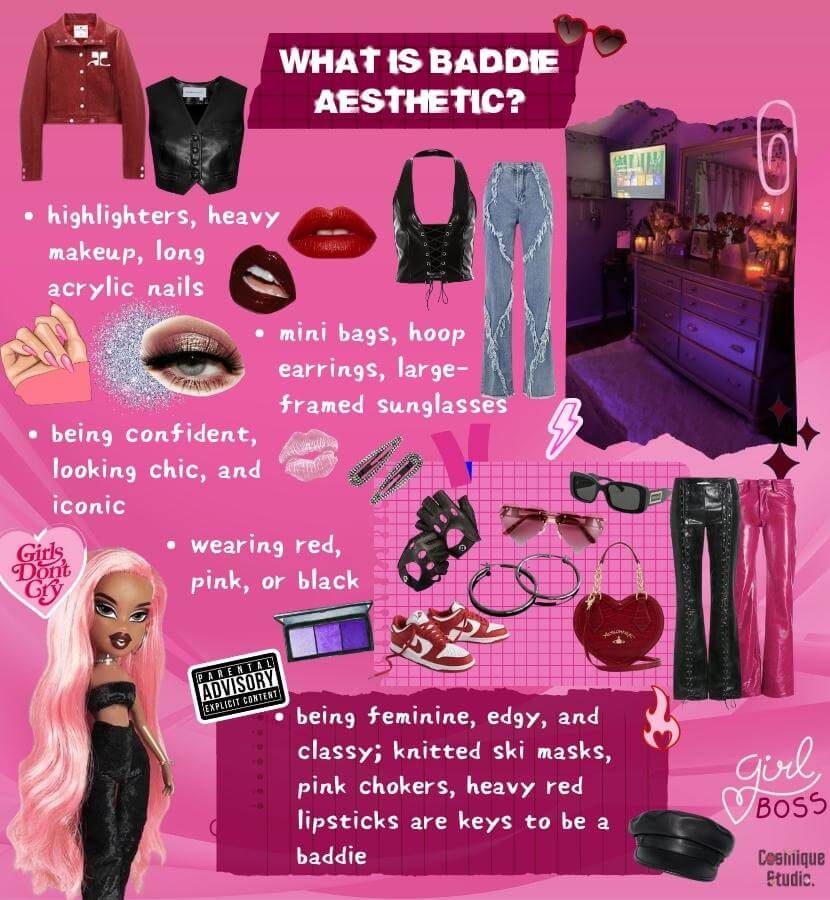 How to Be Baddie Aesthetic
Ladies, you know that if you want to be a baddie, you should start with the attitude. Baddie girls are always confident. They get their own back and bow to no one. The second rule is never to go out without putting makeup on. Highlighters, red or burgundy lipstick, heavy foundation, fake eyelashes, and heavy winged eyeliner are the basics. You should know that a baddie is always a baddie, so even at home, you should care much about your skin. And never ever go to sleep before cleaning your makeup. Also, have baddie accessories such as golden chains, oversized square sunglasses, knitted ski masks, butterfly hairclips, and pink chokers. You can never be a baddie without the right accessories, so choose them wisely.

Makeup: Highlighters, lip glosses, long polished nails, thick eyebrows, and fake eyelashes.
Accessories: Mini bags, silk scarves, ring sets, diamond rings, hoop earrings, and sunglasses.
Key Motifs: Glamorous look, femininity, glitter.
Values: Being confident, always looking chic, iconic, and trendsetter.
Colors: Red, black, pink, beige, purple.
7. VSCO Girl Aesthetic
VSCO girl aesthetic is based on a photo-editing app that originated on Tumblr in 2019. This aesthetic consists of taking and editing photos, having clean skin, dressing up the latest fashion VSCO outfits, and having positive vibes.

We know we have photographers here, but have you tried VSCO yet? The photo-editing app VSCO (pronounced ''Visco'') is so good that even an aesthetic was born from it. Basic looks are perfect for the VSCO girl clothing but don't forget: You can create your own VSCO style and show it to everyone on Instagram and Pinterest! Mom jeans, friendship bracelets, slogan socks , Birkenstocks, Vans shoes, striped shirts, and collage sweatshirts are the core items of the VSCO Girl Aesthetic. You can also use phone case stickers to show your style.

We know that you're capable of amazing things. Wear your minimal makeup, put the stickers on your phone, and wear your Airpods upside down to get ready to photograph every moment you breathe with your polaroid camera. Keep in mind that your friends are waiting for you to have fun. Don't forget: You only live once!

Wanna learn more about this fashion? We've listed the VSCO aesthetic ideas and activities for you:
Having a polaroid camera.
Taking photos of each moment.
Hanging out with your friends skating.
Having a messy bun.
Always staying hydrated.
Drinking lots of coffee.
Being eco-friendly.
Wearing a shell necklace.
Putting on natural makeup.
Being optimistic.
Always being busy.
Taking great care of your skin.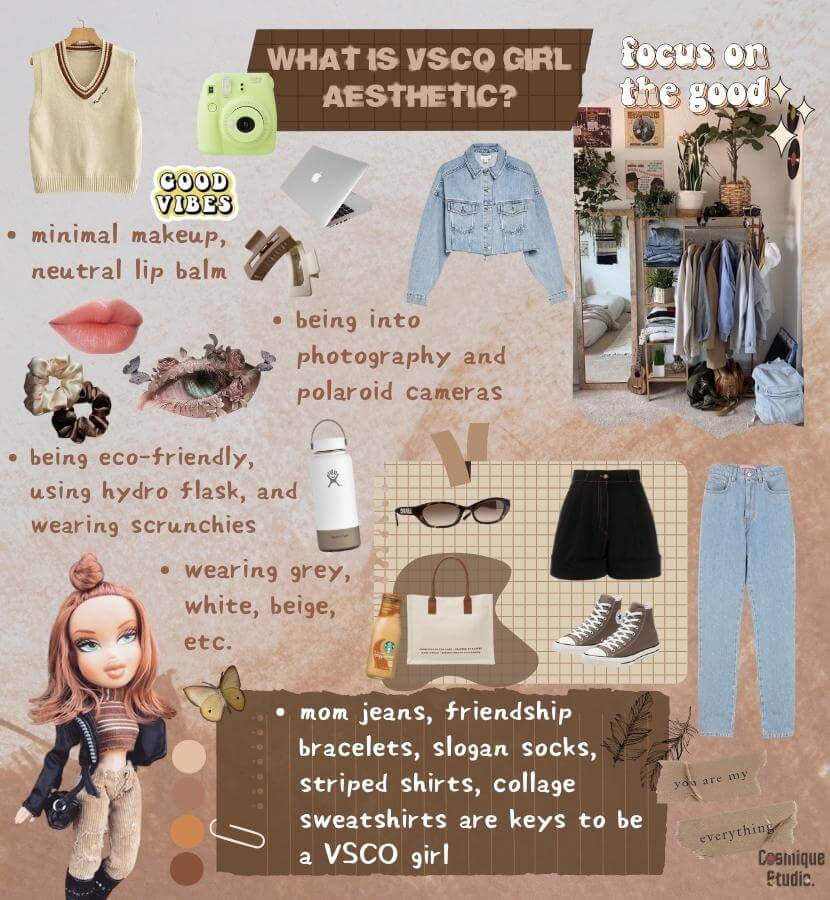 How to Be VSCO Girl Aesthetic
To be a VSCO girl, you should start with a fresh and clean face. VSCO girls are very fond of their skin. You should always moisturize your face, wear sunscreen, and drink lots of water. That's why you should carry your hydro flask wherever you go: To stay hydrated. If you want to put some makeup on, you can have natural makeup with nude lipstick, brownish eyeshadow, and eyeliner. Also, use minimal accessories such as wireless headsets, round sunglasses, beaded necklaces, and scrunchies. Minimalism is essential for VSCO girls and boys. With these minimalistic touches, you'll be using eco-friendly and sustainable products. Also, they look perfect in the photos!

Makeup: Minimal makeup: Neutral lip balm, hydrating facial sprays, creams, warm blushes, and liquid eyeliners.
Accessories: Phone stickers, shell necklaces, AirPods, friendship bracelets, hydro flasks, and phone case stickers.
Key Motifs: Photography, polaroid cameras.
Values: Positive vibes, being eco-friendly, friendship.
Colors: Grey, white, red, green, blue.
8. Kawaii Aesthetic
Kawaii aesthetic is a style for cute, vulnerable, and attractive girls who likes wearing the latest fashion outfits. The kawaii aesthetic wardrobe consists of childish but feminine clothes and accessories.

BREAKING NEWS: You're super cute! Don't mind people telling you that there's something wrong with liking cute things. There are so many like you in this world, and just maybe, they're reading these words just at the same time as you. Do you want to know how to find these girls? They're all into kawaii aesthetic! We, as Cosmique Studio, will help you to create your wardrobe with kawaii outfits and accessories so the others will be able to identify you! If you like watching anime and prefer childish and pretty stuff, kawaii aesthetic clothing might be your ideal style. Originates from the 1970s, the kawaii style is the favorite of not just only the Japanese but people from all over the world. There's even a culture called ''kawaii'' including a lifestyle of cuteness. Anything related to youth, like vulnerable, helpless, charming, childlike, cute stuff, animal, or person, can be called kawaii.

Wanna wear kawaii aesthetic outfits? You'll need dresses with feminine details such as ribbons, frills, over-the-knee socks, balloon shorts, lace tights, and floral designs for your outfits. Put the strawberry stickers on your phone case and show the kawaii inside you to your friends!

Check out our kawaii aesthetic ideas and activities list if you're into this fashion:
Always being nice to everyone around you.
Giggling all the time.
Reading manga and watching anime.
Wearing childlike but feminine clothes.
Having long fake nails with nail designs.
Putting on many accessories on your hair.
Having role models.
Taking lots of photos.
Collecting fluffy toys.
Being shy but having many close friends.
Drinking milkshakes all the time.
Doing kawaii makeup.
Being innocent.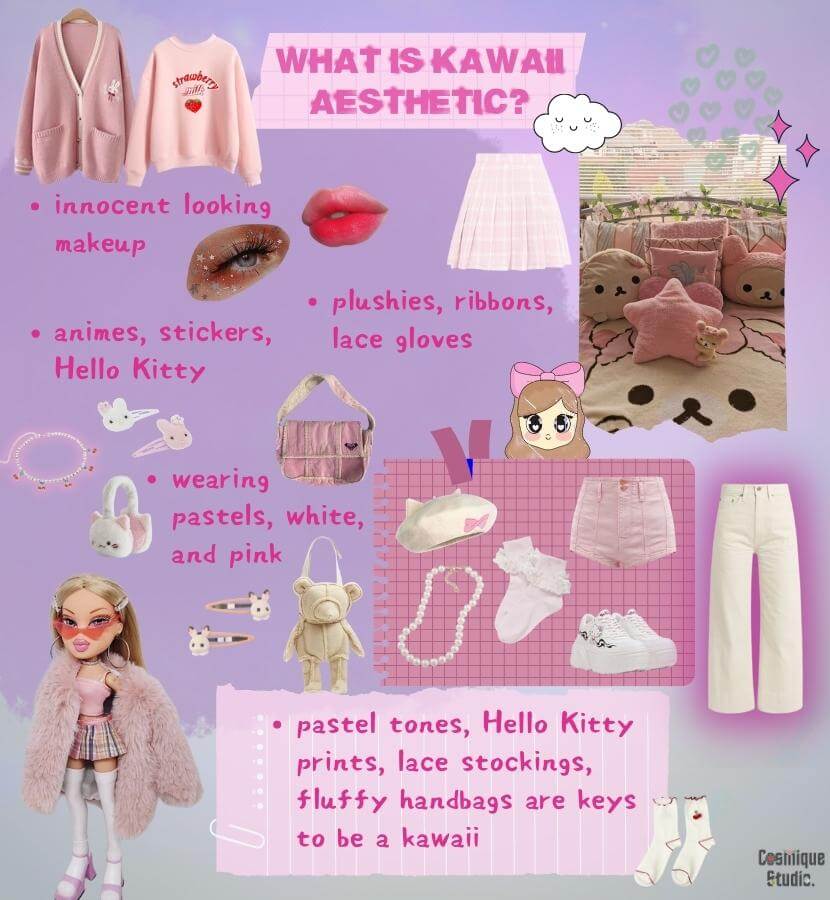 How to Be Kawaii Aesthetic
The first and only rule to be kawaii is to look cute and innocent. It seems easy, but it's actually not. You should have the perfect choice of makeup, accessories, clothes, and hairstyles to do that. Avoid using dank tones. Instead, use pink, baby blue, and even white for your makeup. Pink lipstick, baby blue eyeshadows, pink blush, and some powder will be enough to look cute and innocent. You can have fake eyelashes and winged eyeliner if you need heavy makeup for an event. Choosing the right accessories is another key to having a child-like look. Hello Kitty earrings, pink chokers, lace tights, plush phone cases, fluffy bunny handbags, and heart-shaped glasses are ideal for a sweet but chic look. Your friends will love to be kawaii aesthetic, and they'll adore it.

Makeup: Innocent look makeup with pink blushes, lip glosses, liquid eyeliners, and a light concealer.
Accessories: Plushies, ribbons, bento boxes, accessorized nails, and lace gloves.
Key Motifs: Sweets, strawberries, stickers, flowers, Hello Kitty, and animes.
Values: Friendship, innocence, being adorable and nice, and having role models.
Colors: astels, white, and pink.
9. E-Girl Aesthetic
E-girl aesthetic originated in the 2010s and represented active internet user girls with a distinctive style. These girls spend most of their time online. Their favorite activities include playing online games, broadcasting, and making popular posts on TikTok and Instagram.

Who run the world? Girls! With the popularization of Instagram and TikTok, having an aesthetic style named e-girl is inevitable, right? People with an old stick in the mud think that gamers are boys in general, but we all know here that girls are everywhere. Do you want to know who your enemy is in the game? Maybe it's a highly educated, smart, and hot girl kicking your ass. Yes, we are girls, and yes, we play video games. E-girls, also called electronic girls, is a kind of anime aesthetics. You can separate them from the others with their e-girl clothing, dyed hair, so many accessories, and exaggerated makeup with extra highlighted eyes and cheeks. You can be sure that the E-girls are active internet users. They love to use social media and spend time on online games. If you are an active internet user, you can easily become an e-girl with basic outfits like plaid high-waisted skirts, striped long-sleeved shirts, crop tops, buckle cargo pants, oversized hoodies, chokers, and combat boots.

STOP CAMPING!!!
If you're interested in this trend, check out e-girl aesthetic ideas and activities:
Playing video games.
Using photo-edit apps constantly.
Watching anime and reading manga.
Having online friends.
Creating popular posts on social media, especially on TikTok, Instagram, and Pinterest.
Broadcasting on YouTube.
Listening to K-pop.
Dying your hair to pastel tones.
Doing overly dramatic makeup and always wearing winged eyeliner.
Earning money from online platforms.
Being online 24/7.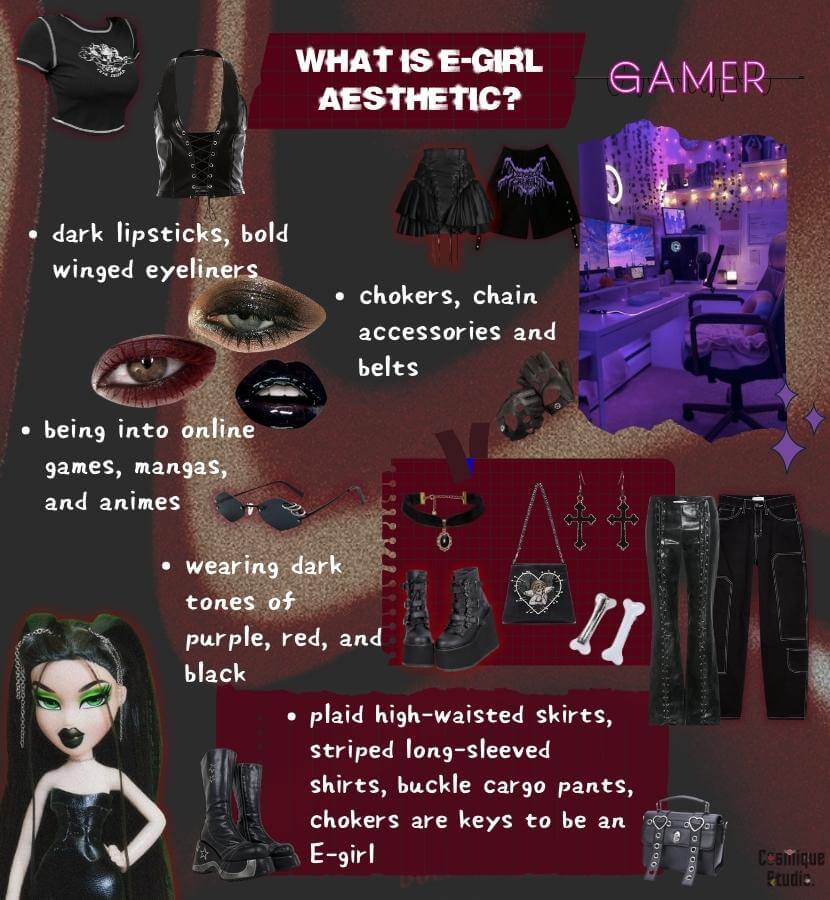 How to Be E-Girl Aesthetic
Girls who like playing video games, this is exactly your fashion. You'll be adorable e-girls with a few aesthetic touches that you can learn from our blog. First, you must dye your hair neon tones and do the right makeup. E-girl makeup consists of heavily exaggerated touches. Bold winged eyeliner, vampire red lipstick, cute drawing on your face, dark nail polish, and fake freckles can be a good starter. That kind of exaggerated makeup looks good on the camera as well. Besides, choose the right accessories to have an ideal e-girl look. Moreover, choosing the right accessories are vital for e-girls and e-boys. Studded chokers, slogan socks, barbed wire necklaces, and skeleton hands hair clips will look perfect while broadcasting. You can also wear them while reading manga and watching anime to feel like an anime character.

Makeup: Dark lipsticks, bold winged eyeliners, fake freckles, and cute drawings like a tiny star beneath the eyes.
Accessories: Chokers, hair clips, silver necklaces and bracelets, and leg harnesses.
Key Motifs: Playing online games, reading manga, watching anime, and lingeries.
Values: Individualism, effective social media usage, and drawing attention.
Colors: Dark tones of pink, blue, red, and black.
10. Fairycore Aesthetic
Fairycore aesthetic is an eco-friendly style, and it doesn't support consumption. It's the fashion style of people who are imaginative, creative, and content with what they have. Glitters and pastels take so much place in their outfits and long clothes, which have a magical effect on their look.

Are you the type of person who likes to go for walks, garden or do embroidery? Do you feel like nature calls you when you are working in your office? Can there be a fairy inside you? Yes, you didn't read wrong. Fairycore aesthetic is all about nature, vines, knitting, and all the stuff that has a soothing effect. You can find peace even with the combination of the fairycore aesthetic outfits.

Be sure that wearing long dresses, floral maxi skirts, ribbons, open-toe shoes, glowing makeup, corsets, and of course, adding fairy wings will bring serenity into your life. With your earth-tone makeup and flowers in your head, you'll be sure that serenity is around you. With the DIY accessories that you made in your free time, everyone will see how eco-friendly you are. Fairycore clothing is not about consuming; it's about being content and creative with what you have. Maybe you can knit your gloves that are fingerless to touch nature calmly. Only the fairies can understand that.

For more info, fairies, take a look at our fairycore aesthetic activities and ideas list:
Making flower crowns.
Spending time in the woods, pathways, or abandoned buildings.
Taking great care of what you wear.
Gardening.
Making potions.
Listening to magic fantasy music.
Knitting accessories such as hats or gloves.
Preserving blueberries, raspberries, and strawberries.
Spending time alone instead of hanging out with friends.
Drinking herbal tea.
Being eco-friendly.
Always wearing corsets.
Putting flowers on your hair.
Having elf ears and fairy wings.
Fairies of the world, all you need is a little much fairy dust and our blog about fairycore aesthetic guide to be completed!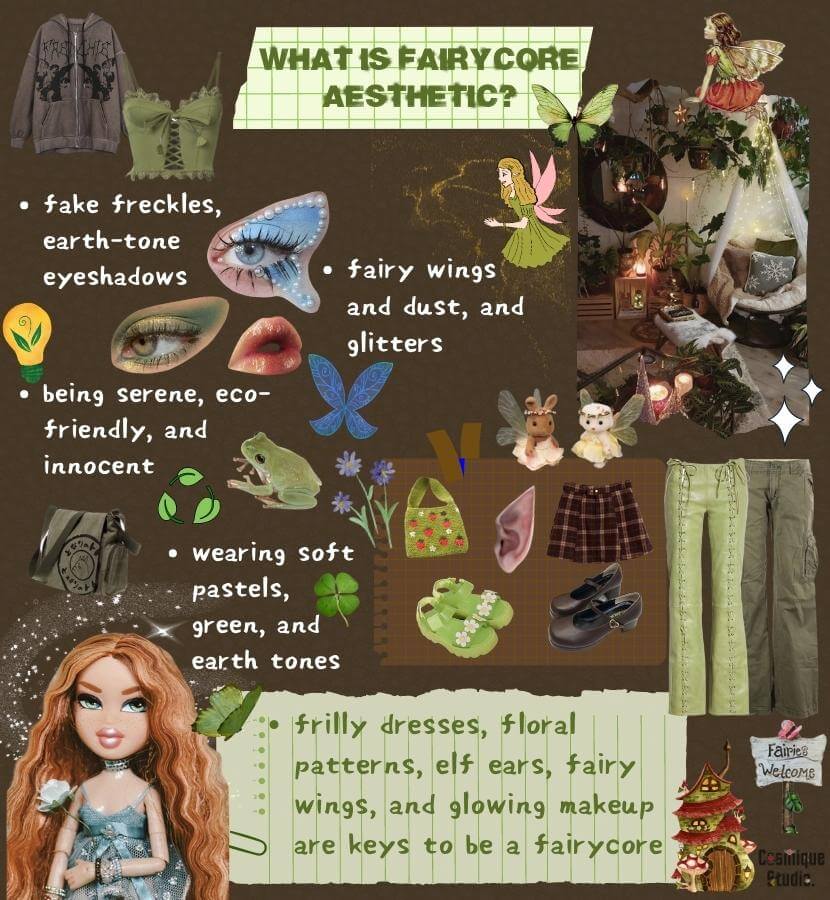 How to Be Fairycore Aesthetic
We have bad news for those who feel like fairies: Feeling isn't enough to be fairycore aesthetic. You should also have a specific attitude, wear fairycore makeup, and wear fairy accessories. But don't worry, we're here to help. The fairycore attitude consists of innocence, peacefulness, serenity, and calmness. Also, fairies are pretty fond of nature. If you like spending time in the wilderness and have a serene soul, fairycore is your aesthetic. You can show your friends that you're a fairycore with your makeup and accessories. Glitter eyeliner, light rouge blush, creamy peach lipstick, and brownish eyeshadows are ideal for this aesthetic. As for the accessories, you can have butterfly glasses, lace belts, high-knee socks, open-toe shoes, and straw bags.

Makeup: Fake freckles, heavy pink blushes, pink lipsticks, earthy-tone eyeshadows, and liquid eyeliners.
Accessories: Gold necklaces, opal rings, elf ears, fairy wings, and fingerless gloves.
Key Motifs: Fairy wings, fairy dust, flowers, elves, soft animals, and springtime.
Values: Serenity, peace, innocence, and being eco-friendly.
Colors: Soft pastels, green, cream-white, earthy tones.
11. Cottagecore Aesthetic
Cottagecore aesthetic is a romantic, calm, and nostalgic style consisting of simple and self-sufficient living in rural areas. It has a deep relationship with nature, especially agricultural life, and plants. This aesthetic is eco-friendly. It supports sustainability and avoids the fast consumption of any products.

Think you're living in a small cottage, surrounded by fresh green grass with daisies and a small lake near your place… Like a dream, right? We believe you'd like to be there instead of your small, grey apartment building. Can you think of bringing cottage life into your home? We have found one. With the cottagecore aesthetic! Inspired by the historical agricultural life, the cottagecore aesthetic is about romanticized countryside life, which includes gardening, cooking, reading, knitting, painting, and the whole stuff that would make you feel self-efficient.

Wanna live your own cottagecore life with your clothes? You can start with cottagecore clothing: Long dresses with flower motifs, laced corsets, puffy sleeves , peasant-style blouses, straw bags, and rope sandals. You can buy them from a thrift shop to be eco-friendly as well. If you realize you like to be outside and at home at the same time, the Cottagecore aesthetic might just be inside your soul. You might have activities like taking long walks, picking flowers, or having a picnic outside. Also, you may like to be inside sewing, handcrafting, baking, and decorating your place. Match your outfits with your soft tones of makeup and face freckles beside a flower crown, and show everyone that you're a cottagecore!

Cottagecore boys and girls, here we present the list of cottagecore aesthetic ideas and activities:
Reading romantic books.
Having cozy drinks, especially a cup of herbal tea.
Watching the stars.
Wearing corsets.
Painting your own walls.
Knitting and embroidery.
Cooking and baking.
Gardening and yardwork.
Walking in nature.
Picking flowers.
Having a picnic on a bright day.
Building birdhouses.
Taking nature-themed photos and posting them on Instagram and TikTok.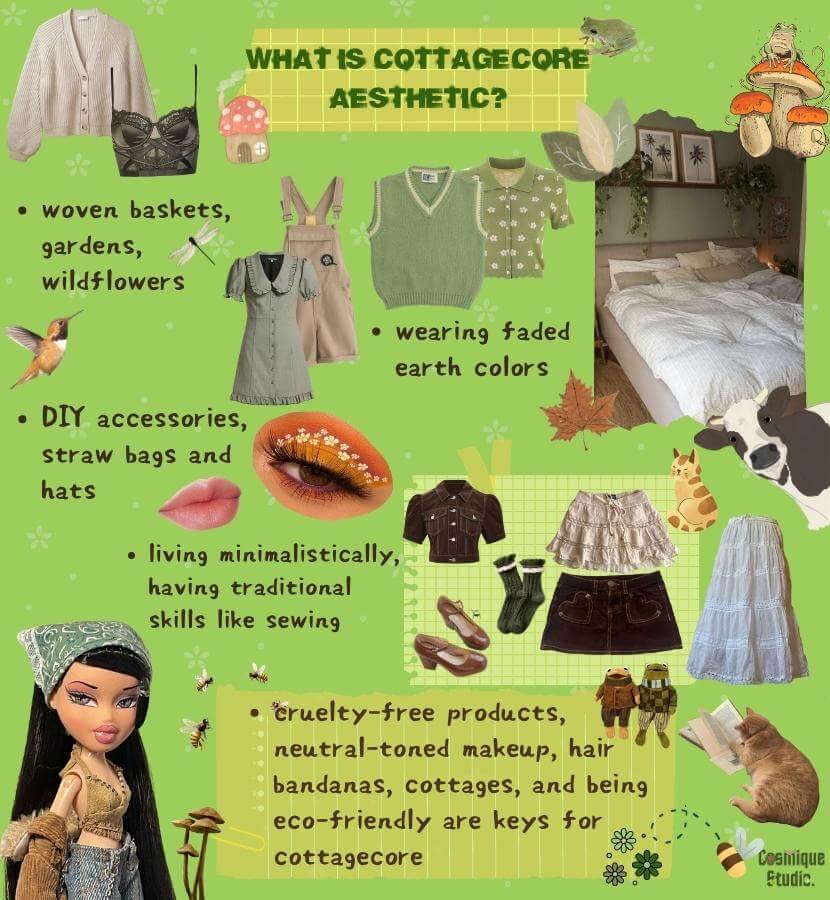 How to Be Cottagecore Aesthetic
To be a cottagecore aesthetic is easy with some steps if you follow. With the right values, makeup, and accessories, the world can understand that you're a cottagecore. The most important detail here is to be eco-friendly. All your clothes and accessories should be sustainable, and your makeup products must be cruelty-free. You shouldn't harm any living creature to look adorable. Therefore, cruelty-free nude lipstick, salmon or coral blush, brownish eyeshadow, generous mascara, and fake freckles are ideal for cottagecore makeup. Your friends will love your look when you're making a picnic in the cottage with them. If they also like being cottagecore, you can gift them flower crowns, straw hats, DIY accessories, or dandelion necklaces.

Makeup: Soft tones of lipsticks, pale rose blushes, earth-tone eyeshadows, and fake freckles.
Accessories: Handcrafted or DIY accessories such as knitted socks, flower crowns, straw bags and hats, and mushroom earrings.
Key Motifs: Cottages, gardens, wildflowers, woven baskets.
Values: Being eco-friendly, simple living, traditional skills.
Colors: Faded earth colors, baby pink, rose pink, yellow.
12. Pastel Goth Aesthetic
Pastel goth aesthetic is a blend of kawaii, grunge, and goth. It has a dark side, being cute and having a lolita look. Pastel goth girls like drawing attention by posing their photos and videos on TikTok and Instagram.

Sometimes, we believe, you feel like you want to combine black and pastel tones at the same time. Yes, you like pink and black at once, and no, it's not a personality crisis. It's like having a dark soul while feeling childish. Congratulations! You have rediscovered the pastel goth aesthetic! Originating in the 2010s, the pastel goth aesthetic is a fashion that emerged from Tumblr. It's also trendy in Japan, like kawaii aesthetic. Although the fashion side of this style has the vibe of Wednesday Addams clothes, it's actually colorful than that.

Although it feels like it's a new term, we are sure that you can identify it with pastel goth clothing such as pastel hair, dyed denim vests, oversize sweaters, tattoo print tights, and platform boots. With your studded headbands, chokers, and combat boots, you'll be sure you'll kick the asses. You'll express your dark side with pastel skies on your Instagram shots; we're pretty sure that. For those who don't like you, say it: I wish you well in hell!

Feeling crazy enough to be a pastel goth? Check out our pastel goth aesthetic list for more info on ideas and activities:
Dying your hair according to their mood of the day.
Always putting dramatic makeup on.
Looking cute and creepy at the same time.
Having many followers on social media.
Taking great care of what you wear, especially on Halloween.
Having many followers on social media.
Wearing studded accessories.
Painting your nails with pastels and black colors.
Looking different from others.
Dress how you want, wherever you are.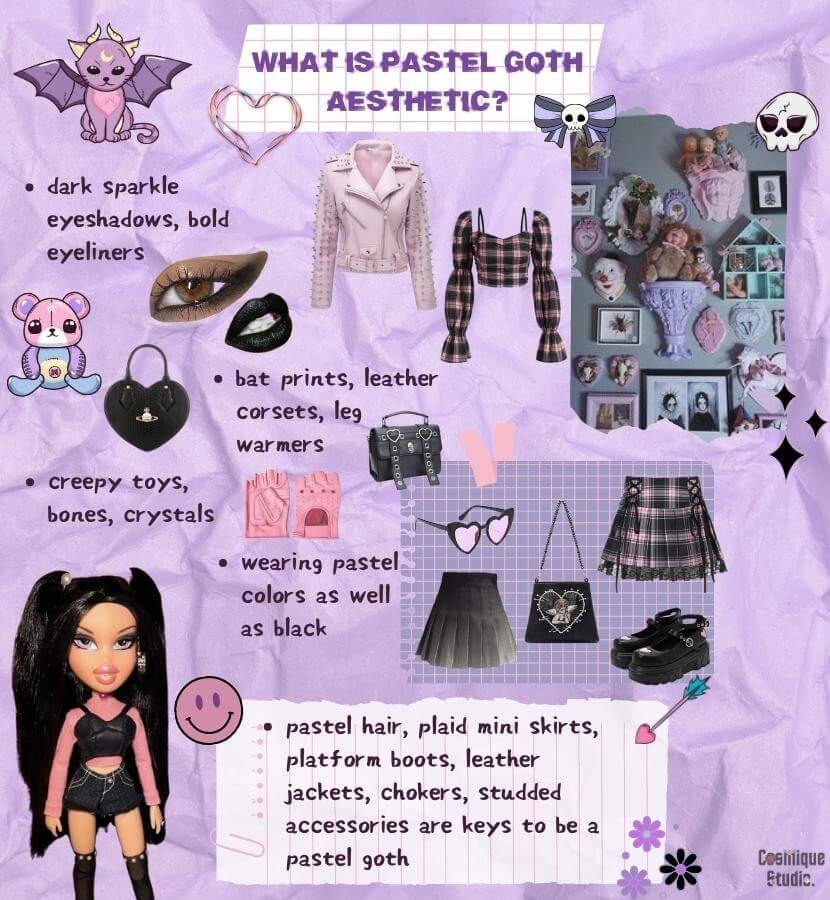 How to Be Pastel Goth Aesthetic
We know that being pastel goth is complicated for some people. But it's actually easy if you know the key points. For example, independence and caring for your individualism are vital for pastel goth girls and boys. They like spending time alone instead of being with their friends all the time. Also, they wear specific makeup with pastel tones and black. With pastels, they express their cute side, and with black, their dark side. Black or red velvet lipstick, smokey eyeshadow, winged eyeliner, and glitters on your cheeks with shiny highlighter will look good on you if you try this style. To be a pastel goth, after putting your makeup on, you can draw bats and the ying-yang symbol to show your pastel goth soul. This makeup style also has the vibe of Wednesday Addams aesthetic. You can also use specific accessories such as heart or studded chokers, studded bracelets, knife earrings, cute plushies, ribbons, lace belts, and tiny butterfly air clips.

Makeup: Unusual color lipstick, bold eyeliner, dark sparkle eyeshadows, and fake freckles.
Accessories: Round sunglasses, flower crowns, studded headbands, and chokers.
Key Motifs: Bats, the ying-yang symbol, crystals, pastel skies, bones, and pentagrams.
Values: Being cute but depressed, individualism, expressing the dark side.
Colors: Pastel colors, black, baby blue, pink.
13. Coquette Aesthetic
Coquette aesthetic is all about being feminine, passionate, and delicate. If you have a fragile but feminine spirit, this style is just for you! Although coquette girls look shy, you can see their giggling if you look closely.

Elegant, sophisticated, cheerful, flirty, and graceful… Think about a girl that has all these features. Then add some pink, white, and of course, lace details. Ta-da! We present you coquette clothing! Coquette women like spending hours at the makeup desk doing their hair and makeup and listening to Lana Del Rey. All in all, being romantic and delicate is closely related to appearance and perfume, right?

Just like its attitude, coquette clothing is also intimate, feminine, and full of details. The clothes that you will choose must be in pink, white, and baby blue tones. Also, they should include lace, silk, and childlike patterns. Get the perfect coquette outfits such as lace gloves, satin skirts, bra tops, lolita dresses, wide-leg pants, heart-shaped glasses, fishnet tights, and platform shoes. It's time to show your femininity, girls!

If you like being flirty, passionate, and feminine, here are some coquette inspo ideas and activities for this aesthetic!
Being flirty and lighthearted.
Always looking in the mirror to check your coquette makeup and hair.
Wearing fake eyelashes.
Being seductive and attractive.
Listening to Lana Del Rey.
Chewing bubblegums.
Having no boundaries when it comes to love.
Wearing playful and feminine outfits.
If you're looking for coquette inspo, check out our blog about the coquette aesthetic guide. We're sure you'll find fascinating ideas about coquette style there!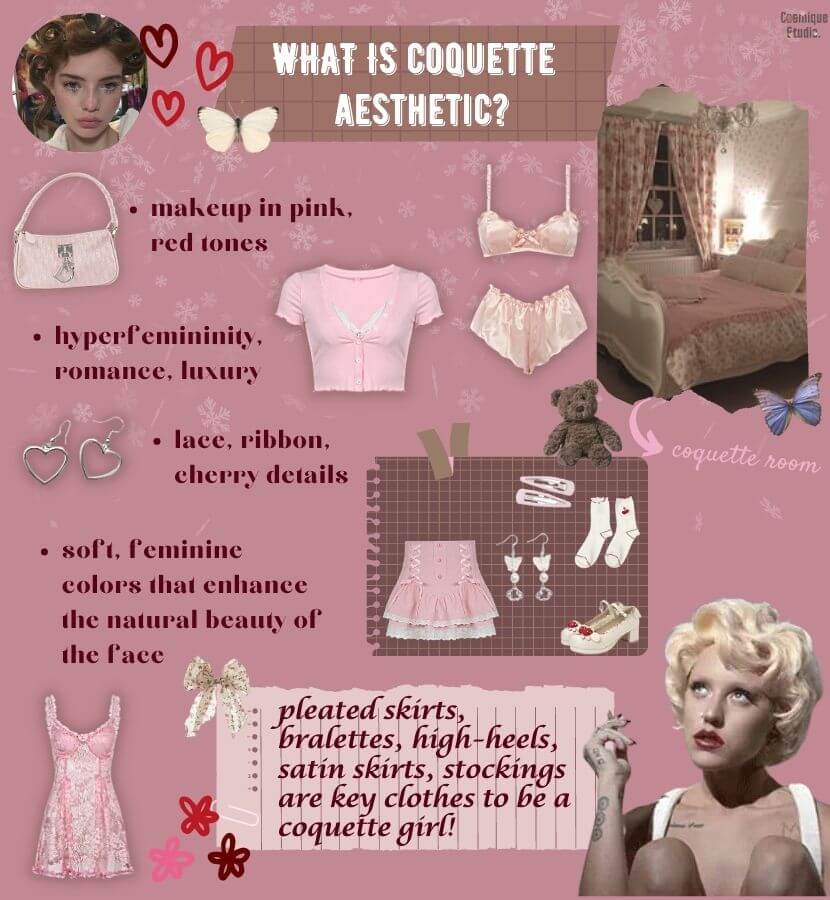 How to Be Coquette Aesthetic
There are some key points that you should consider if you want to be coquette aesthetic. First, you need to be flirty all the time. To do that, you should attract men, obviously. And the main part of it is to choose the perfect coquette outfits. Baby tees, heart-printed sweaters, frilly dresses, chiffon shirts, and lace pieces are perfect for a coquette wardrobe. Also, wearing the right accessories will make you look more feminine and fashionable. You can try satin ribbons, frilly socks, vintage lace chokers, quilted bags, cute nail accessories, and ring sets.

Makeup: Fake eyelashes, lip gloss, clean skin, and rosy cheeks.
Accessories: Lace collars, ruffle gloves, pearls, cherry earrings, heart-shaped sunglasses, and delicate chokers.
Key Motifs: Milkmaid tops, lace pieces, pearls, ribbons, and miniskirts.
Values: Hyper-femininity, youth, romance, beauty, and grace.
Colors: White, pink, baby blue, and soft pastels.
14. Soft Boy Aesthetic
Soft boy aesthetic is mainly about men's fashion and lifestyle. These boys don't mind sharing their sensitive and artistic characters. In a world full of masculinity, soft boys are the only guys who are gentle, kind, and open to all kinds of emotions.

If there could be anyone who you can share all your feelings with, that man would only be a soft boy. You can find them out in the streets. They like observing other people and taking long walks to think clearly. Soft boy fashion is also less-masculine and suitable for the streets. They prefer comfortable and loose clothes and accessories. The main pieces for soft boy clothing are cardigans, vintage tees, Converse shoes, flannels, denim jackets, striped sweatshirts, bucket hats, and knitted pieces. To be a soft boy, you should show how you feel with your fashion. Mixed patterns such as embroidery, plaid, or stripes are perfect for showing your artsy side. Also, instead of neon or pastel tones, wear more muted colors. You can also layer up to create a cozy and cool vibe.

If you want to be a soft boy, here are some activities and ideas for you!
Always being sensitive and vulnerable.
Creating art pieces.
Wearing comfortable but cool outfits.
Spending time outside.
Being a good listener.
Looking quiet and emotional.
Listening to soft music.
Supporting feminism.

How to Be Soft Boy Aesthetic
If you want to be a soft boy aesthetic, you should start by listening to your heart. Soft boys never avoid listening to their feelings. You can cry if you feel sad and laugh if you're happy. So, in opposition to toxic masculinity, the world of soft boys is vulnerable, sensitive, and kind. You can be all free from what people think about you! Also, the pieces in your soft boy wardrobe should be as cozy as your feelings. Ripped jeans, plaid shirts, layered necklaces, piercings, headphones, studded bracelets, and comfy sweatshirts could be perfect for showing off your soft boy aesthetic style. Remember to always carry a backpack to carry all your books. We know that you're a bookworm inside!

Accessories: Headphones, layered necklaces, beanies, and flat shoes.
Key motifs: Conformity, layered clothing, loose outfits, and headphones.
Values: Being emotional, thoughtful, sensitive, vulnerable, and artistic.
Colors: Muted colors, earthy tones, dark shades.
15. Edgy Aesthetic
The edgy aesthetic is the fashion of people who stands out in a crowd due to their distinctive style. Edgy girls and boys draw attention quickly because of their attitude and fashion. Their clothes and accessories are unique, as well as their personalities.

If you feel like you're different than the others and no one understands you except for a few friends, welcome to the team! Edgy fashion is definitely your personal aesthetic. Edgy girls and boys like spending time alone. They prefer being quiet instead of talking too much. The edgy look is more kind of a depressed one though these people are actually kind to others.

Edgy clothing outfits consist of dark colors. They don't wear black all the time, but they prefer dark shades. If you want to be an edgy aesthetic, you should wear cool and attractive clothes. You should express your dark soul with the clothes and accessories you wear. Chained mini dresses, fishnet tights, halter tops, turtleneck sweaters, ripped jeans, leather jackets, bandage shirts, cargo pants, and lace-up skirts are perfect for edgy outfits. Get these clothes and combine them with perfect accessories. Your unique style and unexpected attitude will make everyone see how edgy you are!

Looking for edgy aesthetic inspo? Here are our suggestions for ideas and activities for edgy style:
Listening to songs that have deep meanings.
Being a lone wolf.
Having a distinctive fashion style.
Always feeling depressed.
Speaking your mind and having no fear of being frozen out.
Being rebellious.
Having a tattoo.
Taking risks.
Not giving a s*it about what people say.
If you want to learn more about this unique style, check out our edgy aesthetic guide to discover more!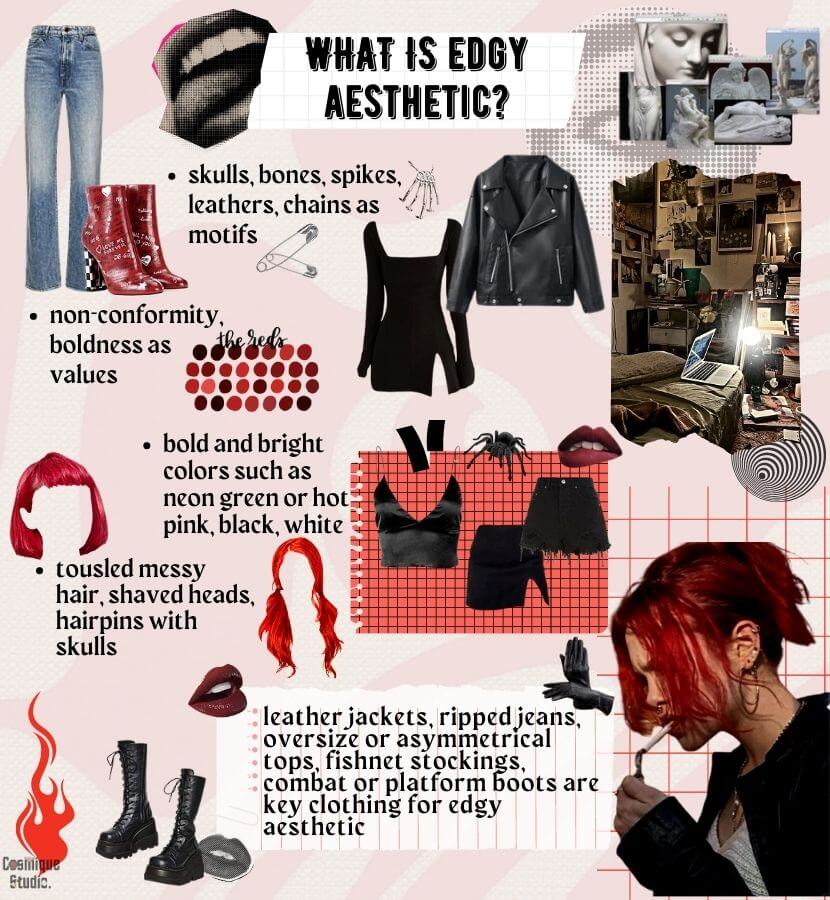 How to Be Edgy Aesthetic
To be an edgy aesthetic, you should start by listening to your heart. Edgy people are seen as rebellious and depressed just because they don't look like others. What they actually do is be themselves. So, if you want to be edgy aesthetic, you should first start by learning who you are. Then, you must express your thoughts with your outfits. The darker pieces you choose, the better you'll represent who you are with your look. Instead of neon and pastel tones, dark shades will make you look more fashionable and attractive. Also, tattoos and piercings are perfect for having a cool vibe. Don't forget to choose fashionable edgy accessories matching your clothes, makeup, and hairstyle. Remember, details create the big picture. If you're ready, go out and show your edgy aesthetic to everyone!
Makeup: Winged eyeliners, matte lipstick, and edgy acrylic nails.
Accessories: Army boots, chokers, studded bracelets, bat wings backpacks, and fishnet tights.
Key motifs: Wearing black, studded accessories, hoodies, and leather pieces.
Values: Rebelling, feeling depressed, being introverted, and taking risks.
Colors: Dark shades such as black, dark gray, and dark green.
16. Fairy Grunge Aesthetic
Fairy grunge aesthetic is a mixture of grunge, goblincore, and fairycore. It has become trendy in the early 2020s and getting more and more popular every day. Dark colors, torn clothes, layered outfits, and of course, fairy wings are the key elements of this one-of-a-kind aesthetic.

Fairies, glitters, witchcraft, and dark magic… Sounds like another world, right? Fairy grunge aesthetic includes beauties of fairies as well as the rebellious side of grunge. These people like spending time in the forest or other calming places such as abandoned houses or walking pathways. They prefer nights instead of mornings.

Fairy grunge clothing consists of layered and thrown together pieces. The most popular fairy grunge outfits are corsets, fairy wings, elf ears, patterned mesh tights, mittens, nightgowns, leg warmers, and oversized tees. If you want to be a fairy grunge, the outfits you choose should have both a fairy and grunge vibe. For example, you're all free to wear ripped pieces as they represent both aesthetics.

For more fairy grunge inspo, here are the ideas and activities for this unique fashion:
Having creepy hobbies such as witchcraft and dark magic.
Spending time in the woods or abandoned places.
Looking messy but enchanting.
Avoiding fast fashion and consumerism.
Listening to Nirvana.
Collecting rocks and stones.
Believing in magic.
Check out our fairy grunge aesthetic guide if you're interested in learning more about this unique aesthetic. You'll find lots of useful info there!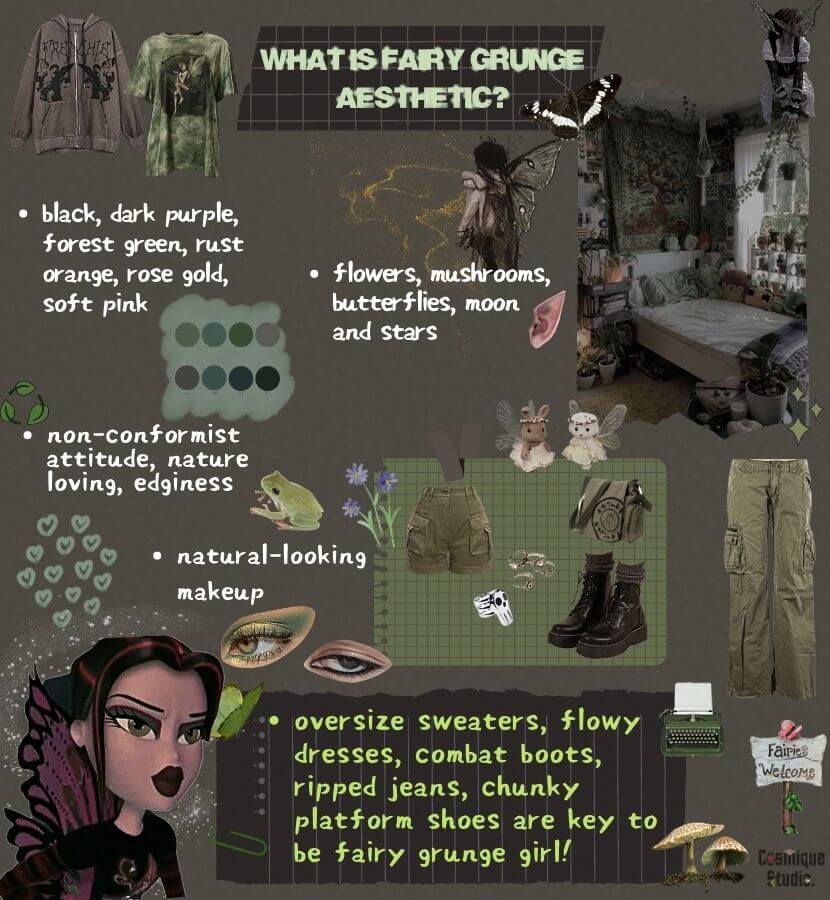 How to Be Fairy Grunge Aesthetic
Little fairies, you should have some grunge spirit if you want to be a fairy grunge aesthetic. You can show your aesthetic with your outfits. Fairy grunge clothing includes ripped jeans, leather jackets, army boots, long skirts, knitted tops, and asymmetrical pieces. Also, the accessories you choose must match your outfits. Butterfly glasses, long metal chains, leather belts, studded bags, and flower crowns could be perfect for your fairy grunge look. If you want to learn more, take a look at the list below. We're pretty sure that you'll learn more about this fascinating aesthetic!

Makeup: Glitter eyeshadow, liquid eyeliner, lip gloss, fake freckles and eyelashes.
Accessories: Chokers, metal chains, ribbons, lace gloves, and fire flame sunglasses.
Key motifs: Torn clothes, layers, fairy wings, elf ears, and crystals.
Values: Being both calming and rebellious.
Colors: Earthy tones, black, green, and brown.
17. Goblincore Aesthetic
Goblincore aesthetic is one of the oldest styles known for decades, originating in the 1910s. It has become famous thanks to Tumblr in the 2010s. We owe this aesthetic to ugly and dirty goblins, which create the roots of this environmentally friendly fashion.

Goblincore clothing emphasizes uniqueness in your own way. This style encourages you to be yourself with respect to your body, skin, or clothing. According to goblincore fashion, your inner beauty is more important than your appearance. Also, this aesthetic is strongly influenced by nature. If you aspire to be a goblincore, spending time in the woods is essential.This aesthetic supports sustainability. So, getting your goblincore outfits from thrift shops or second hands is ideal. You should buy items that are gloomy, messy, creepy, cozy, dirty, and easily accessible. The outfits you wear must be comfy to walk freely in the woods. The most fashionable goblincore clothes include overalls, velvet dresses, dirty boots, oversized shirts, cozy sweaters, knitted tops, ripped jeans, and chunky belts. Remember that if you want to be a goblincore, you should wear worn-out clothes, or the outfits you wear must look outworn.

Here are some activities and ideas for goblincore inspo:
Being eco-friendly.
Spending time in the woods.
Collecting mushrooms, buttons, rocks, coins, animal bones, and trinkets.
Embracing ugliness.
Being unpredictable.
Wearing second-hand and thrifted outfits.
Knitting and embroidery.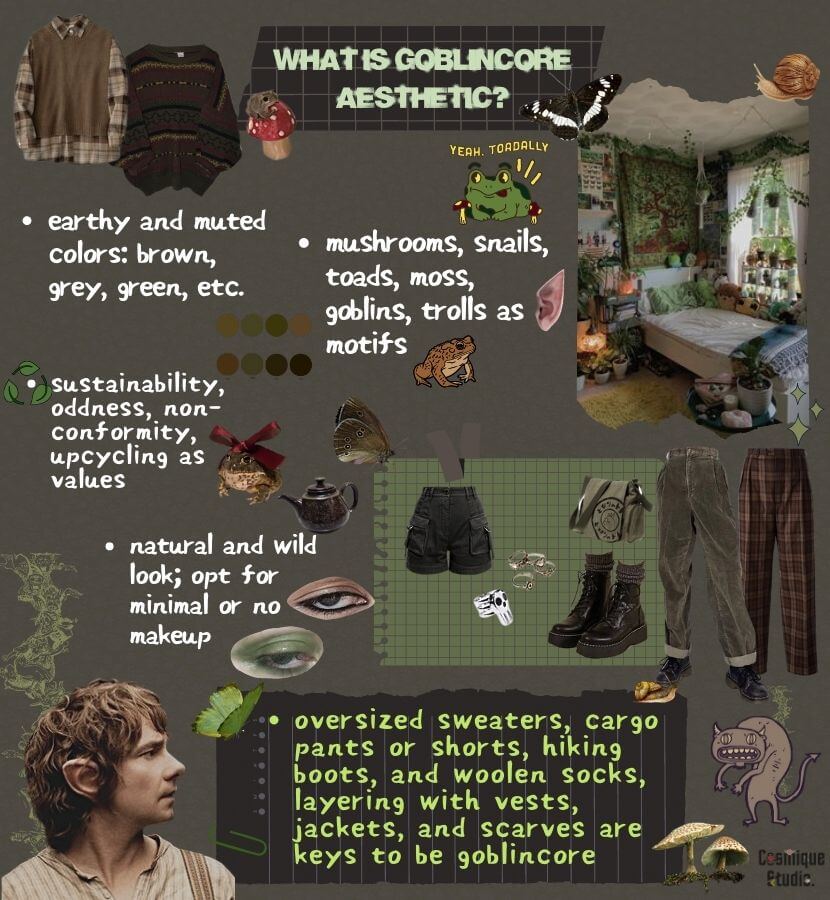 How to Be Goblincore Aesthetic
If you want to be goblincore aesthetic, start loving the ugliness first. Embrace your uniqueness instead of society's unrealistic beauty standards. Be eco-friendly. Choose thrifted clothes instead of buying new ones. Also, don't spend too much time in front of the mirror. Instead, go out and walk in the woods barefoot. You can dye your hair green so everyone can see the goblin inside your soul. Wear long skirts, oversized hoodies, old boots, knitted socks, and elf ears. The uglier you are, the more unique you will be!

Makeup: Peachy blush, fake freckles, green eyeshadow, nude lipstick.
Accessories: Shiny jewels, elf ears, silver ring sets, rope belts, and ugly hairpins.
Key motifs: Snails, dirt, frogs, mushrooms, bones, and cozy outfits.
Values: Uniqueness, curiosity, nature, and imperfection.
Colors: Light brown, dark green, dark lime, dark brown, and navy blue.
18. Sanriocore Aesthetic
Sanriocore aesthetic is mainly about being cute, childish, and innocent. The primary colors of this style are pink, white, and soft pastel tones. Even these colors are pretty, right? This aesthetic is based on the characters created by a Japanese-based company, Sanrio Co. Ltd. We bet you know these characters very well: Hello Kitty, Kuromi, My Melody, and many more…

You can feel like you're in the heaven of the aesthetic world when you watch sanriocore characters. As each character has its own personality, this aesthetic can be seen as a mixture of different aesthetics. This style is a blend of kawaii, yanderecore, larme kei, traumacore, kidcore, pastel goth, and softie. Candies, plushies, desserts, pixel art, speech bubbles, rounded fonts, sparkles, cherry blossoms, pastel filters, and stickers are the main motifs of the sanriocore aesthetic. If you want to get sanriocore clothing, your fashion should be cute and innocent, as well as your attitude. The most popular sanriocore outfits are Sanrio-print tops, character-themed clothes, lolita dresses, sailor uniforms, garters, loose socks, fluffy slippers, and tiny bags. Get all these outfits and combine them with the right accessories. Don't forget to take many photos and videos with your plushies. We're sure you'll have many followers on TikTok, Instagram, YouTube, and other social media platforms!

Dear cutest girls and boys, here are more ideas and activities for sanriocore inspo:
Always looking cute and innocent.
Doing childish makeup and hair.
Baking sweets.
Hanging out with friends.
Having Hello Kitty inspired nail art.
Spending time in playgrounds.
Making picnics.
Having tea parties with friends.
Picking strawberries.
If you're interested in sanriocore, we present the cutest devil-inspired character of Sanrio, Kuromi. Take a look at our blog about kuromicore and see how you can be both cute and evil!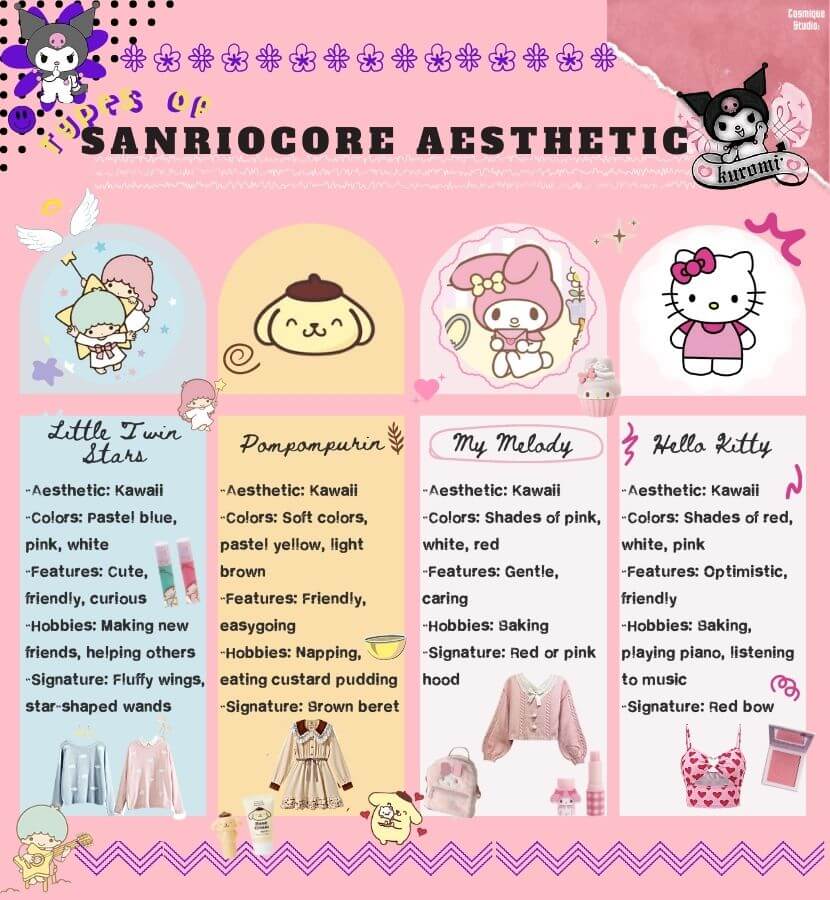 How to Be Sanriocore Aesthetic
To be a sanriocore aesthetic, you should have a cute and innocent look first. Frilly dresses, fishnet tights, rainbow striped tops, and knitted vests are perfect for a starter sanriocore wardrobe. But the most important detail for this aesthetic is accessories. As clothes have similarities with kidcore, kawaii, and other aesthetics, you can show your uniqueness with the accessories you use. Plush backpacks, Sanrio-character phone cases, Mary Janes, colorful beaded necklaces, tiny purses, lace ankle socks, ribbons, and plush toys are the trendiest sanriocore aesthetic accessories. You should also match your outfits with your makeup and the shape of your hair. Your makeup should be so dramatic to show the kid inside your soul. The hairstyles you choose should also have an innocent but dramatic style.

Makeup: Winged eyeliner, fake eyelashes, lip-gloss, pink nose, drawing cute shapes on the cheeks.
Accessories: Animal air headbands, bow clips, platform boots, colorful glasses, heart-shaped chokers.
Key motifs: Sanrio characters, plushies, desserts, sparkles, stickers, and candies.
Values: Innocence, cuteness, childlike styles, and girly attitude.
Colors: Light pink, baby blue, white, and soft pastel tones.
---
Have you decided on which type of aesthetic you like most? For those who're asking "What's my aesthetic?", keep following our blogs so that you can find your personal aesthetic types. If you are interested in seeing more ideas, follow Cosmique Studio on Instagram, Facebook, TikTok, Youtube, Twitter, and Pinterest! We are sure that you will find your perfect aesthetic style and dress you up for the best!
You can read more on our aesthetic blog page and mail us anytime you wish about your questions, ideas, and new blog wishes as well!
What is your personal aesthetic? Let us know about it. Comment below and share your ideas, interests, and comments about your aesthetic with us!