A Complete Guide: Goblincore Aesthetic Style + 5 Goblincore Outfit Ideas
Posted by Buscik on Apr 09, 2022
---
Since its first appearance in the 2010s, the goblincore aesthetic has become increasingly trendy. Even now, it has more than 750 million views on TikTok and got almost 30,000 members on the goblincore subreddit! Let's get deeper into this dark aesthetic and see what's waiting for us in the deep forest.
What is Goblincore?
Getting its name from goblins, the ugliest, dirtiest, unpredictable, and small creatures living in forests, the goblincore aesthetic, also called gremlincore, mushroom aesthetic, or greedcore, appeared first in the 1910s and started to get trendy in the 2010s. With the pandemic in the 2020s, people began to care more about their surroundings instead of the fast fashion and expensive shopping that has been on the increase with the spread of online shopping. This led to the rise of interest in the goblincore culture, which creates its style rather than caring less about society's unrealistic beauty standards. Snails, worms, shiny rocks, slugs, insects, toads, mushrooms, and moss are some key motifs of the goblincore aesthetic.
Are you ready to be a goblin?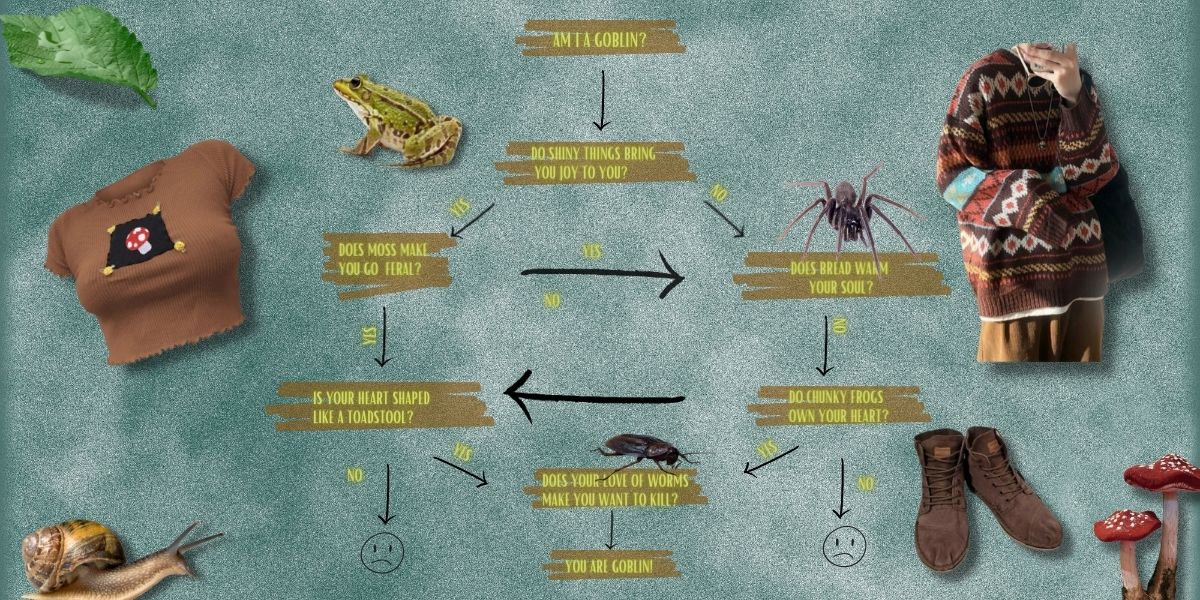 What to learn from this blog:
How do I dress like a goblincore at an affordable price?
What are the essentials of a goblincore?
How can I make my own goblincore DIY accessories?
How do I make my room goblincore?
How do I make goblincore food?
What present should I give to my goblincore friend?
What activities can I do with my goblincore friends?
What is the Difference Between Cottagecore and Goblincore?
Goblincore aesthetic is inspired by the ugly goblins of the dark deep forest. At the same time, cottagecore is the aesthetics of the Western country - farm-ish lifestyle. Also, goblincore cares more about curiosity, whereas cottagecore is into serenity. Imperfection is the key to the goblincore aesthetic, but cottagecore clothing modernity is essential. Goblincore and cottagecore aesthetics are fashion trends of 2022 among the Gen Z population.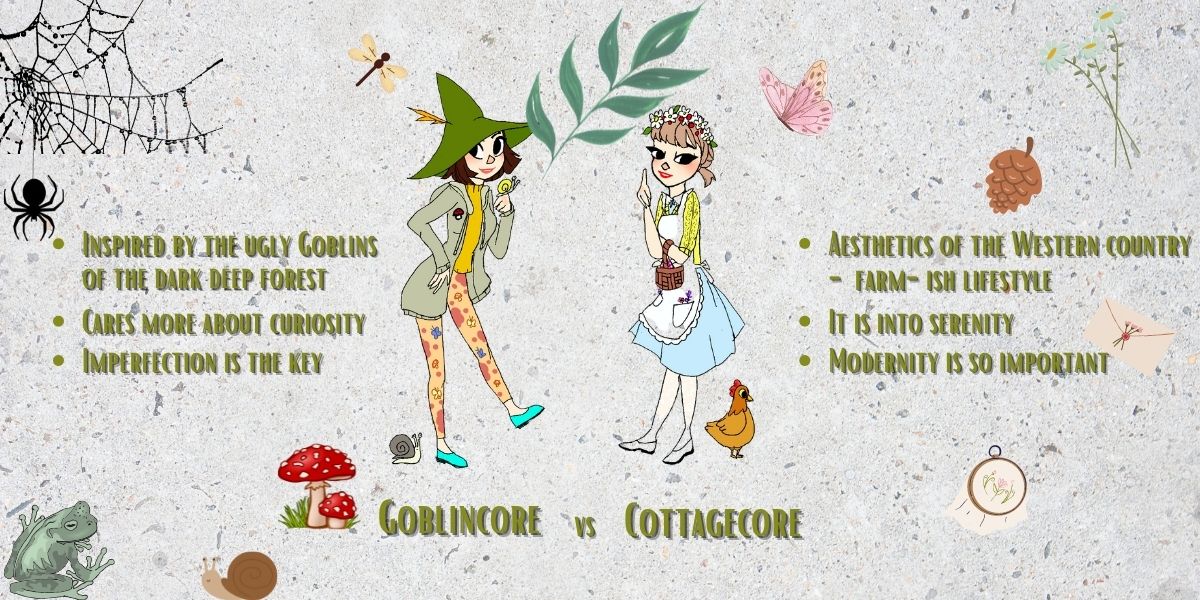 Will 2022 Be the Year of Aesthetic 'Goblincore'?
With the popularization of sustainability, the goblincore aesthetic is getting increasingly trendy among the Gen Z population every day. Instead of fast or expensive shopping, goblincore fashion is about second-hand and thrift shopping that helps care for the earth. Whereas social media forces us to be 'perfect' even in real life, goblincore followers find a way to escape it. People who are into goblincore celebrate imperfection and don't have the pressure of having a perfect body, skin, or clothes. With the realization that the pandemic brought us, 2022 will be the year of 'awareness'. Awareness of the inner side of us, the beauty inside us and freedom, being who we want to be, and the ways of letting things go. Besides, the pandemic led the goblincore aesthetic to bring life more than ever before. People who had to stay home for months realized they were more connected to nature than they would ever think.
By getting more than 750 million views on TikTok, goblincore followers are sure that 2022 will be just the beginning. With the realization of the need for a connection to nature, people will follow this trend more every day. Also, staying at home lets people realize that 'comfort' is the key element for better living conditions. Goblincore style offers comfortable clothing opportunities suitable for adventures out in the woods! Instead of staying at home, 2022 will be the year of going out and discovering with goblincore aesthetic.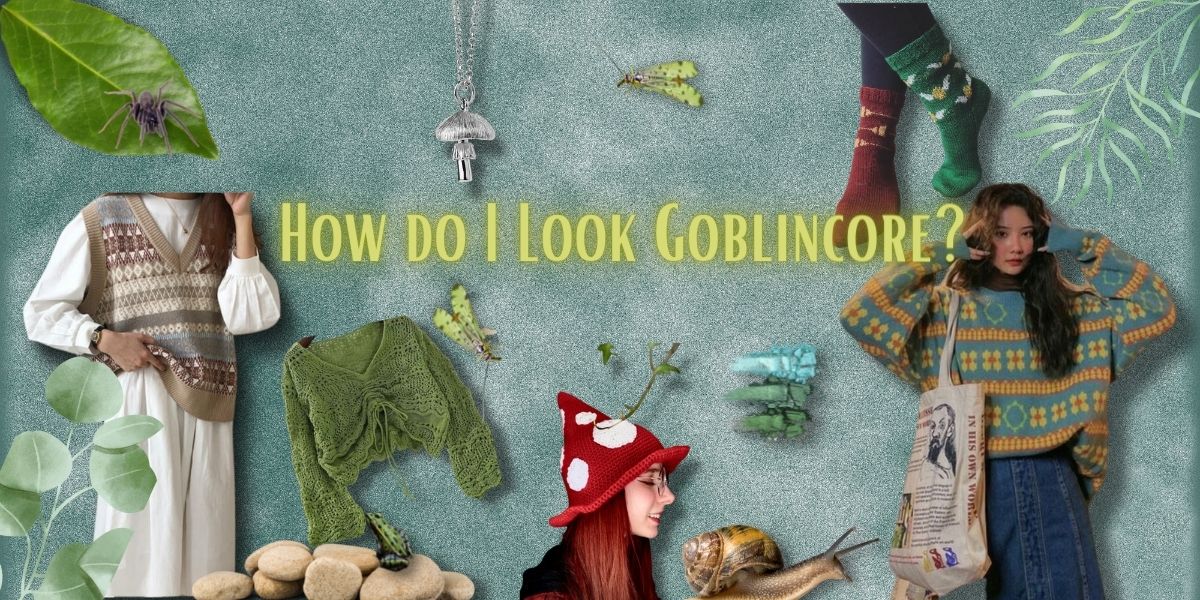 How do I Look Goblincore?
Goblincore style involves second-hand clothes, worn out or thrifted. Instead of wearing expensive, customized, shiny, and all-clean, fashionable clothes, the goblincore aesthetic can be dark, messy, spooky, cozy, dirty, and accessible that you can enjoy while going around, taking lots of walks, and lying on the grass to connect nature! The colors that you might want to wear would be light brown, dark green, dark lime, dark brown, and navy blue. You can dress in dirty boots, knitted sweaters, cardigans, gloves, aesthetic necklaces, witch hats, oversize cozy clothes, green-ish socks, and whatever you feel comfortable with inside. The key element is to feel free!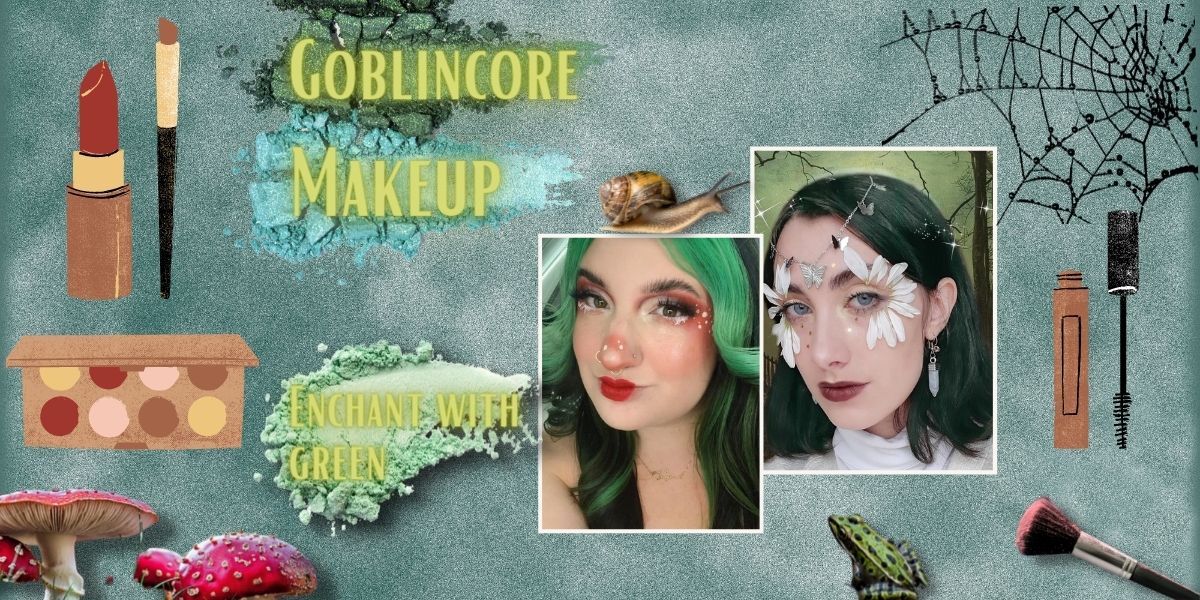 Secret Tricks for Elegant Goblincore Makeup
As they are into nature and like natural beauty, most goblincore aesthetic followers do not like putting on makeup to look natural. But you can put some makeup on and still reflect nature's beauty on your face. Using green tones on your eyelid, applying peach powder and some highlighter on your cheeks, and putting on some peach lipstick, you will be like a goblin going around the dark deep forest! Mushroom aesthetic supports being natural and showing off with dark colors on your hair and face. You can use your hair color or dye it green to reflect the dark forest growing inside you! You can also put some speckles on your face to give the expression of the goblins in your mind!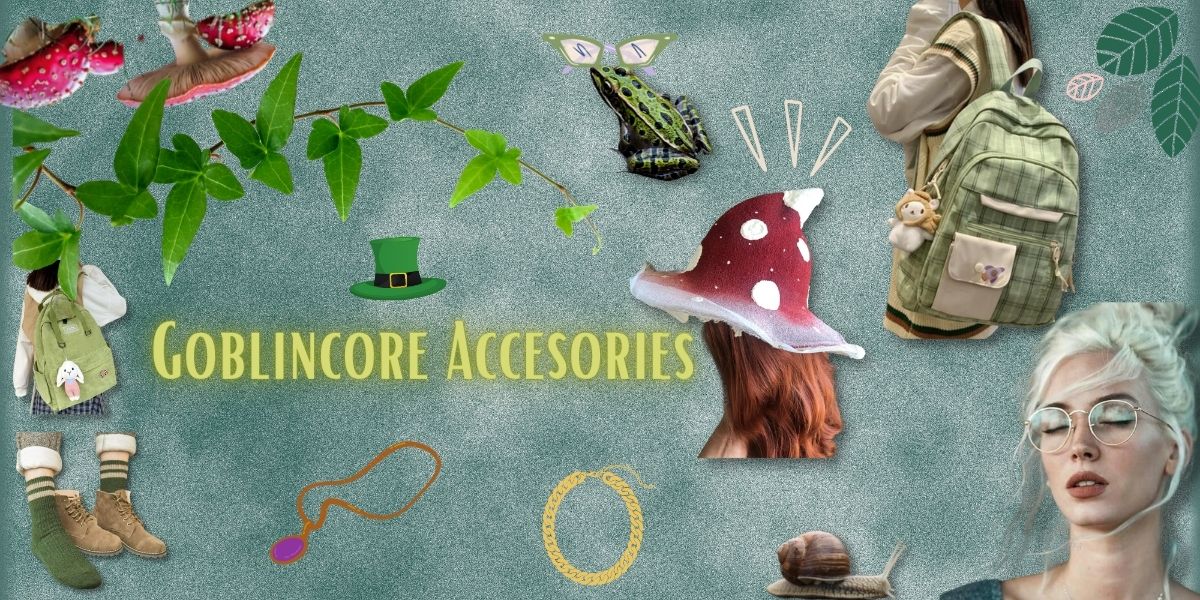 Stylish Goblincore Accessories
Goblincore aesthetic accessories are minimal. They are primarily about buttons, aesthetic bags, earrings with mushrooms, teeth necklaces, mushroom hairclips, and anything that represents the imperfection of nature. But don't think that you are limited by what others say! As a goblin, you can make your own accessories with the items that you collect outside. They can be unique, so they can reflect your uniqueness directly. You can also make your exclusive accessory style by not harming the earth. You can make earrings, necklaces, bracelets, and other things you want. All you have to do is to imagine!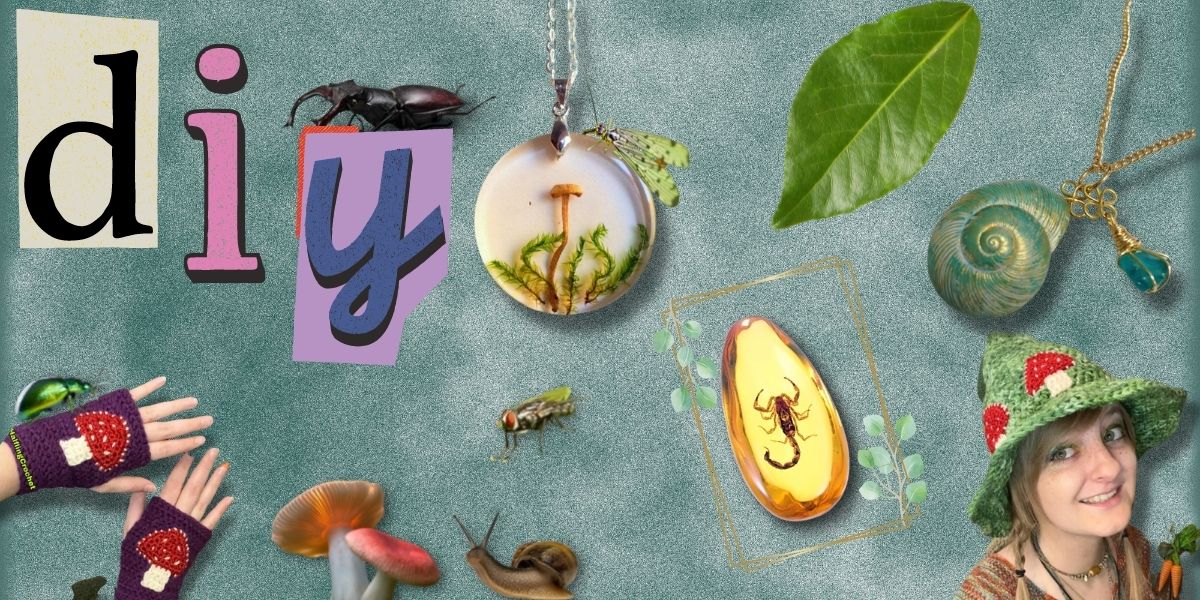 Make Your Stylish Goblincore DIY Accessories
As a real goblincore aesthetic follower, now you know that a real goblin does not buy expensive pieces. You can buy second-hand or from thrift shops. But you must not forget that you also have one more chance. Doing it yourself! You can quickly DIY your goblincore aesthetic accessories with small pieces and a little knowledge of crochet and some wires. Here are some examples. Have fun, goblins!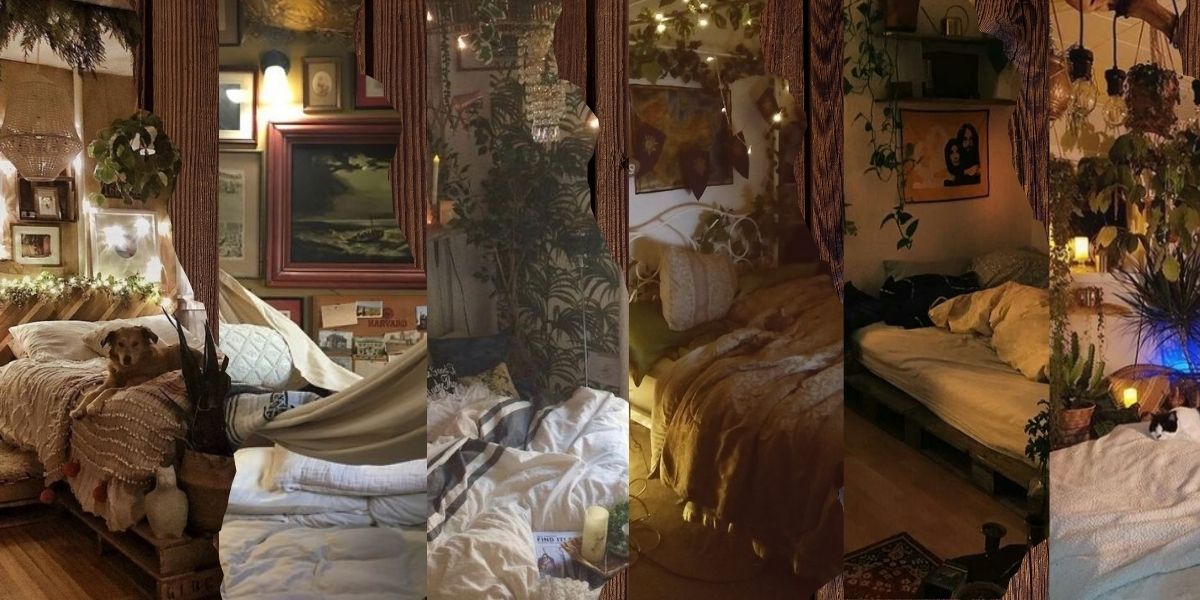 How do I Make My Room Goblincore?
Goblincore aesthetic can be in any part of your life, including your bedroom. As you know, a bird is known for its feathers. As the main idea is to be in nature, you can decorate your room with lots of green accessories, artificial flowers as well as natural ones, wallpapers representing nature, maybe a cozy armchair, wood log candles, artificial weave ceramic plant pots, a fake grass rug, a grass front cabinet and some other creative things that you will feel free and cozy. You can also DIY your designs by putting some mushrooms on your cabinets!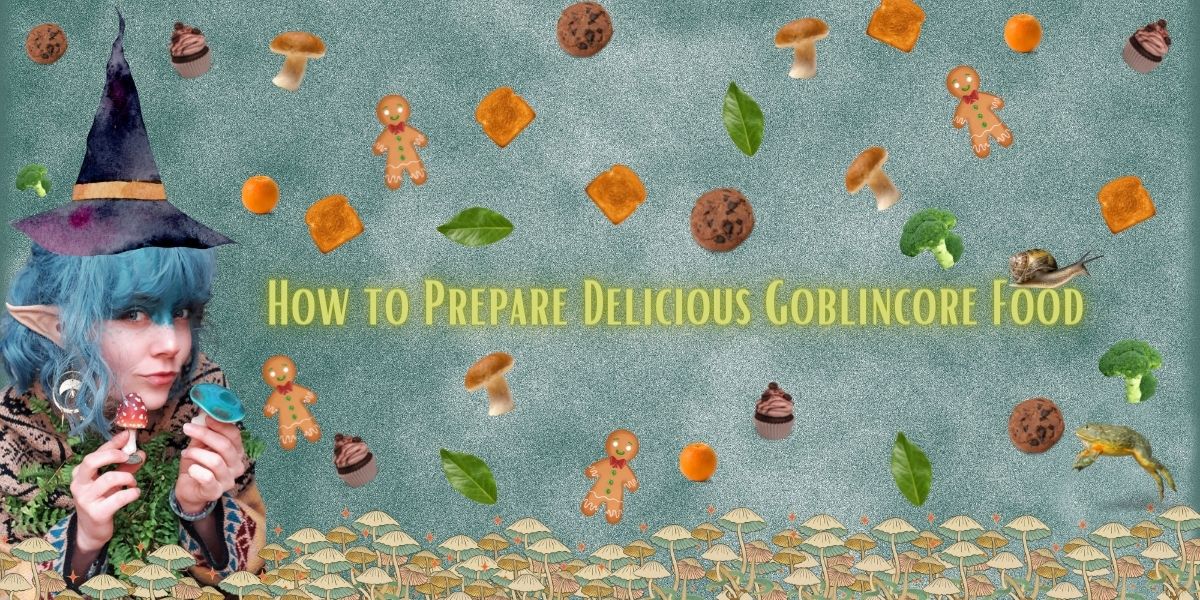 How to Prepare Delicious Goblincore Food
Goblins like to eat green! A plate is full of mushrooms, walnuts, hazelnuts, blackberries, and other berries they could run across while wandering around the woods, plant roots, and other things they can find in the forest. You can even prepare your food with your goblincore outfits at your cave! As the goblincore aesthetic is also a lifestyle, you can grow your mushrooms in a pot in your home and collect and eat them with berries from the dark deep forest. If you are looking for something easy to find, we suggest you to take a look at vegan goblincore recipes. We're sure you'll like them. Have fun!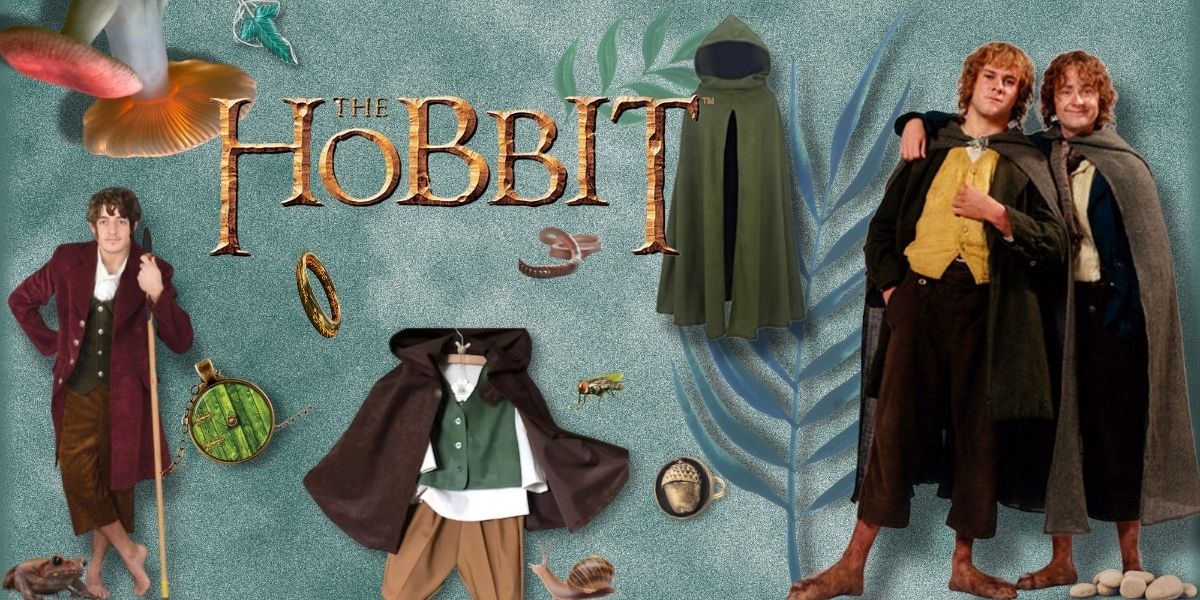 7 Amazing Goblincore Books
Goblincore aesthetic is not only a clothing style but also a book genre. There are lots of books that the goblins would like to read. Reading these books shows you that the goblincore aesthetic is everywhere! You can also have a reading circle with the other goblins and don't have to spend more and create less waste for the world. Here are some examples:
The Hobbit by JRR TOLKIEN
The Log Goblin by Brian Staveley
The Darkest Part of the Forest by Holly Black
Curse of the Wolf King: A Beauty and the Beast Retelling by Tessonja Odette
Alice in Wonderland by Lewis Caroll
The Cruel Prince by Holly Black
Malice by Heather Walter
The booklist is retrieved from Bingebooks.com.
Goblincore Movies and Shows
There are movies and shows including goblincore aesthetic as well. Common traits of these movies are the green-ish kind of darker color scale of the clothes and decors, little goblins going around, being in harmony with nature, having deep dark forests, a comfortable loose worn-down look of the imperfect characters, and so on. You can watch these movies and shows and find more similarities, too. Wanna try? Below you will see the collection of some The Hobbit outfits and accessories!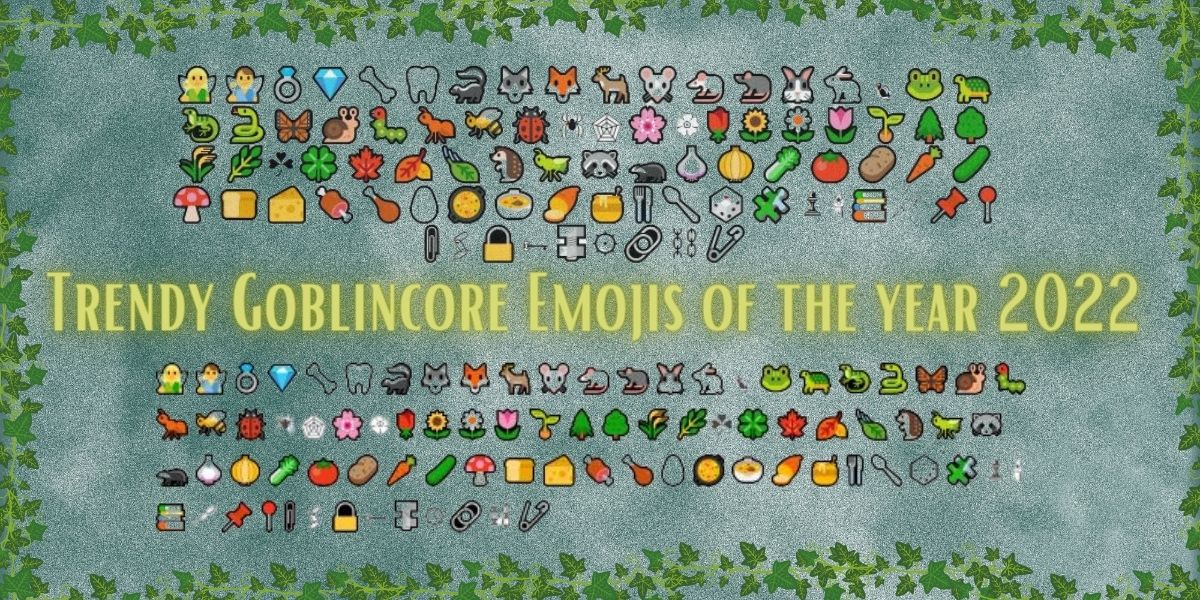 Trendy Goblincore Emojis
You can see goblincore trends on your mobile device as well. With the globalization of the world, goblins may show up anywhere, even on Whatsapp. You can show all the world that you are a goblin by using goblincore aesthetic emojis. Use these emojis to express yourself as a goblin! We have prepared some for you in this article.
Trendy Goblincore Gift Ideas
Goblins may be unusually friendly sometimes. If you have a goblin friend, you might want to give them a present that s/he would like. But… What do they like? People follow goblincore fashion, like mushroom print sweatshirts,oversize cozy goblincore aesthetic clothes, knitted sweaters, aesthetic shoes, and cozy socks. Gifting them to your friends will show the world that the goblincore aesthetic is a fashion and a lifestyle you can share with all your friends. You can change your clothes later as second-hand, or worn-out clothes are preferable by mushroom aesthetic followers. Using worn-out outfits, you can create your style without caring less about society's unrealistic beauty standards and reflect your way of thinking. We have some goblincore outfit and accessories ideas for you:
Like a dirty, unexpected goblin, you can collect your gifts instead of buying new stuff. Some old coins, shiny dirty rocks, old, rusty keys, agate shells, worn-out accessories, and second-hand books could be useful for all the goblins, or you can just put one piece of stuff in a box called 'Goblincore Mystery Box' and prepare your unique gift!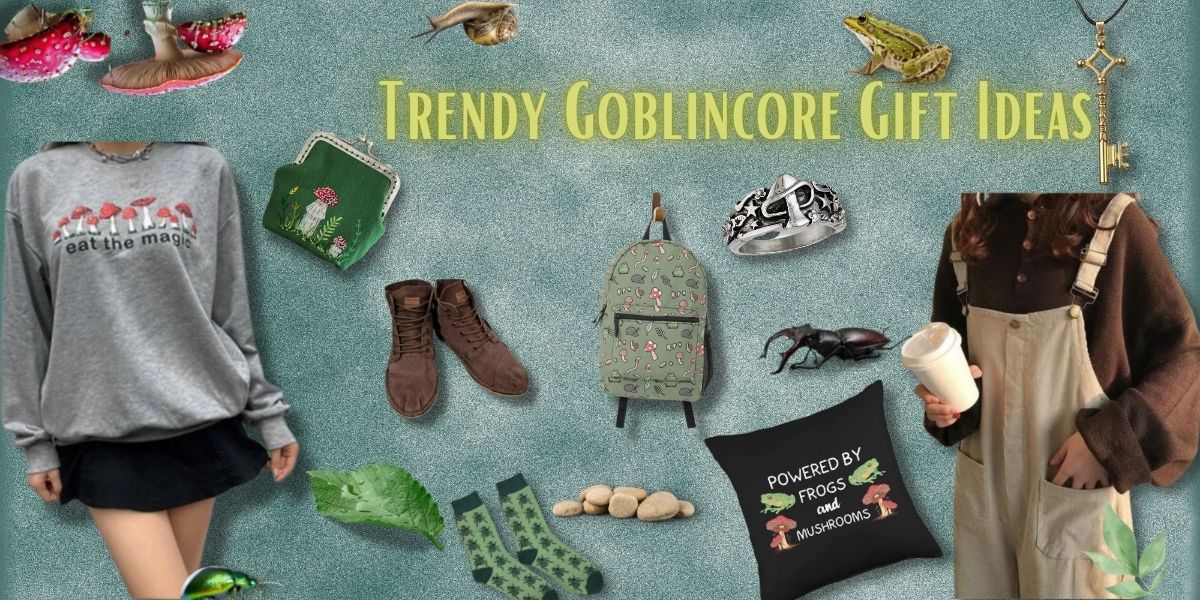 Want to learn more about goblincore? Here is a video by Mariel to teach how to build a goblincore/gremlincore wardrobe. You can have goblincore inspo from this video and create your own gremlincore wardrobe. We're sure you'll have an amazing style. Have fun!
5 Goblincore Outfit Ideas
You can wear this crop top with a high-waisted skirt and have your own way of a classy and sophisticated look. No one will take their eyes off you!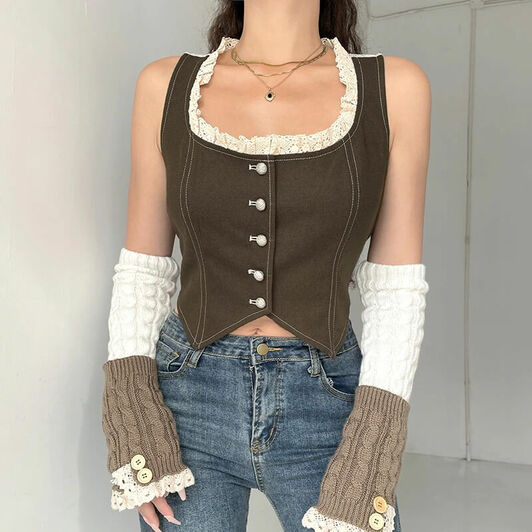 Wear this outsize sweater with a mushroom necklace and skinny jeans. You can wear big round aesthetic glasses to complete this look, and you'll become a goblin!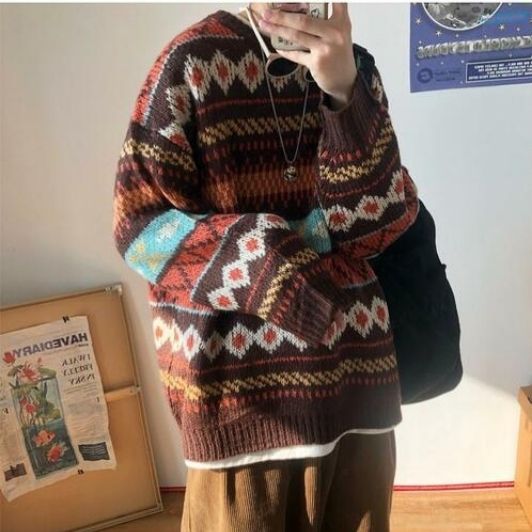 You can wear this brown goblincore mushroom sweatshirt with light brown pants and brown-tone makeup to show everyone that goblincore is all over your body.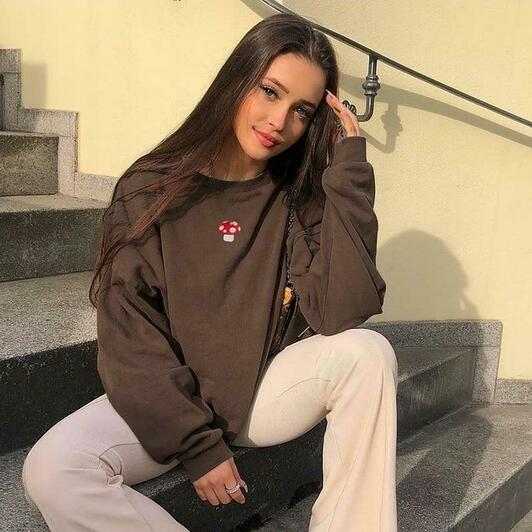 Combine this green-ish outsize sweater with a high-waisted skirt, and don't forget to get your mushroom necklace and snail earrings. Everyone will see you're goblin inside!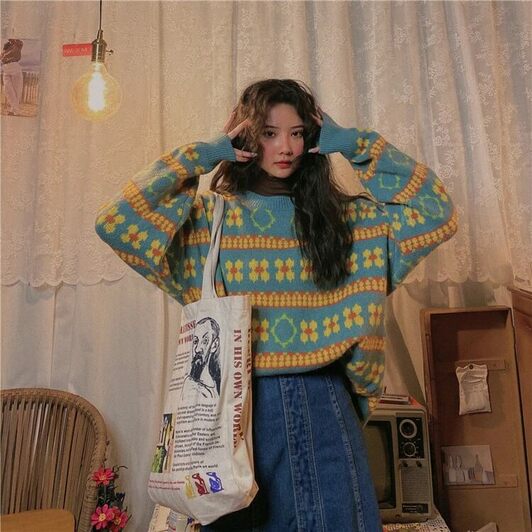 This green-ish mushroom top shows you're a goblin, but you can add more mushrooms and green with your accessories, such as green bags and brown bracelets, to show everyone that you are a goblin!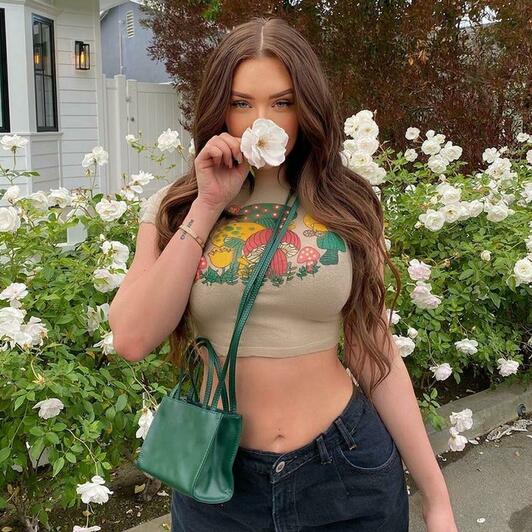 As the Cosmique Studio, we are ready for the increasing trend of the goblincore aesthetic. We can't wait to see it rising! You can check our page for updates and follow our blog for new fashion trends! You can follow our Instagram, Facebook, Pinterest, TikTok, and Youtube pages to see the stylish goblincore outfit ideas. Dress up, goblins!
If you like this blog, keep reading cottagecore aesthetic to see the newest trends of 2022 and keep up with them!
What do you think about the goblincore aesthetic? Do you have any goblincore friends? Or do you have any goblincore outfits in your wardrobe? Leave a comment below and let us know about it!