Wednesday Addams: An Aesthetic Guide to Gothic Princess
Posted by Magnificent Medusa on Jan 02, 2023
---
wednesday-faq-guide
Hello to horror-fiction lovers! We are here with a blog about the most exciting content of recent times: the Netflix Wednesday TV series. According to online data, Wednesday Addams' style has attracted much attention, especially among Gen-Z. With her unconventional aesthetic, Wed Addams also led many young people to search for Wednesday-inspired outfits. Despite being on our screens for decades, the Addams Family's universe has been the most researched lately. You will find answers to many questions, such as:
- Who is Wednesday Addams?
- Does Wednesday Addams have powers?
- What is Wednesday Addams's aesthetic?
- What are the aesthetic styles of Wednesday Addams?
- How can I look like Wednesday Addams?
Who is Wednesday Addams?
Wednesday Addams, a fictional character created by Charles Addams, is a 16-year-old genius high school student who fancies gothic elements and sadism. She is the only daughter of The Addams, an aristocratic outcast American family.
Besides her sadistic inclinations, she also has misanthropic ideals, meaning that she neither likes connecting with people nor believes in natural pureness. She is such a cold-hearted girl that she does not even act kindly toward her family. For instance, Pugsley, her younger brother, is exposed to her cruel 'scientific' experiments throughout his life. She sees human beings as Guinea pigs or lab rats, subjected to her different tests, as it is seen. That's why she easily feeds Pugsley's bullies to the piranhas without a second thought in the first episode.
Even though she has a callous character which can be referred to as her negative side, she is a natural-born genius interested in utterly different subjects. It would not be wrong to say that she is friends with knowledge and academia instead of human beings.
She likes to read about different topics such as biology, history, chemistry, linguistics, criminology, etc. She knows beekeeping, has skills with knives and fencing, and is fluent in many languages. Besides her blood-curdling savage hobbies like killing, she also takes time to write her book for at least one hour a day. This is one of her skills that makes her irresistible. In addition to writing a book, she is an outstanding cellist, and we often witness this in the series. However, she usually keeps her talents to herself, as she does not do it for the pleasure of others, unlike other people. Even in the show, we can perceive her anger when the school principal, Mrs. Weems, asks Wednesday to play the cello at an event.
So, as you can see, Wednesday Addams is an introverted character who, despite having many talents, keeps them to herself, dislikes people, and avoids communication at all costs.
Does Wednesday Addams Have Powers?
Yes, Wednesday has a supernatural psychic ability to see visions when she touches someone or something, allowing her to find out the truth, even from the past or the future.
She inherited her ability from her mother, Morticia Addams. Though she benefits from these visions to solve mysterious cases, it may be a curse, too, if she does not learn how to control them. Principal Weems also warns her about this since she is an eyewitness to Morticia's hardships.
What is the Aesthetic of Wednesday Addams?
The Wednesday Addams aesthetic is a little bit traditional and dusty. Her dark personality reflects in her aesthetic, too. She rejects the mainstream by wearing traditional clothes, unlike her peers. Since she is regarded as an outcast, she wears the most outcast color, black. She hides her thoughts and emotions behind the depth of black.
She not only wears traditional black clothes but also prefers double-braided hair. Her aesthetic seems as if it belongs to the ancients. But Wednesday does not care about others' opinions. Thus, being referred to as old-fashioned means nothing to her.
Besides dark tones and a traditional look, Wed also has an academy aesthetic. She carries books and a quill pen, taking notes when needed. She uses a typewriter, too, which has become a signature of Wednesday. These belongings make Wednesday clothing unique in academia aesthetic as well.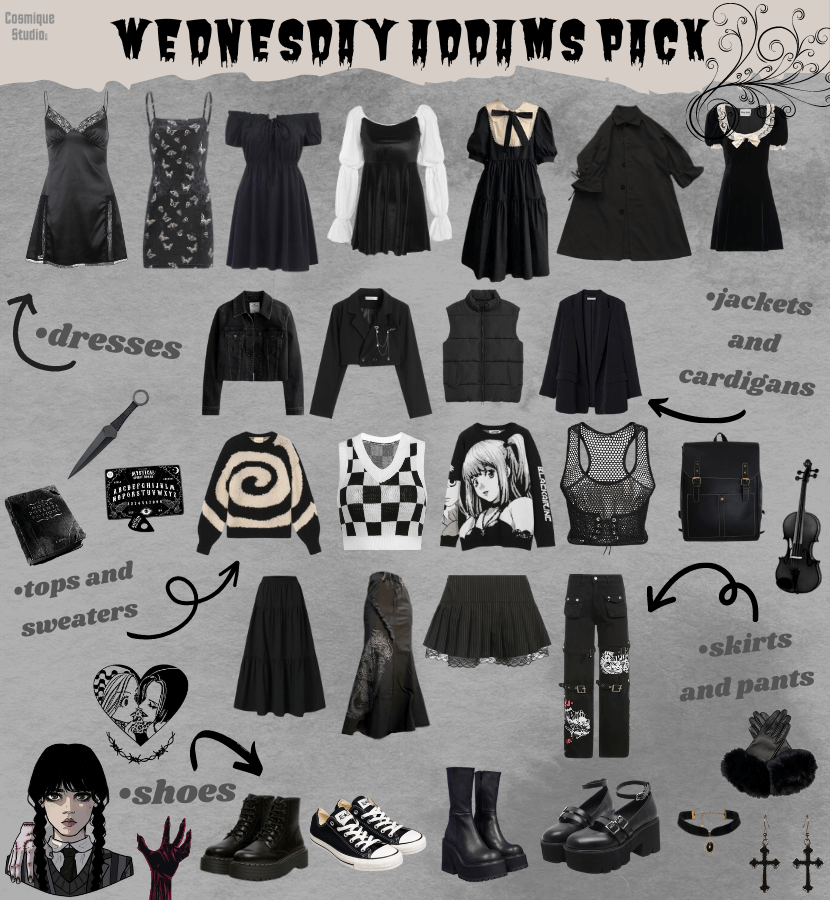 What are the Aesthetic Styles of Wednesday Addams?
There are a few aesthetic styles that can be associated with Wednesday.
Gothic Aesthetic Style
Dark Academia Aesthetic Style
Horror Academia Aesthetic Style
These aesthetic styles can be handled in different ways and identified with Wed. While the gothic aesthetic style is associated with Wednesday's traditional gothic side, the dark academia aesthetic is associated with her dark personality and academia ideals. On the other hand, horror academia is a new wave of academia style consisting of horror elements and standards. Hence, all three may be appointed in Wednesday Addams's style. They have slight differences on a fashion basis, which will be given in detail.
By the way, do not forget to let us know your opinions about these styles and their correlations with Wednesday's aesthetic after reading the blog!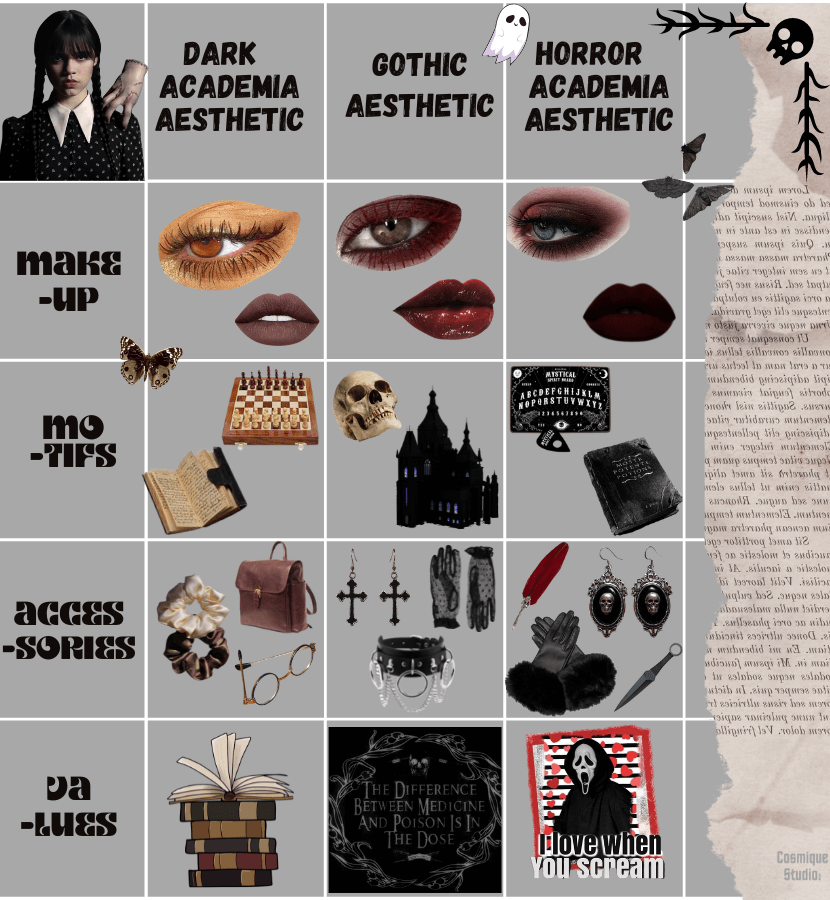 What is Gothic Aesthetic Style?
Gothic aesthetic style is a fashion movement based around Gothic architecture and literature. It consists of dark, traditional witchy clothing and dark, edgy makeup, often formed with cut-up/torn dresses, fishnets, long black hair, etc. Wednesday mostly fits into gothic aesthetic style with her witchy clothing preferences and long braided hair.
Makeup: Bold or Egyptian eyeliner, smokey eye makeup, dark red or black lipstick, edgy thin eyebrows, teased hair.
Accessories: Fishnets, corsets, chokers, elbow length tulle gloves, cross necklaces, piercings.
Key Clothes: Platform boots, felted coats, long maxi skirts, lace details, frilly dresses.
Key Values: Individuality, esoterism, existentialism.
Key Motifs: Grotesque items, horror fiction, Victorian period, Gothic cross.
Key Colors: Black, burgundy.
What is Dark Academia Aesthetic Style?
Dark academia aesthetic style is a fashion movement revolving around a vintage high-class form of clothing dating back to the 1940s. Wednesday Addams also appears in certain dark academia aesthetic clothes in the Netflix Wednesday series.
Makeup: Minimal or neutral makeup, eyeshadow in grays, burgundy lipstick, contouring, short neutral painted nails.
Accessories: Ties, cufflinks, suspenders, messenger bags, tortoise-shell framed glasses, brooches.
Key Clothes: Sleeveless dresses, turtlenecks, collared shirts, cardigans, blazers, Mary Janes.
Key Values: Existentialism, curiosity, intelligence, wisdom.
Key Motifs: Books, mystery, old buildings.
Key Colors: Black, brown, tan, earth tones.
What is Horror Academia Aesthetic Style?
Horror academia is a subculture of academia aesthetics, embracing the gothic and grotesque elements and applying them to academia and the dark preferences in clothing. Horror academia aesthetic style forms a disheveled appearance. The general aim of academia is to do research and to be very knowledgeable and cultured. Dark and light academia can be given as examples of subcultures of academia. Every name before academia creates different aesthetic movements by further customizing it. Horror academia, for reference, is the aesthetic seeking for knowledge and culture besides being passionate about horror.
Makeup: Dark eyeshadow, thin eyeliner, pale face powder, dark nude lipstick.
Accessories: Choker, corset, tulle or leather gloves, tie, high knee socks, fishnet stockings.
Key Clothes: Tattered skirts, high platform boots, lace-detailed dresses, oversize worn sweatshirts.
Key Values: Existentialism, academic ideals, desire of knowing, fear of failure.
Key Motifs: Books, horror elements, dusty libraries.
Key Colors: Dark and pale tones, brown, black, desaturated colors.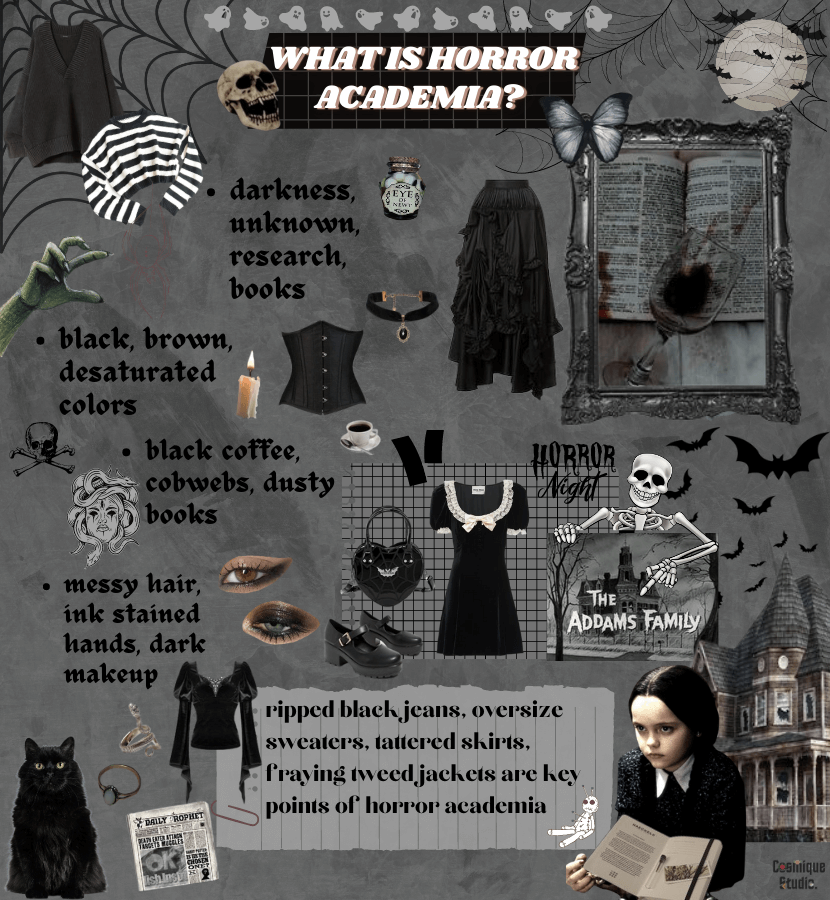 Wednesday Addams Outfit Ideas
Outfit Idea 1
The first Wednesday Addams inspired outfit idea is both the most minimalist and the darkest academia type. There are five crucial clothes to gather with. Let's start with the outdoor wear: the black academia windbreaker long coat. In the Netflix tv series, Wednesday mostly wears this type of coat. Thus, we should add a unique piece to our wardrobes.
Another key cloth is the gothic distressed knit jumper. Wednesday wears this sweater in Episode 2: "Woe is the Loneliest Number." She combines this sweater with different types of jackets such as the long coat, a puffer jacket, a denim jacket, etc. In our first outfit, the long coat is matched with it.
The most outstanding part of this darkest academia aesthetic outfit might be the black, gothic velvet embossed flare pants. It is rarely possible to find an outstanding gothic pants that have Victorian-like embroidery.
To show off these flare pants, a platform boots are needed of course to make you look taller! And along with the boots, the dark academia zip wallet that lately been designed will be the proper choice to carry your penknife in it. :)
You can always enrich your look with various accessories according to your taste. Since Wednesday is not a fan of wearing accessories except chokers, we did not specifically choose one.

Outfit Idea 2
The closest outfit combination to Wednesday Addams' style in the series. She usually wears comfy clothes when she is on a secret mission to detect something suspicious. On the Episode 7: "If You Don't Woe Me by Now," Wednesday is about to find out who the real Tyler is inside (or does she?), and she combines another darkest academia outfit.
This is an another 5-piece outfit. The sleeveless puffer unisex jacket is representing the modern times punk style. Even though Wednesday generally chooses gothic aesthetic in her style, it seems as another interpretation of the modern young community.
The checkered knit crop sweater vest is one of the most popular clothes lately. Because the checkboard pattern is pure Masonic style and unique, which makes this vest the key piece of this second outfit idea.
When it comes to choosing a pair of bottoms, you might want to have your style more noticeable by just wearing punk-style elements. That's why the grunge punk pants have the potential to add spice to your look with their belt details on their knees. Besides, the pockets may help you carry your detective gears on your way to find the truth.
In order to go for a walk comfortably, you should consider wearing low-heel, leather, ankle boots. The academia pu leather ankle boots will provide you with the comfort in the woods for you to search for the clues easily. :)
While you are on a mission, you will need extra equipment in case of an emergency. You would want a big retro backpack to carry your evidence or your spare knife.
Lastly, you can complete your look by simply double braiding your hair, just like Wednesday.

Outfit Idea 3
In Episode 8: "A Murder of Woes," Wednesday combines another checkboard-patterned top, while she is on another mission as well. She wears a black denim jacket this time and matches it with a checkered sweater underneath. However, the evil smile sweater is chosen for this third outfit to diversify the wardrobes. Wed would also like the smile of it as we think.
The grunge punk pants are expanding the color scale with their white-red details as well as matching with the sweater. Since she is on another mission, the low-heel leather boots will be the ultimate and reasonable footwear choice. Besides, leather is hard to stain and gets muddy. This way, you are less likely to have evidence in your shoes. :)
To match grunge leather boots, the leather Breton cap is the alternative option, along with the leather shoulder bag. In accordance with your choice, you might consider wearing ring set or a pair of leather gloves. Leather gloves have the advantage of helping you with fingerprints if you are after s secret business.
Lastly, remember to put some black eyeshadow on. Dark makeup in horror academia aesthetic adds mystery to the outlook.

Outfit Idea 4
In Episode 4: "Woe What a Night," Wednesday breaks the taboos. There is a ball -or dance night- that provided both Wednesday Addams and Jenna Ortega to become more popular in tv history.
In general, Wednesday shows no interest in common entertainment. She has her own unique entertainment, like murdering his brother's bullies by using piranhas. She does not like to be forced to join a regular school event. For instance, when she is forced to play cello at a school event, Wednesday finds a way to destroy it. Besides, she does not like to grasp attention or care about it. However, when Tyler arrives at her doormat, she has no chance left to attend the Rave'N Dance. That is the key event that makes her grasp all the attention and destroys the settled idea about herself. The first reason is her dress, and the other is her solo dance moves. Let us continue with her unique dress.
She obviously adapts the dress code -which is winter tones like ice blue or white- to her own style and wears a black, tulle walking dress. Nothing more could be expected from her, anyways. So, we were inspired by her walking dress and adapted it to our darkest academia aesthetic outfit idea. It is an easy look to create, in fact, consisting of four key pieces.
The first piece should be the dress, obviously. The dark academia elegant midi dress reflects the academia elements with its ribbon detail. It is not a walking dress, so you can wear it daily, as well. Especially at school or at the library; it is both comfy and chic!
These dark academia flat chunky shoes are suitable for Wed's aesthetic, and look perfect with the dress. You may prefer stockings or knee-high socks to combine them.
Another key piece is the vintage dark academia bag. Thanks to this backpack, it is possible to carry lots of stuff, such as academic books that Wed would also prefer to read or a magnifying glass to examine animals or plants.
Another accessory to complete this inspirational outfit is the Wednesday Addams phone case to show your admiration for horror fiction. And if you like to go somewhere fancier, you can enrich your look with elevated accessories. Also, as a hairstyle inspiration, double buns or braids can be preferred.

Outfit Idea 5
The fifth outfit is Wednesday's general school uniform. If you have watched the series, you might know that Wed wears her uniform adjusted to her style rather than the common purple Nevermore Academy school uniform. Her unique blackest style inspired all of us, mostly the Gen-Z. That's why we created the closest dark fashion outfit for a school day.
Let's start with the white shirt, which is the base of a uniform in general. The black bandage turn-down collar edgy shirt will enlighten the full-black school outfit. Above the shirt, a preppy pre-tied zipper tie must be worn since it represents formality. As outer wear, a simple black blazer jacket is chosen, and a black, grunge, ruffled midi skirt is under it.
To complete the daily schoolgirl look, grunge buckle shoes, aka Mary Janes, should be the best choice. The buckle details can be matched with the gothic PU leather backpack that has stamp details on it. And voila! You are ready to be an outcast in the Nevermore High!

Wednesday Addams and Enid Sinclair Comparison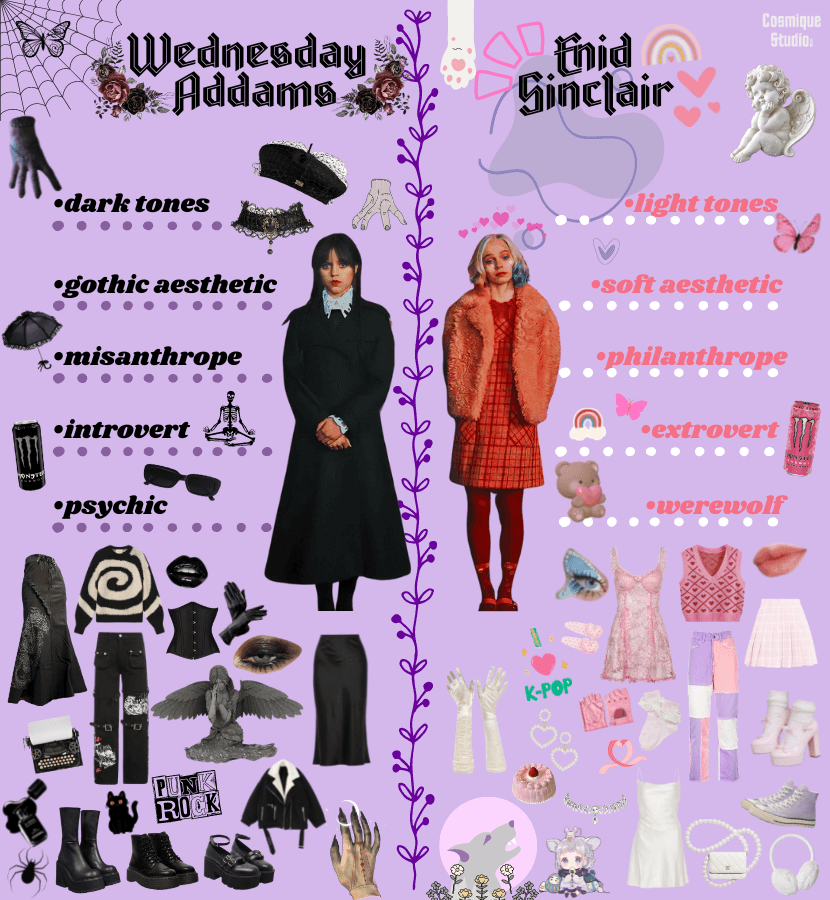 Wednesday and Enid present a close friendship in the Netflix series. That's why they are compared a lot on the basis of fashion and characteristics. Two young girls with different family backgrounds are also very different from each other in terms of character. We see that our protagonist, Wednesday, has to share the same room with Enid, who has the opposite colorful character.
Having to accept her fate, Wednesday is trying to maintain her dominant character with the changes she has made in the room, including the colorful decorations Enid had prepared for her. This is the most important difference, the two young girls have very different aesthetic styles. While Enid gets along very well with colors, Wednesday refuses to wear or use any color other than black. Even the school uniform is redesigned for Wednesday according to her style in black tones.
Just like colors, they differ sharply from each other in terms of emotions. While Enid is a character who can openly express her feelings – even to the extremes – and is not afraid to show her affection, Wednesday refuses to touch or hug someone or have any positive emotions at all. While Enid is tight-lipped with the people around her to show her feelings, Wednesday is an introverted character who is far from all communication. A true sociopath for Wednesday is the right definition. Besides being a sociopath, she is a misanthrope -who dislikes people-, while Enid is the opposite, a philanthrope.
As it is just mentioned, Wednesday uses nothing but black, while Enid is as colorful as can be. In this respect, their aesthetic styles should be the opposite of each other. There are three different possible aesthetic styles for Wednesday. A few aesthetic styles can be mentioned for Enid as well.
Possible aesthetics for Enid are soft girl aesthetic, angelcore aesthetic, kawaii style, and coquette style. Because she is an emotional character, soft-natured, and loves to wear pink tones. Enid does not appear on the screen as a complex character; even though she has her own uniqueness, she is represented as a superficial character compared to Wednesday. Therefore, it is possible to attribute Enid to most soft aesthetics regardless of the aesthetic key values.
Do you want to know to who you are closer in terms of aesthetics and styles? Solve the quiz and find your answer!
What are you thinking? Which character did you identify with in the series, Wednesday or Enid? Be sure to let us know via our social media accounts! Also, if you like these types of content, stay tuned for our following blogs.
Last but not least, do not miss out on following us on Instagram, Facebook, TikTok, Youtube, and Pinterest platforms. You should definitely check out the great content that has been prepared for you. Otherwise, you're missing out on a lot.