THE ULTIMATE VSCO GIRL GUIDE
Posted by Yamourii on Apr 28, 2021
---
What is a VSCO girl?
Although it is similar to the trend of Tumblr Girls, it has its own characteristics. Named after VSCO, a photo editing app, this style has created an identical girls group and it's actually a bit difficult to distinguish them.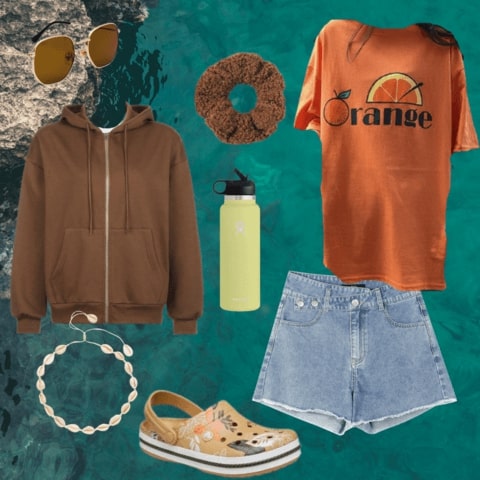 1. VSCO GIRL SOLID ZIPPER HOODIE
2. KOREAN STYLE ORANGE TEE
3. BLUE SOLID FRINGE MINIMALIST CASUAL DENIM SHORTS
Vsco Aesthetic Style became popular, few girls were initially struggling to just make the vsco feed look pretty. Of course, over time, like many other popular trends, Vsco Girls exploded on Tiktok and then started to be seen everywhere with Instagram. These vsco girls, who can be described as environmentalists, have a mission to protect the environment, which is a very nice act. But their way of dressing and speaking is highly judged, and we're divided into those who love them and those who find them annoying.
1. VSCO HIGH WAIST SLOPING STRAP JEANS
2. AESTHETIC STYLE DAISY PRINTED TEE
3. VAN GOGH CLOTH BAG

While we respect everyone's point of view, we love Aesthetic VSCO Girls who are so environmentalist and cute and manage to have an aesthetic style.
What does a VSCO girl wear?
If we have a little idea about these girls, we can move on to the most important part for us! Of course what they are wearing!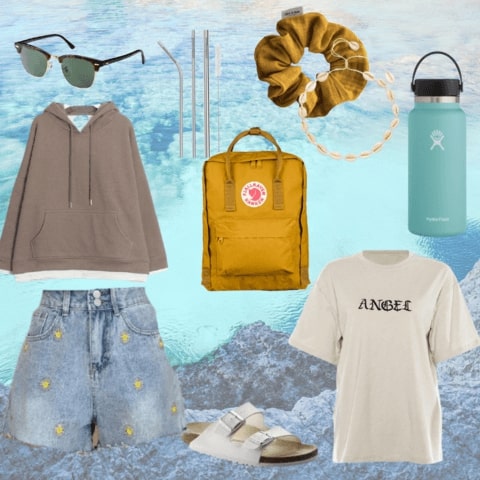 1. EGIRL WARM OVERSIZE HOODIE
2. AESTHETIC SUN DAISY EMBROIDERY DENIM SHORTS
3. COOL ANGEL TEE

We talked about how similar they are to each other. This is because they really wear almost the same things. For this, in fact, it is a style that those who want or prefer a capsule wardrobe will love it very much and can be dressed quite basic by getting rid of excess. This style can be indispensable for you if you live in places like Hawaii, Los Angeles, Florida, where the sun mostly shines!
With a mini denim or sport shorts, an oversized basic t-shirt long enough to hide the shorts, Birkenstock or Crocs sandals, Kanken backpacks, an oversized hoodie that you can put on if the weather is a bit cooler, your style is complete.
What are the must haves for the VSCO girls?
Is that all ?! You might think. Actually, yes vsco girl clothes are that few and comfortable. But the real work is in the details. First of all, a vsco girl wouldn't leave home without Hydro Flask. Because in a lifestyle that aims to save the world, there is no place for plastic! In addition, speaking of plastic, of course, we say no to disposable straws! For this, there are metal, glass and bamboo options, each more beautiful than the other.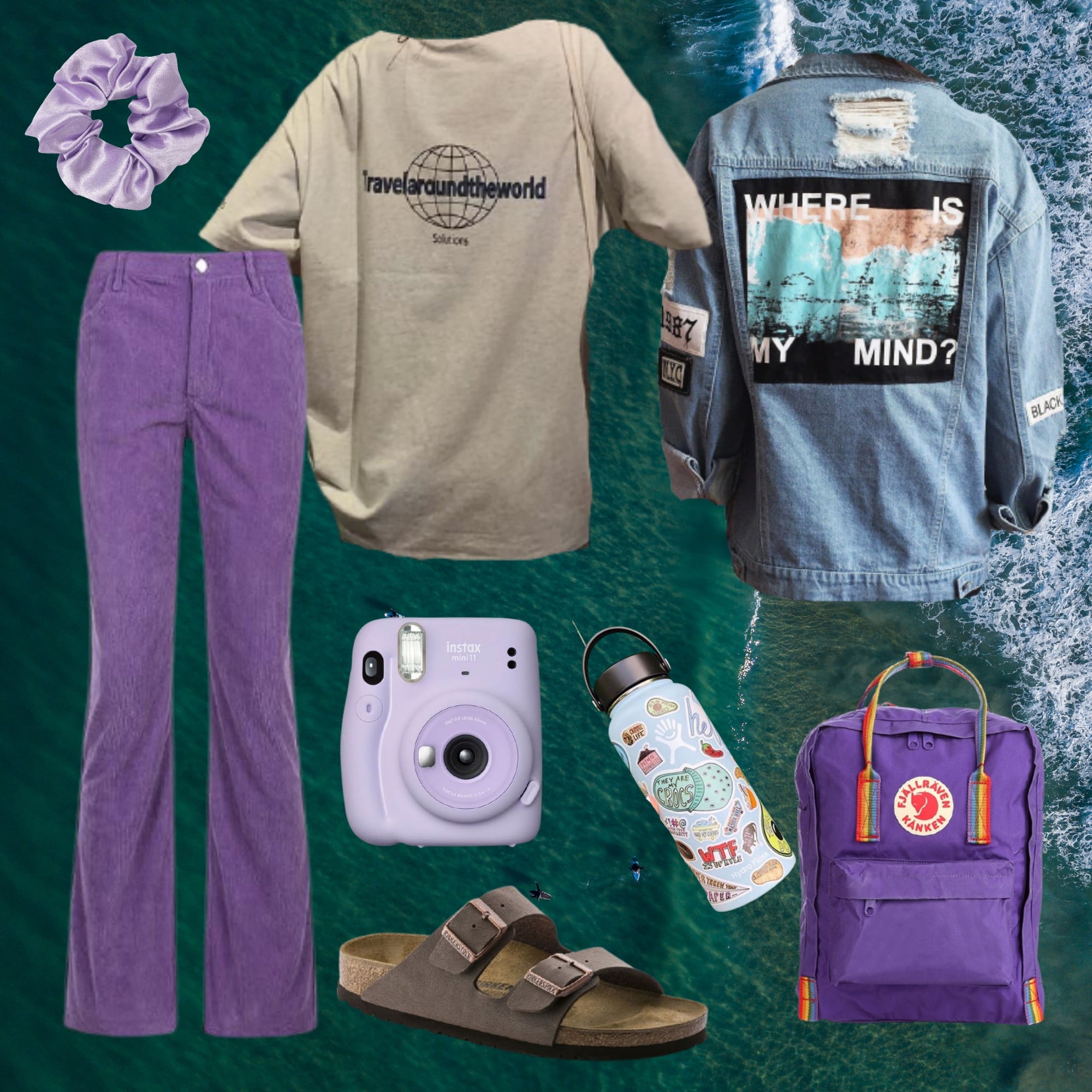 1. VSCO AESTHETIC SKINNY CORDUROY PANTS
2. TRAVELAROUNDTHEWORLD TEE
3. WHERE IS MY MIND DENIM JACKET

Puka Shell necklaces, on the other hand, are a very important detail. It is unthinkable for someone who loves the ocean to wear another necklace anyway.As accessories, you can spice up your style with puka shell details, as well as DIY bracelets, necklaces and rings with luscious color options. You can even customize your jewelry by adding letters between the beads. A vsco girl should have at least one scrunchy tied in her hair or attached to her wrist. If you skip this stage, we can almost say that you are no longer a Vsco Girl! Last but not least, a vsco aesthetic girl should take great care of her personal care. A must-have in a Kanken bag is a Mario Badescu facial spray and a Burt's Bees lip balm.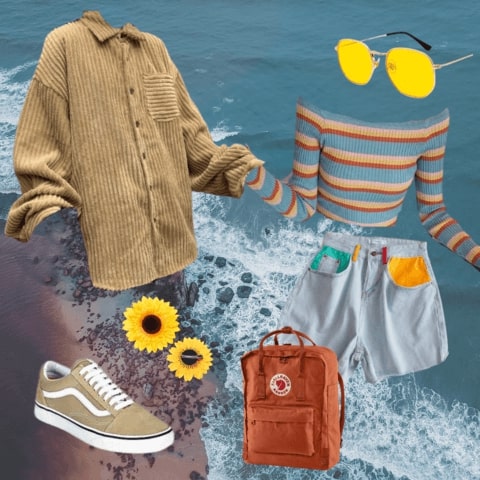 1. VINTAGE WINTER CORDUROY SHIRT
2. ONE WORD COLLAR RAINBOW SWEATER
3. AESTHETIC SOFT GIRL COLORFUL DENIM SHORTS

At the end of all these stages, you will feel like a vsco girl. If you get used to this style and understand all the logic, you will be a vsco girl. Apart from all these general must haves, there is one more optional but very entertaining product, which is an instant camera! In order not to forget your daily clothes, the beautiful memories you share with your friends and sometimes beautiful views, you can pass the beautiful photos you take with your instant camera with the string light and frame and add a beautiful vsco style home decor.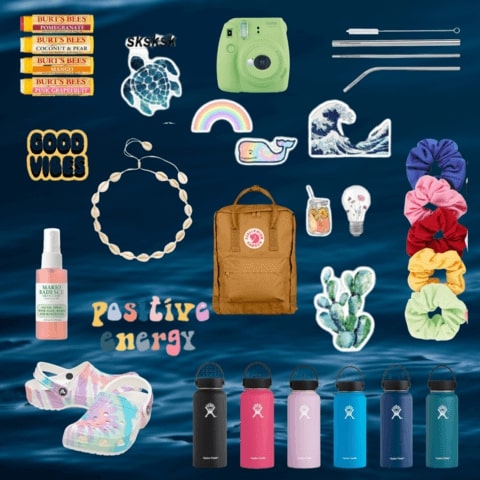 Apart from these, every new and fashionable product suitable for sustainable lifestyle is a new fun for Vsco Aesthetic lovers!
Why do VSCO girls say Sksksk?
Before ending the blog, we said let's clarify the following! "Sksksk" is not exactly a thing. It can be considered as one of the new concepts that social media and online life have brought to us. There are a lot of people who say "very funny" by pressing the keyboard randomly, which I call random laughing, and that is all the vsco girls have brought this to daily life! If it is not an obligation to say "sksksk", what could be more natural than speaking this language of this aesthetic trend that emerged as VSCO, an online app!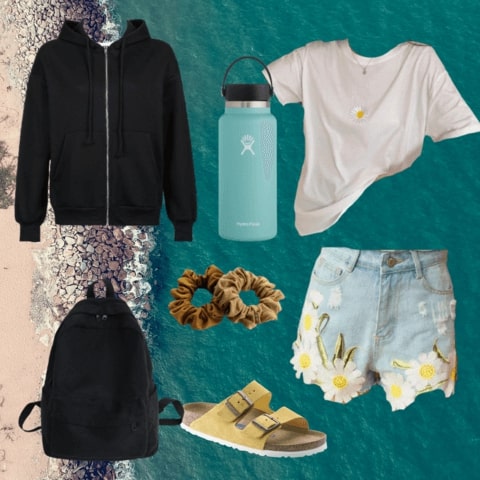 1. VSCO GIRL SOLID ZIPPER HOODIE
2. FLORAL EMBROIDERY DENIM SHORTS
3. AESTHETIC SOFT GIRL EMBROIDERED DAISY TEE


We regularly follow trends and share them with you on our website, instagram and many more social media accounts. We are here 24/7 to provide an unlimited service to my unlimited customers. Stay tuned for more .. And I oop!