HOW TO FIND YOUR CLOTHING AESTHETIC
Posted by Yamourii on May 12, 2021
---
'Aesthetic' is a word we hear being thrown around a lot. If you've ever logged onto TikTok, you'll see millions of videos of people talking about their aesthetic clothing. The cottagecore aesthetic became popular because of Tiktok, with over 6 billion views on videos with the #cottagecore. Your aesthetic is a reflection of your personality. It's wearing your heart on your sleeve. Finding your aesthetic can make clothes shopping more enjoyable and help you curate your dream closet. We're teaching you how to find cute aesthetic clothes that match your personality and which ones to buy first.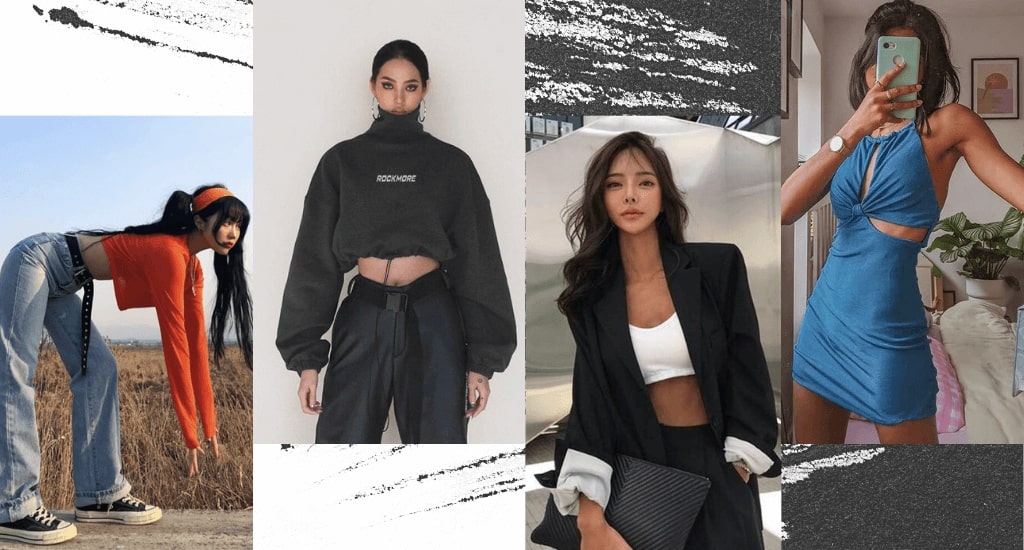 What Is Aesthetic Clothing?
Clothes aesthetic are a fairly recent development in the world of fashion. While we've always had trends and cliches, aesthetics is different. They're more like a way of life. Cottagecore is as much about baking and outdoor living as it is about cute aesthetic clothing. Thanks to Instagram and other social media platforms, 'aesthetics' have become part of how we describe ourselves. While some aesthetics are trends that have become a niche within the industry, others focus on a specific era, like the early-2000s.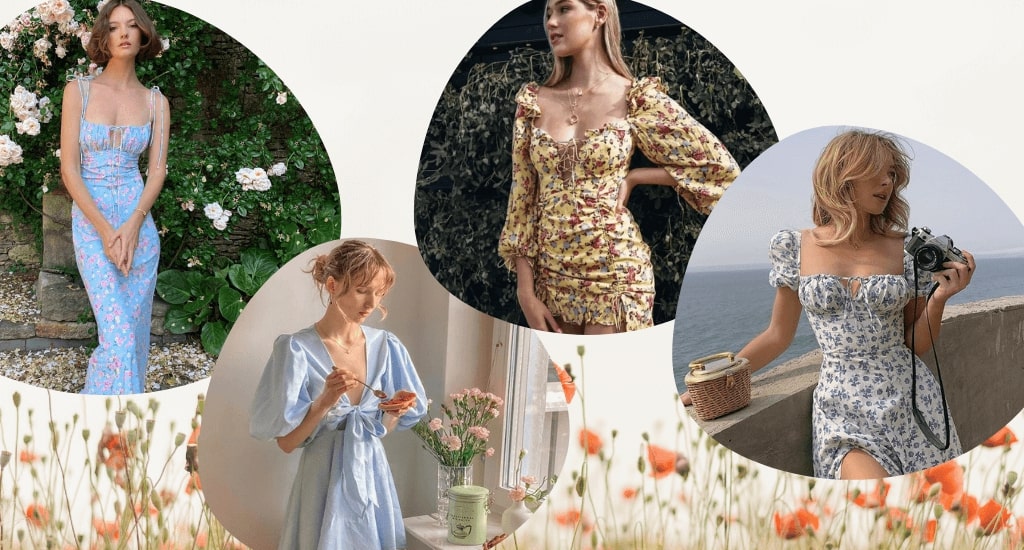 When you have an 'aesthetic', you wear clothing that reflects a specific look. Whether it's the 'soft girl' or 'Y2K' aesthetic, these clothing styles have gone from social media trends to lifestyles. At Cosmique Studio, our store revolves around helping you find your perfect aesthetic clothes. Our cute aesthetic clothing makes it easy to create your dream closet of pieces that reflect your personality.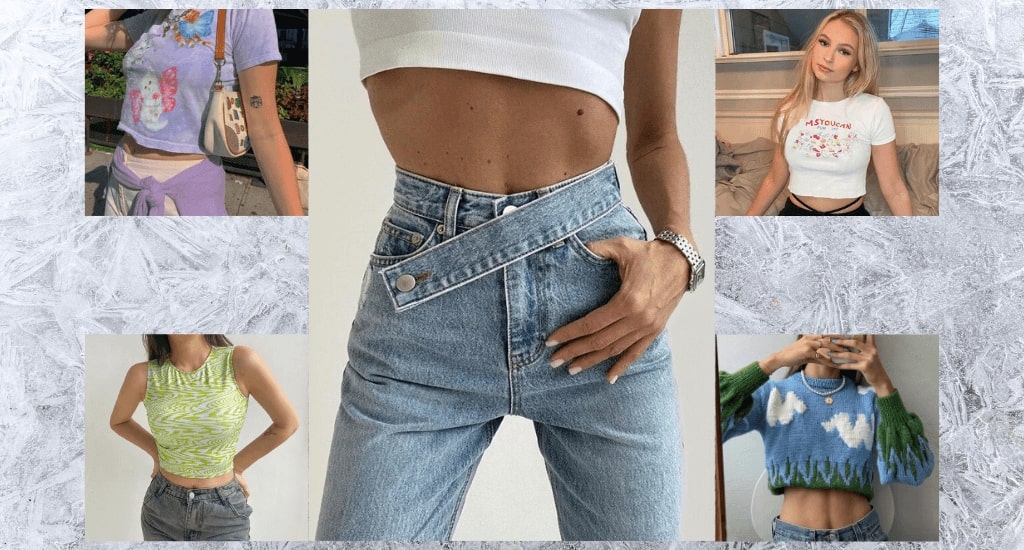 In a world where everyone seems to follow the same trends, having an aesthetic can help you stand out from the crowd. If you're starting to experiment with different aesthetics, you can create a capsule closet dedicated to the look. A capsule closet means you can mix and match your pieces to make dozens of outfits. We're taking a look at some of the most popular aesthetic clothing trends that we offer at Cosmique Studio. Our list also includes tips and tricks on how to perfect these aesthetics and incorporate them into your daily look.
The Indie Aesthetic
If you've got a free-spirited personality and spend your time listening to Lana Del Rey or Billie Eilish, you'll probably fall into the 'Indie Aesthetic' category. There are two categories within the Indie Aesthetic, which changed drastically when TikTok first rose in popularity at the end of 2019. The best way to describe the current Indie Aesthetic is that it's like the start of a "coming of age" film.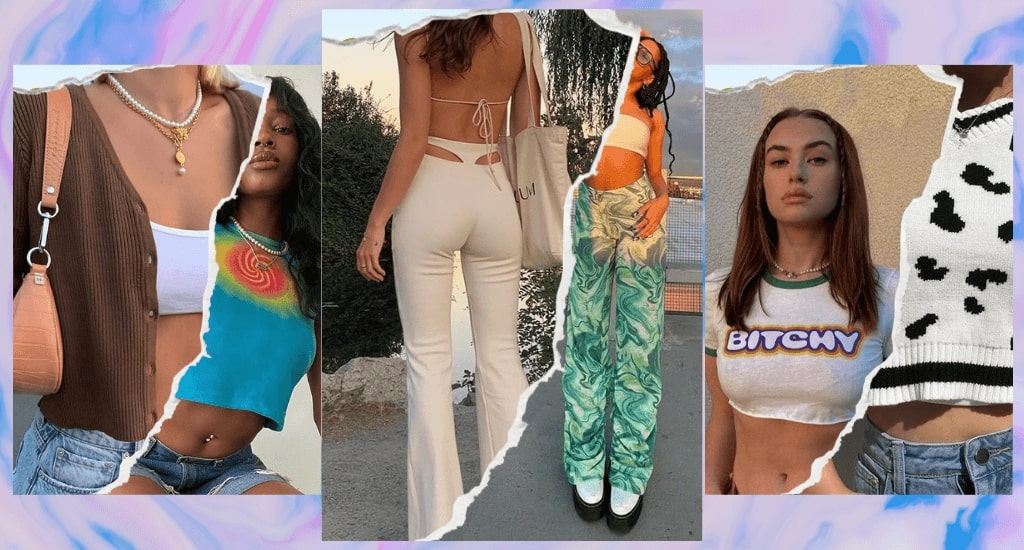 Most people who follow the indie aesthetic dress in bright and oversized clothes, like jeans and hoodies. You'll find people wearing a range of bright colors, with clothing that was popular in the early to mid-2000s. The original pre-Tik Tok version of the Indie Aesthetic focused less on the colorful clothing and was more alternative.
We often link the Indie Aesthetic to the independent music and film scene, with followers of the style often wearing t-shirts or clothing representing their favorite band or film.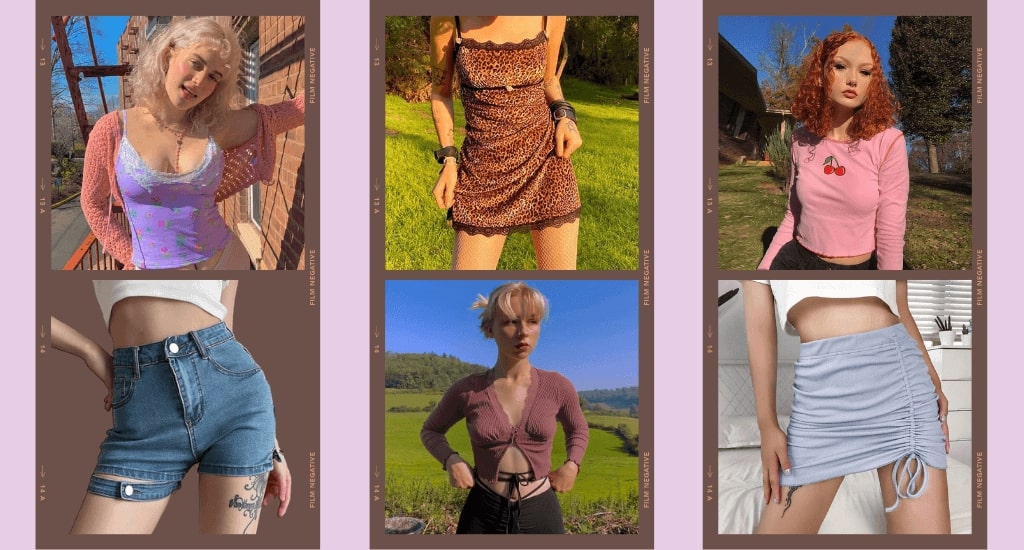 If you're looking to build your indie aesthetic closet, you can start by focusing on the early 2000s inspired clothing, like converse shoes and crop tops. Like most any cute aesthetic, this one has a distinctive makeup look. Heavy blush is the most popular makeup trend within the Indie Aesthetic, followed by bright pastel lipstick and bold hair colors. People who subscribe to the indie aesthetic usually buy most of their clothing through thrift shopping.
At Cosmique Studio, we have all the indie aesthetic clothes that you'll need to build your new closet. A soft knitted cardigan sweater is a must-have, while a black midi dress will see you through any occasion.
The 80s Aesthetic
The 1980s was a crazy decade, making it no surprise that the era has an aesthetic of its own. It's full of bold, vibrant colors, tie-dye patterns, and unique hairstyles. The 80s aesthetic is sometimes known as "synthwave" or "outrun", another cute aesthetic that takes its inspiration from the era – particularly its music scene.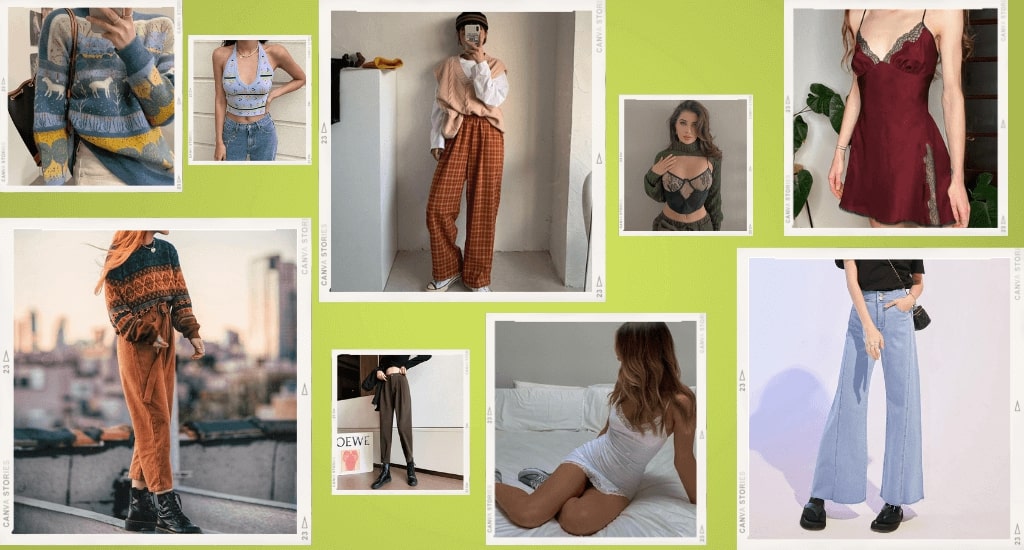 The driving force behind the 80s aesthetic has been pop culture. Most Gen Z and Millennials are discovering 80s trends for the first time through platforms like TikTok and YouTube. Like any vintage aesthetic, the 80s aesthetic provides a form of escapism through the nostalgia of the clothing. You can close your eyes and imagine you're back in the 80s, away from the problems of modern life.
Stranger Things, the award-winning Netflix show, is another reason for the popularity of the 80s aesthetic. Key pieces for the 80s aesthetic include our iconic 'speed demon' t-shirt and Harajuku-style striped sweater. If you're on a budget, you might be able to steal some 80s clothing from your parents' closets.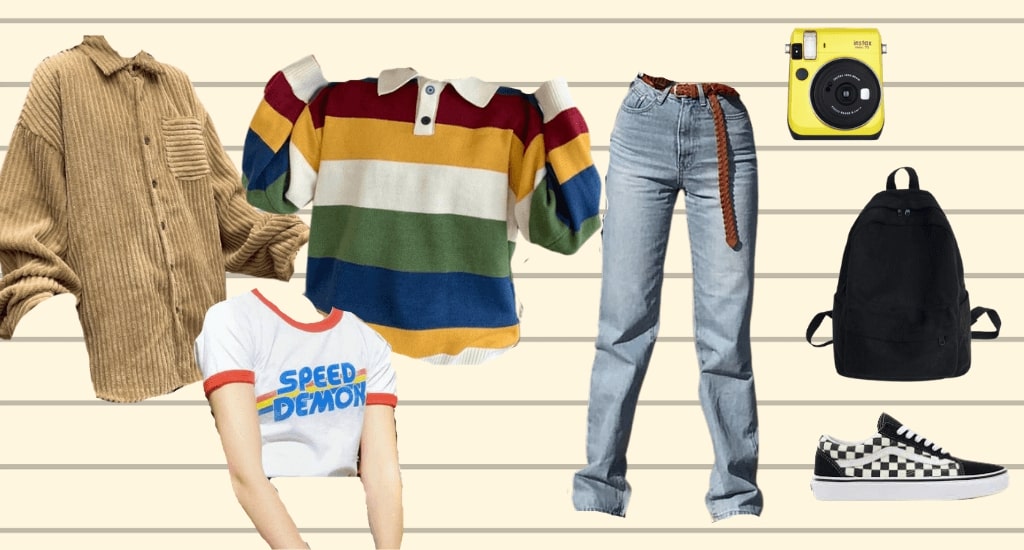 For your 80s aesthetic makeup, the bolder the color, the better. The era was all about big, voluminous hair and crazy curls. Instead of opting for neutral-tone eyeshadows, you want to think outside the box. Blue and purple were two standout colors in the world of 80s makeup. Your eyebrows should be as bold and thick as possible, with a long tail. Like every cute aesthetic, the 80s look includes a heavy coat of blush. You can finish off your makeup with a coat of crimson red lipstick or metallic pink lip gloss. If you're experimenting with the 80s aesthetic, you'll want to make sure your makeup reflects the era.
The 90s Aesthetic
The 1990s is perhaps the most popular vintage aesthetic amongst Gen Z and millennials. It's personified by shows like Friends and The PowerPuff Girls and pop artists, such as Britney Spears and Spice Girls. Like most aesthetics, there are two sides to the 90s look. You have the feminine faux fur-wearing party queen of the 90s and the more laidback 'high school jock' look.
In need of 90s aesthetic inspo? Check out films like Clueless, Pulp Fiction, Notting Hill, and Wayne's World. Cartoons are just as influential in the 90s aesthetic world. You can take inspiration from shows like Hey Arnold, Johnny Bravo, Sailor Moon, and the Wild Thornberrys. As the aesthetic reflects all the trends of the era, you can go from wearing jelly sandals to platform slip-ons, all within the same cut aesthetic.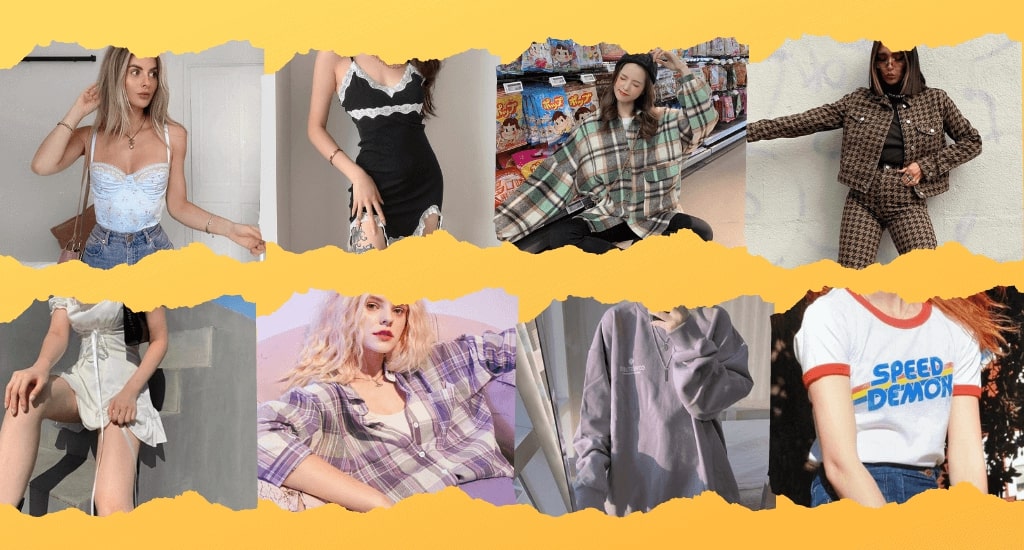 Your classic 90s aesthetic makeup look is glittery lip gloss and pastel eyeshadow, with a bold eyeliner for good measure. If you want an aesthetic that doesn't look too different from today's trends, the 90s aesthetic is the perfect one to experiment with. Our top picks for your first 90s aesthetic outfit include baggy stripe pants, a vintage loose shirt, and an igirl heart necklace.
Y2K Aesthetic
If you think Paris Hilton, Destiny's Child, and low-rise jeans, you won't be far off the Y2k aesthetic. While 2000s trends are now back in style after officially achieving 'vintage' status, Y2K takes it to the next level. The term "Y2K" stands for "year 2000". Another source of inspiration for the Y2K trend is the popular Bratz Dolls, which capture the glamorous and quirky look of the aesthetic.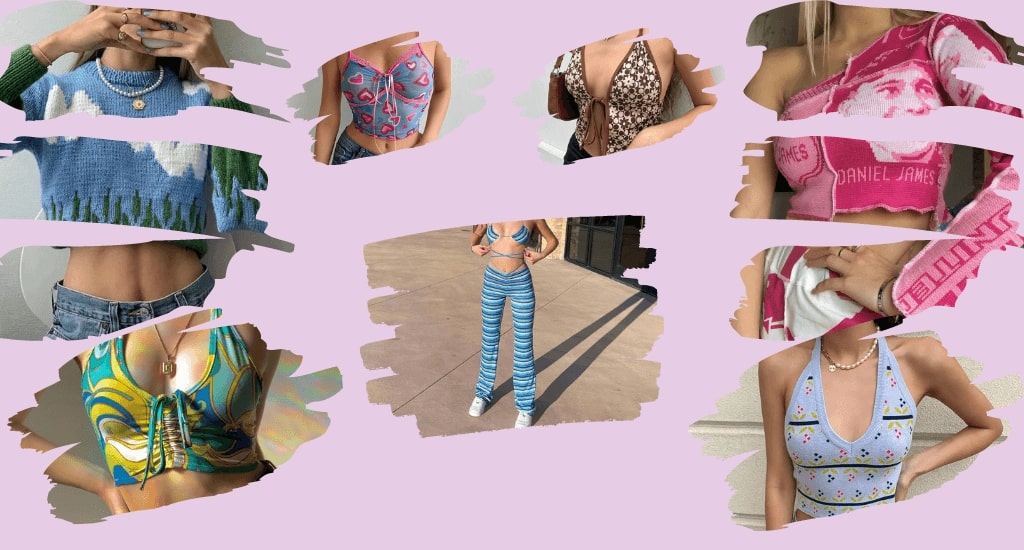 For a vintage aesthetic, the Y2K aesthetic is the easiest to recreate, as most of the iconic brands are still sold today. If you've ever wanted an excuse to rock a vintage Louis Vuitton pochette as a handbag, then the Y2K aesthetic is for you. With the Y2K aesthetic, you want to imagine it's the year 2000 again.
Are you in need of some Y2K aesthetic inspiration? The @2000saholic is the perfect place to start, giving you an overview of the trends that made the 2000s so iconic. The Instagram page has over 250k followers, showing how popular the Y2K aesthetic is.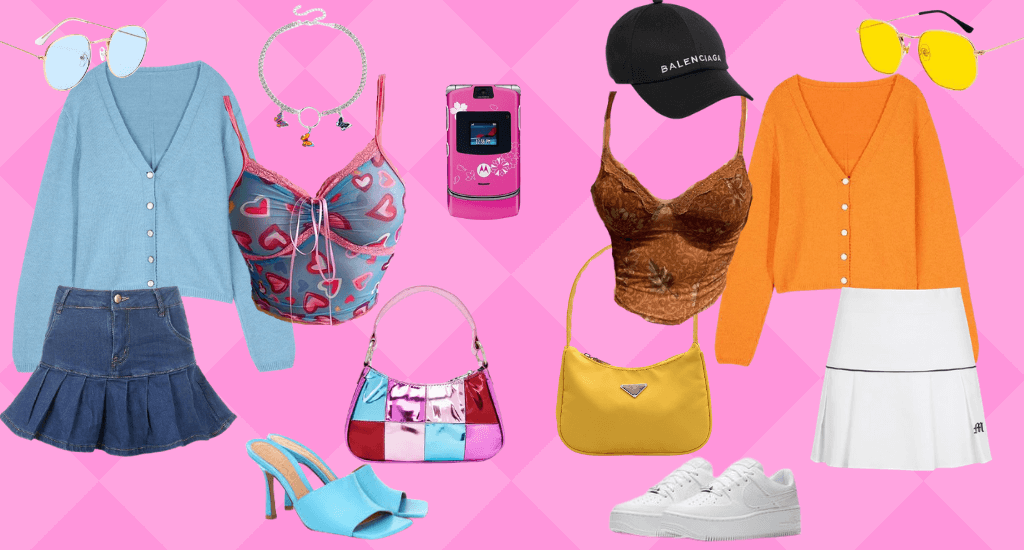 One thing that stands out about the Y2K aesthetic is its focus on the luxury-focused consumerism of the late 90s and early 2000s. You'll want at least one designer t-shirt – like the iconic 'J'Adior' shirt – in your closet.
Some of our top picks for the Y2K aesthetic include a classic heart crop top and patchwork leopard mini skirt. If you're getting started with the aesthetic and want to focus on accessories, our Harajuku aesthetic butterfly necklace is a must-have for any fan of the Y2K aesthetic.
The VSCO Girl Aesthetic
The term 'VSCO Girl' comes from the popular photo editing app, pronounced 'visco'. The classic outfit for this aesthetic is high-waisted jeans with an oversized t-shirt, matched with Birkenstocks or classic white sneakers. You'll usually find a VSCO girl walking around carrying a Hydroflask water bottle, wearing a seashell necklace, and with their hair tied up in a scrunchie.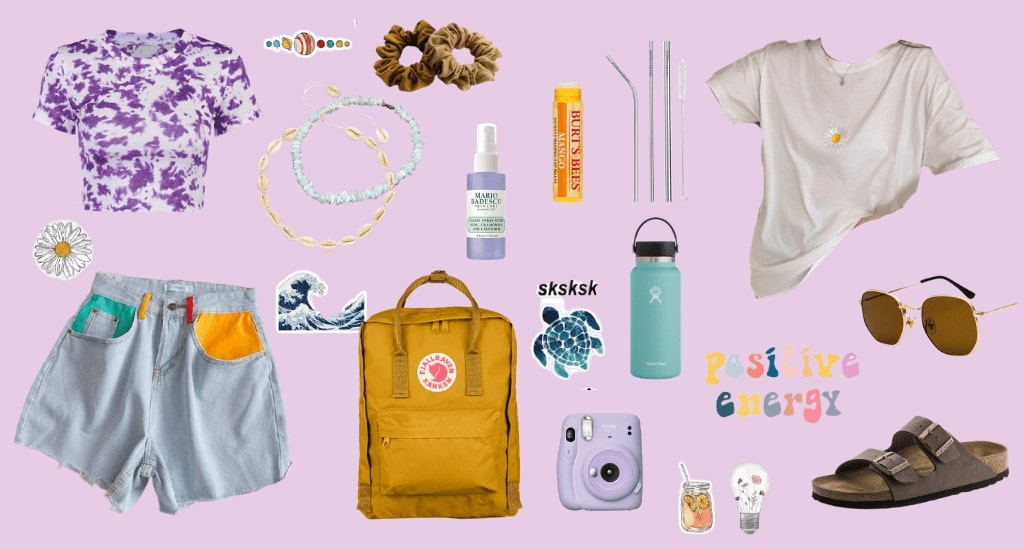 VSCO girls aim for a 'basic', laidback, and casual look. The aim to make your outfit look as effortless as possible – like you've just rolled out of bed or finished binge-watching Stranger Things on Netflix.
A staple piece for the VSCO girl aesthetic is a classic knitted three-piece set. You can accessorize it with pieces you'll already have in your closet, like sneakers and statement gold jewellery. If you're someone who loves hitting the town and going out with friends, you'll want to pick up a VSCO aesthetic sexy mini dress. Embracing the minimalism of this cute aesthetic can make it easier to find pieces that you can incorporate into your existing closet. At Cosmique Studio, our aesthetic clothes include an extensive collection of VSCO girl pieces.
Soft Aesthetic
A similar aesthetic to the VSCO Girl is the 'soft girl'. It's the VSCO girl aesthetic with a pastel twist. This aesthetic is one of the latest to hit the mainstream on social media. You can describe it as minimalistic with a pop of color.
Instead of opting for basic color schemes, this aesthetic revolves around an ultra-romantic look, focusing on feminine shades and floral clothing. This aesthetic isn't a ladylike one. It's as laidback as the VSCO girl look. You'll still find more contemporary pieces within this aesthetic, including baguette bags and chunky ankle boots. The name 'soft girl' comes more from the aura you produce than the clothes you're wearing.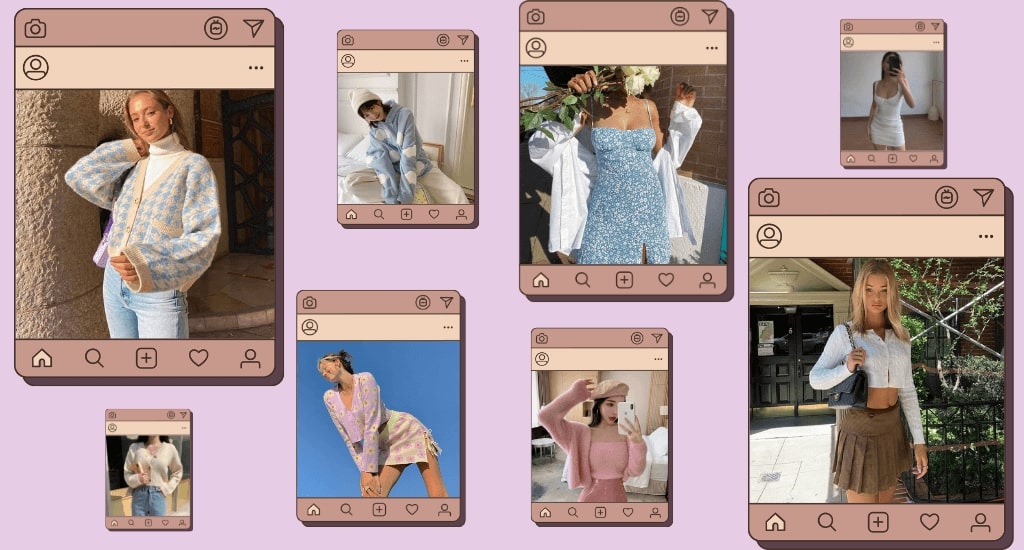 Don't be afraid to embrace your cute aesthetic and add fun accessories like heart necklaces and crystal necklaces. The soft girl aesthetic for makeup is also simple and minimalistic, with a focus on creating a dewy glow. You want to stick to clear gloss with a pink or red tint, adding a touch of blush to give your cheeks a healthy flush. You can even add some fake freckles to your cheeks.
If your new favorite show is Bridgerton, the soft aesthetic will likely be right up your street. A soft girl aesthetic essential is our square neck ruffled crop top and kawaii butterfly embroidery mini skirt. With these two closet staples, you'll be able to mix and match them with existing pieces in your closet for an easy soft girl aesthetic.
How to Start Wearing Aesthetic Clothes
When you find the right aesthetic for you, there's no need to out and buy an entirely new closet right away. Part of the fun of finding an aesthetic is experimeHow to Start Wearing Aesthetic Clothesnting with different styles. If you're attracted to an aesthetic, you likely already have a few suitable pieces in your closet. The best way to start your journey with a new aesthetic is to purchase a few staple pieces.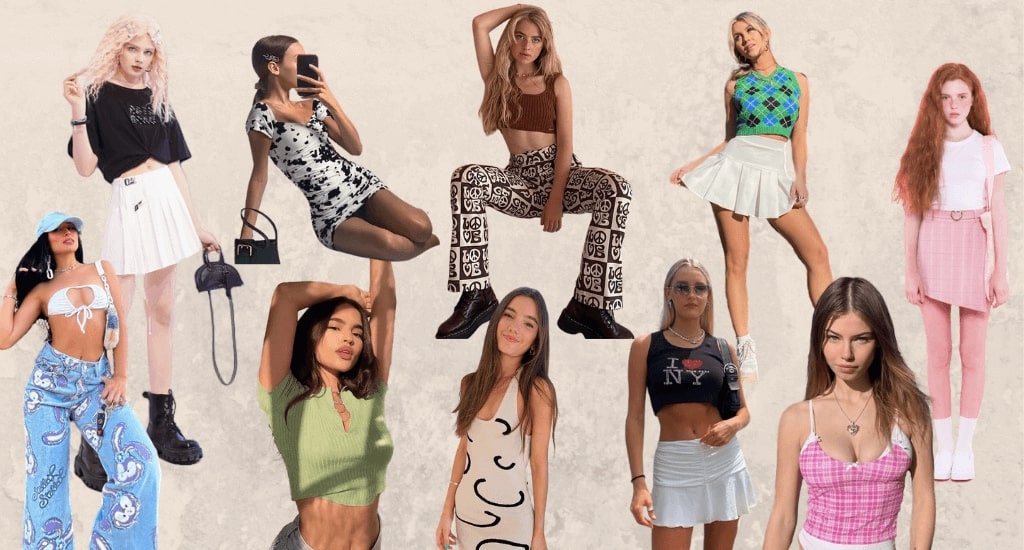 If you're a Y2K aesthetic fan, you can purchase a cropped graphic t-shirt or lace mini skirt. You can start by incorporating these pieces into your daily look before making the transition to the aesthetic full time. Don't feel like you have to stick to one aesthetic. Have fun with it! It might take some trial and error, but you'll find the cute aesthetic that works for you – or you might come up with your own.
You can start your aesthetic clothes shopping on the Cosmique Studio website. We've categorized our store by aesthetic, making it easier to find the pieces that'll work for your new look.
What's your aesthetic? Has our list inspired you to try out a new look? Let us know in the comments below!