How To Be Kawaii ?
Posted by Yamourii on Mar 02, 2021
---
What is Kawaii, how did it all start?
Kawaii (か わ い い) means cute, adorable. It is a great flow that includes feelings of love, care and protection.
The Kawaii culture started in the 70's with different styles of handwriting by young girls in Japan. started. This typeface has been given many different names such as marui ji (round writing), koneko ji (kitten writing) and burikko ji (fake child writing). This unusual writing style was not only different, it was also extremely difficult to read. For this reason, this writing style was banned in many schools.
Later on, in 1974, with the "Hello Kitty" character created by the Sanrio Company, the Kawaii style started to attract great attention, especially in Japan.Sweetness prevails in every part of Japan. Pink candy bowls and childishness have become indispensable from clothing, entertainment, behavior, personal appearance. With a large and striking head and eyes, we can say that everything pastel with a delicate body is Kawaii.
Being childlike and youthful is one of the basic building blocks of the Kawaii style. Other important general features of this style are looking dependent on others and fragile, as well as constantly giggling and smiling.
Not only young people but all of Japan easily adopted this style, due to fundamental factors such as working hours and living conditions in Japan. Thanks to this trend, people can put aside the difficulties of their routine lives and live a cheerful life like cartoon characters. For this reason, many companies and institutions have created Kawaii mascots and they keep the Kawaii spirit alive in everything in their daily lives.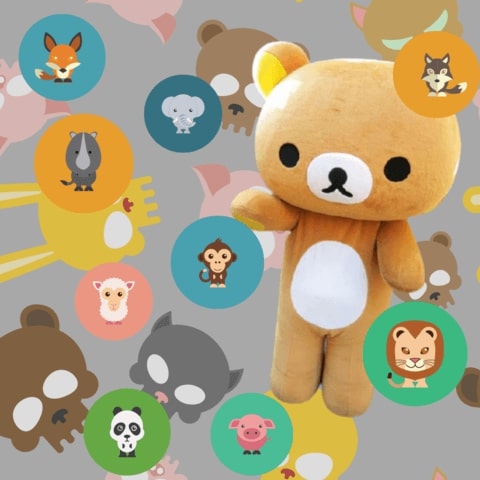 We understand the origin of the Kawaii style and why it is so loved by everyone.
So what are the unwritten rules to follow in order to be and live a Kawaii life?
1.Forget everything that is not under our control, such as race, ethnicity, sexual orientation, religion, body shape, and that does not change or need to be changed!
Of course, all forms of discrimination are very bad. Not only for the Kawaii style, but to be a good person, one needs to be egalitarian and understanding first. My favorite feature of Kawaii is that it forces you to be a good person. Always be sweet, understanding and kind to yourself first and then to people.
This goodness and beauty that I mentioned starts with you, of course. To embrace this lovely, good girl/boy spirit, you must first have a high self-love. The more you treat yourself with respect and courtesy, the more you treat your environment and people treat you the same way.
2.Always dress cute and childish, using every color of pastel tones.
Of course, dressing like a candy girl is our indispensable rule. You can adapt the pastel shades of your favorite colors, even black when appropriate, to your sweet girl concept. Pleated skirts, anime print crop tops or sweaters are among those you can choose the most. Pom Pom outfits, heart patterns, polka dots, plaids are the details that will color your kawaii aesthetic.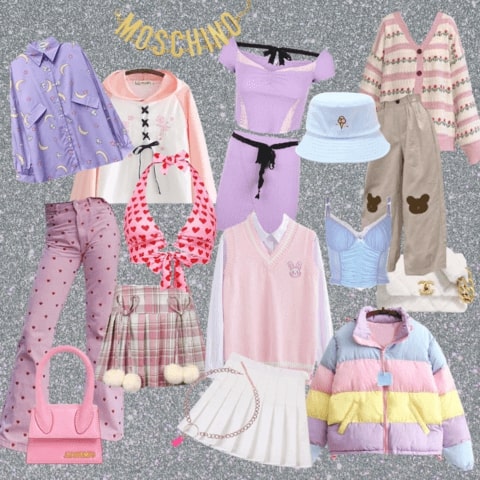 3.Don't hesitate to put on a kawaii girl makeup that reflects your style!
First thing I have to say is that sexy makeup with smokey eyes and red lips that you see everywhere is not for this style. Put aside everything you know about this makeup! Kawaii style means pastel colors, a bright face, light colored lip balms, and eyeliner and dip-liners that will bring out your eyes and make them look big.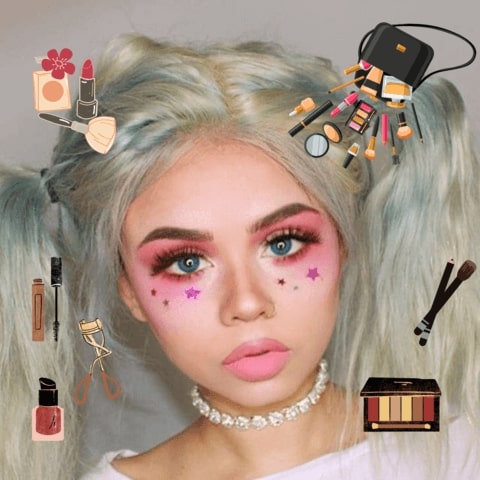 4.Don't forget to add details such as fake nails, lenses and wigs that reveal the kawaii spirit.
As I mentioned earlier, you are free to do whatever you want to be like an anime character, an unreal toy! The most preferred ones are; False nails and nailart, false eyelashes, wigs you can choose in the color and model you want, and of course lenses in various colors and shapes that help you change your eye color!
5.You can determine your style by getting inspired by the kawaii anime you follow and try to be like them.
Free yourself in this area. All kinds of Kawaii Anime Girl movies and TV series that you like, think their style suits you, or that you enjoy watching, are at the top of the list of indispensable areas for inspiration.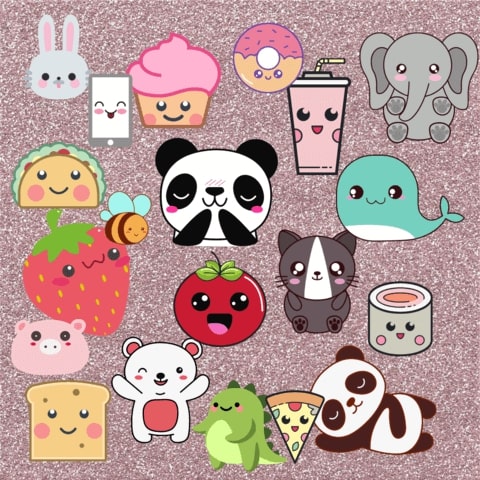 6.Find K-pop and J-pop role models and follow them on social media. Always keep your style updated thanks to innovations and trends!
Rather than Kawaii girl anime inspiration, it is very easy to find accounts related to k-pop and j-pop, you can reach more people and styles than you can think of through hashtags from applications such as instagram, pinterest, tiktok. The area that I suggest you make the most use of for inspiration and improving your style is of course social media!
Follow for more!
Of course, the part I can't go without mentioning is Cosmique Studio! Follow us on both our Instagram account and online store. For kawaii and many more styles, you can take advantage of our wide variety of products. Don't forget to check out our other blog posts to learn about other styles! You can write all your requests, suggestions and questions as a comment. If you found this article informative and enjoyable, please share it with your friends! Thank you for your interest!