HOW CAN A GIRL LOOK EDGY?
Posted by Yamourii on Jun 12, 2021
---
Although edgy aesthetic sounds like a very sexy, very rebellious and very cool style, the truth of the matter is not that exaggerated. The most distinctive feature of the Edgy aesthetic style is all the rebelliousness and the abundance of femininity in addition to the grunge style. How about taking a closer look at this edgy fashion that goes to places never been before?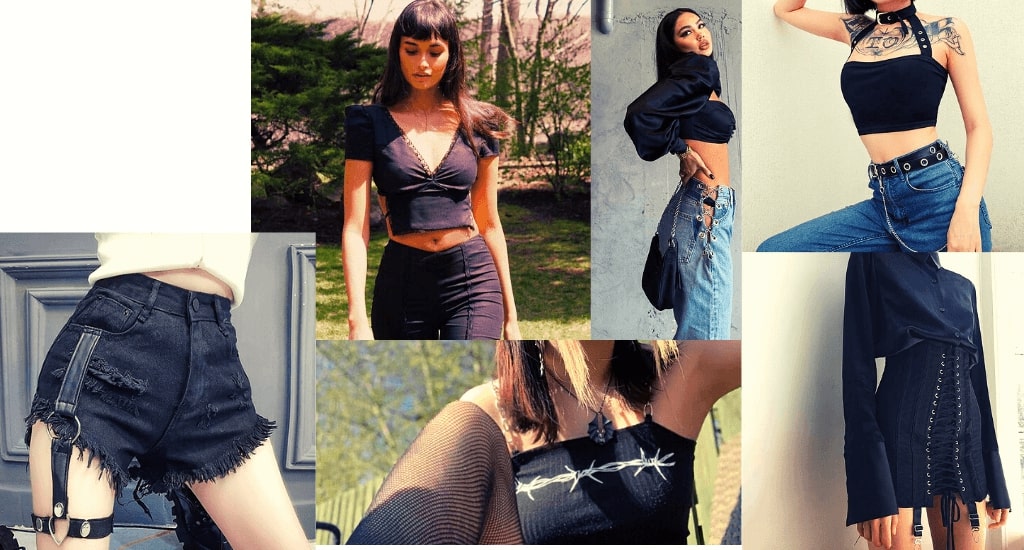 What are the basic steps to become an edgy girl?
To become the Edgy Girl, you have to remove all boundaries from your mind. Removing these limits is not always easy. So the first step might be to push and expand these boundaries a bit. In fact, when we look at sharp aesthetic clothing, we can think of a good mix of aesthetic styles such as gothic, grunge, e-girl. And as you can imagine, in order to wear a mix of these styles, it is necessary to stretch the fashion rules a little and get a little rebellious.
There are some clear lines you need to follow to become the Edgy aesthetic girl. You can create a unique edgy girl with some alternatives that you can fit them into your style over time and add them according to your own taste.
#Statement
The first step and in our opinion the most important thing is to make yourself known. When you enter a room or an environment, it is essential to have a style that will attract all eyes. For this, it is very important to bring together the best designs and the most compatible parts.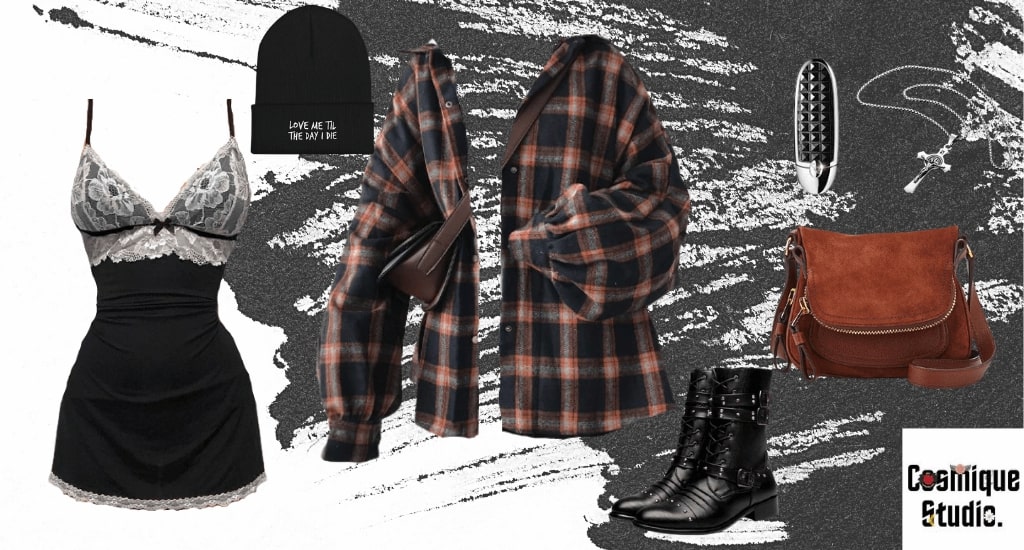 #Blackonblack
If you have such a rebellious and sexy style of dressing, you should be good with black. Of course, you can add colors to your outfit and create more harmonious different combinations. But always indispensable black color will be your permanent savior. By wearing black on black, you can easily adapt your daily outfit to the edgy aesthetic style.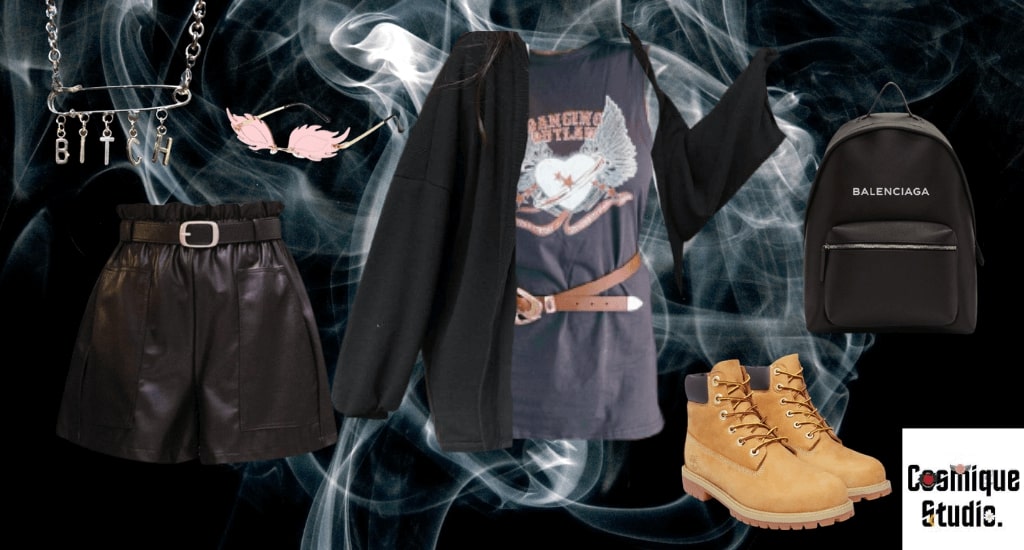 #Skinnyjeans
The third rule of thumb is skinny jeans. Regardless of light or dark color, at least one skinny jean covering your legs and hips in which you feel good should always be ready in your closet. Your star piece that you can combine with many different top alternatives such as leather jackets, crop tops, loose shirts is skinny jeans.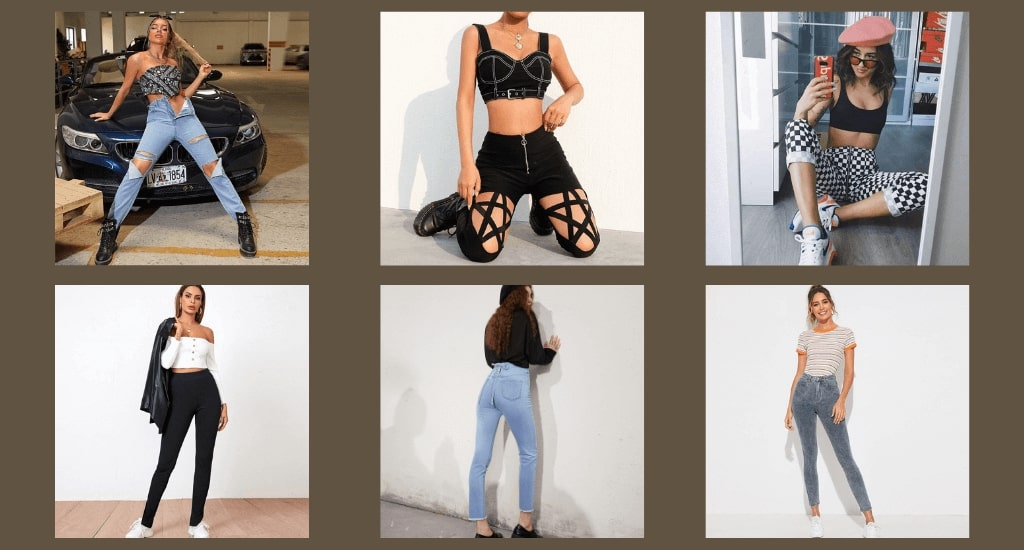 #Jackets
While continuing with the basic rules, jackets welcome us in the fourth row. You have two options here; Denims or Leather Jackets. In Edgy aesthetics, these two fabrics will save your life. Regardless of the season, leather and denim jackets that you can add to your combination will be more useful than you think. You can create a very simple yet striking and at the same time timeless combination with a printed denim jacket on the back. Or you can quickly get ready for the evening with a crop leather jacket and high waist jeans.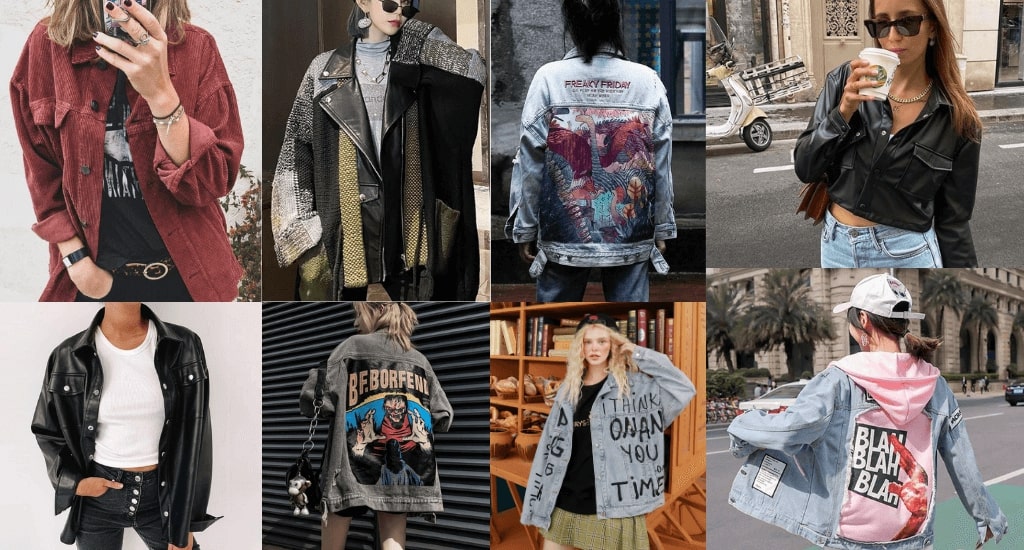 #Shoes
The last link of this chain of rules, which we can expand under many more headings, will be shoes for now. Of course, shoes are indispensable in outfits of every aesthetic style. The first item that edgy style lovers should add to their shoe cabinet may be a pair of boots. You can choose the one that suits you best among the beautiful boot options of many brands. In addition, a high-heeled shoe is a sought-after part of your evening wear, so do not think of a closet without heels. And our latest model in Top 3, a sneaker, preferably a Converse or an Old School Vans will be suitable for you.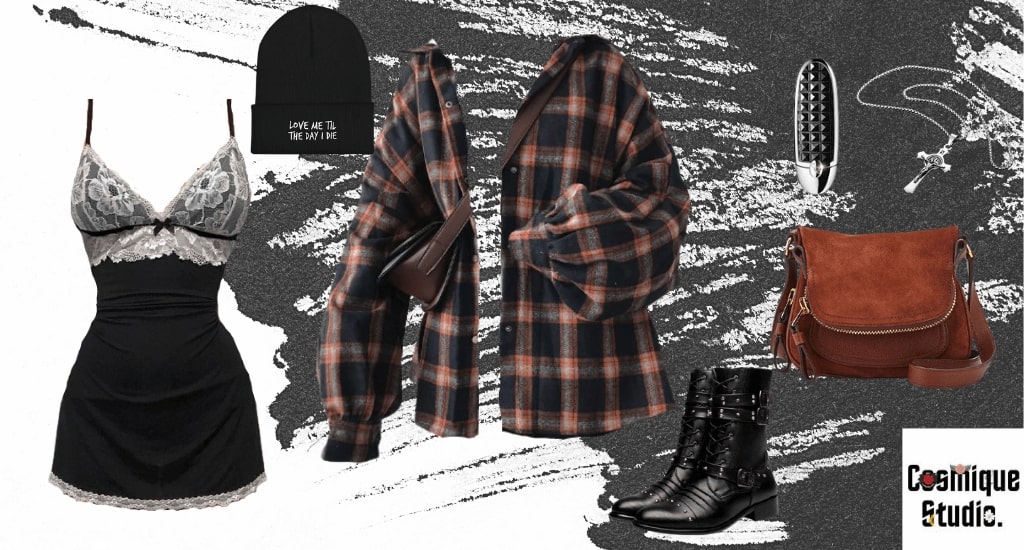 Always more for Edgy Aesthetic
As I said, the rules and suggestions we have gathered under these five main headings can of course be multiplied. But this is how we listed the beginner level information you need to know about Edgy Aesthetic Wear. In addition, I can give you a few bonus tips! You can easily combine the printed t-shirts of my favorite rock bands, especially the oversized ones, with skirts, shorts, trousers, anything you can think of, and you're sure to start looking edgy before you even realize it. You can add a little more sexiness and femininity to your outfit by wearing especially black fishnet stockings with skirts and shorts. In this way, even if your outfit is very simple, you will enter an edgy aesthetic style. You can add tiny sparkles to your outfit by using chain-detailed shoulder bags or leather backpacks. Especially if you are wearing a simple and single color, maybe you can get a more attractive and tasteful look with a few accessories in slightly different tones.
After all we have mentioned, I am sure that you have thousands of combinations in your mind about the edgy aesthetic style. You will see the outfit ideas we have prepared for you with Cosmique Studio products. Don't forget to share your favorite one with us in the comments!
EDGY AESTHETIC OUTFIT IDEAS
1.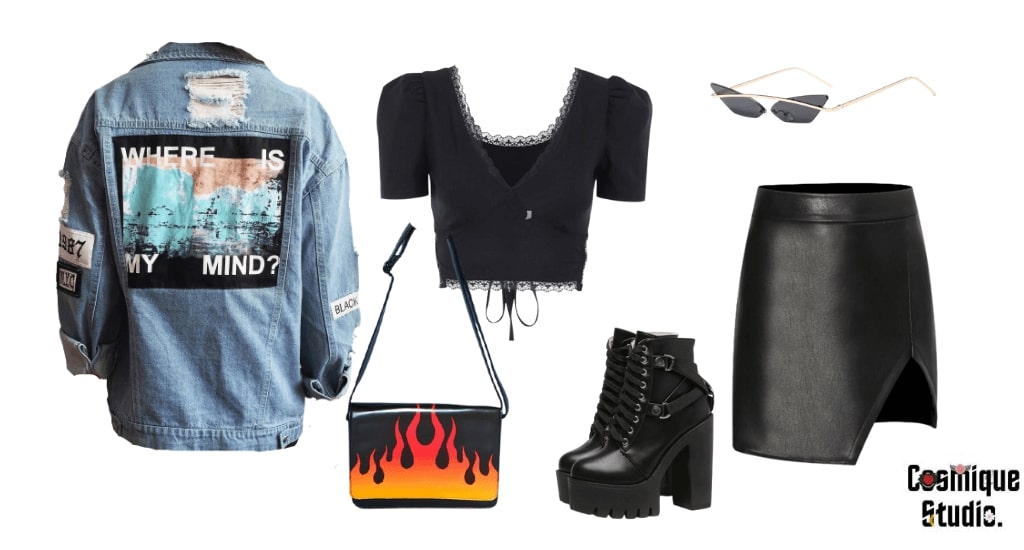 SEXY BLACK PU LEATHER SPLIT MINI SKIRT

EDGY AESTHETIC LACE BLACK CROP TOP

2.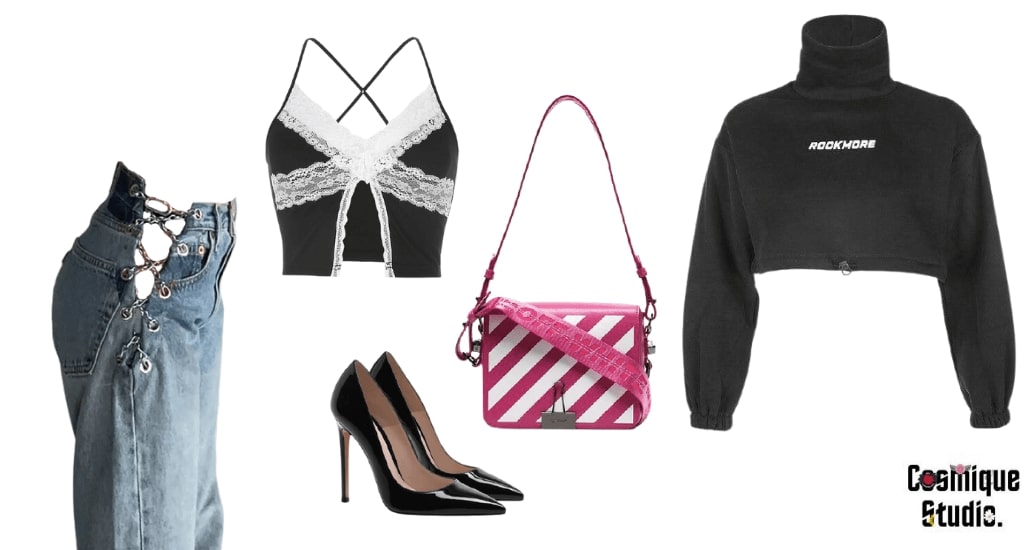 Y2K AESTHETIC LACE BLACK CROP TOP

EGIRL AESTHETIC ROCKMORE TURTLENECK SWEATSHIRT

3.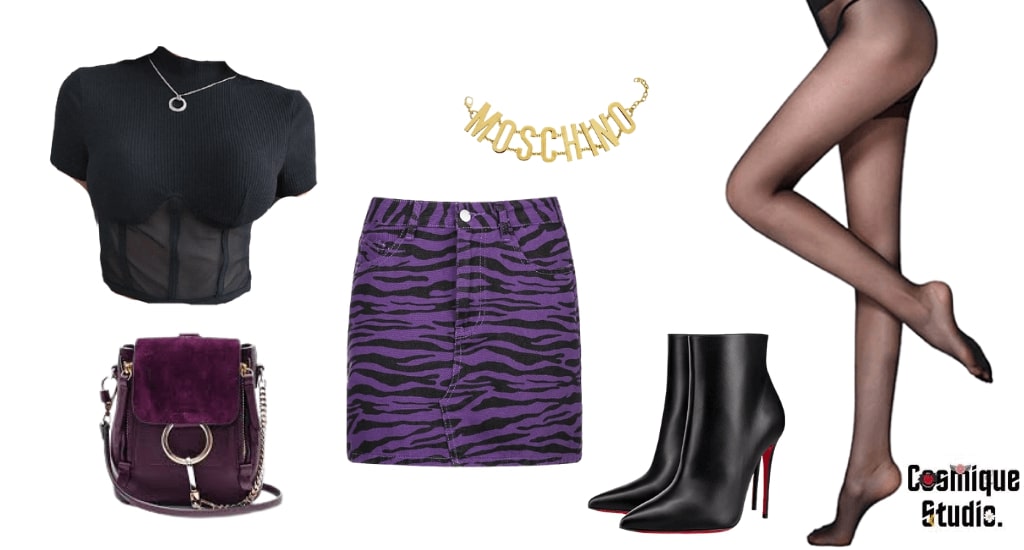 EDGY TRANSPARENT BOTTOM BLACK CROP TOP

EDGY AESTHETIC ZEBRA PURPLE SKIRT

4.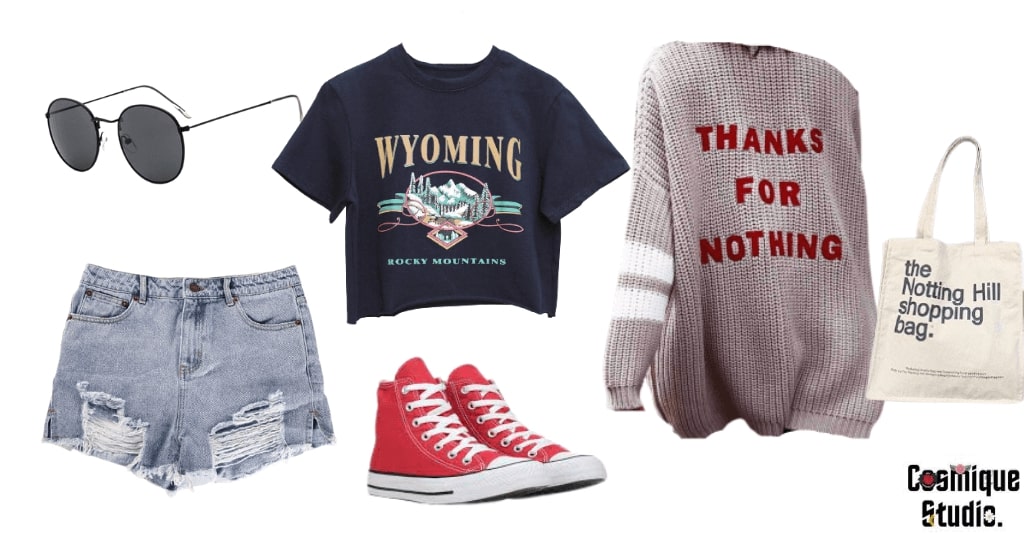 THANKS FOR NOTHING LONG SWEATER

EDGY AESTHETIC RIPPED OUT BLUE JEAN SHORTS

5.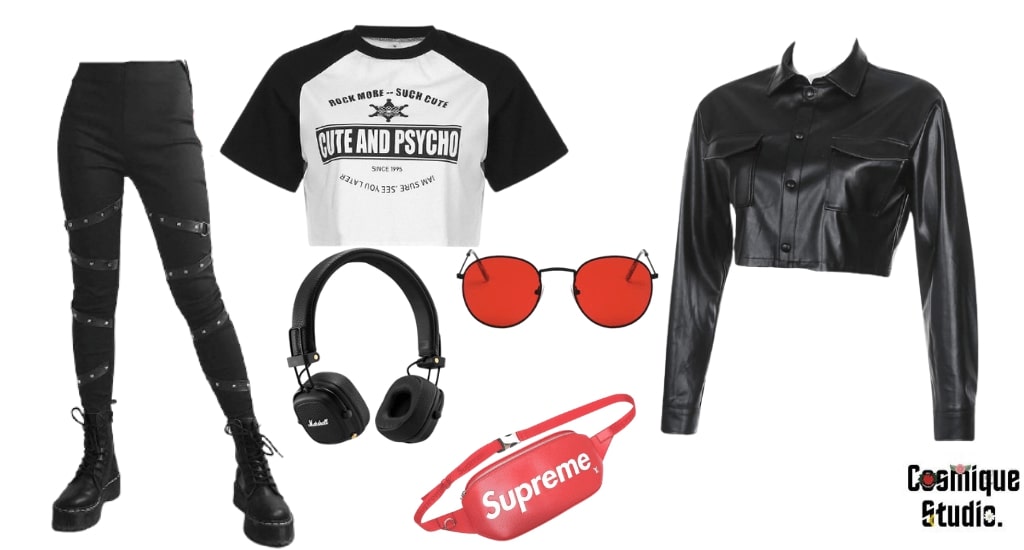 EDGY OVERSIZE CUTE AND PSYCHO WHITE CROP TOP

GRUNGE EYELET STRAP HIGH WAIST SKINNY PANTS

STREETWEAR EDGY CROP PU LEATHER JACKET