3 EASY STEPS TO HAVE AN ANIME STYLE
Posted by Yamourii on May 02, 2021
---
What is Anime Style?
When you say anime style, you can think of two things; Looking like anime or wearing anime-printed clothing. Actually, we can say that both are correct. Anime series and movies, one of the most important and popular aspects of Asian Culture, are also very important to us.

Instead of capturing the animated characters and their soul to television and computers, we can bring the aesthetic anime style to our daily lives and keep our favorite characters alive.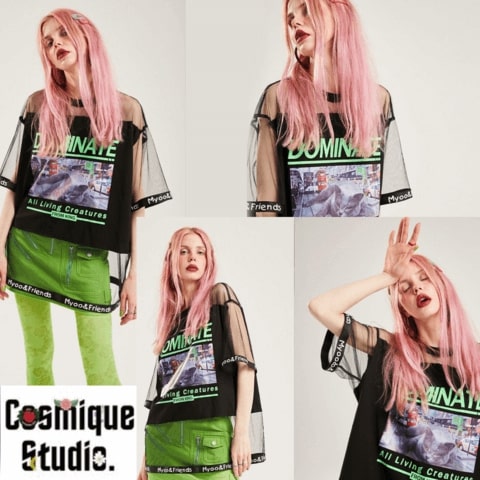 You don't need a lot of in-depth fashion knowledge to create an aesthetic anime style. You will see how you can reflect the anime style more easily with the tips we will share with you only on this blog.
How to find your Aesthetic Anime Style?
For this search, it is important to first determine what you like and what style of clothes you wear. Because anime style can be in colorful and pastel tones like kawaii aesthetic style, or you can also dress in black like grunge aesthetics.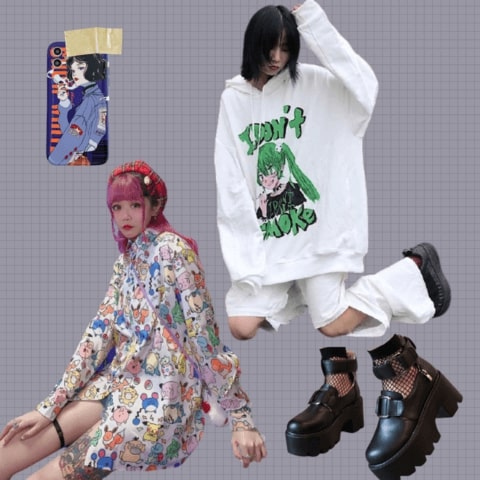 1. KAWAII ANIME GIRL I DONT SMOKE HOODIE
2. KAWAII POKEMON PRINT CHIFFON SHIRT

Wear what you love, love what you wear! If you put this thought in your mind, you will be happy no matter what style you embrace, and it will not be a challenge for you to make outfits and follow fashion. You will especially prefer anime printed products, of course, you must love what you wear, any character you enjoy watching or you like in style will make you happy. But if we need to specify. Of course, you don't have to know and watch everything you wear. Anything you like the look of or think you can make a beautiful combination can be a part of your anime aesthetic outfits.
Well, let's say you don't know much about anime, but you still want to wear these aesthetic anime outfits and be a part of this trend. Then the best thing you can do is do a little research on google and spend a lot of time on pinterest. Of course, you can take the first step into anime style by purchasing our products with the tips you can get from our blog. You can get inspired by looking at the aesthetic anime outfit ideas we have prepared for you, and even make your job easier by purchasing many of them from our site.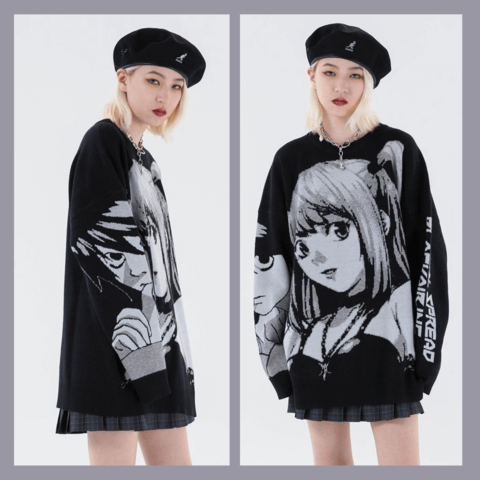 Now let's get to our main point! 3 easy steps to follow to adopt the Aesthetic Anime Style in the best and easiest way;
1. Don't be afraid of mixing colors!
In anime style, you can use lots of black colors and tones if you want. This won't seem awkward at all, and it's the easy part. You can get a minimal but right style with a couple of anime printed tees and sweaters. But if you want to do justice to this style and wear different and remarkable clothes that reflect this style well, be ready to play with colors. You can combine many vibrant hues, or wear monochrome outfits using shades of the same color. The choice is all yours, never hesitate to use colors that you feel good and comfortable about!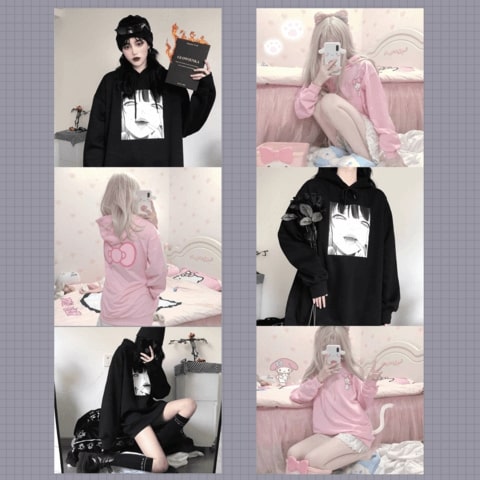 1. EGIRL ANIME PRINTED EDGY HOODIE
2. KAWAII PINK ANIME HOODIE
Or if you have a girl group, it's the funniest and cutest thing you can do. Everyone will buy each other a pokemon character hoodie. You can also wear your hoodies as a group and take many more beautiful photos like this and beautify your Instagram feed!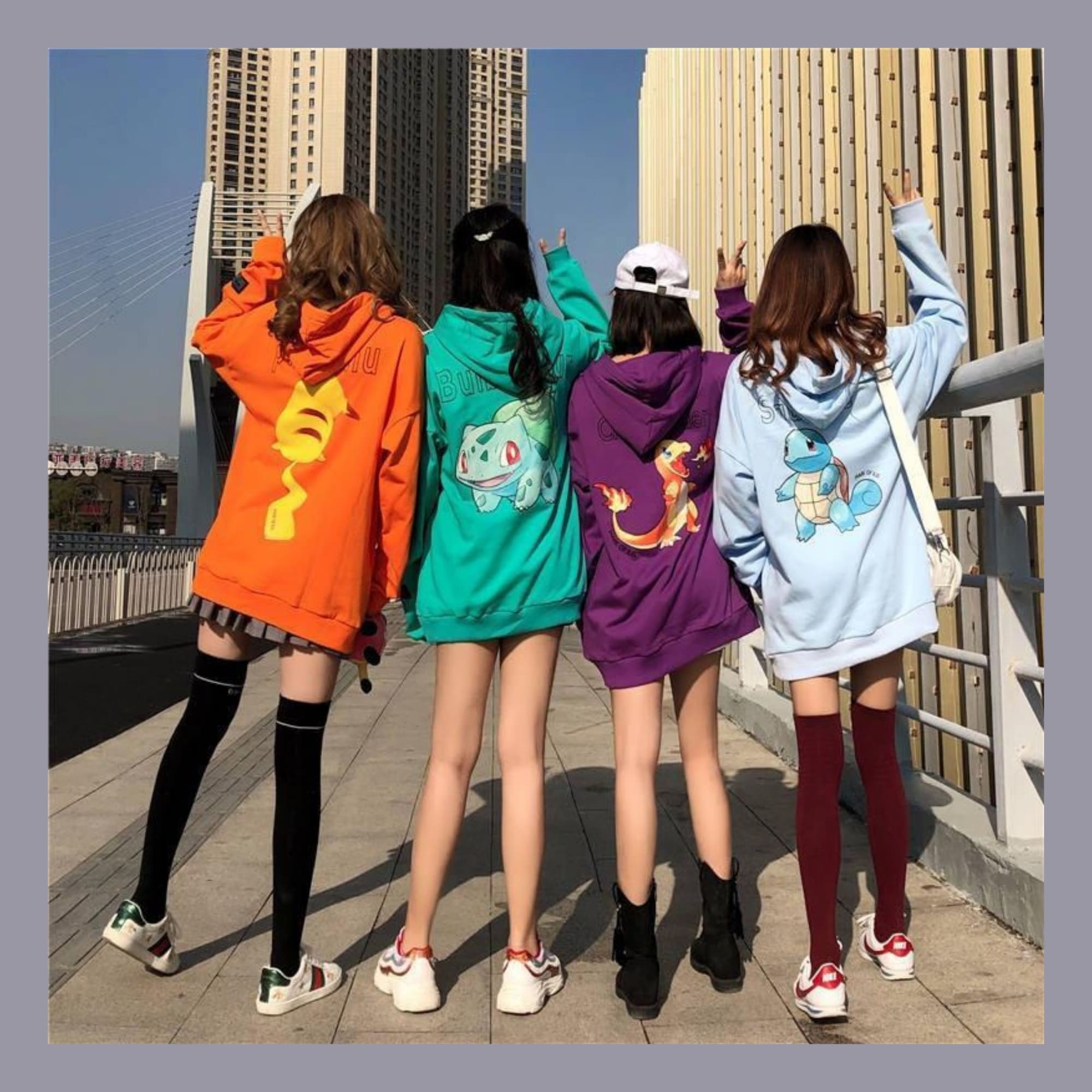 2. Find your favorite anime characters!
Don't get us wrong! Of course, you don't have to choose just one TV series or character! What we want to say here is to pick some favorites. It could be a character whose style of clothing you love, or someone you want to look like, or just one or two anime characters you find cute and can be the faces of your clothes. The important thing here will be to know what to look for when searching clothes.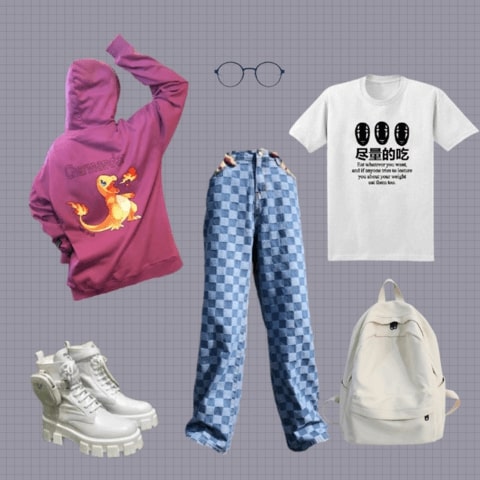 1. KAWAII STYLE ANIME GIRL POKEMON HOODIE
2. JAPANESE ANIME EAT WHATEVER YOU WANT TEE
3. BLUE PLAID HARAJUKU PANTS
4. COTTON CANVAS SCHOOL BACKPACK

This is just our advice. Of course, you are not obliged to limit yourself. We respect everyone who says I love to bring different styles and characters and combine them and we appreciate everyone who accomplishes the hard work. Remember that our tips are to get into this style the effortless and easy way.
3. Add some cool accessories!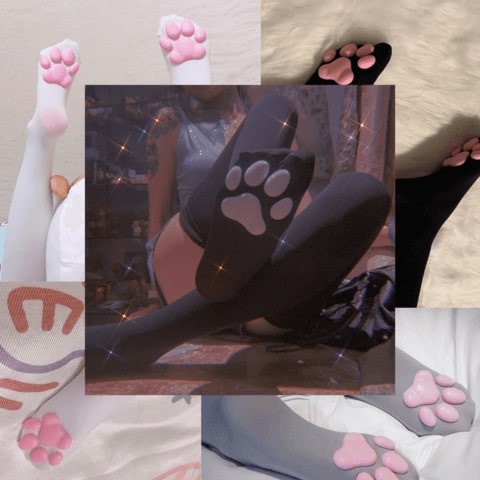 Last but not least, as in any style, accessories are important in anime style. With details such as bags, shoes, necklaces, earrings, hair clips, your look can be in a completely different mood. The only thing you need to be careful about is not to overdo it and to put together the complementary pieces that fit your outfit without overdoing it. But even if you think you won't be seen when you wear shoes, these pawpad socks are one of the most special pieces of anime style in our opinion. There is no reason why you shouldn't add such a cute and special piece to your closet!
After completing these three steps, you will not be able to believe the result. Here are the easiest ways to incorporate anime style into your daily outfits. For some more inspiration, don't forget to check out the anime style looks we have prepared.
Aesthetic Anime Style Outfit Ideas
1. Cute Anime School Outfit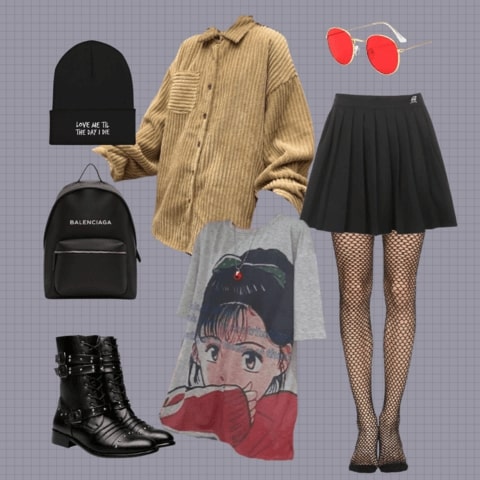 1. HARAJUKU STYLE ANIME TEE
2. SEXY BLACK TENNIS MINI SKIRT
3. VINTAGE WINTER CORDUROY SHIRT
4. SOFT GIRL RETRO SUNGLASSES


2. Daily Casual Anime Style Look

1. JAPANESE STYLE ANIME CARTOON TEE
2. HARAJUKU STYLE DARK BLACK 3D ANIMAL PRINT PANTS
3. VSCO GIRL BLACK HOODED PUFFER JACKET

3. Coffee Date with BAE Outfit

1. HARAJUKU GRUNGE BLACK ANIME SWEATER
2. VSCO AESTHETIC SKINNY CORDUROY PANTS
3. KAWAII HEART BUSTIER CROP TOP
4. SOFT GIRL RETRO SUNGLASSES