Y2K 101: Everything You Need To Know About Y2K Aesthetic [Updated 2023]
Posted by Yamourii on Mar 19, 2022
---
Let's go to the early 2000s! Technology is developing at a rapid pace, TV celebrities are experiencing their most glorious times, communication is quite high despite the absence of social media, TV series and movies are colorful and in the race for entertainment. Imagine that you are young in such a period. With a fun millennium welcome, everyone is starting to take more free and bold steps. Of course, like all the other young people around you, you will compete with your peers to be the most beautiful, sexiest and most remarkable. In this period, when visual communication gained momentum, the most profitable one was of course the fashion industry! So why are we talking about the fashion of those years now?
What does y2k mean?
Y2K meaning, which stands for "The year 2000" doesn't actually create positive vibes in everyone. It reminds me of the Y2K problem, a computer hostile bug known as Y2K bug in those years.
What is Y2K Aesthetic?
We truly not very interested in who solved y2k problem, but apart from this, if we remember the trend of fashion, it should not be forgotten that most of the young girls were struggling with blumia because of the bold low-cut dresses. The 2000's fashion, which we know has such bad sides in some issues, is now well remembered thanks to Gen Z. Of course, if a past fashion is re-entering our lives, it can only be in a good direction. We must admit that the new generation is approaching these issues more sanely. It is a fact that they are quite successful in this regard with supported ideas such as body positivy, liberated sexual preference, careful consumption.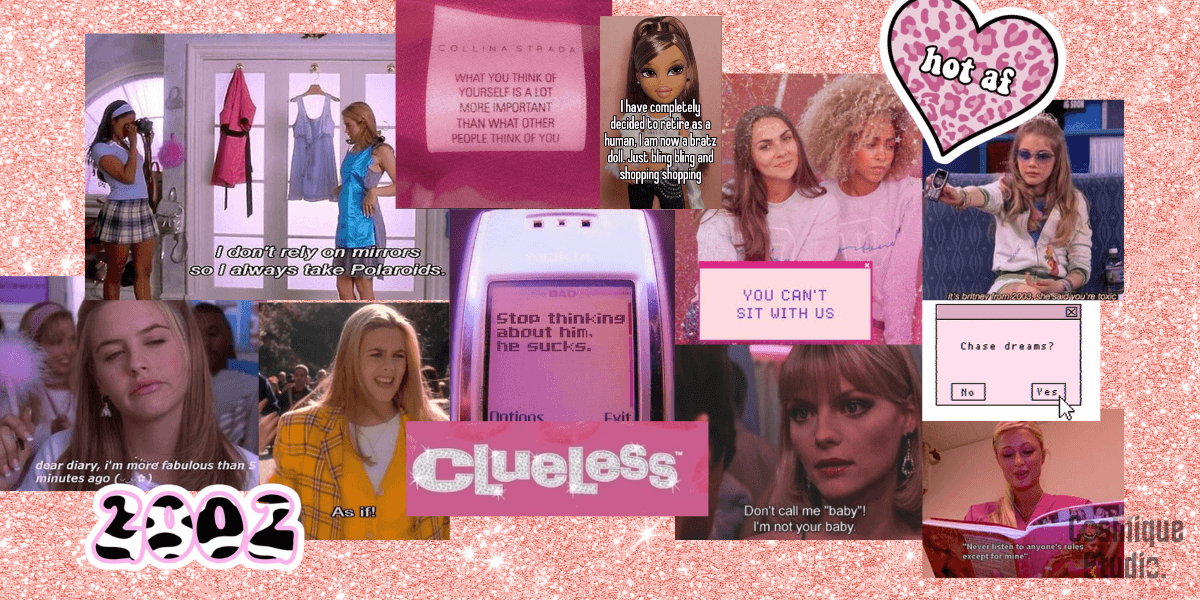 It is also a pleasure that everything we ate, drank, listened to, watched and wore in the early 2000s was liked by the Z generation, so that the X, Y, Z generation became able to follow a new trend at the same time. Y2K aesthetic, which became popular thanks to Tiktok, one of my favorite phone applications of young adults, is now appearing on all social media platforms such as Instagram, Pinterest, Tumblr.
Habits such as dressing in bubblegum pink, roller skating, listening to R&B music, insane shopping can all be included in y2k aesthetics. Of course, when it comes to clothing, we step in!
What is Y2K Fashion?
In recent years, all fashion houses had a minimal atmosphere and all designs were progressing with plain colors and simple lines. We knew that one day this simplicity would come to an end, but this sudden return was a surprise even to us! Our lives have suddenly changed and colored as if they had switched from black and white televisions to color broadcasts. The fashion world has turned into a carnival area with the re-emergence of not only colors such as pink, purple and orange, but also different patterns.
Covering the late '90s and early 2000s, the y2k aesthetic style reinvigorated millennial popular culture by adding a nostalgic flair to our outfit. We have to admit that we find ourselves looking at the clothes of celebrities that we are used to seeing on TV and on the internet 20 years ago. The outfits of well-known stars such as Destiny's Child, Britney Spears, Christina Aguilera, Missy Elliot, and Paris Hilton, Elle Woods in Legally Blonde, and Regina George of Mean Girls are now being influenced by today's young celebrities. Many young fashion icons; We know that Bella Hadid, Hayley Bieber, Dua Lipa, Ariana Grande, Kylie Jenner, Kendall Jenner, Zendaya have taken 2000's red carpet looks recently.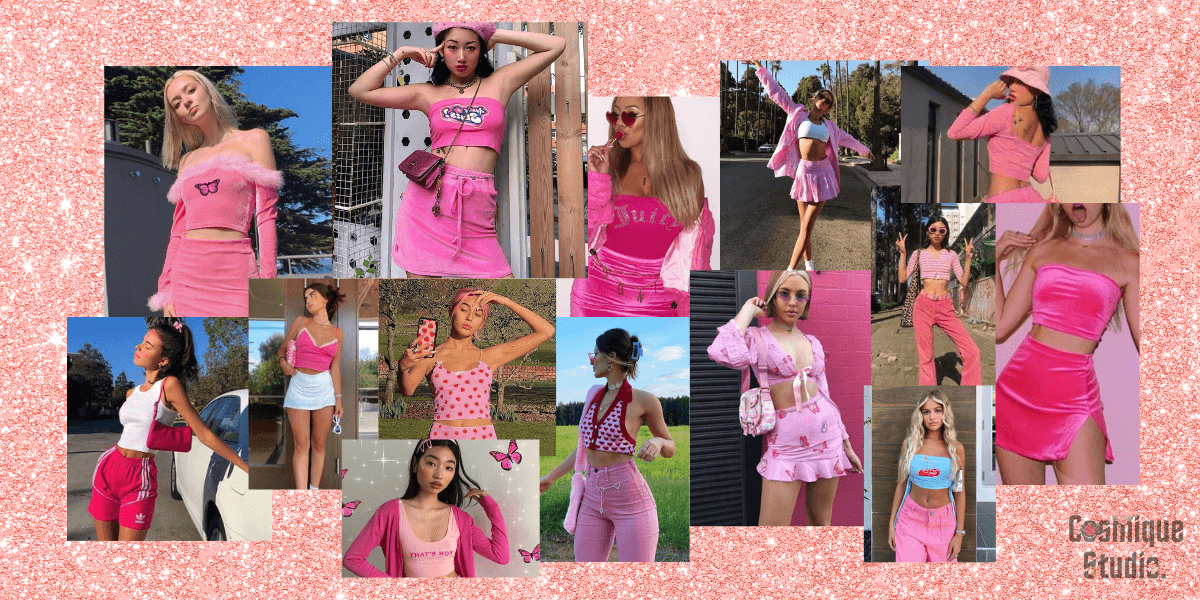 If we need to summarize the Y2K aesthetic fashion, it would be right to say the nostalgic trend that emerged with the combination of luxury and streetwear. Street style and casual wear have already been the trend in recent years, now it's time to add "luxury" to this trend.
How do you dress Y2K Aesthetic?
If you have clothes from 20 years ago, you can start by wearing them. It will be both affordable and definitely suitable for y2k. Of course, don't wander around like you came out of 2001 all of a sudden. It's best to start with small changes. In this flashback fashion, no one expects you to be as if you have passed through a time warp. The trick here is to give a y2k vibe with vintage or brand new clothes.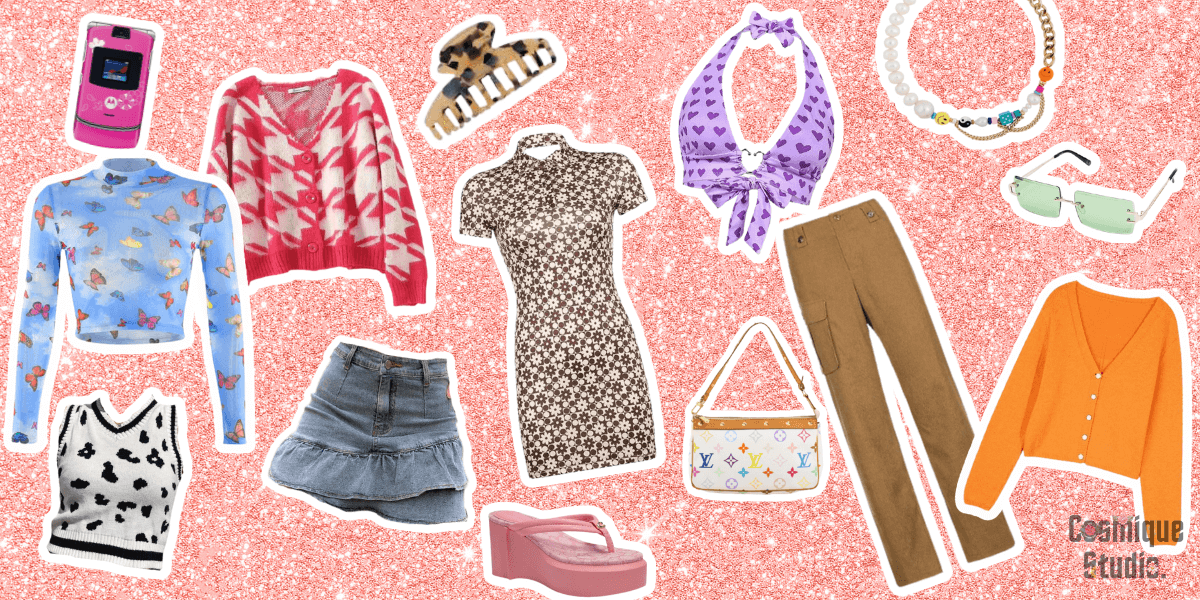 If you're one of the young ones in the 2000s, we're sure you've joined the whirlpool of the era and shopped and filled your closets. If you have kept them well, you may not need to buy much now. But if you're from Gen Z, welcome to this colorful, animated and fun 20002s simulation. The first step you need to take is to shop a lot! We have no doubt that you will catch up with the shopping mania that you can see in many y2k movies such as Devil wears Prada, Legally Blonde, Mean Girls! So what should you buy?
The most common y2k clothes you must have in your closet!
Baby tees or Crop Tops
All Y2K girls have self love and self esteem, so it's pretty obvious that these fashionistas don't relly beware of anything. Don't forget to be confident and wear what ever you like. Thus, y2k baby tees and y2k crop tops would be considered as your favourites!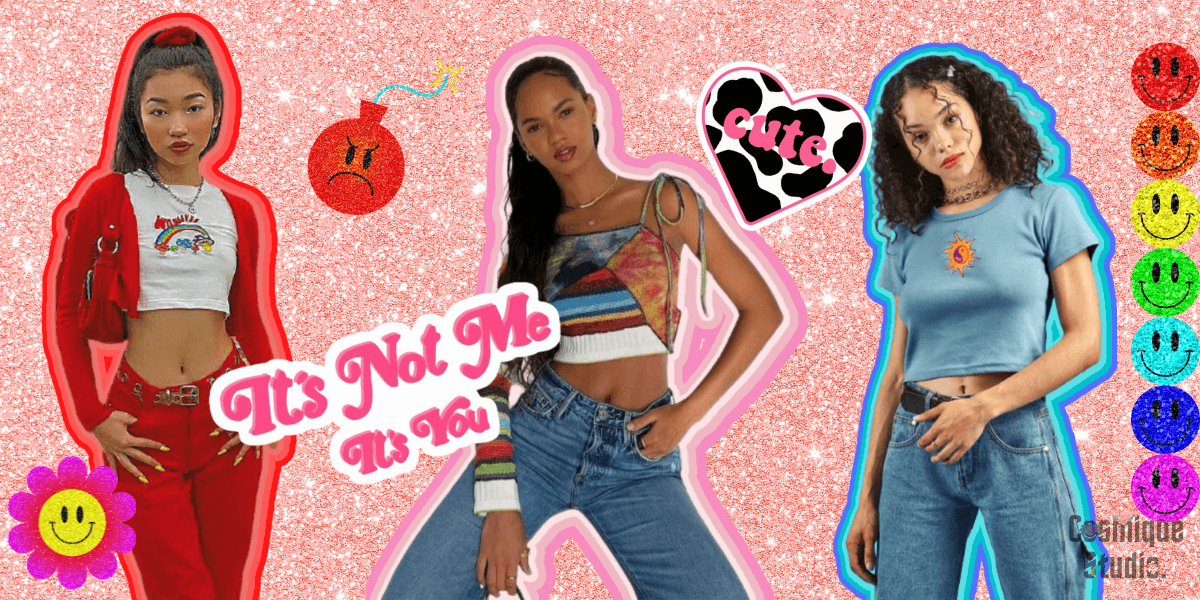 Cardigans and Sweaters
As the y2k fahsion allows us to be cute, sexy and comfy all in once, front tie cardigans or knitted sweaters are always a good idea!
Denim
When it comes to denim, we truly mention every each type of denim clothing you can think of! Plus, not only aesthetic denim clothes but also denim accesories. Jackets, pants, shirts on one hand; bags, hats and shoes on the other...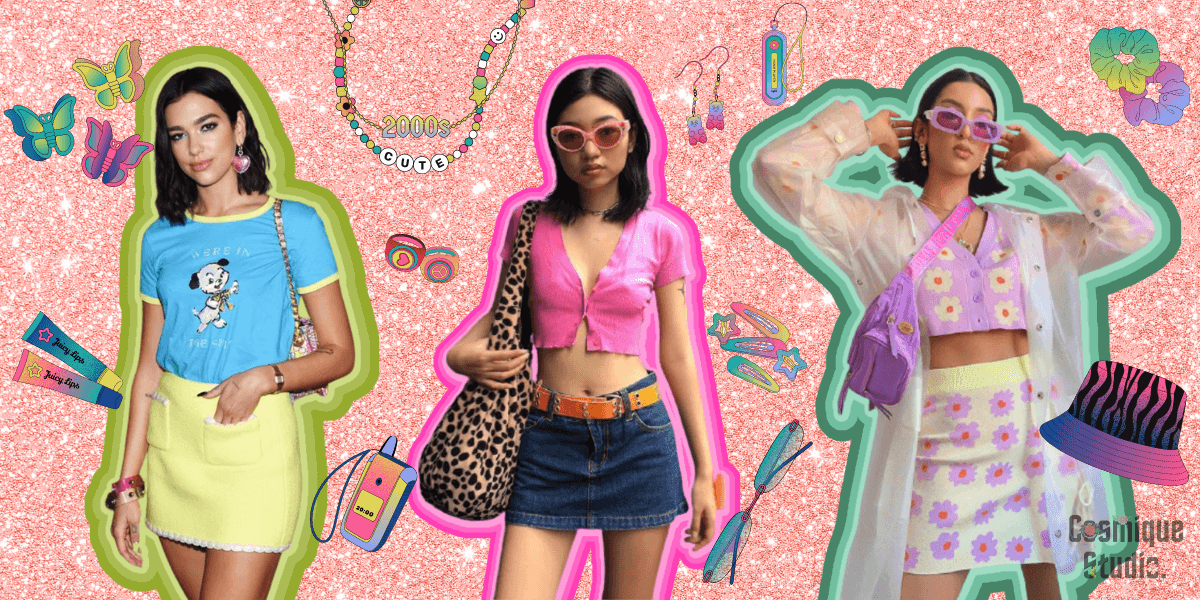 Mini Skirt
A very easy and simple way to look aesthetically feminine and sexy is to wear mini skirts and show off your stunning legs! Skirts are in our safe zone, you can be sure that with a pleated mini skirt and a front tie cardigan you are always ready to show off.
Wide/Flare/Straight Leg Pants
How about casual y2k styling? Of course you can get a glam y2k look and you can make it more casual. If you are seeking for some school outfit inspiritaion and so on, you should definetely try these refashion pants. Wide leg looks more comfy casual, flare is more stylish and elegant and straight pants are truly made for daily use.
Velour Tracksuits
Last but not least, velours. These gorgeous sets are the stars of y2k fashion. If you don't have a pair of velour tracksuits, do not accept yourself as a y2k admirer. The most common outfits of early 2000's are ready to be yours with mulitple color options.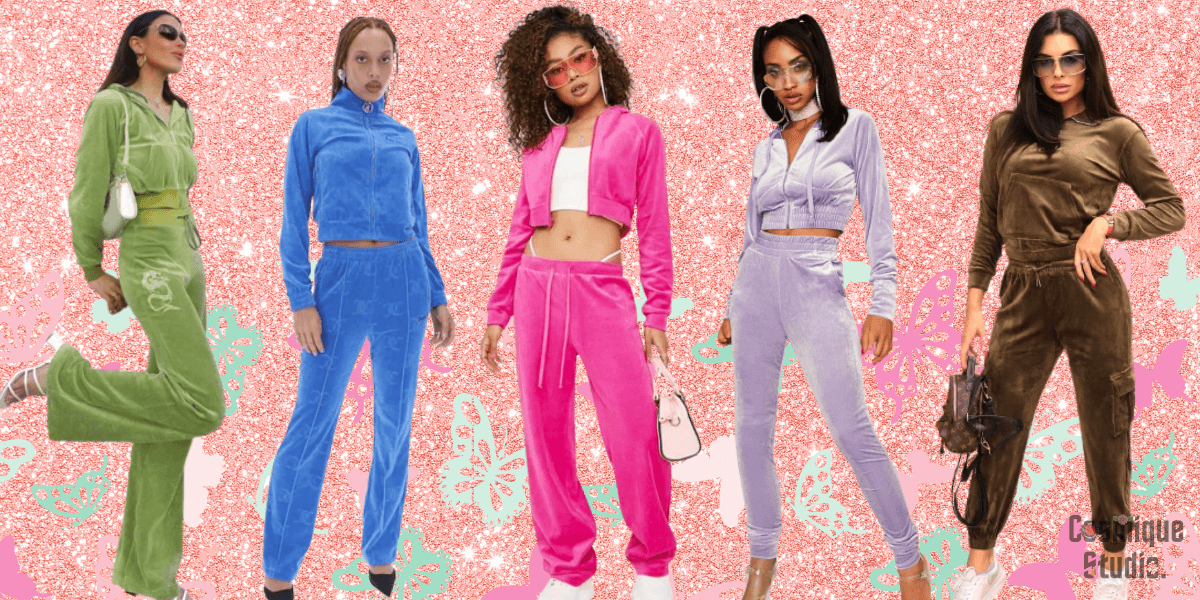 Besides from the y2k outfits, the accessories are significant; mini baguette bags, platform shoes, y2k sunglasses are the priorities of y2k aesthetics After wearing these pieces together, there are not many rules left. This is the best part of y2k, you can mix colors and patterns according to your own taste like mixing playdough.
Where to find Y2K Clothing?
Y2K aesthetic, one of the most popular aesthetic clothing styles, has been included in the collections by many popular big brands. While taking a tour in the shopping center, it is possible to see the clothes we mentioned in the showcase of many famous brands such as; Urban Outfitters, Topshop etc. Or brands that used to be very popular and haven't been around lately have started to issue collections again, this is of course thanks to y2k trends. Still, we are trying to pursuit of the good, the beautiful and the difference. If you don't want to coincidence with people who wear the same clothes on the street or at school, you should turn to special boutique brands with a wide range of products.
As Cosmique Studio Aesthetic Clothing Store, we always offer you up-to-date collections of the latest, trendiest and most exclusive clothes.
How to get Y2K Inspo?
We are very lucky to live in a time when communication and news are so fast. Although it's fun to sift through magazines and newspapers, it's possible to access information, photos and other content that wouldn't fit in a book in seconds. It is your duty to do some research and get inspired among such conveniences. Social media accounts such as Tiktok, Instagram, Tumblr, Weheartit, Pinterest and Youtube are constantly updated to inspire you, and you can't believe what you can reach by typing y2k in the search bar. Apart from the searches made with this search engine, we will have some suggestions for you. The most fun activity to do for inspiration for Y2K aesthetic outfits will be watching movies and TV shows from the 2000s.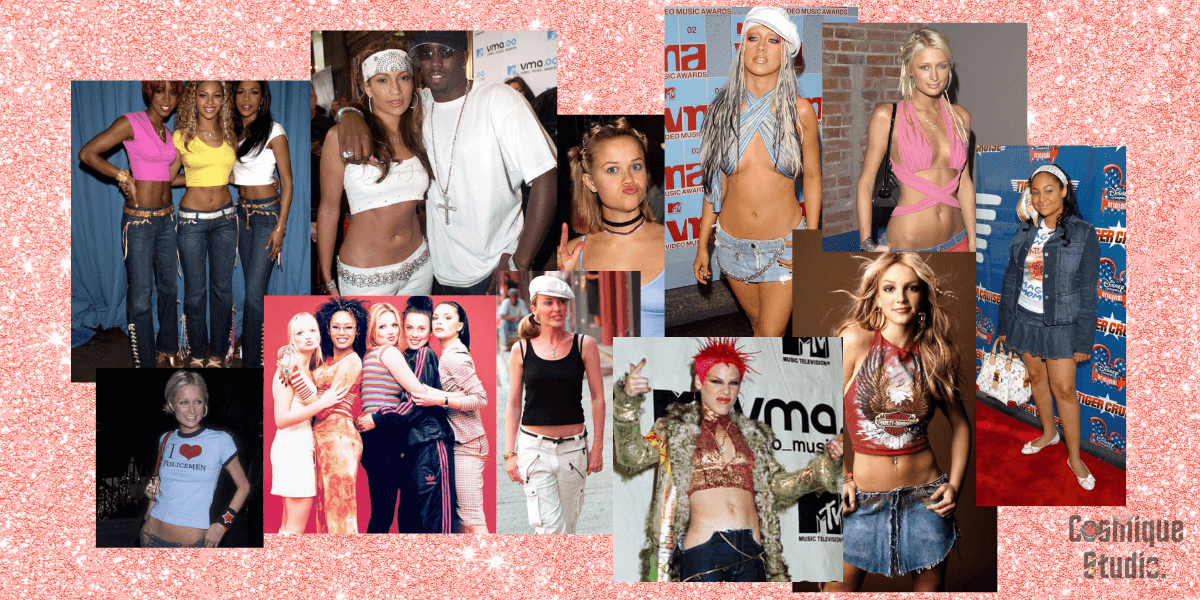 Here are a few movies for you to get y2k inspiration;
Mean Girls
13 goes 30
Legally Blonde
Step up
Princess Diaries
Ice Princess
Sex and the City
The Devil Wears Prada
Apart from these, if you have some interest in dolls, we have very good news for you; Bratz Dolls is the toy brand that has enormous clothing collections that you can take as an example for y2k aesthetics.
We are very lucky to have Y2K aesthetics with us again. With circling back to Y2K, color and joy came into our lives after the pandemic. We are not ready to give up this cute style anytime soon. You are what you wear, don't forget that. That's exactly why do your best for our Y2K aesthetic and be happy! As the Cosmique Studio family, we will always be working for the better for you. Don't forget to follow our new arrivals collection, which is updated regularly. Keep reading our blogs for the latest gossip about aesthetic styles, new trends and more. We love you Fashionistas!
What about you?
How old were you in 2000? What memories you have about that decade? Did you watch any y2k movies which one is your favorite?
If you'd only pick one y2k clothing which one would it be?
Please leave a comment below!
Did you like this blog? If yes, then we recommend you to read our baddie aesthetic blog right away!