The Ultimate Guide to Coquette Aesthetic: Everything You Need to Know
Posted by Magnificent Medusa on Oct 03, 2022
---
Hello fellas! I heard that you have questions and wonders about the coquette aesthetic. As in our previous blogs, I have prepared an excellent aesthetic guide. While trying to write something on coquette, I came across a lot of mixed information, and I wanted to compile this information and correct them. Here is the Ultimate Guide to Coquette Aesthetic you need! We will analyze the origins of the coquette fashion and why so many inspirations of this aesthetic started to appear online suddenly. You can also get coquette aesthetic ideas from Pinterest after reading this blog. I will refer to it as coquette but remember that the aesthetic is also referred to as dollette!
What does Coquette Mean? How do you Pronounce Coquette?
Coquette is a flirtatious, charming woman who grasps the attention of men with her confident side of femininity. One of the most asked subjects was the coquette aesthetic meaning. The origin of this French term is " a woman who wants to seduce men to get what she wants." It was mainly used for young girls who act like mature women also. Although it sounds like a gold-digger, I can say that this meaning no longer exists (or, let's say so, lol). The pronunciation of coquette is /kɒˈkɛt/. I also pronounce it as coh-cat! :) Let's get back to our main topic. These flirty coquette women are also called lolita or nymphet. These are other terms that have the same meaning as coquette. I guess it's not a good start to talk about coquettes' flirty and attention-seeking part. Still, it's not the origin that interests us but the aesthetic itself. That's why, before thinking, "this aesthetic is never for me; I'm never a flirty person," I would like you to look at the modern coquette aesthetic, aka the dollette aesthetic.
What is Coquette Aesthetic? When did it Occur? Who Wears Coquette?
If you are wondering about the coquette women's aesthetic, I will give you the information in this paragraph. But first, let me tell you about the history of this coquette term. The terms nymphet, coquette, and lolita originally come from the protagonist of a book called Lolita. With this book by Nabokov in 1955, the lolita aesthetic came into being. If you are curious about the subject, there are also movie adaptations.
Lolita aesthetic, which sprang up during the 2014 Tumblr era, was entirely based on sexual relationships between a minor girl and older men. This problematic behavior, also known as risqué behavior, was criticized and disappeared from social media over time. It has also emerged under the coquette/dollette aesthetic in the last two years. Lana Del Rey's Born to Die album was the biggest inspiration for this aesthetic. If you're somehow drawn to the dollette style and found this blog, I'm sure you're also a Lana Del Rey fan. And what I absolutely have to say is that Lana Del Rey fans are the people who wear coquette clothes. Of course, we are not limited to this. If you favor pink, brown, and nude tones, like old French culture and clothes, and prefer to be stylish through simplicity, coquette style is for you, too. In addition, if you like old-fashioned lace embroidery, you are already a coquette.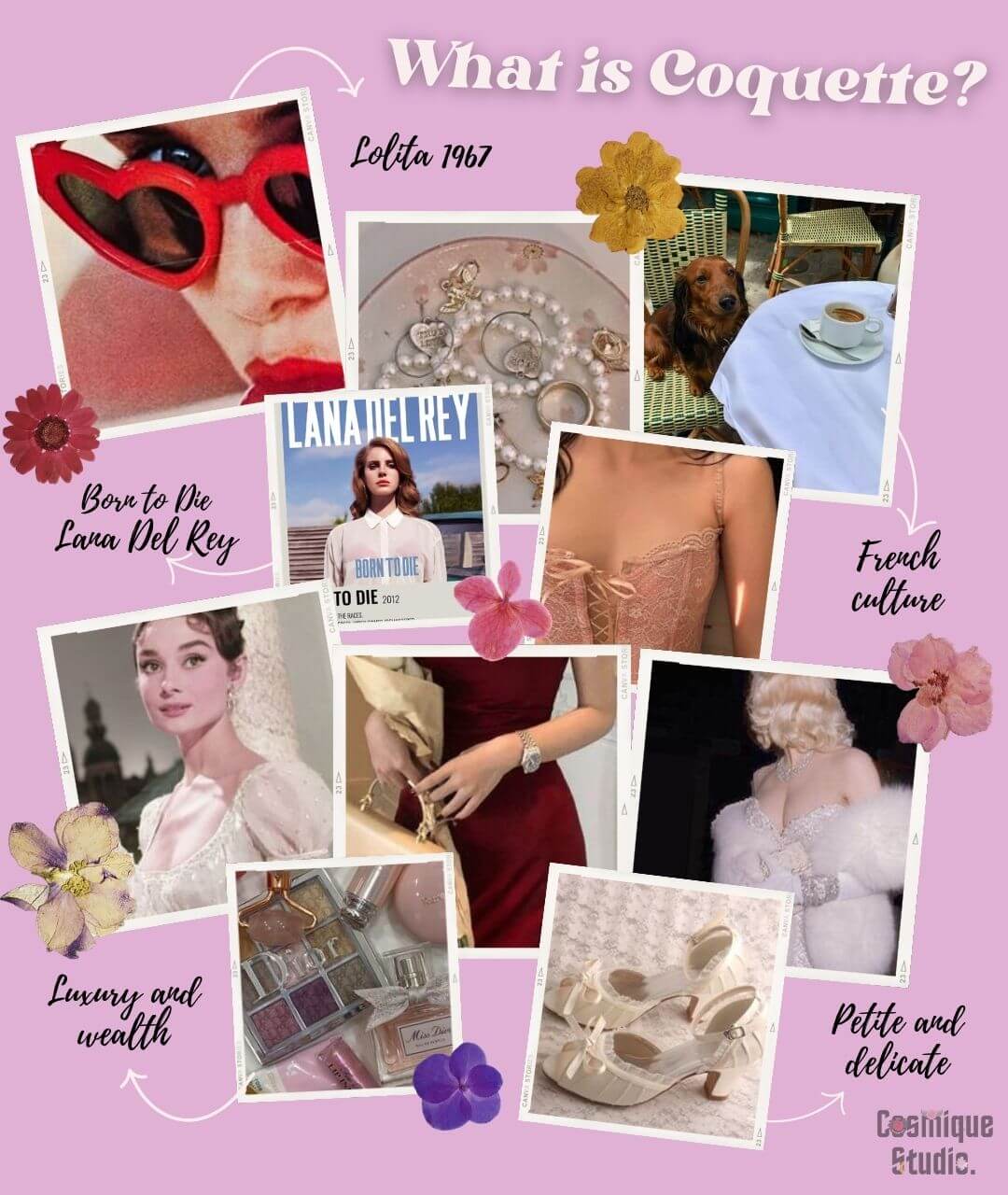 Related Aesthetics to Coquette
Winter fairy coquette, coconut girl, key west kitten, and more are the related aesthetics to coquette. Every core aesthetic has an evolved version. Like fairy grunge for grunge, pastel goth for goth... Of course, sub-genres of the coquette aesthetic have emerged over the years. These aesthetic types, which are limited in number for now, will increase over time surely. But until that time comes, I will tell you about the possible sub-types of coquette you may encounter on platforms such as TikTok and Pinterest.
Winter Fairy Coquette
Winter fairy coquette aesthetic is a combination of fairy grunge and coquette. It combines the soft side of coquette with the fantasy world of nature lover fairy grunge. At this point, winter is associated with the primary color used in clothes being white. Fairy wings and elf ears, elements of fairy grunge, are also used extensively in this aesthetic.
Coconut Girl
Coconut girl, aka key west kitten, is the nymphet adapted for tropical beaches. Coconut girl is used for beach girls who love the sea, surf, ocean and sunbathing. It is also widespread among TikTok users. These people aim to stay away from the dark. They try to live more care-freely and optimistically. They enjoy their youth and want to escape from life's difficulties. The key motifs you will encounter in this aesthetic are glitter tattoos, pastel shades, and tropical flower prints. And, of course, the indispensable item is the bikini.
Pinterest Coquette
Pinterest Coquette has turned into dollette aesthetic. The latest aesthetic that moves away from the general meaning of coquette is Pinterest Coquette. Moved away from the "seductive woman" mindset. Instead, it began to represent a delicate and feminine style blended with pastel colors and shades of pink. So, if you have adopted this style, you do not need to go to the root of the word and pretend to be someone you are not.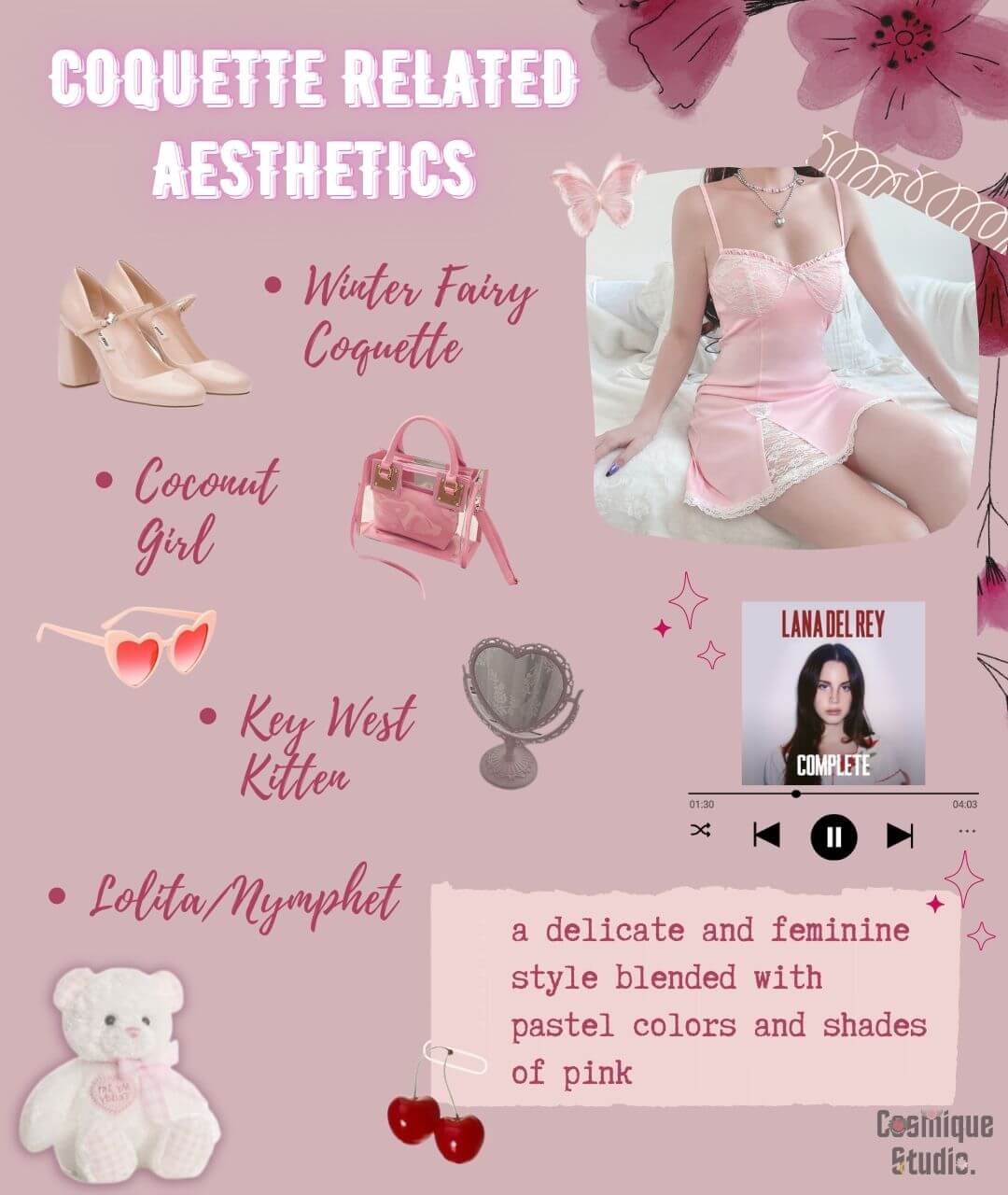 How to Be a Coquette Aesthetic Girl
Embracing your femininity, being confident, and especially wearing all the pastel/pink tones with confidence are all it takes to be a coquette aesthetic girl.
If you've watched Euphoria, you know Cassie. An excellent example for a coquette girl. Likewise, Cassie from Skins is a good example if we consider only her style, not her character. So how can you be a coquette girl?
I'm not going to talk about "how to pick up a man" here. Our main topic is 2020s coquette. Therefore, the most important thing to do will be to embrace your femininity. Being feminine isn't about being delicate. We've been talking about "delicacy" all this time, but we said it for our aesthetic. It is possible to display a woman's naive and strong profile. My point is delicacy is not being quiet but expressing yourself strongly when needed. Some confuse the two a lot. You will understand that you don't need to look manly to be strong after this blog, my beautiful lady.
If you can meet this condition, the next thing to do is to choose pastel and pink tones in your closet. In addition, red and burgundy are also used to be more striking, which is also an option. But the primary colors should be pastel and pink. And regarding the fabric, lace, pleats, and floral patterns, ribbons are the first ones that come to mind. Ruffle trim tops, lace blouses, frilly dresses, cute miniskirts, knee-high tulle socks, tulle gloves, or leg warmers are perfect pieces to create a coquette outfit.
Key Motifs of Coquette Aesthetic
As in all other aesthetic styles, coquette has its own key motifs like pastel colors, pearl jewelry, frilly dresses, ribbons, etc. You can find it below if I have to summarize dollette/coquette with a few keywords.
Makeup: Pastel color eyeshadow, glitters, nude/pastel lipstick, highlighter.
Accessories: Pearl jewelry set, tulle opera gloves, leg warmers, corset, and hair clips.
Essential Clothes: Frilly dress, ruffle miniskirt, ribbon tank top.
Colors: Pastel shades, pink, burgundy, red, white.
Values: Hyper femininity, romance, luxury. "A woman is the full circle. Within her is the power to create, nurture and transform." D. Mariechild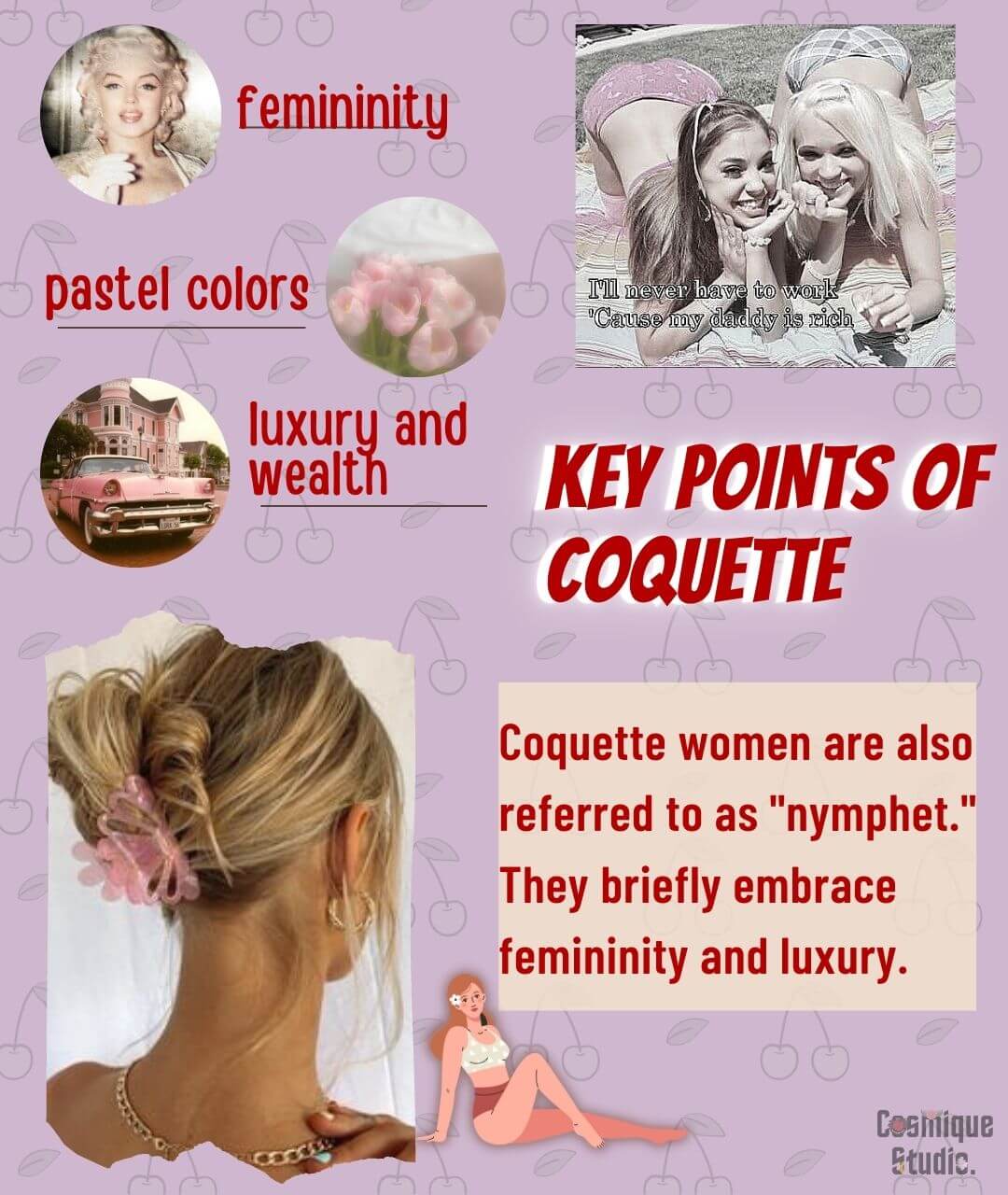 Coquette Aesthetic Haircut Ideas
I have compiled a few coquette aesthetic hairstyle images for you to revive in your mind. But these ideas can constantly be developed under any circumstances. You can create many designs with your imagination.
For example, for haircuts, I think the layered cut is the best fit for this aesthetic. However, since everyone's hair type is different - especially curly - a layered cut may not be very suitable. For this reason, fluffy, ruffle, balloon-cut hair can also be shaped according to this aesthetic. Balayage highlights, curtain bangs, and platinum blondes will also suit this style. And for difference, cute Dutch braids can look nice on your hair. I linked a sweet coquette hair idea tutorial here. Enjoy watching!
Instead of telling you to cut your hair in a particular style, I can also suggest styles suitable for your own hairstyle. If you prefer to use short hair, the coquette hairstyle you should try will be a dolly style, with slightly wavy and fluffy hair. A Marilyn Monroe-style hair would look great too.
If you prefer longer hair, you can adapt each model to your style. The ideas I can offer you for these are Mia Wallace bob, wispy bangs, dolly style, curtain bangs, wolf cut, etc. You can find more inspirations online if you are interested!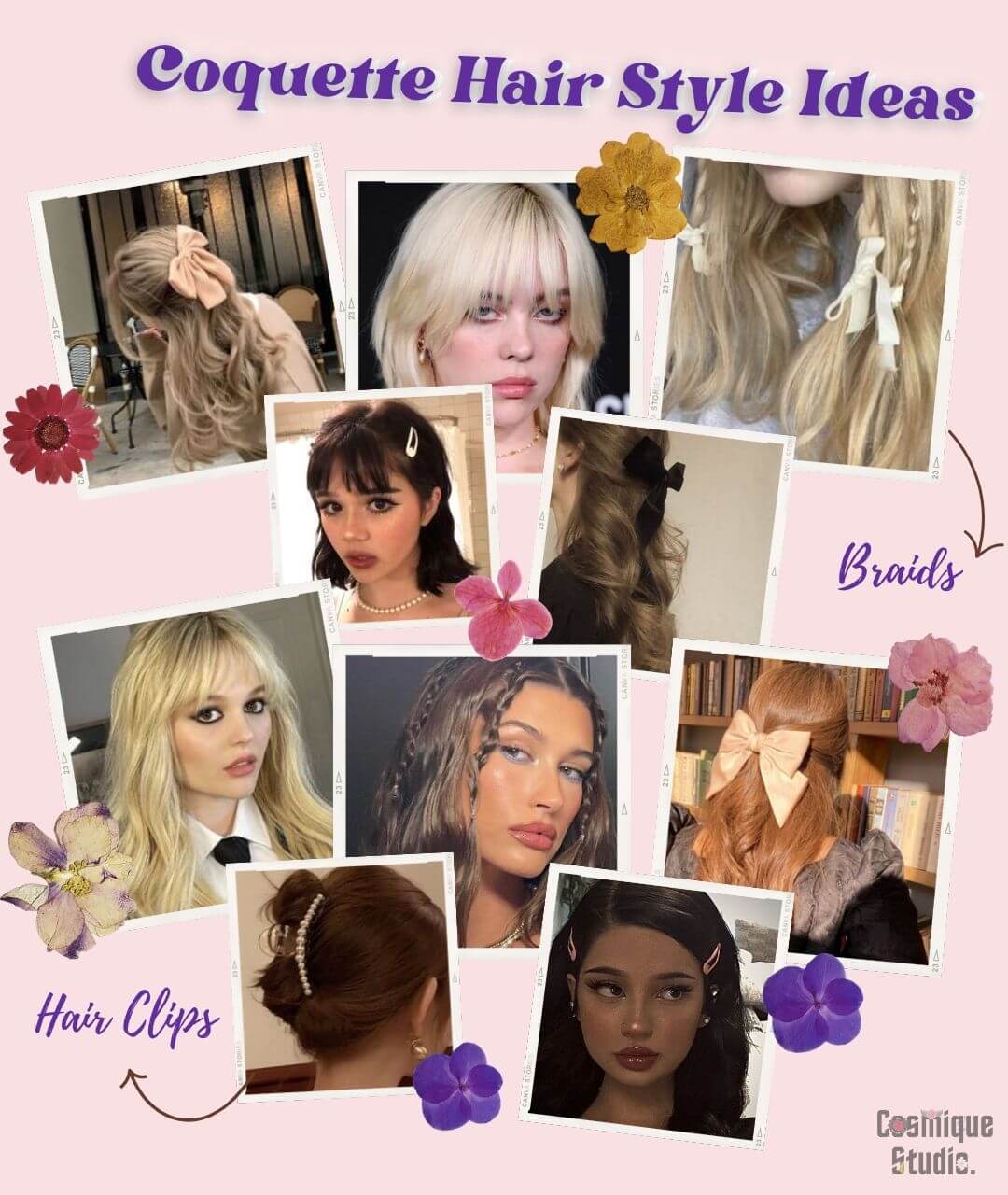 Coquette Accessories
Coquette accessories are pearl jewelry, cat eye sunglasses, tulle opera gloves, baguette bags, waist cincher corsets, hair clips, and more!
As we mentioned in our previous blogs, accessories are indispensable parts of an outfit. Accessories are like vitamins for fashion. For a nice outfit, you should not forget to take your vitamins. I told you that you could wear accessories exaggeratedly for other dystopian styles such as edgy style, grunge, gothic. However, the coquette style is not very suitable for this. It will look more elegant in coquette fashion if you prefer a set of pearl jewelry instead of a mixed accessory look.
Of course, the accessory part cannot be limited to this. You should not miss the accessories that complete the outfit, such as eyewear, hat, hair bandana, nail art, corset, opera gloves, leg warmers, and bag. For eyewear, I usually recommend black-rimmed sunglasses, if you remember, in my blogs. However, I will suggest red cat eye sunglasses for the dollette aesthetic. These kinds of glasses always seem more feminine to me. If you like it as well, you should definitely get it! Let's say you use prescription glasses in your daily life; if you are someone who prefers bone glasses, you can buy this type of cat-eye glasses. If metal frame glasses are your choice, trendy transparent round glasses would be a great match.
For hats, a traditional beret hat can be a sweet choice. You can choose the color of it in cream, pink or red tones. Knitted hats, which I believe we will see on many platforms soon, should also be included in the coquette style!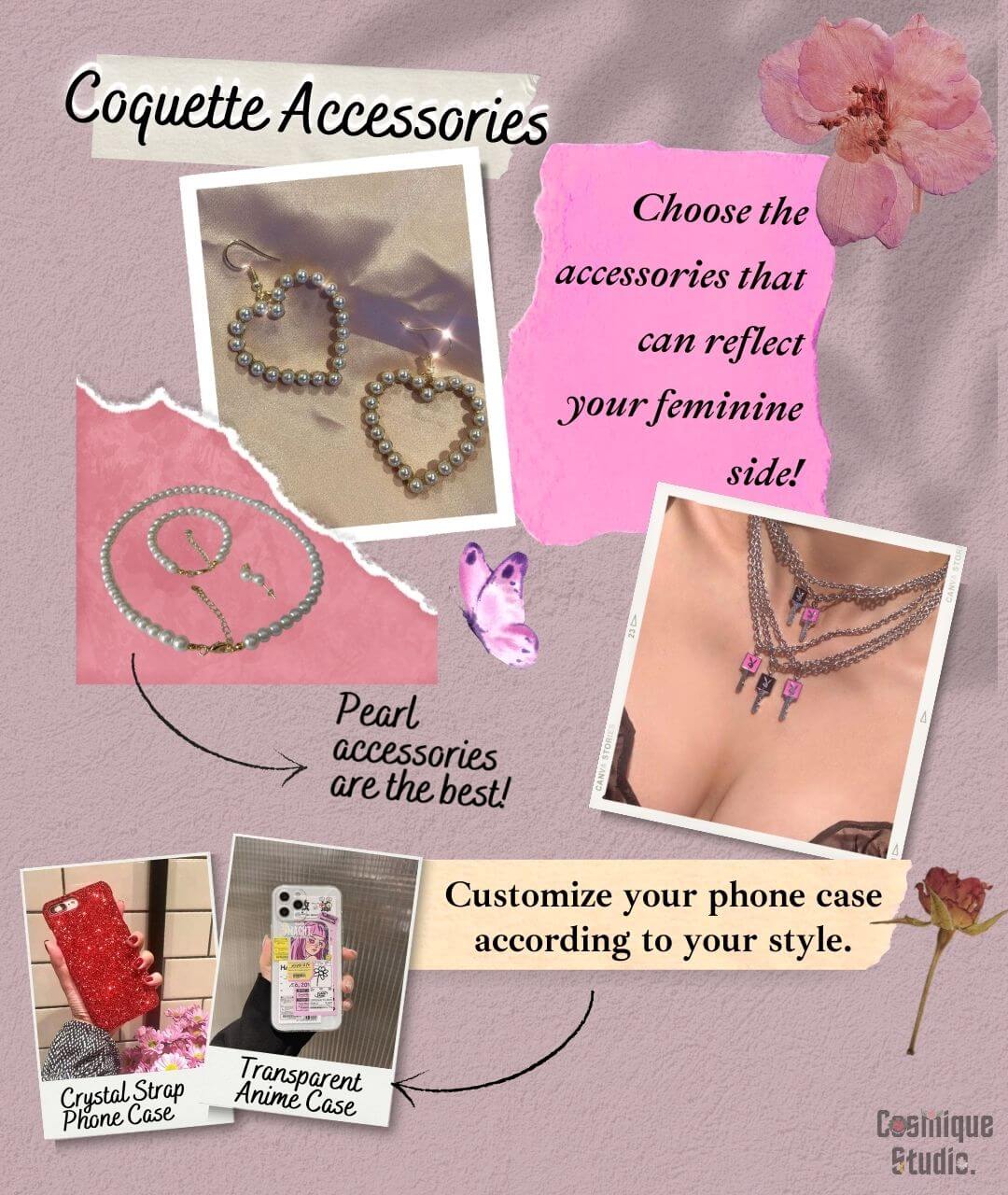 Coquette Style Ideas
Each style has its own unique pieces. These pieces are indispensable for that aesthetic. There were tons of "key pieces" that we talked about in previous blogs. We mentioned chains for edgy, baggy clothes for grunge, and many more as examples. Now it's time to talk about the key pieces of coquette.
Dollette, aka coquette, is an aesthetic where anything cute can be used and recreated in style. However, what should not be forgotten is that kawaii aesthetic should not be confused with this aesthetic. Because pink and its tones are frequently used in kawaii aesthetic and being cute is at the forefront. What we are looking for in coquette is to be feminine, cute, and luxurious at the same time. So, you must remember that sweetness also comes with simplicity. Coquette aesthetic directly tells us that it is possible to be stylish without exaggeration.
As an example of coquette style ideas, that is, key pieces that you can see on coquette girls, I gave 5 basic examples in the design above. These include dresses, glasses, Mary Janes, a cute bag, and accessories. With these five pieces, you can easily create a complete coquette outfit. All you have got to do is finding the proper tones and shades, and patterns. Unity and harmony are of importance while gathering the pieces.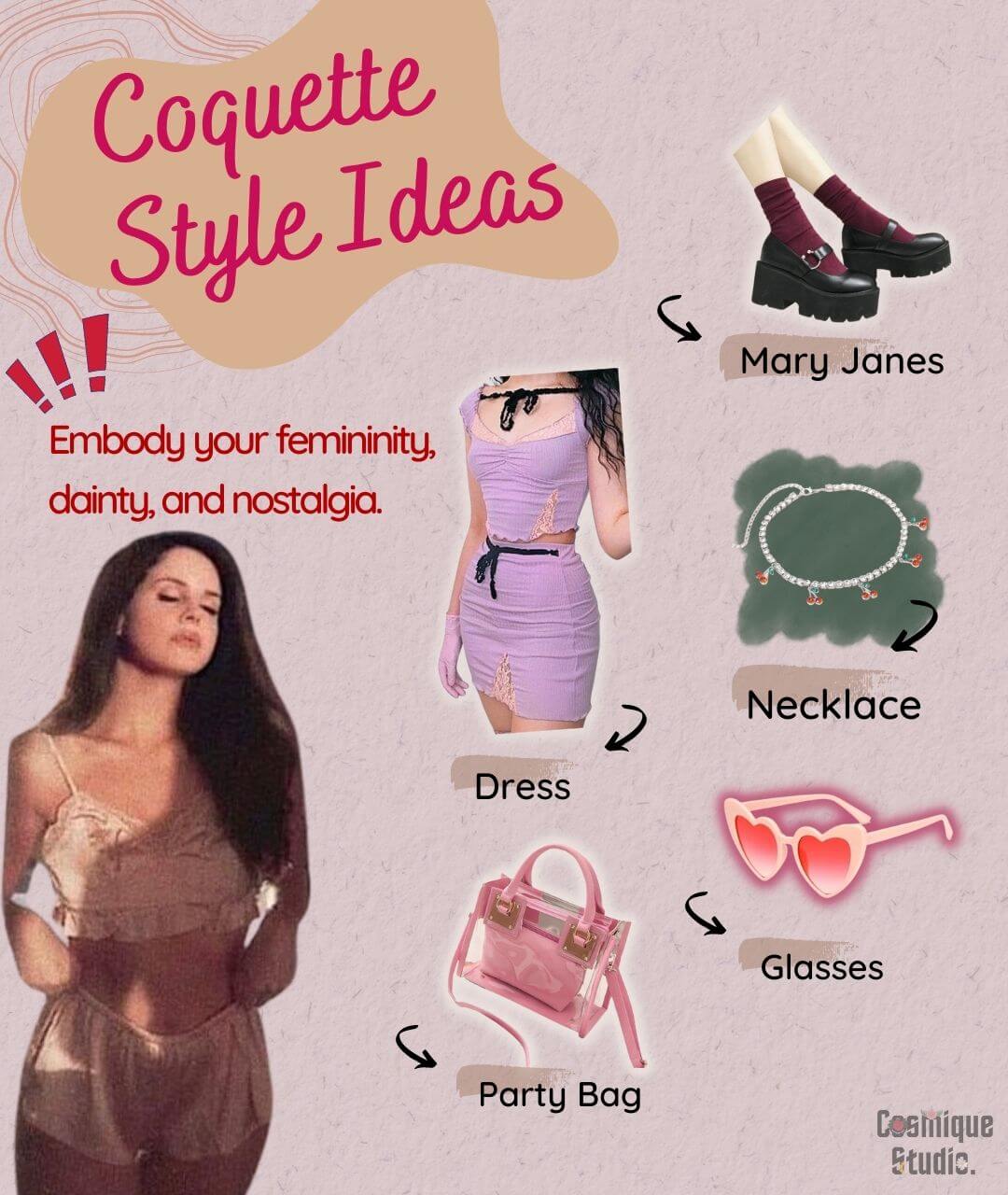 Where to Buy Coquette Clothes
I know where to find the Pinterest coquette aesthetic outfits that have resurfaced! It is possible to find many different clothes online and match them to the coquette. However, I know a brand that sells coquette aesthetic outfits directly: Cosmique Studio! You can find many clothes of this aesthetic in the store with a single click. One of them is this rose mini dress, and my favorite coquette dress too! You can become a coquette girl without much hassle just by wearing this dress. You can find tulle gloves that are compatible with the rose pattern and ribbon it has. Is both frilly and lace detailed also! The pearl necklace you see on the model will also prepare you for a simple and elegant look. If you are looking for a pearl necklace, you are at the correct address: vintage pearl cross necklace. The short-heeled white, maybe patent leather shoes you wear under this will be adorable and create a 40s Paris atmosphere. Voilà! You are a dollette. We designed an ultimate dollette outfit with only three of the five key pieces I mentioned above.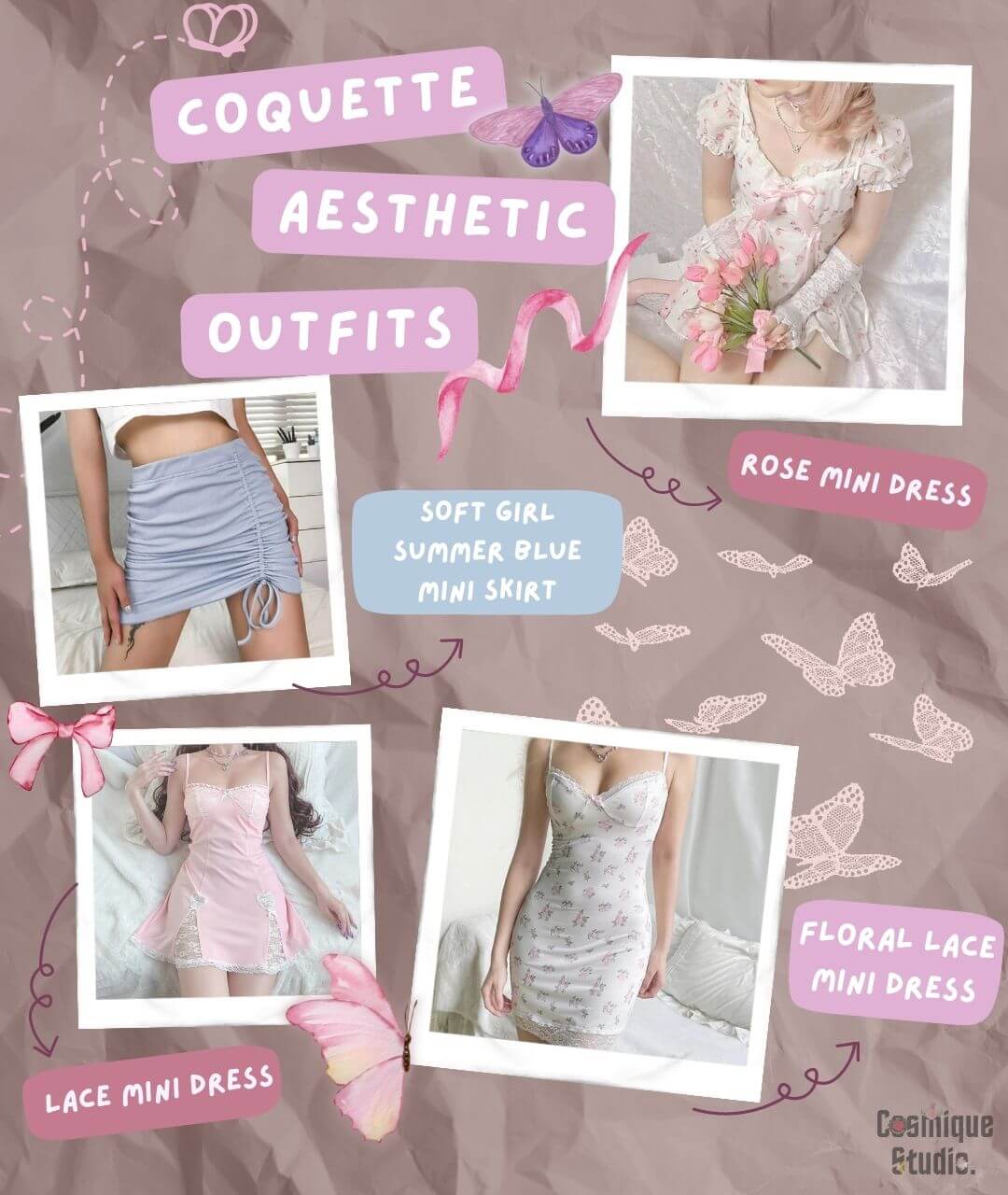 If this outfit seems "too plain" to you and you prefer two separate pieces rather than a one-piece outfit... Then you should definitely combine this lace up crop cardigan with ruffle mini skirt. Doesn't the skirt's pink ribbon detail match the cardigan's pink color? I gave you the inspiration, and now it's your turn to combine these pieces with your imagination. Extremely affordable coquette aesthetic clothes with which you can create various outfits are on sale on the site! Check now before products run out. And, of course, don't forget to show us your wonderfully designed dollette outfits by sharing them on your story, and tagging us!
As you have gathered enough information about the coquette aesthetic; its other versions like winter fairy coquette, coconut girl, and Pinterest coquette; its origin and basis; how to be a coquette aesthetic girl, etc, it is time to firm your knowledge by watching this video shared by Dion the Taurus on Youtube!
If you like this blog, don't forget to take a look at other colorful blogs on the site that have the potential to give you excellent clothing inspiration!
Last but not least, do not miss to follow us on Instagram, Facebook, TikTok, Youtube, and Pinterest platforms. You should definitely check out the great content we have prepared for you. Otherwise, you're missing out on a lot.
Thanks to this guide, you now have all the necessary knowledge to become a dollette/coquette girl. We are always open to any suggestions you make. Till' our next blog, farewell my queens.