HOW TO HAVE A MINIMALISTIC AESTHETIC
Posted by Yamourii on May 12, 2021
---
Minimalism has become a popular trend especially recently. In an increasingly mixed world, "less is more." Frankly, it is not difficult to understand those who adopt the philosophy. Minimalism, which is a way of life aimed at purchasing more than what it needs, not creating too much waste and making the world more simple and living simply, is not easy for everyone, but unacceptable for some.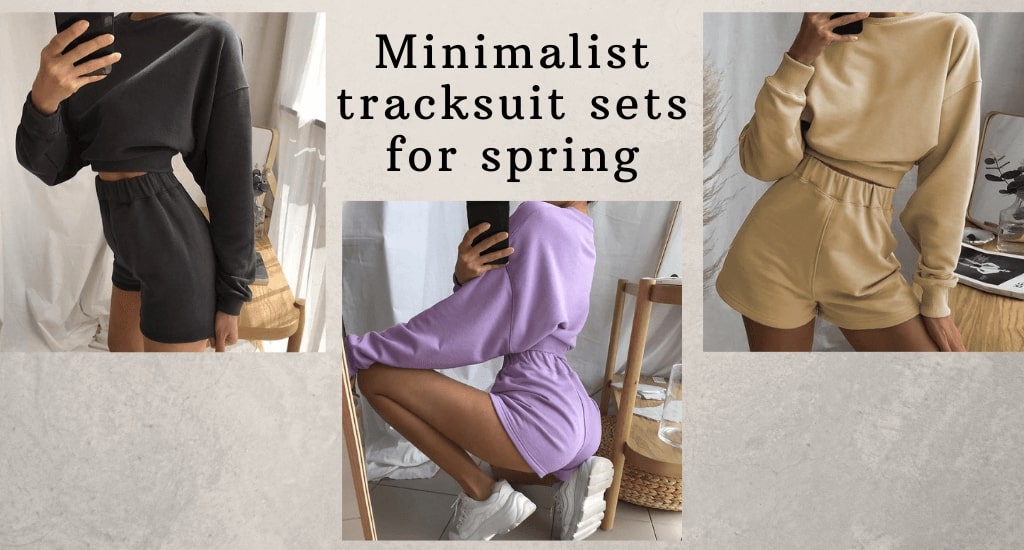 Of course, our aim is not to impose a minimalist life on you. The clothing style we call minimalist aesthetic is definitely not just about throwing everything you have and living in 3 pieces. This choice is up to you, of course, if you want, you can fully embrace this minimalist life or just live elegant and cool looking fashion.
Let's dive into this aesthetic style with a minimalism vibe in some depth.
What is Minimalist Aesthetic?
Minimalist aesthetics is a style that you can apply in many areas of your life. It will not only be connected with clothes, but also in many areas such as accessories, home decoration and cars etc. The most important point in every field is of course the few items, but the thing to be careful about here is not to neglect the decoration because there will be less items, your first choice for both your home, car and clothes is the white color, which is the symbol of light and spaciousness, and natural earth tones that harmonize with it. If you progress on these two colors, you will include the minimalism effect in your life.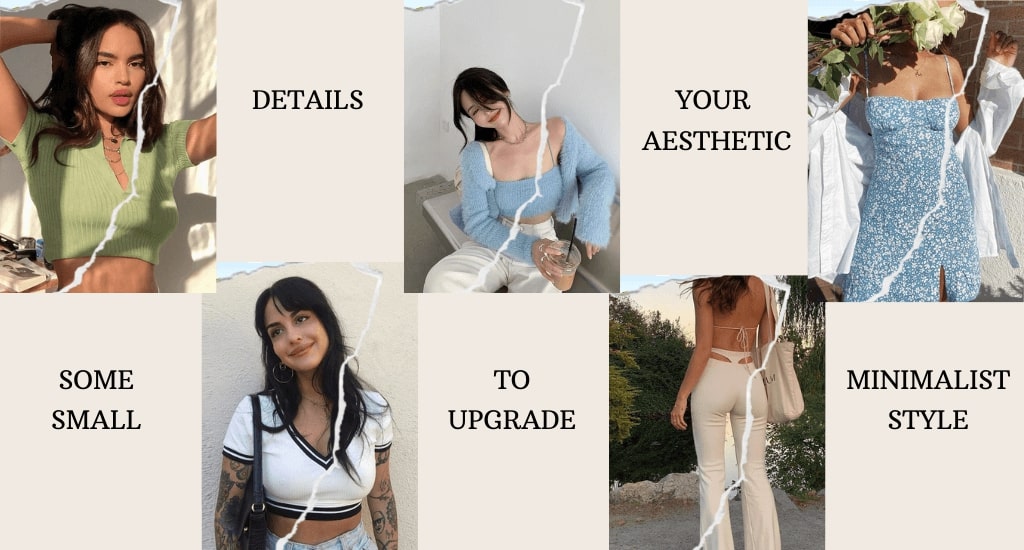 1. SOFT GIRL GREEN KNITTED CROP TOP
2. INDIE AESTHETIC V NECK WHITE SUMMER CROP TOP
3. SEXY SOFT GIRL TWO PIECE CARDIGAN
4. INDIE AESTHETIC BACK TRIANGLE PANTS
5. SOFT GIRL FLORAL SPAGHETTI STRAP BLUE MINI DRESS

What is minimalist fashion style?
With a closet that you will create with quality, durable, soft colors for a long-lasting, you can look very stylish and very high quality with little shopping for many years. You can catch timelessness by choosing colors and fabrics that are compatible with each other instead of hundreds of clothes you buy in your wardrobe. This is what the minimalist aesthetic style aims at anyway. Less, concise, quality and timeless. Here, you can give a shape to your style by adding colors such as solid colors, striped patterns, earth tones, white, black and maybe a few pieces of blue, green, yellow.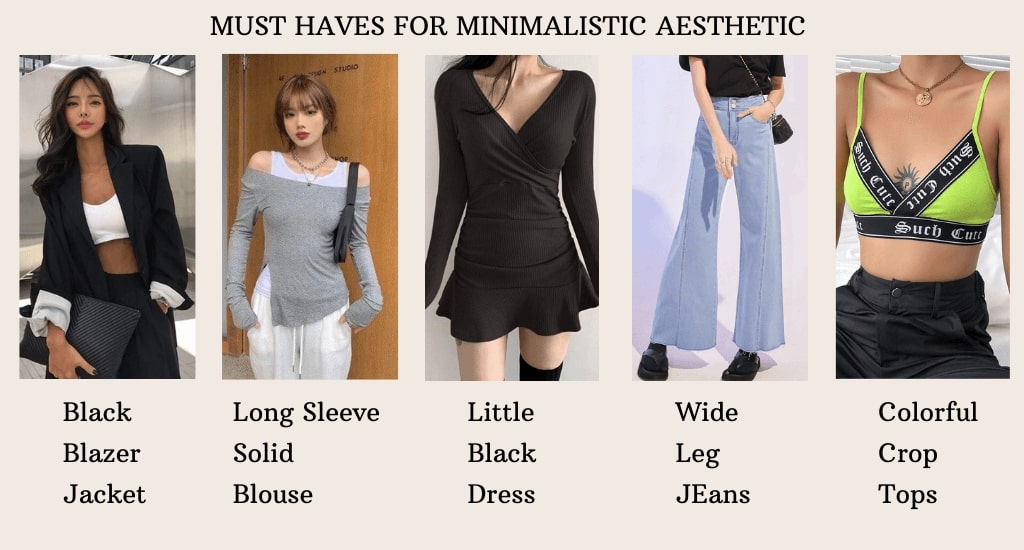 1. DARK ACADEMIA AESTHETIC BLAZER JACKET
2. TUMBLR AESTHETIC TWO PIECE LONG SLEEVE TOP
3. DARK ACADEMIA KNITTED MINI DRESS
4. 90S VINTAGE BLUE SOLID HIGH WAIST DENIM JEANS
5. SEXY GREEN V-NECK CROP TOP

One skirt, one pair of pants, one jeans, one shorts, one t-shirt, one crop top, one denim jacket, one leather jacket, one down coat, one sneakers, one slippers, one heeled shoes, one tiny shoulder bag with one backpack You wouldn't believe how many combinations you can create. The important thing here is not to overdo it and keep your line.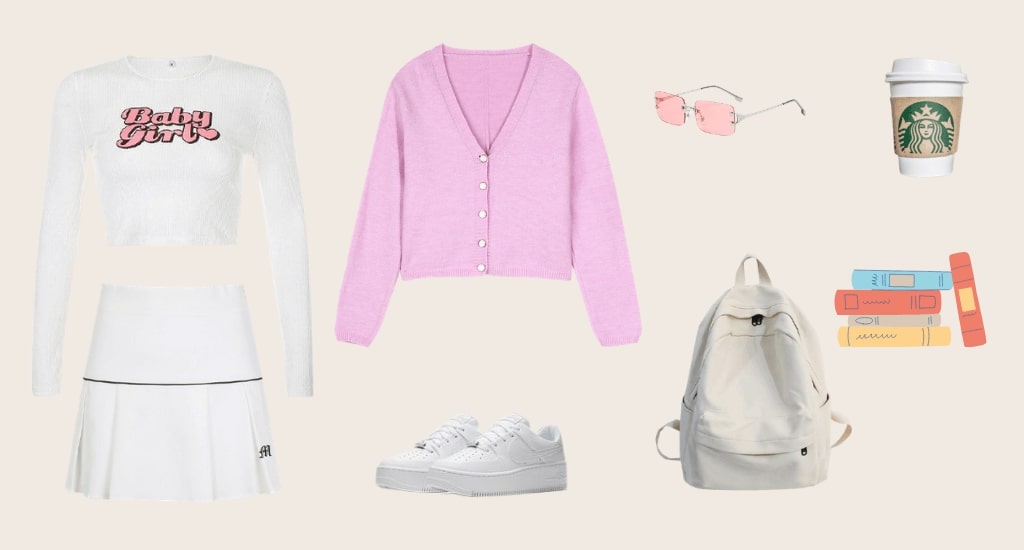 1. SEXY MINI TENNIS SKIRT
2. BABY GIRL CROP TOP
3. SOFT KNITTED CARDIGAN SWEATER
4. COTTON CANVAS SCHOOL BACKPACK

How do you accessorize a minimalist?
The most fun area in the minimalist style is the accessories. It's okay to have a little more products in this area because they are the complement to your original style. You can use silver, gold and rose accessories together. You can add sparkle to your minimalist outfit with a few large earrings and a few chain necklaces.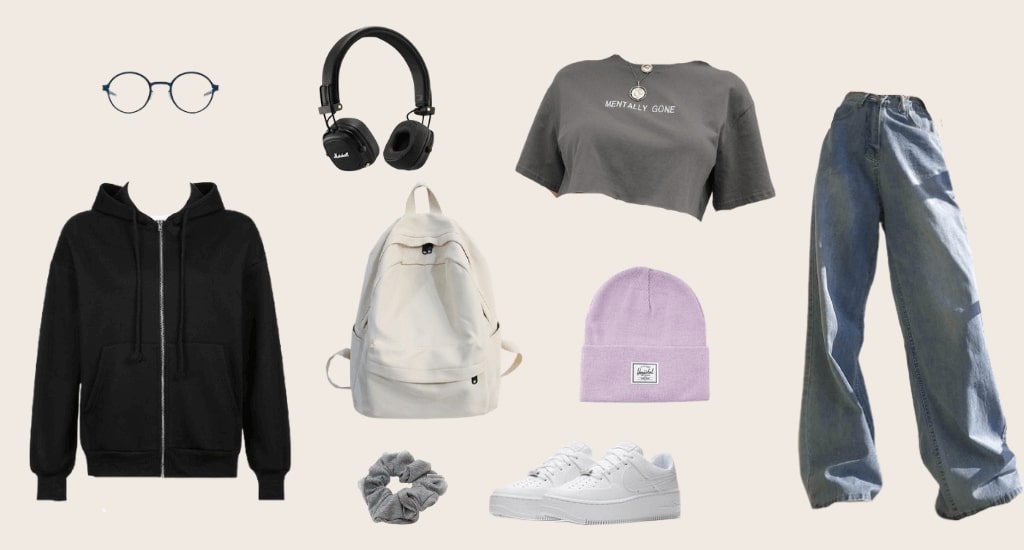 1. VSCO GIRL SOLID ZIPPER HOODIE
2. MENTALLY GONE CROP TOP
3. AESTHETIC VINTAGE WIDE LEG PANTS
4. COTTON CANVAS SCHOOL BACKPACK
Of course, accessories are not limited to jewelry. It is important to pay attention to the items that will complement and add color to your style such as a few colorful hats, scarves of different sizes, sunglasses and choose the best ones.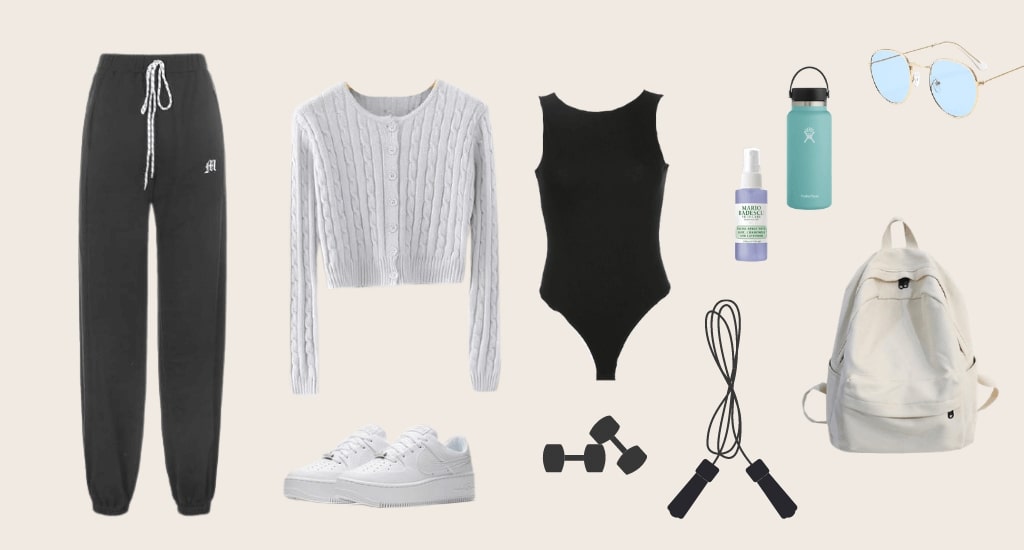 1. Y2K AESTHETIC SIDE ZIPPER SWEATPANTS
2. SOFT GIRL AESTHETIC CROP KNITTED SWEATER
3. VSCO SLEEVELESS KNITTED BODYSUIT
4. COTTON CANVAS SCHOOL BACKPACK
Although minimalist aesthetics may seem less and more concise, there are many important details that need attention. Let this blog be a preliminary and inspirational source for you. As you can see in the images, you can have a minimalist aesthetic style and look very colorful and stylish. As we always say, the main thing is to make choices that make you feel good and comfortable. Do not forget to browse all our products and choose your favorites!